Abstract
Preoperative judgement of which children is likely to benefit from endoscopic third ventriculostomy (ETV) is still the most difficult challenge. This study aimed to compare the efficiency of third ventricular floor bowing (TVFB) and ETV success score (ETVSS) in selecting ETV candidates and achieve a better preoperative patient selection method for ETV based on our institutional experience. Children (≤ 16 years old) with newly diagnosed hydrocephalus treated with ETV between January 2013 and June 2018 were included in this prospective study. Patients with TVFB will receive ETV procedure in the pediatric subgroup of our department. ETVSS was calculated in every patient. The ETVSS predicted ETV success rate and the actual ETV success rate in our institution were compared and further analyzed. One hundred twenty-nine children with TVFB were enrolled in our study. The mean age at ETV was 5.84 ± 5.17 years (range, 0.04–16). Brain tumors, aqueductal stenosis, and inflammatory are the most common hydrocephalus etiologies. The most common complication was noninfectious fever (3.1%). During the average follow-up of 19.5 ± 14.95 months, twenty-five patients had depicted ETV failure. The actual ETV success rate (81%) in our study was higher than the success rate (69%) predicted by ETVSS. TVFB is a pragmatic, efficient, and simple model to predict the ETV outcome. We suggest that for hydrocephalic patients with preoperative third ventricular floor bowing, ETV should be the first-treatment choice regardless of the ETV success score. And for patients without such sign, ETVSS should be applied to select ETV candidates.
This is a preview of subscription content, log in to check access.
Access options
Buy single article
Instant access to the full article PDF.
US$ 39.95
Tax calculation will be finalised during checkout.
Subscribe to journal
Immediate online access to all issues from 2019. Subscription will auto renew annually.
US$ 99
Tax calculation will be finalised during checkout.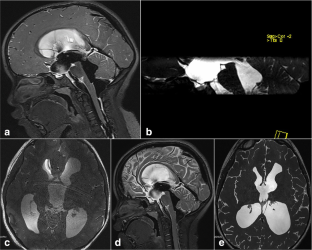 Funding
This work was financially supported by Sichuan Science and Technology Support Program (No. 2018SZ0043).
Ethics declarations
Conflict of interest
The authors declare that they have no conflict of interest.
Ethical approval
All procedures performed in studies involving human participants were in accordance with the ethical standards of the institutional and/or national research committee and with the 1964 Helsinki declaration and its later amendments or comparable ethical standards.
Informed consent
For this type of study, formal consent is not required.
Additional information
Publisher's note
Springer Nature remains neutral with regard to jurisdictional claims in published maps and institutional affiliations.
About this article
Cite this article
Wang, Q., Cheng, J., Zhang, S. et al. Prediction of endoscopic third ventriculostomy (ETV) success with preoperative third ventricle floor bowing (TVFB): a supplement to ETV success score. Neurosurg Rev 43, 1575–1581 (2020). https://doi.org/10.1007/s10143-019-01178-1
Received:

Revised:

Accepted:

Published:

Issue Date:
Keywords
Endoscopic third ventriculostomy

Third ventricle floor

ETV success score

Outcome