Abstract
Craniovertebral junction surgery usually requires the exposure of the third segment of the vertebral artery (V3). However, the complexity of musculature, a relatively high incidence of anomalies in the course of the vertebral artery (VA), and the presence of a rich venous plexus in this region make the V3 exposure challenging with a high risk of serious complications while taking down the suboccipital muscles in a single layer. A muscle dissection in interfascial layers, however, overcomes the drawbacks inherent in a blind dissection of the V3 as each of the muscles represents substantial landmark aiding subsequent step of the procedure and thus helping identify underlying anatomical structure early and safely. Moreover, along with a bloodless VA dissection off its surrounding venous plexus, it permits a safe and comfortable V3 exposure during the surgically demanding procedures.
Access options
Buy single article
Instant access to the full article PDF.
US$ 39.95
Tax calculation will be finalised during checkout.
Subscribe to journal
Immediate online access to all issues from 2019. Subscription will auto renew annually.
US$ 79
Tax calculation will be finalised during checkout.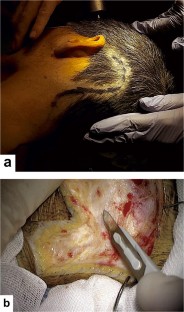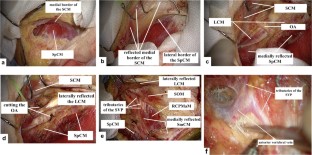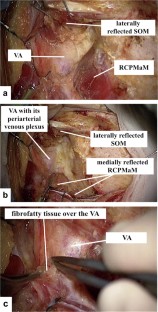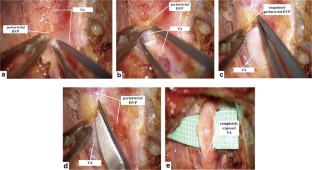 References
1.

Abumi K, Shono Y, Ito M, Taneichi H, Kotani Y, Kaneda K (2000) Complications of pedicle screw fixation in reconstructive surgery of the cervical spine. Spine (Phila Pa 1976) 25:962–969

2.

Aota Y, Honda A, Uesugi M, Yamashita T, Baba N, Niwa T, Saito T (2006) Vertebral artery injury in C-1 lateral mass screw fixation. Case illustration J Neurosurg Spine 5:554

3.

Arnautović KI, al-Mefty O, Pait TG, Krisht AF, Husain MM (1997) The suboccipital cavernous sinus. J Neurosurg 86:252–262

4.

Bertalanffy H, Seeger W (1991) The dorsolateral, suboccipital, transcondylar approach to the lower clivus and anterior portion of the craniocervical junction. Neurosurgery 29:815–821

5.

Bithal P, Dash HH, Vishnoi N, Chaturvedi A (2003) Venous air embolism: does the site of embolism influence the hemodynamic changes? Neurol India 51:370–372

6.

Burke JP, Gerszten PC, Welch WC (2005) Iatrogenic vertebral artery injury during anterior cervical spine surgery. Spine J 5:508–514

7.

Cengiz SL, Cicekcibasi A, Kiresi D, Kocaogullar Y, Cicek O, Baysefer A, Buyukmumcu M (2009) Anatomic and radiologic analysis of the atlantal part of the vertebral artery. J Clin Neurosci 16:675–678

8.

Crowley RW, Dumont AS, McKisic MS, Jane JA Sr (2011) Positioning for cranial surgery. In: Winn HR (ed) Youmans neurological surgery. Elsevier Saunders, Philadelphia, pp 442–446

9.

Daentzer D (2009) Operative management for atlantoaxial instability in case of bilateral high-riding vertebral artery. Arch Orthop Trauma Surg 129:177–182

10.

D'Antoni AV, Battaglia F, Dilandro AC, Moore GD (2010) Anatomic study of the suboccipital artery of Salmon with surgical significance. Clin Anat 23:798–802

11.

Ebraheim NA, Xu R, Ahmad M, Heck B (1998) The quantitative anatomy of the vertebral artery groove of the atlas and its relation to the posterior atlantoaxial approach. Spine (Phila Pa 1976) 23:320–323

12.

Elhammady MS, Morcos JJ (2011) OA-PICA bypass. In: Abdulrauf AI (ed) Cerebral revascularization. Techniques in extracranial-to-intracranial bypass surgery. Elsevier Saunders, Philadelphia, pp 99–111

13.

Fisahn C, Burgess B, Iwanaga J et al (2017) A previously unreported arterial variant of the suboccipital region based on cadaveric dissection. J Neurol Surg Rep 78:e40–e42

14.

Grob D, Jeanneret B, Aebi M, Markwalder TM (1991) Atlanto-axial fusion with transarticular screw fixation. J Bone Joint Surg Br 73:972–976

15.

Gupta T (2008) Quantitative anatomy of vertebral artery groove on the posterior arch of atlas in relation to spinal surgical procedures. Surg Radiol Anat 30:239–242

16.

Hatzitheofilou C, Demetriades D, Melissas J, Stewart M, Franklin J (1988) Surgical approaches to vertebral artery injuries. Br J Surg 75:234–237

17.

Heros RC (1986) Lateral suboccipital approach for vertebral and vertebrobasilar artery lesions. J Neurosurg 64:559–562

18.

Karam YR, Menezes AH, Traynelis VC (2010) Posterolateral approaches to the craniovertebral junction. Neurosurgery 66:A135–A140

19.

Lanzino G, Paolini S, Spetzler RF (2005) Far-lateral approach to the craniocervical junction. Neurosurgery 57(ONS Suppl 3):367–371

20.

Madawi AA, Casey AT, Solanki GA, Tuite G, Veres R, Crockard HA (1997) Radiological and anatomical evaluation of the atlantoaxial transarticular screw fixation technique. J Neurosurg 86:961–968

21.

Matsushima T (2015) Microsurgical anatomy and surgery of the posterior cranial fossa. Surgical approaches and procedures based on anatomical study. Springer, Tokyo

22.

Maughan PH, Ducruet AF, Elhadi AM et al (2013) Multimodality management of vertebral artery injury sustained during cervical or craniocervical surgery. Neurosurgery 73(2 Suppl Operative):271–282

23.

Méndez JC, González-Llanos F (2005) Endovascular treatment of a vertebral artery pseudoaneurysm following posterior C1-C2 transarticular screw fixation. Cardiovasc Intervent Radiol 28:107–109

24.

Meybodi AT, Rincon-Torroella J, El-Sayed IH, Lawton MT, Benet A (2016) Early localization of the third segment of the vertebral artery: the Atlanto-mastoid line. Oper Neurosurg (Hagerstown) 12:350–359

25.

Meybodi AT, Zhao X, Borba Moreira L, Lawton MT, Lang MJ, Labib M, Preul MC (2019) The inferior nuchal line as a simple landmark for identifying the vertebral artery during the Retrosigmoid approach. Oper Neurosurg (Hagerstown) 19. Pii: opz152. https://doi.org/10.1093/ons/opz152. Epub ahead of print

26.

Neo M, Fujibayashi S, Miyata M, Takemoto M, Nakamura T (2008) Vertebral artery injury during cervical spine surgery: a survey of more than 5600 operations. Spine (Phila Pa 1976) 33:779–785

27.

Osorio JA, Benet A, Hess CP, McDermott MW, Abla AA (2014) Primary vertebral artery reanastomosis during retrosigmoid skull base approach following iatrogenic near-transection with monopolar electrocautery. Neurosurgery Suppl 4:631–639

28.

Park HK, Jho HD (2012) The management of vertebral artery injury in anterior cervical spine operation: a systematic review of published cases. Eur Spine J 21:2475–2485

29.

Prabhu VC, France JC, Voelker JL, Zoarski GH (2001) Vertebral artery pseudoaneurysm complicating posterior C1-2 transarticular screw fixation: case report. Surg Neurol 55:29–33

30.

Reis CV, Deshmukh V, Zabramski JM et al (2007) Anatomy of the mastoid emissary vein and venous system of the posterior neck region: neurosurgical implications. Neurosurgery 61(5 Suppl 2):193–201

31.

Rhoton AL (2000) The far-lateral approach and its transcondylar, supracondylar, and paracondylar extensions. Neurosurgery 47:S195–S209

32.

Smith MD, Emery SE, Dudley A, Murray KJ, Leventhal M (1993) Vertebral artery injury during anterior decompression of the cervical spine. A retrospective review of ten patients. J Bone Joint Surg Br 75:410–415

33.

Tubbs RS, Shah NA, Sullivan BP, Marchase ND, Cohen-Gadol AA (2009) Surgical anatomy and quantitation of the branches of the V2 and V3 segments of the vertebral artery. Laboratory investigation. J Neurosurg Spine 11:84–87

34.

Ulm AJ, Quiroga M, Russo A, Russo VM, Graziano F, Velasquez A, Albanese E (2010) Normal anatomical variations of the V3 segment of the vertebral artery: surgical implications. J Neurosurg Spine 13:451–460

35.

Wanibuchi M, Fukushima T, Zenga F, Friedman AH (2009) Simple identification of the third segment of the extracranial vertebral artery by extreme lateral inferior transcondylar-transtubercular exposure (ELITE). Acta Neurochir 151:1499–1503

36.

Wen HT, Rhoton AL Jr, Katsuta T, de Oliveira E (1997) Microsurgical anatomy of the transcondylar, supracondylar, and paracondylar extensions of the far-lateral approach. J Neurosurg 87:555–585

37.

Wilson DA, Fusco DJ, Theodore N (2011) Delayed subarachnoid hemorrhage following failed odontoid screw fixation. J Neurosurg Spine 14:715–718

38.

Wong CW, Poon WS (1999) Far lateral approach with intraoperative ultrasound Doppler identification of the vertebral artery. Clin Neurol Neurosurg 101:264–267

39.

Youssef AS, Uribe JS, Ramos E, Janjua R, Thomas LB, van Loveren H (2010) Interfascial technique for vertebral artery exposure in the suboccipital triangle: the road map. Neurosurgery 67(2 Suppl Operative):355–361
Funding
Ministerstvo Zdravotnictví Ceské Republiky (15-29021A) Dr. Vladimir Balik Palacky University Olomouc (LF 2019_003) Dr. Vladimir Balik Ministerstvo Školství, Mládeže a Tělovýchovy (LO1304, LM2015091) Dr. Vladimir Balik European Regional Development Fund (ENOCH CZ.02.1.01/0.0/0.0/16_019/0000868) Dr. Vladimir Balik.
Ethics declarations
Conflict of interest
The authors declare that they have no conflict of interest.
Ethical approved
The study was performed according to the ethical standards of the Institutional Review Board of the Asahikawa Red Cross Hospital.
Informed consent
Patients' consents were obtained from all participants, even though their identity was concealed and anonymity guaranteed in the publication.
Additional information
Publisher's note
Springer Nature remains neutral with regard to jurisdictional claims in published maps and institutional affiliations.
About this article
Cite this article
Balik, V., Takizawa, K. Safe and bloodless exposure of the third segment of the vertebral artery: a step-by-step overview based on over 50 personal cases. Neurosurg Rev 42, 991–997 (2019). https://doi.org/10.1007/s10143-019-01158-5
Received:

Revised:

Accepted:

Published:

Issue Date:
Keywords
Suboccipital interfascial muscular dissection

Suboccipital triangle

Venous plexus

Vertebral artery