Abstract
Spinal myxopapillary ependymoma (SME) is a rare pathological variant of ependymoma, which most commonly occurs in the cauda equina and filum terminale of the spinal cord. Although SME is considered as a benign entity, histologically corresponding to WHO grade I, local recurrence and metastasis have been reported in many cases. The purpose of this large-scale, single-center study was to investigate the clinical characteristics and surgical outcomes of SME. A total of 34 consecutive patients diagnosed with SME were enrolled in this retrospective study. All patients underwent magnetic resonance imaging (MRI) and were treated with surgical resection. Individual clinical data were collected, and surgical outcomes were evaluated during the follow-up period. There were 21 males and 13 females, with an average age of 29.97 years. Clinical symptoms included back pain (82.4%), weakness (44.1%) and numbness (20.6%) in extremities, and sphincter dysfunction (26.5%). The tumor locations included lumbar segments (52.9%), thoracolumbar segments (23.5%), lumbosacral segments (17.6%), and thoraco-lumbo-sacral segments (5.9%). On MRI, all SMEs appeared hypointense on T1-weighted imaging and hyperintense on T2-weighted imaging, with remarkable enhancement. Gross total resection was achieved in 18 patients, and subtotal resection (STR) was achieved in 16 patients. After an average follow-up period of 41.5 months, recurrence was noted in 5 patients (5 of 16) who underwent STR. SMEs have some characteristic features on MRI which can facilitate the preoperative diagnosis. Complete surgical resection is the best treatment of choice with a favorable outcome. In cases of incomplete resection, postoperative radiotherapy may be an effective alternative.
This is a preview of subscription content, log in to check access.
Access options
Buy single article
Instant access to the full article PDF.
US$ 39.95
Tax calculation will be finalised during checkout.
Subscribe to journal
Immediate online access to all issues from 2019. Subscription will auto renew annually.
US$ 99
Tax calculation will be finalised during checkout.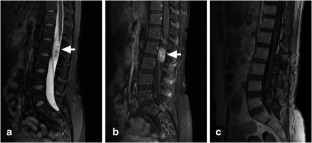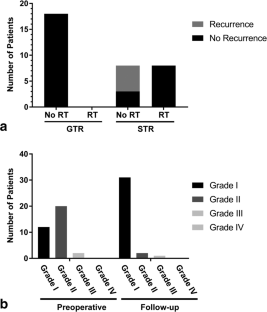 References
1.

Aghakhani N, David P, Parker F, Lacroix C, Benoudiba F, Tadie M (2008) Intramedullary spinal ependymomas: analysis of a consecutive series of 82 adult cases with particular attention to patients with no preoperative neurological deficit. Neurosurgery 62:1279–1285; discussion 1285-1276. https://doi.org/10.1227/01.neu.0000333299.26566.15

2.

Akyurek S, Chang EL, Yu TK, Little D, Allen PK, McCutcheon I, Mahajan A, Maor MH, Woo SY (2006) Spinal myxopapillary ependymoma outcomes in patients treated with surgery and radiotherapy at M.D. Anderson Cancer Center. J Neuro-Oncol 80:177–183. https://doi.org/10.1007/s11060-006-9169-2

3.

Bagley CA, Kothbauer KF, Wilson S, Bookland MJ, Epstein FJ, Jallo GI (2007) Resection of myxopapillary ependymomas in children. J Neurosurg 106:261–267. https://doi.org/10.3171/ped.2007.106.4.261

4.

Bagley CA, Wilson S, Kothbauer KF, Bookland MJ, Epstein F, Jallo GI (2009) Long term outcomes following surgical resection of myxopapillary ependymomas. Neurosurg Rev 32:321–334; discussion 334. https://doi.org/10.1007/s10143-009-0190-8

5.

Chan MD, McMullen KP (2012) Multidisciplinary management of intracranial ependymoma. Curr Probl Cancer 36:6–19. https://doi.org/10.1016/j.currproblcancer.2011.10.013

6.

Clover LL, Hazuka MB, Kinzie JJ (1993) Spinal cord ependymomas treated with surgery and radiation therapy. A review of 11 cases. Am J Clin Oncol 16:350–353

7.

Fegerl G, Marosi C (2012) Stabilization of metastatic myxopapillary ependymoma with sorafenib. Rare Tumors 4:e42. https://doi.org/10.4081/rt.2012.e42

8.

Feldman WB, Clark AJ, Safaee M, Ames CP, Parsa AT (2013) Tumor control after surgery for spinal myxopapillary ependymomas: distinct outcomes in adults versus children: a systematic review. J Neurosurg Spine 19:471–476. https://doi.org/10.3171/2013.6.SPINE12927

9.

Fujiwara Y, Manabe H, Izumi B, Shima T, Adachi N (2018) Remarkable efficacy of temozolomide for relapsed spinal myxopapillary ependymoma with multiple recurrence and cerebrospinal dissemination: a case report and literature review. Eur Spine J 27:421–425. https://doi.org/10.1007/s00586-017-5413-z

10.

Gagliardi FM, Cervoni L, Domenicucci M, Celli P, Salvati M (1993) Ependymomas of the filum terminale in childhood: report of four cases and review of the literature. Childs Nerv Syst 9:3–6

11.

Garcia DM (1985) Primary spinal cord tumors treated with surgery and postoperative irradiation. Int J Radiat Oncol Biol Phys 11:1933–1939

12.

Hanbali F, Fourney DR, Marmor E, Suki D, Rhines LD, Weinberg JS, McCutcheon IE, Suk I, Gokaslan ZL (2002) Spinal cord ependymoma: radical surgical resection and outcome. Neurosurgery 51:1162–1172 discussion 1172-1164

13.

Kernohan J (1932) Primary tumors of the spinal cord and intradural filum terminale. Cytol Cell Pathol Nervous Syst 3

14.

Klekamp J (2015) Spinal ependymomas. Part 2: Ependymomas of the filum terminale. Neurosurg Focus 39:E7. https://doi.org/10.3171/2015.5.FOCUS15151

15.

Kraetzig T, McLaughlin L, Bilsky MH, Laufer I (2018) Metastases of spinal myxopapillary ependymoma: unique characteristics and clinical management. J Neurosurg Spine 28:201–208. https://doi.org/10.3171/2017.5.SPINE161164

16.

Lim SC, Jang SJ (2006) Myxopapillary ependymoma of the fourth ventricle. Clin Neurol Neurosurg 108:211–214

17.

Louis DN, Perry A, Reifenberger G, von Deimling A, Figarella-Branger D, Cavenee WK, Ohgaki H, Wiestler OD, Kleihues P, Ellison DW (2016) The 2016 World Health Organization classification of tumors of the central nervous system: a summary. Acta Neuropathol 131:803–820. https://doi.org/10.1007/s00401-016-1545-1

18.

Maruyama R, Koga K, Nakahara T, Kishida K, Nabeshima K (1992) Cerebral myxopapillary ependymoma. Hum Pathol 23:960–962

19.

McCormick PC, Torres R, Post KD, Stein BM (1990) Intramedullary ependymoma of the spinal cord. J Neurosurg 72:523–532. https://doi.org/10.3171/jns.1990.72.4.0523

20.

Mork SJ, Loken AC (1977) Ependymoma: a follow-up study of 101 cases. Cancer 40:907–915

21.

Nakamura M, Ishii K, Watanabe K, Tsuji T, Matsumoto M, Toyama Y, Chiba K (2009) Long-term surgical outcomes for myxopapillary ependymomas of the cauda equina. Spine (Phila Pa 1976) 34:E756–E760. https://doi.org/10.1097/BRS.0b013e3181b34d16

22.

Rege SV, Narayan S, Patil H, Songara A (2016) Spinal myxopapillary ependymoma with interval drop metastasis presenting as cauda equina syndrome: case report and review of literature. J Spine Surg 2:216–221. https://doi.org/10.21037/jss.2016.08.06

23.

Sonneland PR, Scheithauer BW, Onofrio BM (2015) Myxopapillary ependymoma. A clinicopathologic and immunocytochemical study of 77 cases. Cancer 56:883–893

24.

Thoriya PJ, Watal P, Bahri NU, Rathod K (2015) Primary spinal primitive neuroectodermal tumor on MR imaging. Indian J Radiol Imaging 25:459–463. https://doi.org/10.4103/0971-3026.169451

25.

Thurnher MM (2009) 2007 World Health Organization classification of tumours of the central nervous system. Cancer Imaging 9(A):S1–S3. https://doi.org/10.1102/1470-7330.2009.9001

26.

Tseng YC, Hsu HL, Jung SM, Chen CJ (2004) Primary intracranial myxopapillary ependymomas: report of two cases and review of the literature. Acta Radiol 45:344–347

27.

Verstegen MJ, Bosch DA, Troost D (1997) Treatment of ependymomas. Clinical and non-clinical factors influencing prognosis: a review. Br J Neurosurg 11:542–553

28.

Warnick RE, Raisanen J, Adornato BT, Prados MD, Davis RL, Larson DA, Gutin PH (1993) Intracranial myxopapillary ependymoma: case report. J Neuro-Oncol 15:251–256

29.

Whitaker SJ, Bessell EM, Ashley SE, Bloom HJ, Bell BA, Brada M (1991) Postoperative radiotherapy in the management of spinal cord ependymoma. J Neurosurg 74:720–728. https://doi.org/10.3171/jns.1991.74.5.0720
Acknowledgments
We thank all of the patients and their families who trusted us, and all of the physicians and staff members who helped in this study.
Ethics declarations
Conflict of interest
The authors declare that they have no conflict of interest.
Ethical approval
All procedures performed in studies involving human participants were in accordance with the ethical standards of the institutional and/or national research committee and with the 1964 Helsinki declaration and its later amendments or comparable ethical standards.
Informed consent
Informed consent was obtained from all individual participants included in the study.
Additional information
Publisher's note
Springer Nature remains neutral with regard to jurisdictional claims in published maps and institutional affiliations.
Tie Liu and Chenlong Yang contributed to the work equally and should be regarded as co-first authors.
About this article
Cite this article
Liu, T., Yang, C., Deng, X. et al. Clinical characteristics and surgical outcomes of spinal myxopapillary ependymomas. Neurosurg Rev 43, 1351–1356 (2020). https://doi.org/10.1007/s10143-019-01150-z
Received:

Revised:

Accepted:

Published:

Issue Date:
Keywords
Myxopapillary ependymoma

Spinal tumor

MRI

Surgical resection

Prognosis