Abstract
Distal anterior cerebral artery (DACA) aneurysms are rare, accounting for 1–9% of all intracranial aneurysms. Previous systematic reviews have highlighted that given the markedly increased incidence of major complications after endovascular treatment, microsurgical clipping is the more attractive treatment option with generally excellent clinical outcomes. Subcallosal DACA aneurysms constitute a rare subset of these aneurysms, requiring special anatomic considerations—particularly with regard to the approach. The aim of this study is to review the technical nuances of microsurgical treatment of subcallosal DACA aneurysms, including review of contemporary techniques through presentation of a microneurosurgical operative video. This is a retrospective case series and intraoperative microsurgical videos review. Three subcallosal DACA aneurysms were identified via retrospective query of our institutional neurosurgical database from December 2017 to May 2018. Two were female; median age was 74 years (range 70–83); all 3 underwent bifrontal craniotomy via bicoronal skin incision for aneurysm clipping. Aneurysms were located in left pericallosal–callosomarginal artery junction, bifurcation of azygos A2, and pericallosal artery related with azygos A2, and the anterior interhemispheric approach was used in all 3 operations. No acute stroke, hemorrhage, or major complications occurred, and all patients remained neurologically intact at the time of last follow-up (median 3 months, range 1–6). Although DACA aneurysms are rare, they represent an important variant for cerebrovascular neurosurgeons where microsurgical clipping can have better angiographic outcomes than endovascular treatment. Detail-oriented anterior interhemispheric arachnoid dissection through bifrontal craniotomy with its lower margin sitting at the superior orbital rim maximizes safe and effective clipping of subcallosal DACA aneurysms.
This is a preview of subscription content, log in to check access.
Access options
Buy single article
Instant access to the full article PDF.
US$ 39.95
Price includes VAT for USA
Subscribe to journal
Immediate online access to all issues from 2019. Subscription will auto renew annually.
US$ 99
This is the net price. Taxes to be calculated in checkout.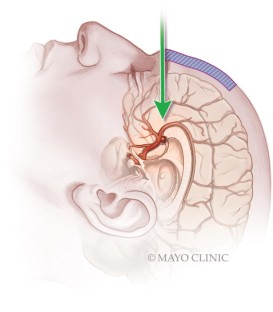 References
1.

Carvi y Nievas MN (2010) The influence of configuration and location of ruptured distal cerebral anterior artery aneurysms on their treatment modality and results: analysis of our casuistry and literature review. Neurol Res 32(1):73–81

2.

Sturiale CL, Brinjikji W, Murad MH, Cloft HJ, Kallmes DF, Lanzino G (2013) Endovascular treatment of distal anterior cerebral artery aneurysms: single-center experience and a systematic review. AJNR Am J Neuroradiol 34(12):2317–2320

3.

Petr O, Coufalova L, Bradac O, Rehwald R, Glodny B, Benes V (2017) Safety and efficacy of surgical and endovascular treatment for distal anterior cerebral artery aneurysms: a systematic review and meta-analysis. World Neurosurg 100:557–566

4.

Ito Z (1982) The microsurgical anterior interhemispheric approach suitably applied to ruptured aneurysms of the anterior communicating artery in the acute stage. Acta Neurochir 63(1–4):85–99

5.

Lehečka M (2009) Distal anterior cerebral artery aneurysms. University of Helsinki, Helsinki

6.

Greving JP, Wermer MJ, Brown RD Jr et al (2014) Development of the PHASES score for prediction of risk of rupture of intracranial aneurysms: a pooled analysis of six prospective cohort studies. Lancet Neurol 13(1):59–66

7.

Nakayama H, Ishikawa T, Yamashita S, Fukui I, Mutoh T, Hikichi K, Yoshioka S, Kawai H, Tamakawa N, Moroi J, Suzuki A, Yasui N (2011) CSF leakage and anosmia in aneurysm clipping of anterior communicating artery by basal interhemispheric approach. No Shinkei Geka 39(3):263–268

8.

Aoki N, Sakai T, Oikawa A, Tsutsumi K (1990) Significance of preserving bridging veins in an interhemispheric approach. Surg Neurol 33(2):159–160

9.

Kubota M, Saeki N, Yamaura A, Ono J, Ozawa Y (2001) Influences of venous involvement on postoperative brain damage following the anterior interhemispheric approach. Acta Neurochir 143(4):321–325 discussion 325-326

10.

Tsutsumi K, Shiokawa Y, Sakai T, Aoki N, Kubota M, Saito I (1991) Venous infarction following the interhemispheric approach in patients with acute subarachnoid hemorrhage. J Neurosurg 74(5):715–719

11.

Fujitsu K, Sekino T, Sakata K, Kawasaki T (1994) Basal interfalcine approach through a frontal sinusotomy with vein and nerve preservation. Technical note. J Neurosurg 80(3):575–579

12.

Ohara K, Inoue T, Ono H, Kiyofuji S, Tamura A, Saito I (2017) Technique for rerouting a bridging vein that hinders the anterior interhemispheric approach: a technical note. Acta Neurochir 159(10):1913–1918
Previous presentation
Components of this study (case presentation) will be presented as a poster at the North American Skull Base Society 29th Annual Meeting, Orlando, FL, February 15–17, 2019.
Ethics declarations
Conflict of interest
The authors declare that they have no conflict of interest.
Ethical approval
This is a retrospective investigational study of patients who underwent treatment and does not report on primary research or new protocols. This study was carried out under IRB approval.
Informed consent
All patients provided documented consent for their images and other clinical information to be reported anonymously in presentation or journal.
Additional information
Publisher's note
Springer Nature remains neutral with regard to jurisdictional claims in published maps and institutional affiliations.
Electronic supplementary material
About this article
Cite this article
Kiyofuji, S., Sora, S., Graffeo, C.S. et al. Anterior interhemispheric approach for clipping of subcallosal distal anterior cerebral artery aneurysms: case series and technical notes. Neurosurg Rev 43, 801–806 (2020). https://doi.org/10.1007/s10143-019-01126-z
Received:

Revised:

Accepted:

Published:

Issue Date:
Keywords
Anterior interhemispheric approach

Clipping

Distal anterior cerebral artery aneurysm

Intracranial aneurysm

Unruptured aneurysm