Abstract
Chaperones are important molecular machinery that assists proteins to attain their native three-dimensional structure crucial for function. Earlier studies using experimental evolution showed that chaperones impose a relaxation of sequence constraints on their "client" proteins, which may lead to the fixation of slightly deleterious mutations on the latter. However, we hypothesized that such a phenomenon might be harmful to the organism in a natural physiological condition. In this study, we investigated the evolutionary rates of chaperone client and non-client proteins in five model organisms from both prokaryotic and eukaryotic lineages. Our study reveals a slower evolutionary rate of chaperone client proteins in all five organisms. Additionally, the slower folding rate and lower aggregation propensity of chaperone client proteins reveal that the chaperone may play an essential role in rescuing the slightly disadvantageous effects due to random mutations and subsequent protein misfolding. However, the fixation of such mutations is less likely to be selected in the natural population.
Access options
Buy single article
Instant access to the full article PDF.
US$ 39.95
Tax calculation will be finalised during checkout.
Subscribe to journal
Immediate online access to all issues from 2019. Subscription will auto renew annually.
US$ 79
Tax calculation will be finalised during checkout.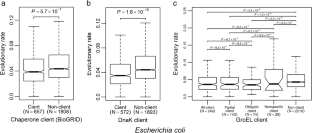 References
Aguilar-Rodríguez J, Sabater-Muñoz B, Montagud-Martínez R, Berlanga V, Alvarez-Ponce D, Wagner A, Fares MA (2016) The molecular chaperone DnaK is a source of mutational robustness. Genome Biol Evol 8:2979–2991. https://doi.org/10.1093/gbe/evw176

Altschul SF, Madden TL, Schaffer AA, Zhang JH, Zhang Z, Miller W, Lipman DJ (1997) Gapped BLAST and PSI-BLAST: a new generation of protein database search programs. Nucleic Acids Res 25:3389–3402

Alvarez-Ponce D, Feyertag F, Chakraborty S (2017) Position matters: network centrality considerably impacts rates of protein evolution in the human protein-protein interaction network. Genome Biol Evol 9:1742–1756. https://doi.org/10.1093/gbe/evx117

Apweiler R et al (2004) UniProt: the universal protein knowledgebase. Nucleic Acids Res 32:D115–D119. https://doi.org/10.1093/nar/gkh131

Arakawa A et al (2010) The C-terminal BAG domain of BAG5 induces conformational changes of the Hsp70 nucleotide-binding domain for ADP-ATP exchange. Structure 18:309–319. https://doi.org/10.1016/j.str.2010.01.004

Bateman A et al (2017) UniProt: the universal protein knowledgebase. Nucleic Acids Res 45:D158–D169. https://doi.org/10.1093/nar/gkw1099

Brockwell DJ, Radford SE (2007) Intermediates: ubiquitous species on folding energy landscapes? Curr Opin Struct Biol 17:30–37. https://doi.org/10.1016/j.sbi.2007.01.003

Burdette AJ, Churchill PF, Caldwell GA, Caldwell KA (2010) The early-onset torsion dystonia-associated protein, torsinA, displays molecular chaperone activity in vitro. Cell Stress Chaperones 15:605–617. https://doi.org/10.1007/s12192-010-0173-2

Calloni G et al (2012) DnaK functions as a central hub in the E. coli chaperone network. Cell Rep 1:251–264. https://doi.org/10.1016/j.celrep.2011.12.007

Chakraborty S, Alvarez-Ponce D (2016) Positive selection and centrality in the yeast and fly protein-protein interaction networks. Biomed Res Int. https://doi.org/10.1155/2016/4658506

Charlesworth B (2009) Fundamental concepts in genetics: effective population size and patterns of molecular evolution and variation. Nat Rev Genet 10:195–205. https://doi.org/10.1038/nrg2526

Chatr-Aryamontri A et al (2017) The BioGRID interaction database: 2017 update. Nucleic Acids Res 45:D369–D379. https://doi.org/10.1093/nar/gkw1102

Chen B, Piel WH, Gui LM, Bruford E, Monteiro A (2005) The HSP90 family of genes in the human genome: insights into their divergence and evolution. Genomics 86:627–637. https://doi.org/10.1016/j.ygeno.2005.08.012

Cheng JL, Li JL, Wang Z, Eickholt J, Deng X (2012) The MULTICOM toolbox for protein structure prediction. Bmc Bioinform 13. https://doi.org/10.1186/1471-2105-13-65

Cherry JM et al (2012) Saccharomyces Genome Database: the genomics resource of budding yeast. Nucleic Acids Res 40:D700–D705. https://doi.org/10.1093/nar/gkr1029

Chung KT, Shen Y, Hendershot LM (2002) BAP, a mammalian BiP-associated protein, is a nucleotide exchange factor that regulates the ATPase activity of BiP. J Biol Chem 277:47557–47563. https://doi.org/10.1074/jbc.M208377200

Dafforn TR, Della M, Miller AD (2001) The molecular interactions of heat shock protein 47 (Hsp47) and their implications for collagen biosynthesis. J Biol Chem 276:49310–49319. https://doi.org/10.1074/jbc.M108896200

De Maio A (1999) Heat shock proteins: facts, thoughts, and dreams. Shock 11:1–12

Drummond DA, Raval A, Wilke CO (2006) A single determinant dominates the rate of yeast protein evolution. Mol Biol Evol 23:327–337. https://doi.org/10.1093/molbev/msj038

Estruch F (2000) Stress-controlled transcription factors, stress-induced genes and stress tolerance in budding yeast. FEMS Microbiol Rev 24:469–486

Ewalt KL, Hendrick JP, Houry WA, Hartl FU (1997) In vivo observation of polypeptide flux through the bacterial chaperonin system. Cell 90:491–500

Fares MA, Ruiz-González MX, Moya A, Elena SF, Barrio E (2002) Endosymbiotic bacteria: groEL buffers against deleterious mutations. Nature 417:398. https://doi.org/10.1038/417398a

Fernandez-Escamilla AM, Rousseau F, Schymkowitz J, Serrano L (2004) Prediction of sequence-dependent and mutational effects on the aggregation of peptides and proteins. Nat Biotechnol 22:1302–1306. https://doi.org/10.1038/nbt1012

Geiler-Samerotte KA, Zhu YO, Goulet BE, Hall DW, Siegal ML (2016) Selection transforms the landscape of genetic variation interacting with Hsp90. PLoS Biol 14:e2000465. https://doi.org/10.1371/journal.pbio.2000465

Georgopoulos C (1992) The emergence of the chaperone machines. Trends Biochem Sci 17:295–299

Ghaemmaghami S et al (2003) Global analysis of protein expression in yeast. Nature 425:737–741. https://doi.org/10.1038/nature02046

Goldberg AL (2003) Protein degradation and protection against misfolded or damaged proteins. Nature 426:895–899. https://doi.org/10.1038/nature02263

Goldberg AL, Dice JF (1974) Intracellular protein degradation in mammalian and bacterial cells. Annu Rev Biochem 43:835–869. https://doi.org/10.1146/annurev.bi.43.070174.004155

Gong Y, Kakihara Y, Krogan N, Greenblatt J, Emili A, Zhang Z, Houry WA (2009) An atlas of chaperone-protein interactions in Saccharomyces cerevisiae: implications to protein folding pathways in the cell. Mol Syst Biol 5:275. https://doi.org/10.1038/msb.2009.26

Hartl FU, Hayer-Hartl M (2009) Converging concepts of protein folding in vitro and in vivo. Nat Struct Mol Biol 16:574–581. https://doi.org/10.1038/nsmb.1591

Hartl FU, Bracher A, Hayer-Hartl M (2011) Molecular chaperones in protein folding and proteostasis. Nature 475:324–332. https://doi.org/10.1038/nature10317

Hasson SA et al (2013) High-content genome-wide RNAi screens identify regulators of parkin upstream of mitophagy. Nature 504:291. https://doi.org/10.1038/nature12748

Hietakangas V, Anckar J, Blomster HA, Fujimoto M, Palvimo JJ, Nakai A, Sistonen L (2006) PDSM, a motif for phosphorylation-dependent SUMO modification. Proc Natl Acad Sci U S A 103:45–50. https://doi.org/10.1073/pnas.0503698102

Kampinga HH et al (2009) Guidelines for the nomenclature of the human heat shock proteins. Cell Stress Chaperones 14:105–111. https://doi.org/10.1007/s12192-008-0068-7

Kerner MJ et al (2005) Proteome-wide analysis of chaperonin-dependent protein folding in Escherichia coli. Cell 122:209–220. https://doi.org/10.1016/j.cell.2005.05.028

Lamb AL, Wernimont AK, Pufahl RA, O'Halloran TV, Rosenzweig AC (2000) Crystal structure of the second domain of the human copper chaperone for superoxide dismutase. Biochemistry 39:1589–1595. https://doi.org/10.1021/bi992822i

Lin GN, Wang Z, Xu D, Cheng J (2010) SeqRate: sequence-based protein folding type classification and rates prediction. BMC Bioinformatics 11 Suppl 3:S1. https://doi.org/10.1186/1471-2105-11-S3-S1

McDonough H, Patterson C (2003) CHIP: a link between the chaperone and proteasome systems. Cell Stress Chaperones 8:303–308

Moran NA (1996) Accelerated evolution and Muller's rachet in endosymbiotic bacteria. Proc Natl Acad Sci U S A 93:2873–2878

Mymrikov EV, Daake M, Richter B, Haslbeck M, Buchner J (2017) The chaperone activity and substrate spectrum of human small heat shock proteins. J Biol Chem 292:672–684. https://doi.org/10.1074/jbc.M116.760413

Myung JK, Afjehi-Sadat L, Felizardo-Cabatic M, Slavc I, Lubec G (2004) Expressional patterns of chaperones in ten human tumor cell lines. Proteome Sci 2:8. https://doi.org/10.1186/1477-5956-2-8

Nagaraj RH et al (2012) Acetylation of αA-crystallin in the human lens: effects on structure and chaperone function. Biochim Biophys Acta 1822:120–129. https://doi.org/10.1016/j.bbadis.2011.11.011

Nisemblat S, Yaniv O, Parnas A, Frolow F, Azem A (2015) Crystal structure of the human mitochondrial chaperonin symmetrical football complex. Proc Natl Acad Sci U S A 112:6044–6049. https://doi.org/10.1073/pnas.1411718112

Niwa T, Ying BW, Saito K, Jin W, Takada S, Ueda T, Taguchi H (2009) Bimodal protein solubility distribution revealed by an aggregation analysis of the entire ensemble of Escherichia coli proteins. Proc Natl Acad Sci U S A 106:4201–4206. https://doi.org/10.1073/pnas.0811922106

Ohta T (1973) Slightly deleterious mutant substitutions in evolution. Nature 246:96–98

Park JY, Kim GH, Kim SS, Ko JM, Lee JJ, Yoo HW (2009) Effects of a chemical chaperone on genetic mutations in alpha-galactosidase A in Korean patients with Fabry disease. Exp Mol Med 41:1–7. https://doi.org/10.3858/emm.2009.41.1.001

Pruitt KD, Tatusova T, Maglott DR (2007) NCBI reference sequences (RefSeq): a curated non-redundant sequence database of genomes, transcripts and proteins. Nucleic Acids Res 35:D61–D65. https://doi.org/10.1093/nar/gkl842

Qiu XB, Shao YM, Miao S, Wang L (2006) The diversity of the DnaJ/Hsp40 family, the crucial partners for Hsp70 chaperones. Cell Mol Life Sci 63:2560–2570. https://doi.org/10.1007/s00018-006-6192-6

Rabindran SK, Giorgi G, Clos J, Wu C (1991) Molecular-cloning and expression of a human heat-shock factor, HSF1. Proc Natl Acad Sci U S A 88:6906–6910. https://doi.org/10.1073/pnas.88.16.6906

Raineri E, Ribeca P, Serrano L, Maier T (2010) A more precise characterization of chaperonin substrates. Bioinformatics 26:1685–1689. https://doi.org/10.1093/bioinformatics/btq287

Rauch JN, Gestwicki JE (2014) Binding of human nucleotide exchange factors to heat shock protein 70 (Hsp70) generates functionally distinct complexes in vitro. J Biol Chem 289:1402–1414. https://doi.org/10.1074/jbc.M113.521997

Rutherford SL (2003) Between genotype and phenotype: protein chaperones and evolvability. Nat Rev Genet 4:263–274. https://doi.org/10.1038/nrg1041

Rutherford SL, Lindquist S (1998) Hsp90 as a capacitor for morphological evolution. Nature 396:336–342. https://doi.org/10.1038/24550

Sabater-Munoz B et al (2015) Fitness trade-offs determine the role of the molecular chaperonin groel in buffering mutations. Mol Biol Evol 32:2681–2693. https://doi.org/10.1093/molbev/msv144

Schubert U, Antón LC, Gibbs J, Norbury CC, Yewdell JW, Bennink JR (2000) Rapid degradation of a large fraction of newly synthesized proteins by proteasomes. Nature 404:770–774. https://doi.org/10.1038/35008096

Schwanhäusser B et al (2011) Global quantification of mammalian gene expression control. Nature 473:337–342. https://doi.org/10.1038/nature10098

Seo S, Baye LM, Schulz NP, Beck JS, Zhang QH, Slusarski DC, Sheffield VC (2010) BBS6, BBS10, and BBS12 form a complex with CCT/TRiC family chaperonins and mediate BBSome assembly. Proc Natl Acad Sci U S A 107:1488–1493. https://doi.org/10.1073/pnas.0910268107

Sharp PM, Li WH (1987) The Codon Adaptation Index--a measure of directional synonymous codon usage bias, and its potential applications. Nucleic Acids Res 15:1281–1295

Sheldon LA, Kingston RE (1994) Hydrophobic coiled-coil domains regulate the subcellular-localization of human heat-shock factor-2 VOL 7, PG 1549-1588, 1993. Genes Dev 8:386–386

Sherman MY, Goldberg AL (1992) Involvement of the chaperonin dnaK in the rapid degradation of a mutant protein in Escherichia coli. EMBO J 11:71–77

Singh LR, Chen X, Kozich V, Kruger WD (2007) Chemical chaperone rescue of mutant human cystathionine beta-synthase. Mol Genet Metab 91:335–342. https://doi.org/10.1016/j.ymgme.2007.04.011

Sorensen JG, Nielsen MM, Kruhoffer M, Justesen J, Loeschcke V (2005) Full genome gene expression analysis of the heat stress response, in Drosophila melanogaster. Cell Stress Chaperones 10:312–328. https://doi.org/10.1379/csc-128r1.1

Stouthamer AH (1973) A theoretical study on the amount of ATP required for synthesis of microbial cell material. Antonie Van Leeuwenhoek 39:545–565

Suyama M, Torrents D, Bork P (2006) PAL2NAL: robust conversion of protein sequence alignments into the corresponding codon alignments. Nucleic Acids Res 34:W609–W612. https://doi.org/10.1093/nar/gkl315

Suzuki Y (2014) Emerging novel concept of chaperone therapies for protein misfolding diseases. Proc Jpn Acad Ser B Phys Biol Sci 90:145–162. https://doi.org/10.2183/pjab.90.145

Szklarczyk D et al (2017) The STRING database in 2017: quality-controlled protein-protein association networks, made broadly accessible. Nucleic Acids Res 45:D362–D368. https://doi.org/10.1093/nar/gkw937

Takayama S, Xie ZH, Reed JC (1999) An evolutionarily conserved family of Hsp70/Hsc70 molecular chaperone regulators. J Biol Chem 274:781–786. https://doi.org/10.1074/jbc.274.2.781

Thompson JD, Gibson TJ, Higgins DG (2002) Multiple sequence alignment using ClustalW and ClustalX Current protocols in bioinformatics / editoral board, Andreas D Baxevanis [et al] Chapter 2

Tokuriki N, Tawfik DS (2009) Chaperonin overexpression promotes genetic variation and enzyme evolution. Nature 459:668–U671. https://doi.org/10.1038/nature08009

Tomala K, Korona R (2008) Molecular chaperones and selection against mutations. Biol Direct 3. https://doi.org/10.1186/1745-6150-3-5

Tower J (2011) Heat shock proteins and Drosophila aging. Exp Gerontol 46:355–362. https://doi.org/10.1016/j.exger.2010.09.002

Tsao ML, Chao CH, Yeh CT (2006) Interaction of hepatitis C virus F protein with prefoldin 2 perturbs tubulin cytoskeleton organization. Biochem Biophys Res Commun 348:271–277. https://doi.org/10.1016/j.bbrc.2006.07.062

Vainberg IE, Lewis SA, Rommelaere H, Ampe C, Vandekerckhove J, Klein HL, Cowan NJ (1998) Prefoldin, a chaperone that delivers unfolded proteins to cytosolic chaperonin. Cell 93:863–873. https://doi.org/10.1016/s0092-8674(00)81446-4

van den Berg B, Ellis RJ, Dobson CM (1999) Effects of macromolecular crowding on protein folding and aggregation. EMBO J 18:6927–6933. https://doi.org/10.1093/emboj/18.24.6927

Wagner A (2005) Energy constraints on the evolution of gene expression. Mol Biol Evol 22:1365–1374. https://doi.org/10.1093/molbev/msi126

Wang M, Herrmann CJ, Simonovic M, Szklarczyk D, von Mering C (2015) Version 4.0 of PaxDb: protein abundance data, integrated across model organisms, tissues, and cell-lines. Proteomics 15:3163–3168. https://doi.org/10.1002/pmic.201400441

Wheeler B, Jia ZC (2015) Preparation and characterization of human ADCK3, a putative atypical kinase. Protein Expr Purif 108:13–17. https://doi.org/10.1016/j.pep.2014.12.008

Wickner S, Maurizi MR, Gottesman S (1999) Posttranslational quality control: folding, refolding, and degrading proteins. Science 286:1888–1893

Williams TA, Fares MA (2010) The effect of chaperonin buffering on protein evolution. Genome Biol Evol 2:609–619. https://doi.org/10.1093/gbe/evq045

Yang Z (2007) PAML 4: phylogenetic analysis by maximum likelihood. Mol Biol Evol 24. https://doi.org/10.1093/molbev/msm088

Yoshida H, Okada T, Haze K, Yanagi H, Yura T, Negishi M, Mori K (2001) Endoplasmic reticulum stress-induced formation of transcription factor complex ERSF including NF-Y (CBF) and activating transcription factors 6 alpha and 6 beta that activates the mammalian unfolded protein response. Mol Cell Biol 21:1239–1248. https://doi.org/10.1128/mcb.21.4.1239-1248.2001
Funding
The authors received financial assistance from the Bose Institute and Centre of Excellence in Bioinformatics.
Ethics declarations
Competing interests
The authors have declared that they have no competing interests.
Additional information
Publisher's note
Springer Nature remains neutral with regard to jurisdictional claims in published maps and institutional affiliations.
About this article
Cite this article
Victor, M.P., Acharya, D., Chakraborty, S. et al. Chaperone client proteins evolve slower than non-client proteins. Funct Integr Genomics 20, 621–631 (2020). https://doi.org/10.1007/s10142-020-00740-1
Received:

Revised:

Accepted:

Published:

Issue Date:
Keywords
Chaperone

Chaperone client proteins

Evolutionary rate

Protein aggregation propensity

Protein folding rate