Abstract
In potatoes and many other crops, drought is one of the most important environmental constraints leading to yield loss. Development of drought-tolerant cultivars is therefore required for maintaining yields under climate change conditions and for the extension of agriculture to sub-optimal cropping areas. Drought tolerance mechanisms have been well described for many crop plants including Native Andean potato. However, knowledge on tolerance traits suitable for commercial potato varieties is scarce. In order to describe drought tolerance mechanisms that sustain potato yield under water stress, we have designed a growth-chamber experiment with two Solanum tuberosum L. cultivars, the more drought tolerant accession 397077.16, and the sensitive variety Canchan. After 21 days of drought exposure, gene expression was studied in leaves using cDNA microarrays. The results showed that the tolerant clone presented more differentially expressed genes than the sensitive one, suggesting greater stress response and adaptation. Moreover, it exhibited a large pool of upregulated genes belonging to cell rescue and detoxication such as LEAs, dehydrins, HSPs, and metallothioneins. Transcription factors related to abiotic stresses and genes belonging to raffinose family oligosaccharide synthesis, involved in desiccation tolerance, were upregulated to a greater extent in the tolerant clone. This latter result was corroborated by biochemical analyses performed at 32 and 49 days after drought that showed an increase in galactinol and raffinose especially in clone 397077.16. The results depict key components for the drought tolerance of this advanced potato clone.
Access options
Buy single article
Instant access to the full article PDF.
US$ 39.95
Tax calculation will be finalised during checkout.
Subscribe to journal
Immediate online access to all issues from 2019. Subscription will auto renew annually.
US$ 79
Tax calculation will be finalised during checkout.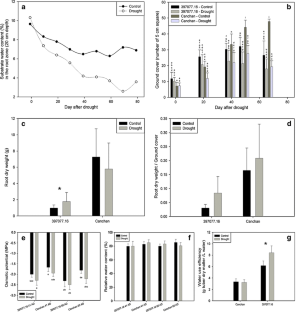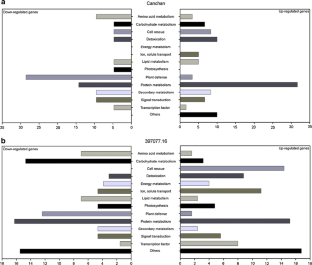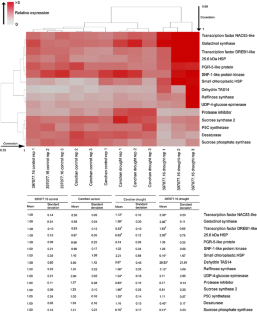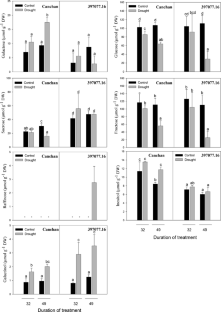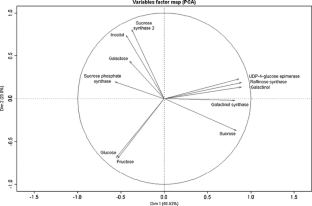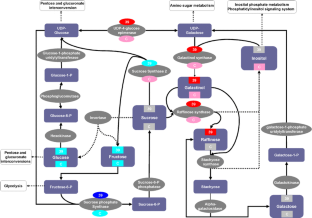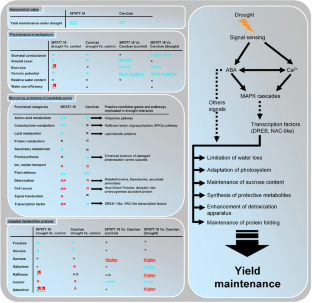 References
An SH, Choi HW, Hong JK, Hwang BK (2009) Regulation and function of the pepper pectin methylesterase inhibitor (CaPMEI1) gene promoter in defense and ethylene and methyl jasmonate signaling in plants. Planta 230:1223–1237

Bartels D, Sunkar R (2005) Drought and salt tolerance in plants. Crit Rev Plant Sci 24:23–58

Cameron KD, Teece MA, Smart LB (2006) Increased accumulation of cuticular wax and expression of lipid transfer protein in response to periodic drying events in leaves of tree tobacco. Plant Physiol 140:176–183

Carvalho AD, Gomes VM (2007) Role of plant lipid transfer proteins in plant cell physiology—a concise review. Peptides 28:1144–1153

Cruz de Carvalho MH (2008) Drought stress and reactive oxygen species: production, scavenging and signaling. Plant Signal Behav 3:156–165

Deyholos MK (2010) Making the most of drought and salinity transcriptomics. Plant Cell Environ 33:648–654

Downing WL, Mauxion F, Fauvarque MO, Reviron MP, de VD, Vartanian N, Giraudat J (1992) A Brassica napus transcript encoding a protein related to the Kunitz protease inhibitor family accumulates upon water stress in leaves, not in seeds. Plant J 2:685–693

Evers D, Bonnechère S, Hoffmann L, Hausman JF (2007) Physiological aspects of abiotic stress of abiotic response in potato. Belg J Bot 140:236–245

Evers D, Lefèvre I, Legay S, Lamoureux D, Hausman JF, Gutierrez R, Tincopa L, Hoffmann L, Bonierbale M, Schafleitner R (2010) Identification of drought-responsive compounds in potato through a combined transcriptomic and targeted metabolite approach. J Exp Bot 61:2327–2343

Fernie AR, Willmitzer L (2001) Molecular and biochemical triggers of potato tuber development. Plant Physiol 127:1459–1465

Gilmour SJ, Fowler SG, Thomashow MF (2004) Arabidopsis transcriptional activators CBF1, CBF2, and CBF3 have matching functional activities. Plant Mol Biol 54:767–781

Godoy JA, Pardo JM, Pintortoro JA (1990) A tomato cDNA inducible by salt stress and abscisic acid: nucleotide sequence and expression pattern. Plant Mol Biol 15:695–705

Groppa MD, Benavides MP (2008) Polyamines and abiotic stress: recent advances. Amino Acids 34:35–45

Hanson A, Nelsen C, Everson E (1977) Evaluation of free proline accumulation as an index of drought resistance using two contrasting barley cultivars. Crop Sci 17:720–726

Hildmann T, Ebneth M, Penacortes H, Sanchezserrano JJ, Willmitzer L, Prat S (1992) General roles of abscisic and jasmonic acids in gene activation as a result of mechanical wounding. Plant Cell 4:1157–1170

Igarashi Y, Yoshiba Y, Sanada Y, Yamaguchishinozaki K, Wada K, Shinozaki K (1997) Characterization of the gene for Delta(1)-pyrroline-5-carboxylate synthetase and correlation between the expression of the gene and salt tolerance in Oryza sativa L. Plant Mol Biol 33:857–865

Jackson SD (1999) Multiple signaling pathways control tuber induction in potato. Plant Physiol 119:1–8

Jongdee B, Fukai S, Cooper M (2002) Leaf water potential and osmotic adjustment as physiological traits to improve drought tolerance in rice. Field Crop Res 76:153–163

Kholova J, Hash CT, Kumar PL, Yadav RS, Kocova M, Vadez V (2010) Terminal drought-tolerant pearl millet [Pennisetum glaucum (L.) R. Br.] have high leaf ABA and limit transpiration at high vapour pressure deficit. J Exp Bot 61:1431–1440

Koizumi M, Yamaguchishinozaki K, Tsuji H, Shinozaki K (1993) Structure and expression of 2 genes that encode distinct drought-inducible cysteine proteinases in Arabidopsis thaliana. Gene 129:175–182

Krapp A, Hofmann B, Schäfer C, Stitt M (1993) Regulation of the expression of rbcS and other photosynthetic genes by carbohydrates: a mechanism for the 'sink regulation' of photosynthesis? Plant J 3:817–828

Lea PJ, Sodek L, Parry MAJ, Shewry R, Halford NG (2007) Asparagine in plants. Ann Appl Biol 150:1–26

Legay S, Lamoureux D, Hausman JF, Hoffmann L, Evers D (2009) Monitoring gene expression of potato under salinity using cDNA microarrays. Plant Cell Rep 28:1799–1816

Ma YY, Song WY, Liu ZH, Zhang HM, Guo XL, Shao HB, Ni FT (2009) The dynamic changing of Ca2+ cellular localization in maize leaflets under drought stress. CR Biol 332:351–362

Mane SP, Robinet CV, Ulanov A, Schafleitner R, Tincopa L, Gaudin A, Nomberto G, Alvarado C, Solis C, Bolivar LA, Blas R, Ortega O, Solis J, Panta A, Rivera C, Samolski I, Carbajulca DH, Bonierbale M, Pati A, Heath LS, Bohnert HJ, Grene R (2008) Molecular and physiological adaptation to prolonged drought stress in the leaves of two Andean potato genotypes. Funct Plant Biol 35:669–688

Miller G, Shulaev V, Mittler R (2008) Reactive oxygen signaling and abiotic stress. Physiol Plantarum 133:481–489

Nicot N, Hausman JF, Hoffmann L, Evers D (2005) Housekeeping gene selection for real-time RT-PCR normalization in potato during biotic and abiotic stress. J Exp Bot 56:2907–2914

Nishizawa A, Yabuta Y, Shigeoka S (2008) Galactinol and raffinose constitute a novel function to protect plants from oxidative damage. Plant Physiol 147:1251–1263

Oufir M, Legay S, Nicot N, Van Moer K, Hoffmann L, Renaut J, Hausman JF, Evers D (2008) Gene expression in potato during cold exposure: changes in carbohydrate and polyamine metabolisms. Plant Sci 175:839–852

Paul MJ, Pellny TK (2003) Carbon metabolite feedback regulation of leaf photosynthesis and development. J Exp Bot 54:539–547

Pelloux J, Jolivet Y, Fontaine V, Banvoy J, Dizengremel P (2001) Changes in Rubisco and Rubisco activase gene expression and polypeptide content in Pinus halepensis M. subjected to ozone and drought. Plant Cell Environ 24:123–131

Plant AL, Bray EA (1999) Regulation of gene expression by abscisic acid during environmental stress. In: Lerner HR (ed) Plant responses to environmental stresses: from phytohormones to genome reorganization. Mark Dekker, New York, pp 303–331

Rabbani MA, Maruyama K, Abe H, Khan MA, Katsura K, Ito Y, Yoshiwara K, Seki M, Shinozaki K, Yamaguchi-Shinozaki K (2003) Monitoring expression profiles of rice genes under cold, drought, and high-salinity stresses and abscisic acid application using cDNA microarray and RNA gel-blot analyses. Plant Physiol 133:1755–1767

Rorat T (2006) Plant dehydrins—tissue location, structure and function. Cell Mol Biol Lett 11:536–556

Schafleitner R, Gaudin A, Rosales ROG, Aliaga CAA, Bonierbale M (2005) Proline accumulation and real-time PCR expression analysis of genes encoding enzymes of proline metabolism in relation to drought tolerance in Andean potato. Acta Physiol Plant 29:19–26

Schafleitner R, Rosales ROG, Gaudin A, Aliaga CAA, Martinez GN, Marca LRT, Bolivar LA, Delgado FM, Simon R, Bonierbale M (2007) Capturing candidate drought tolerance traits in two native Andean potato clones by transcription profiling of field grown plants under water stress. Plant Physiol Biochem 45:673–690

Shi LX, Lorkovic ZJ, Oelmuller R, Schroder WP (2000) The low molecular mass PsbW protein is involved in the stabilization of the dimeric photosystem II complex in Arabidopsis thaliana. J Biol Chem 275:37945–37950

Shinozaki K, Yamaguchi-Shinozaki K, Seki M (2003) Regulatory network of gene expression in the drought and cold stress responses. Curr Opin Plant Biol 6:410–417

Sundaresan S, Sudhakaran PR (1995) Water stress-induced alterations in the proline metabolism of drought-susceptible and drought-tolerant cassava (Manihot esculenta) cultivars. Physiol Plantarum 94:635–642

Taji T, Ohsumi C, Iuchi S, Seki M, Kasuga M, Kobayashi M, Yamaguchi-Shinozaki K, Shinozaki K (2002) Important roles of drought- and cold-inducible genes for galactinol synthase in stress tolerance in Arabidopsis thaliana. Plant J 29:417–426

Trevino MB, O'Connell MA (1998) Three drought-responsive members of the nonspecific lipid-transfer protein gene family in Lycopersicon pennellii show different developmental patterns of expression. Plant Physiol 116:1461–1468

Valliyodan B, Nguyen HT (2006) Understanding regulatory networks and engineering for enhanced drought tolerance in plants. Curr Opin Plant Biol 9:189–195

van Bel AJE, Hess PH (2008) Hexoses as phloem transport sugars: the end of a dogma? J Exp Bot 59:261–272

Vandesompele J, De Preter K, Pattyn F, Poppe B, Van Roy N, De Paepe A, Speleman F (2002) Accurate normalization of real-time quantitative RT-PCR data by geometric averaging of multiple internal control genes. Genome Biol 3: research 0034.1–0034.11

Vasquez-Robinet C, Mane SP, Ulanov AV, Watkinson JI, Stromberg VK, De Koeyer D, Schafleitner R, Willmot DB, Bonierbale M, Bohnert HJ, Grene R (2008) Physiological and molecular adaptations to drought in Andean potato genotypes. J Exp Bot 59:2109–2123

Vieira Dos Santos C, Rey P (2006) Plant thioredoxins are key actors in the oxidative stress response. Trends Plant Sci 11:329–334

Vierstra RD (1993) Protein degradation in plants. Ann Rev Plant Physiol Mol Biol 44:385–410

Waters ER, Aevermann BD, Sanders-Reed Z (2008) Comparative analysis of the small heat shock proteins in three angiosperm genomes identifies new subfamilies and reveals diverse evolutionary patterns. Cell Stress Chaperon 13:127–142

Watkinson JI, Hendricks L, Sioson AA, Vasquez-Robinet C, Stromberg V, Heath LS, Schuler M, Bohnert HJ, Bonierbale M, Grene R (2006) Accessions of Solanum tuberosum ssp andigena show differences in photosynthetic recovery after drought stress as reflected in gene expression profiles. Plant Sci 171:745–758

Wolfinger RD, Chang M (1998) Comparing the SAS GLM and MIXED procedures for repeated measures. In SUGI Proceedings, Cary, NC, USA

Xie Q, Frugis G, Colgan D, Chua NH (2000) Arabidopsis NAC1 transduces auxin signal downstream of TIR1 to promote lateral root development. Gene Dev 14:3024–3036

Xue GP, McIntyre CL, Glassop D, Shorter R (2008) Use of expression analysis to dissect alterations in carbohydrate metabolism in wheat leaves during drought stress. Plant Mol Biol 67:197–214

Zhang CS, Lu Q, Verma DPS (1995) Removal of feedback inhibition of Delta(1)-pyrroline-5-carboxylate synthetase, a bifunctional enzyme catalyzing the first 2 steps of proline biosynthesis in plants. J Biol Chem 270:20491–20496

Zhou JL, Wang XF, Jiao YL, Qin YH, Liu XG, He K, Chen C, Ma LG, Wang J, Xiong LZ, Zhang QF, Fan LM, Deng XW (2007) Global genome expression analysis of rice in response to drought and high-salinity stresses in shoot, flag leaf, and panicle. Plant Mol Biol 63:591–608
Acknowledgments
The authors would like to thank Laurent Solinhac for his excellent technical assistance, Drs Bodo Trognitz and Fiederike Trognitz for the microarray slides and finally Dr Torsten Bohn for his precious help on statistics. This work was financially supported by the Ministry of Finance (Luxembourg).
About this article
Cite this article
Legay, S., Lefèvre, I., Lamoureux, D. et al. Carbohydrate metabolism and cell protection mechanisms differentiate drought tolerance and sensitivity in advanced potato clones (Solanum tuberosum L.). Funct Integr Genomics 11, 275–291 (2011). https://doi.org/10.1007/s10142-010-0206-z
Received:

Revised:

Accepted:

Published:

Issue Date:
Keywords
Drought

Microarrays

Potato

Raffinose family oligosaccarides

Solanum tuberosum