Abstract
Purpose
To describe the first "arcuate sign" case series in the pediatric population, radiologic features of the associated injuries, management, and how they compare with the adult population.
Methods
Retrospective study included patients under 18 years of age with a classic "arcuate sign" on radiographs. Data collected included patient demographics, mechanism of injury, and management. Radiographs and advanced imaging (MRI, CT) were reviewed by two musculoskeletal radiologists in a blinded fashion and findings recorded.
Results
Seven patients (4 males, 3 females) with mean age 15 years (range 14–17 years) were included in the study. All 7 injuries were related to sports, 5/7 (71%) being non-contact injuries. Five patients had MRI done-1 LCL injury, MPFL sprain, and MCL sprain were reported; 3 popliteofibular ligament and popliteus sprains were seen; and 3 bone contusions were present on imaging. None of the patients had meniscus or cruciate ligament tears. One patient had an additional fracture of the lateral tibial plateau at the ilio-tibial band attachment and an associated peroneal nerve injury. Five out of seven (71.4%) were treated non-operatively and were able to return back to activity at a mean of 7.2 weeks from injury. Two out of seven (28.6%) needed operative intervention for the fracture but not arthroscopic repair.
Conclusion
Pediatric patients with a radiographic arcuate sign tend not to have ACL, PCL, or meniscal injuries, and treatment is predominantly non-operative in contrast to literature reported in adults.
Access options
Buy single article
Instant access to the full article PDF.
US$ 39.95
Tax calculation will be finalised during checkout.
Subscribe to journal
Immediate online access to all issues from 2019. Subscription will auto renew annually.
US$ 119
Tax calculation will be finalised during checkout.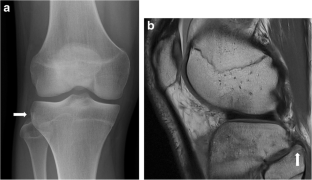 References
1.

Shindell R, Walsh WM, Connolly JF (1984) Avulsion fracture of the fibula: the 'arcuate sign' of posterolateral knee instability. Nebr Med J 69(11):369–371

2.

Strub WM (2007) The arcuate sign. Radiology 244(2):620–621. https://doi.org/10.1148/radiol.2442042160

3.

Recondo JA, Salvador E, Villanúa JA, Barrera MC, Gervás C, Alústiza JM (2000) Lateral stabilizing structures of the knee: functional anatomy and injuries assessed with MR imaging. Radiographics 20 Spec No:S91–S102. https://doi.org/10.1148/radiographics.20.suppl_1.g00oc02s91

4.

Bolog N, Hodler J (2007) MR imaging of the posterolateral corner of the knee. Skelet Radiol 36(8):715–728. https://doi.org/10.1007/s00256-006-0271-5

5.

Jadhav SP, More SR, Riascos RF, Lemos DF, Swischuk LE (2014) Comprehensive review of the anatomy, function, and imaging of the popliteus and associated pathologic conditions. Radiographics 34(2):496–513. https://doi.org/10.1148/rg.342125082

6.

Crimmins JT, Wissman RD (2008) The arcuate sign: a marker of potential knee dislocation? A report of two cases. Radiol Case Rep 3(2):160. https://doi.org/10.2484/rcr.v3i2.160

7.

Huang GS, Yu JS, Munshi M, Chan WP, Lee CH, Chen CY, Resnick D (2003) Avulsion fracture of the head of the fibula (the "arcuate" sign): MR imaging findings predictive of injuries to the posterolateral ligaments and posterior cruciate ligament. AJR Am J Roentgenol 180(2):381–387. https://doi.org/10.2214/ajr.180.2.1800381

8.

Lee J, Papakonstantinou O, Brookenthal KR, Trudell D, Resnick DL (2003) Arcuate sign of posterolateral knee injuries: anatomic, radiographic, and MR imaging data related to patterns of injury. Skelet Radiol 32(11):619–627. https://doi.org/10.1007/s00256-003-0679-0

9.

Dwek JR (2016) A structural and mechanism-based perspective toward understanding pediatric and adult sports injuries. AJR Am J Roentgenol 206(5):980–986. https://doi.org/10.2214/ajr.15.15937

10.

Cohen BH, DeFroda SF, Hodax JD, Johnson D, Kristopher Ware J, Fadale PD (2018) The arcuate fracture: a descriptive radiographic study. Injury 49(10):1871–1877. https://doi.org/10.1016/j.injury.2018.08.009

11.

Markeson CD, Renacci RM, Bartolotta RJ (2020) Arcuate sign in posterolateral corner injury of the knee. J Emerg Med 58:509–511. https://doi.org/10.1016/j.jemermed.2019.11.035

12.

Takahashi H, Tajima G, Kikuchi S, Yan J, Kamei Y, Maruyama M, Sugawara A, Saigo T, Doita M (2017) Morphology of the fibular insertion of the posterolateral corner and biceps femoris tendon. Knee Surg Sports Traumatol Arthrosc 25(1):184–191. https://doi.org/10.1007/s00167-016-4304-x

13.

Chahla J, Moatshe G, Dean CS, LaPrade RF (2016) Posterolateral corner of the knee: current concepts. Arch Bone Jt Surg 4(2):97–103

14.

Dold AP, Swensen S, Strauss E, Alaia M (2017) The posteromedial corner of the knee: anatomy, pathology, and management strategies. J Am Acad Orthop Surg 25(11):752–761. https://doi.org/10.5435/jaaos-d-16-00020

15.

Hughes JD, Rauer T, Gibbs CM, Musahl V (2019) Diagnosis and treatment of rotatory knee instability. J Exp Orthop 6(1):48. https://doi.org/10.1186/s40634-019-0217-1

16.

Kramer DE, Miller PE, Berrahou IK, Yen YM, Heyworth BE (2017) Collateral ligament knee injuries in pediatric and adolescent athletes. J Pediatr Orthop 40:71–77. https://doi.org/10.1097/bpo.0000000000001112

17.

de Alencar Neto JB, de Souza CJD, Lopes MBG, Cavalcante MLC, Neto LHP (2020) Bilateral avulsion fracture of the fibula head of the knee associated with avulsion fracture of the iliotibial band: a rare case of fracture Segond associated with arcuate fracture. Case Rep Orthop 2020:8825638–8825638. https://doi.org/10.1155/2020/8825638

18.

Vasilevska Nikodinovska V, Gimber LH, Hardy JC, Taljanovic MS (2016) The collateral ligaments and posterolateral corner: what radiologists should know. Semin Musculoskelet Radiol 20(1):52–64. https://doi.org/10.1055/s-0036-1579677

19.

Filli L, Rosskopf AB, Sutter R, Fucentese SF, Pfirrmann CWA (2018) MRI predictors of posterolateral corner instability: a decision tree analysis of patients with acute anterior cruciate ligament tear. Radiology 289(1):170–180. https://doi.org/10.1148/radiol.2018180194

20.

Mascarenhas R, Bonci G, Bowman KF, Forsythe B, Harner CD (2013) Combined ACL-posterolateral corner injury in a skeletally immature athlete. J Knee Surg 26(Suppl 1):S94–S99. https://doi.org/10.1055/s-0032-1322597

21.

von Heideken J, Mikkelsson C, Boström Windhamre H, Janarv PM (2011) Acute injuries to the posterolateral corner of the knee in children: a case series of 6 patients. Am J Sports Med 39(10):2199–2205. https://doi.org/10.1177/0363546511416198

22.

Juhng SK, Lee JK, Choi SS, Yoon KH, Roh BS, Won JJ (2002) MR evaluation of the "arcuate" sign of posterolateral knee instability. AJR Am J Roentgenol 178(3):583–588. https://doi.org/10.2214/ajr.178.3.1780583

23.

Spadafore S, Khodaee M (2020) Avulsion fracture of the proximal fibula (arcuate sign) in a young woman. BMJ Case Rep 13(9):e237368. https://doi.org/10.1136/bcr-2020-237368

24.

Tomás-Hernández J, Monyart JM, Serra JT, Vinaixa MR, Farfan EG, García VM, Feliu EC (2016) Large fracture of the anteromedial tibial plateau with isolated posterolateral knee corner injury: case series of an often missed unusual injury pattern. Injury 47(Suppl 3):S35–S40. https://doi.org/10.1016/s0020-1383(16)30604-0
Ethics declarations
Conflict of interest
The authors declare that they have no conflict of interest.
Additional information
Publisher's note
Springer Nature remains neutral with regard to jurisdictional claims in published maps and institutional affiliations.
About this article
Cite this article
Kushare, I., Ghanta, R.B., Ditzler, M. et al. Arcuate sign—fibular head avulsion fracture and associated injuries in the pediatric and adolescent population. Emerg Radiol (2021). https://doi.org/10.1007/s10140-021-01910-9
Received:

Accepted:

Published:
Keywords
Arcuate sign

Fibula head fracture

Knee

Magnetic resonance imaging

Posterior cruciate ligament

Posterolateral corner injury