Abstract
The purpose of this review is to understand the role of imaging in the diagnosis and management of non-traumatic subarachnoid hemorrhage (SAH). SAH is a life-threatening emergency and a relatively common entity, the most common etiology being ruptured aneurysms. Multiple conundrums exist in literature at various steps of its imaging workup: diagnosis, management, and follow-up. We target our review to highlight the most effective practice and suggest efficient workup plans based on literature search, and describe in detail the clinical diagnostic and prognostic scales, role of CT scan, lumbar puncture, and MR, including angiography in the diagnosis and workup of SAH and its complications, and try to simplify the conundrums. Practical knowledge of imaging workup of SAH can help guide correct management of these patients, so as to reduce morbidity and mortality without resource overutilization.
Access options
Buy single article
Instant access to the full article PDF.
US$ 39.95
Tax calculation will be finalised during checkout.
Subscribe to journal
Immediate online access to all issues from 2019. Subscription will auto renew annually.
US$ 119
Tax calculation will be finalised during checkout.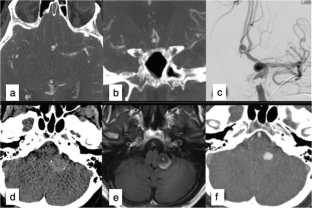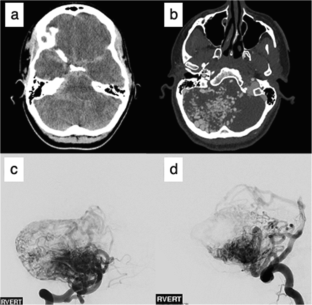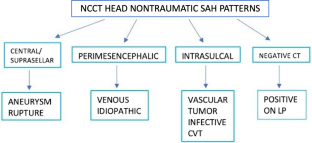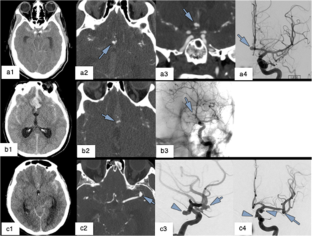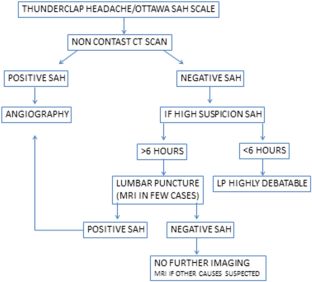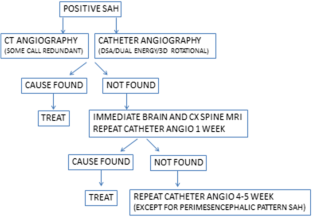 References
1.

Cohen-Gadol AA, Bohnstedt BN (2013 Oct) Recognition and evaluation of nontraumatic subarachnoid hemorrhage and ruptured cerebral aneurysm. Am Fam Physician 88(7):451–456

2.

Huhtakangas J, Lehto H, Seppä K, Kivisaari R, Niemelä M, Hernesniemi J, Lehecka M (2015) Long-term excess mortality after aneurysmal subarachnoid hemorrhage: patients with multiple aneurysms at risk. Stroke 46(7):1813–1818

3.

Marder CP, Narla V, Fink JR, Tozer Fink KR. Subarachnoid hemorrhage: beyond aneurysms. Am J Roentgenol [Internet]. 2013 26;202(1):25–37. Available from: https://doi.org/10.2214/AJR.12.9749, Subarachnoid Hemorrhage: Beyond Aneurysms

4.

Carpenter CR, Raja AS, Brown MD (2015) Overtesting and the downstream consequences of overtreatment: implications of "preventing overdiagnosis" for emergency medicine. Acad Emerg Med Off J Soc Acad Emerg Med 22(12):1484–1492

5.

Dubosh NM, Bellolio MF, Rabinstein AA, Edlow JA (2016) Sensitivity of early brain computed tomography to exclude aneurysmal subarachnoid hemorrhage: a systematic review and meta-analysis. Stroke 47(3):750–755

6.

Wu W-T, Pan H-Y, Wu K-H, Huang Y-S, Wu C-H, Cheng F-J (2020) The Ottawa subarachnoid hemorrhage clinical decision rule for classifying emergency department headache patients. Am J Emerg Med 38(2):198–202

7.

Rosen DS, Macdonald RL (2005) Subarachnoid hemorrhage grading scales: a systematic review. Neurocrit Care 2(2):110–118

8.

Salmela MB, Mortazavi S, Jagadeesan BD, Broderick DF, Burns J, Deshmukh TK, Harvey HB, Hoang J, Hunt CH, Kennedy TA, Khalessi AA, Mack W, Patel ND, Perlmutter JS, Policeni B, Schroeder JW, Setzen G, Whitehead MT, Cornelius RS, Corey AS (2017) ACR Appropriateness Criteria(®) cerebrovascular disease. J Am Coll Radiol 14(5S):S34–S61

9.

Dankbaar JW, de Rooij NK, Velthuis BK, Frijns CJM, Rinkel GJE, van der Schaaf IC (2009) Diagnosing delayed cerebral ischemia with different CT modalities in patients with subarachnoid hemorrhage with clinical deterioration. Stroke 40(11):3493–3498

10.

Backes D, Rinkel GJE, Kemperman H, Linn FHH, Vergouwen MDI (2012) Time-dependent test characteristics of head computed tomography in patients suspected of nontraumatic subarachnoid hemorrhage. Stroke. 43(8):2115–2119

11.

Mitchell P, Wilkinson ID, Hoggard N, Paley MN, Jellinek DA, Powell T, Romanowski C, Hodgson T, Griffiths PD (2001) Detection of subarachnoid haemorrhage with magnetic resonance imaging. J Neurol Neurosurg Psychiatry 70(2):205–211 Available from: https://pubmed.ncbi.nlm.nih.gov/11160469

12.

Cuvinciuc V, Viguier A, Calviere L, Raposo N, Larrue V, Cognard C et al (2010) Isolated acute nontraumatic cortical subarachnoid hemorrhage. Am J Neuroradiol 31(8):1355 LP–1351362 Available from: http://www.ajnr.org/content/31/8/1355.abstract

13.

Perry JJ, Stiell IG, Sivilotti MLA, Bullard MJ, Lee JS, Eisenhauer M, Symington C, Mortensen M, Sutherland J, Lesiuk H, Wells GA (2010) High risk clinical characteristics for subarachnoid haemorrhage in patients with acute headache: prospective cohort study. BMJ 341:c5204

14.

Sayer D, Bloom B, Fernando K, Jones S, Benton S, Dev S, Deverapalli S, Harris T (2015) An observational study of 2,248 patients presenting with headache, suggestive of subarachnoid hemorrhage, who received lumbar punctures following normal computed tomography of the head. Acad Emerg Med Off J Soc Acad Emerg Med 22(11):1267–1273

15.

Lansley J, Selai C, Krishnan AS, Lobotesis K, Jäger HR (2016) Subarachnoid haemorrhage guidelines and clinical practice: a cross-sectional study of emergency department consultants' and neurospecialists' views and risk tolerances. BMJ Open 6(9):e012357

16.

Connolly ESJ, Rabinstein AA, Carhuapoma JR, Derdeyn CP, Dion J, Higashida RT et al (2012) Guidelines for the management of aneurysmal subarachnoid hemorrhage: a guideline for healthcare professionals from the American Heart Association/American Stroke Association. Stroke 43(6):1711–1737

17.

Shimoda M, Hoshikawa K, Shiramizu H, Oda S, Matsumae M (2010) Problems with diagnosis by fluid-attenuated inversion recovery magnetic resonance imaging in patients with acute aneurysmal subarachnoid hemorrhage. Neurol Med Chir (Tokyo) 50(7):530–537

18.

Verma RK, Kottke R, Andereggen L, Weisstanner C, Zubler C, Gralla J, Kiefer C, Slotboom J, Wiest R, Schroth G, Ozdoba C, el-Koussy M (2013) Detecting subarachnoid hemorrhage: comparison of combined FLAIR/SWI versus CT. Eur J Radiol 82(9):1539–1545

19.

Weimer JM, Jones SE, Frontera JA (2017) Acute cytotoxic and vasogenic edema after subarachnoid hemorrhage: a quantitative MRI study. AJNR Am J Neuroradiol 38(5):928–934

20.

Maslehaty H, Petridis AK, Barth H, Mehdorn HM (2011 Apr) Diagnostic value of magnetic resonance imaging in perimesencephalic and nonperimesencephalic subarachnoid hemorrhage of unknown origin. J Neurosurg 114(4):1003–1007

21.

Bederson JB, Connolly ESJ, Batjer HH, Dacey RG, Dion JE, Diringer MN et al (2009) Guidelines for the management of aneurysmal subarachnoid hemorrhage: a statement for healthcare professionals from a special writing group of the Stroke Council. American Heart Association Stroke 40(3):994–1025

22.

Sailer AMH, Wagemans BAJM, Nelemans PJ, de Graaf R, van Zwam WH (2014) Diagnosing intracranial aneurysms with MR angiography: systematic review and meta-analysis. Stroke 45(1):119–126

23.

Chen X, Liu Y, Tong H, Dong Y, Ma D, Xu L, Yang C (2018) Meta-analysis of computed tomography angiography versus magnetic resonance angiography for intracranial aneurysm. Medicine (Baltimore) [Internet] 97(20):e10771–e10771 Available from: https://pubmed.ncbi.nlm.nih.gov/29768368

24.

Jang M, Kim JH, Park JW, Roh H, Lee H-J, Seo J, Hwang SH, Yoon JH, Yoon SH, Cho BK (2020) Features of "false positive" unruptured intracranial aneurysms on screening magnetic resonance angiography. PLoS One [Internet] 15(9):e0238597–e0238597 Available from: https://pubmed.ncbi.nlm.nih.gov/32881975

25.

Edlow AJ (2007) Diagnosis of subarachnoid hemorrhage. Stroke [Internet] 38(4):1129–1131. Available from:. https://doi.org/10.1161/01.STR.0000259854.65818.57

26.

Locksley HB (1966) Natural history of subarachnoid hemorrhage, intracranial aneurysms and arteriovenous malformations. Based on 6368 cases in the cooperative study. J Neurosurg 25(2):219–239

27.

de Gans K, Nieuwkamp DJ, Rinkel GJE, Algra A (2002) Timing of aneurysm surgery in subarachnoid hemorrhage: a systematic review of the literature. Neurosurgery 50(2):332–336

28.

Delgado Almandoz JE, Jagadeesan BD, Refai D, Moran CJ, Cross DT 3rd, Chicoine MR et al (2012) Diagnostic yield of repeat catheter angiography in patients with catheter and computed tomography angiography negative subarachnoid hemorrhage. Neurosurgery. 70(5):1135–1142

29.

Jayaraman MV, Haas RA, Do HM, Meyers PM (2010) Should CT angiography be routinely used in patients suspected of having aneurysmal subarachnoid hemorrhage? Radiology. United States 254:314–316

30.

Westerlaan HE, van Dijk JMC, Jansen-van der Weide MC, de Groot JC, RJM G, JJA M et al (2011) Intracranial aneurysms in patients with subarachnoid hemorrhage: CT angiography as a primary examination tool for diagnosis--systematic review and meta-analysis. Radiology. 258(1):134–145

31.

Moran CJ (2011) Aneurysmal subarachnoid hemorrhage: DSA versus CT angiography--is the answer available? Radiology. United States 258:15–17

32.

Yeung R, Ahmad T, Aviv RI, de Tilly LN, Fox AJ, Symons SP (2009) Comparison of CTA to DSA in determining the etiology of spontaneous ICH. Can J Neurol Sci Le J Can des Sci Neurol 36(2):176–180

33.

Wallace AN, Dines JN, Zipfel GJ, Derdeyn CP (2013) Yield of catheter angiography after computed tomography negative, lumbar puncture positive subarachnoid hemorrhage [corrected]. Stroke [Internet] 44(6):1729–1731 Available from: https://pubmed.ncbi.nlm.nih.gov/23619131

34.

Horstman P, Linn FHH, Voorbij HAM, Rinkel GJE (2012) Chance of aneurysm in patients suspected of SAH who have a "negative" CT scan but a "positive" lumbar puncture. J Neurol 259(4):649–652

35.

van Rooij WJ, Peluso JPP, Sluzewski M, Beute GN (2008) Additional value of 3D rotational angiography in angiographically negative aneurysmal subarachnoid hemorrhage: how negative is negative? AJNR Am J Neuroradiol 29(5):962–966

36.

Bechan RS, van Rooij SB, Sprengers ME, Peluso JP, Sluzewski M, Majoie CB, van Rooij WJ (2015) CT angiography versus 3D rotational angiography in patients with subarachnoid hemorrhage. Neuroradiology. 57(12):1239–1246

37.

Agid R, Lee SK, Willinsky RA, Farb RI, KG tB (2006) Acute subarachnoid hemorrhage: using 64-slice multidetector CT angiography to "triage" patients' treatment. Neuroradiology 48(11):787–794

38.

van Gelder JM (2003) Computed tomographic angiography for detecting cerebral aneurysms: implications of aneurysm size distribution for the sensitivity, specificity, and likelihood ratios. Neurosurgery 53(3):596–597

39.

White PM, Wardlaw JM, Easton V (2000) Can noninvasive imaging accurately depict intracranial aneurysms? A systematic review. Radiology. 217(2):361–370

40.

Romijn M, van Andel HAF G, van Walderveen MA, Sprengers ME, van Rijn JC, van Rooij WJ et al (2008) Diagnostic accuracy of CT angiography with matched mask bone elimination for detection of intracranial aneurysms: comparison with digital subtraction angiography and 3D rotational angiography. AJNR Am J Neuroradiol 29(1):134–139

41.

Watanabe Y, Uotani K, Nakazawa T, Higashi M, Yamada N, Hori Y, Kanzaki S, Fukuda T, Itoh T, Naito H (2009) Dual-energy direct bone removal CT angiography for evaluation of intracranial aneurysm or stenosis: comparison with conventional digital subtraction angiography. Eur Radiol 19(4):1019–1024

42.

Agid R, Andersson T, Almqvist H, Willinsky RA, Lee S-K, KG tB et al (2010) Negative CT angiography findings in patients with spontaneous subarachnoid hemorrhage: when is digital subtraction angiography still needed? AJNR Am J Neuroradiol 31(4):696–705

43.

Kern KC, Liebeskind DS (2019) Vessel wall imaging of cerebrovascular disorders. Curr Treat Options Cardiovasc Med 21(11):65

44.

Mossa-Basha M, Huynh TJ, Hippe DS, Fata P, Morton RP, Levitt MR (2018) Vessel wall MRI characteristics of endovascularly treated aneurysms: association with angiographic vasospasm. J Neurosurg 131(3):859–867

45.

Hartman JB, Watase H, Sun J, Hippe DS, Kim L, Levitt M, Sekhar L, Balu N, Hatsukami T, Yuan C, Mossa-Basha M (2019) Intracranial aneurysms at higher clinical risk for rupture demonstrate increased wall enhancement and thinning on multicontrast 3D vessel wall MRI. Br J Radiol 92(1096):20180950

46.

Dodick DW (2002) Thunderclap headache. J Neurol Neurosurg Psychiatry [Internet] 72(1):6–11 Available from: https://pubmed.ncbi.nlm.nih.gov/11784817

47.

Ducros A, Bousser M-G (2013) Thunderclap headache. BMJ [Internet]:346 Available from: https://www.bmj.com/content/346/bmj.e8557

48.

Dalyai R, Chalouhi N, Theofanis T, Jabbour PM, Dumont AS, Gonzalez LF et al (2013) Subarachnoid hemorrhage with negative initial catheter angiography: a review of 254 cases evaluating patient clinical outcome and efficacy of short- and long-term repeat angiography. Neurosurgery 72(4):642–646

49.

Delgado Almandoz JE, Crandall BM, Fease JL, Scholz JM, Anderson RE, Kadkhodayan Y, Tubman DE (2013) Diagnostic yield of catheter angiography in patients with subarachnoid hemorrhage and negative initial noninvasive neurovascular examinations. AJNR Am J Neuroradiol 34(4):833–839

50.

Maslehaty H, Barth H, Petridis AK, Doukas A, Maximilian MH (2012) Special features of subarachnoid hemorrhage of unknown origin: a review of a series of 179 cases. Neurol Res 34(1):91–97

51.

van Gijn J, van Dongen KJ, Vermeulen M, Hijdra A (1985) Perimesencephalic hemorrhage: a nonaneurysmal and benign form of subarachnoid hemorrhage. Neurology. 35(4):493–497

52.

Ruigrok YM, Rinkel GJ, Buskens E, Velthuis BK, van Gijn J (2000) Perimesencephalic hemorrhage and CT angiography: a decision analysis. Stroke 31(12):2976–2983

53.

Alg VS, Sofat R, Houlden H, Werring DJ (2013) Genetic risk factors for intracranial aneurysms: a meta-analysis in more than 116,000 individuals. Neurology 80(23):2154–2165

54.

Thompson BG, Brown RD, Amin-Hanjani S, Broderick JP, Cockroft KM, Connolly ES et al (2015) Guidelines for the management of patients with unruptured intracranial aneurysms. Stroke 46(8):2368–2400

55.

Williams LN, Brown RD Jr (2013) Management of unruptured intracranial aneurysms. Neurol Clin Pract [Internet] 3(2):99–108 Available from: https://pubmed.ncbi.nlm.nih.gov/23914319

56.

Chen S, Luo J, Reis C, Manaenko A, Zhang J (2017) Hydrocephalus after subarachnoid hemorrhage: pathophysiology, diagnosis, and treatment. Biomed Res Int [Internet] 2017:8584753 Available from: https://pubmed.ncbi.nlm.nih.gov/28373987

57.

Kumar G, Alexandrov AV (2015) Vasospasm surveillance with transcranial doppler sonography in subarachnoid hemorrhage. J ultrasound Med Off J Am Inst Ultrasound Med 34(8):1345–1350

58.

Crowley RW, Medel R, Dumont AS, Ilodigwe D, Kassell NF, Mayer SA, Ruefenacht D, Schmiedek P, Weidauer S, Pasqualin A, Macdonald RL (2011) Angiographic vasospasm is strongly correlated with cerebral infarction after subarachnoid hemorrhage. Stroke 42(4):919–923

59.

Mir DIA, Gupta A, Dunning A, Puchi L, Robinson CL, Epstein H-AB, Sanelli PC (2014) CT perfusion for detection of delayed cerebral ischemia in aneurysmal subarachnoid hemorrhage: a systematic review and meta-analysis. AJNR Am J Neuroradiol 35(5):866–871

60.

Cremers CHP, van der Schaaf IC, Wensink E, Greving JP, Rinkel GJE, Velthuis BK et al (2014) CT perfusion and delayed cerebral ischemia in aneurysmal subarachnoid hemorrhage: a systematic review and meta-analysis. J Cereb Blood Flow Metab [Internet] 34(2):200–207 Available from: https://pubmed.ncbi.nlm.nih.gov/24281744

61.

Tomycz L, Bansal NK, Hawley CR, Goddard TL, Ayad MJ, Mericle RA (2011) "Real-world" comparison of non-invasive imaging to conventional catheter angiography in the diagnosis of cerebral aneurysms. Surg Neurol Int 2:134
Ethics declarations
Ethics approval
NA
Consent to participate
NA
Consent for publication
All authors consent for publication.
Conflict of interest
The authors declare that they have no conflict of interest.
Additional information
Publisher's note
Springer Nature remains neutral with regard to jurisdictional claims in published maps and institutional affiliations.
About this article
Cite this article
Khatri, G.D., Sarikaya, B., Cross, N.M. et al. The role of imaging in the management of non-traumatic subarachnoid hemorrhage: a practical review. Emerg Radiol (2021). https://doi.org/10.1007/s10140-021-01900-x
Received:

Accepted:

Published:
Keywords
Aneurysmal subarachnoid hemorrhage

CT scans spiral

Angiography

Digital subtraction

MRI scan

Lumbar puncture