Abstract
Purpose
The purpose of this study is to examine the incidence, location, and magnetic resonance imaging (MRI) features of spinal epidural hematoma (SEH) and spinal subdural hematoma (SSH) in post-traumatic ankylosing spondylitis (AS) patients.
Methods
A total of 2256 consecutive referrals for urgent and emergency MRI scans of the spine over a period of eight years and nine months were manually reviewed for any mentions indicating axial ankylosis and post-traumatic spinal hematoma. We found 164 patients with ankylosed spines complicated by spinal fracture, of whom 32 had AS. Of the 132 excluded patients, 80 had diffuse idiopathic skeletal hyperostosis (DISH). The primary outcome was the presence of spinal hematoma, and the secondary outcome was spinal canal narrowing and spinal cord impingement. Two musculoskeletal radiologists and one fellow in musculoskeletal radiology reviewed the images for the presence of spinal hematoma and related signal characteristics, blinded to one another and initial reports.
Results
Of 28 post-traumatic AS patients, 19 had SEHs and five had spinal SSHs. There was a statistically significant difference between Frankel grades before and after surgery in respect of neurological improvement (p = 0.008). Patients who had radiologically proven spinal cord impingement showed more severe neurological deficits (p = 0.012). Hematomas with T1 heterogeneity showed a significantly increased delay (p = 0.047) between injury and imaging, while other signal characteristics were only approximate.
Conclusions
Both SEH and SSH are common complications in post-traumatic AS patients. Patients benefit from surgery, but the relevance of spinal hematoma as a separate factor causing neurological deficit remains unclear.
Access options
Buy single article
Instant access to the full article PDF.
US$ 39.95
Tax calculation will be finalised during checkout.
Subscribe to journal
Immediate online access to all issues from 2019. Subscription will auto renew annually.
US$ 119
Tax calculation will be finalised during checkout.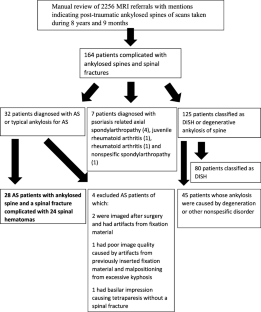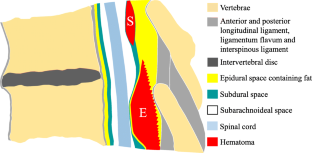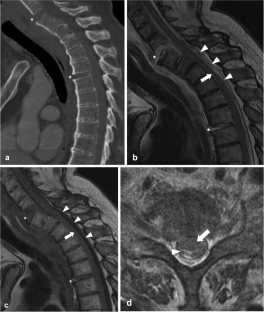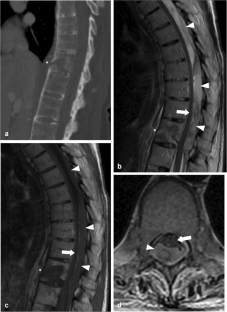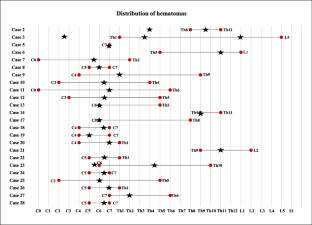 Abbreviations
AS:

Ankylosing spondylitis

CT:

Computed tomography

DISH:

Diffuse idiopathic skeletal hyperostosis

IQR:

Interquartile range

MRI:

Magnetic resonance imaging

SEH:

Spinal epidural hematoma

SSH:

Spinal subdural hematoma

STIR:

Short tau inversion recovery
References
1.

Holtås S, Heiling M, Lönntoft M (1996) Spontaneous spinal epidural hematoma: findings at MR imaging and clinical correlation. Radiology 199:409–413

2.

Broom MJ, Raycroft JF (1988) Complications of fractures of the cervical spine in ankylosing spondylitis. Spine 13:763–766

3.

Rowed DW (1992) Management of cervical spinal cord injury in ankylosing spondylitis: the intervertebral disc as a cause of cord compression. J Neurosurg 77:241–246

4.

Jacobs WB, Fehlings MG (2008) Ankylosing spondylitis and spinal cord injury: origin, incidence, management, and avoidance. Neurosurg Focus 24:E12

5.

Al-Mutair A, Bednar DA (2010) Spinal epidural hematoma. J Am Acad Orthop Surg 18:494–502

6.

Foo D, Rossier RB (1982) Post-traumatic spinal epidural hematoma. Neurosurgery 11:25–32

7.

Anipindi S, Ibrahim N (2017) Epidural haematoma causing paraplegia in a patient with ankylosing spondylitis: a case report. Anesthesiol Pain Med 7:7–9

8.

Russell NA, Benoit BG (1983) Spinal subdural hematoma. Surg Neurol 20:133–137

9.

Reina MA, De Leon CO, López A, De Andrés JA, Mora M, Fernández A (2002) The origin of the spinal subdural space: ultrastructure findings. Anesth Analg 94:991–995

10.

Smith GB, Barton FL, Watt JH (1984) Extensive spread of local anaesthetic solution following subdural insertion of an epidural catheter during labour. Anaesthesia 39:355–358

11.

Han PP, Theodore N, Porter RW, Detwiler PW, Lawton MT, Spetzler RF (1999) Subdural hematoma from a type I spinal arteriovenous malformation. Case report. J Neurosurg 90:255–257

12.

Hung KS, Lui CC, Wang CH, Wang CJ, Howng SL (2002) Traumatic spinal subdural hematoma with spontaneous resolution. Spine 27:534–538

13.

Nagamoto Y, Takenaka S, Aono H (2017) Postoperative spinal subdural lesions following lumbar spine surgery: prevalence and risk factors. Asian Spine J 11:793–803

14.

Golden N, Asih MW (2019) Traumatic subacute spinal subdural hematoma concomitant with symptomatic cranial subdural hematoma: possible mechanism. World Neurosurg 123:343–347

15.

Braun J, Sieper J (2007) Ankylosing spondylitis. Lancet 369:1379–1390

16.

Lee W, Reveille JD, Davis JC, Learch TJ, Ward MM, Weisman MH (2007) Are there gender differences in severity of ankylosing spondylitis? Results from the PSOAS cohort. Ann Rheum Dis 66:633–638

17.

Westerveld LA, Verlaan JJ, Oner FC (2009) Spinal fractures in patients with ankylosing spinal disorders: a systematic review of the literature on treatment, neurological status and complications. Eur Spine J 18:145–156

18.

Denis F (1983) The three column spine and its significance in the classification of acute thoracolumbar spinal injuries. Spine 8:817–831

19.

Prieto-Alhambra D, Muñoz-Ortego J, De Vries F et al (2014) Ankylosing spondylitis confers substantially increased risk of clinical spine fractures: a nationwide case-control study. Osteoporos Int 26:85–91

20.

Wysham KD, Murray SG, Hills N, Yelin E, Gensler LS (2017) Cervical spinal fracture and other diagnoses associated with mortality in hospitalized ankylosing spondylitis patients. Arthritis Care Res 69:271–277

21.

Caron T, Bransford R, Nguyen Q, Agel J, Chapman J, Bellabarba C (2010) Spine fractures in patients with ankylosing spinal disorders. Spine 35:458–464

22.

Alaranta H, Luoto S, Konttinen YT (2002) Traumatic spinal cord injury as a complication to ankylosing spondylitis. An extended report Clin Exp Rheumatol 20:66–68

23.

Vazan M, Ryang YM, Barz M, Török E, Gempt J, Meyer B (2019) Ankylosing spinal disease-diagnosis and treatment of spine fractures. World Neurosurg 123:e162–e170

24.

Werner BC, Samartzis D, Shen FH (2016) Spinal fractures in patients with ankylosing spondylitis: etiology, diagnosis, and management. J Am Acad Orthop Surg 24:241–249

25.

Leone A, Marino M, Dell'Atti C, Zecchi V, Magarelli N, Colosimo C (2016) Spinal fractures in patients with ankylosing spondylitis. Rheumatology Int 36:1335–1346

26.

Pierce JL, Donahue JH, Nacey NC et al (2018) Spinal hematomas: what a radiologist needs to know. Radiographics 38:1516–1535

27.

Pedrosa I, Jorquera M, Mendez R, Cabeza B (2002) Cervical spine fractures in ankylosing spondylitis: MR findings. Emerg Radiol 9:38–42

28.

Kreppel D, Antoniadis G, Seeling W (2003) Spinal hematoma: a literature survey with meta-analysis of 613 patients. Neurosurg Rev 26:1–49

29.

Ramírez Villaescusa J, Restrepo Pérez M, Ruiz Picazo D (2017) Spinal epidural hematoma related to vertebral fracture in an atypical rigid diffuse idiopathic skeletal hyperostosis. Geriatr Orthop Surg Rehabil 8:18–22

30.

Ricart PA, Verma R, Fineberg SJ, Fink KY, Lucas PA, Lo Y, Asprinio DE, Amorosa LF (2017) Post-traumatic cervical spine epidural hematoma: incidence and risk factors. Injury 48:2529–2533

31.

Teunissen FR, Verbeek BM, Cha TD, Schwab JH (2017) Spinal cord injury after traumatic spine fracture in patients with ankylosing spinal disorders. J Neurosurg Spine 27:709–716

32.

Tamburrelli FC, Meluzio MC, Masci G, Perna A, Burrofato A, Proietti L (2018) Etiopathogenesis of traumatic spinal epidural hematoma. Neurospine 15:101–107

33.

Shah NG, Keraliya A, Nunez DB et al (2019) Injuries to the rigid spine: what the spine surgeon wants to know. Radiographics 39:449–466

34.

Tavolaro C, Ghaffar S, Zhou H, Nguyen QT, Bellabarba C, Bransford RJ (2019) Is routine MRI of the spine necessary in trauma patients with ankylosing spinal disorders or is a CT scan sufficient? Spine J 19:1331–1339

35.

Hentschel SJ, Woolfenden AR, Fairholm DJ (2001) Resolution of spontaneous spinal epidural hematoma without surgery: report of two cases. Spine 26:2000–2002

36.

Esfahani DR, Shah HP, Behbahani M, Arnone GD, Mehta AI (2018) Spinal subdural hematoma and ankylosing spondylitis: case report and review of literature. Spinal Cord Ser Cases 29:30

37.

Frankel HL, Hancock DO, Hyslop G et al (1969) The value of postural reduction in the initial management of closed injuries of the spine with paraplegia and tetraplegia. Paraplegia 7:179–192

38.

Post MJD, Becerra JL, Madsen PW, Puckett W, Quencer RM, Bunge RP, Sklar EM (1994) Acute spinal subdural hematoma: MR and CT findings with pathologic correlates. Am J Neuroradiol 15:1895–1905

39.

Einsiedel T, Schmelz A, Arand M, Wilke HJ, Gebhard F, Hartwig E, Kramer M, Neugebauer R, Kinzl L, Schultheiss M (2006) Injuries of the cervical spine in patients with ankylosing spondylitis: experience at two trauma centers. J Neurosurg Spine 5:33–45

40.

Duh M-S, Shepard MJ, Wilberger JE, Bracken MB (1994) The effectiveness of surgery on the treatment of acute spinal cord injury and its relation to pharmacological treatment. Neurosurgery 35:240–249

41.

Boerger TO, Limb D, Dickson RA (2000) Does "canal clearance" affect neurological outcome after thoracolumbar burst fractures? J Bone Jt Surg 82-B:629–635

42.

Mohanty SP, Venkatram N (2002) Does neurological recovery in thoracolumbar and lumbar burst fractures depend on the extent of canal compromise? Spinal Cord 40:295–299

43.

Lawton MT, Porter RW, Heiserman JE, Jacobowitz R, Sonntag VKH, Dickman CA (1995) Surgical management of spinal epidural hematoma: relationship between surgical timing and neurological outcome. J Neurosurg 83:1–7

44.

Bradley WG (1993) MR appearance of hemorrhage in the brain. Radiology 189:15–26
Acknowledgements
We thank Paula H. Bergman for her expert assistance with the statistical analysis.
Code availability
Not applicable.
Ethics declarations
Conflict of interest/competing interests
The authors declare that they have no conflict of interest.
Ethics approval
This study was approved by the Ethics Committee of Helsinki University Hospital.
Consent to participate
Not applicable. This study was an observational retrospective registry study, and no consents were obtained.
Consent for publication
Not applicable. This study was an observational retrospective registry study, and no consents were obtained.
Additional information
Publisher's note
Springer Nature remains neutral with regard to jurisdictional claims in published maps and institutional affiliations.
Text blinded for the review include:
Materials & Methods 1st paragraph "Töölö Hospital as a part of Helsinki University Hospital"
Supplementary Information
Demographics and description of number and level of fractures, trauma mechanism, anticoagulation therapy, signs of decreased bone density on CT, spinal angulation on fracture level, neurological status before and after surgery, decompression, location of hematoma related to spinal cord, delay between injury and imaging, T1 and T2 signal intensity, T1 and T2 signal heterogeneity, mass effect of hematoma, and spinal cord injury, and impingement. The main fracture levels are indicated as transvertebral or transdiscal (when separated by slash). Abbreviations are indicated as follows: F, fall from standing height; Fhi, fall from over 2 m; Flo, fall from less than 2 m; MVA, motor vehicle accident; As, assault; Y, yes; L, lordosis; K, kyphosis; A, anterior; B, both; P, posterior; *, spinal subdural hematoma; +, hyperintense; −, hypointense; ±, isointense to muscle (DOCX 19 kb)
About this article
Cite this article
Vierunen, R.M., Koivikko, M.P., Siironen, J.O. et al. Post-traumatic spinal hematoma in ankylosing spondylitis. Emerg Radiol (2021). https://doi.org/10.1007/s10140-020-01881-3
Received:

Accepted:

Published:
Keywords
Ankylosing spondylitis

Magnetic resonance imaging

Spinal epidural hematoma

Spinal fracture

Spinal subdural hematoma