Abstract
Purpose
Intravenous iodinated contrast is a commonly used diagnostic aid to improve image quality on computed tomography. There exists a small risk of post-contrast acute kidney injury in patients receiving IV contrast. One of the biggest risk factors for developing PC-AKI is the presence of pre-existing renal dysfunction, making it important to measure the renal function prior to contrast administration. Point of care (POC) devices offer a quick estimation of renal function, potentially improving workflows in radiology departments.
Method
Two POC devices were evaluated, the Nova StatSensor and Abbott iSTAT. Patients undergoing routine radiological investigations had blood collected and analysed by a POC method and the laboratory method (Beckman AU5800). The two values were analysed and compared. Renal function was calculated using eGFR via the CKD-EPI result. eGFR values were stratified as high risk (eGFR < 30), moderate risk (eGFR 30–59) and low risk (eGFR ≥ 60).
Results
One hundred eighty-six patients were included in the study. One hundred one patients underwent the Abbott iSTAT analysis, 139 patients underwent Nova StatSensor analysis, and 53 had both. Statistical analysis revealed that the StatSensor R2 value was 0.77, and coefficient variation was 10.65%. iSTAT had a R2 value of 0.83 and coefficient variation of 7.36%. The POC devices did not miss any high-risk patients but underreported eGFR values in certain patients.
Conclusion
POC devices are moderately accurate at detecting renal impairment in patients undergoing radiological investigations. They seem to be a good screening tool; however, any low eGFR values should be further examined.
Access options
Buy single article
Instant access to the full article PDF.
US$ 39.95
Tax calculation will be finalised during checkout.
Subscribe to journal
Immediate online access to all issues from 2019. Subscription will auto renew annually.
US$ 119
Tax calculation will be finalised during checkout.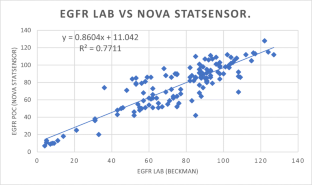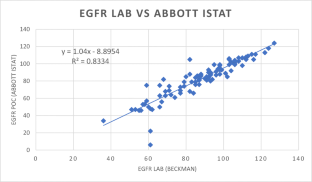 References
1.

Davenport MS, Perazella MA, Yee J, Dillman JR et al (2020) Use of intravenous iodinated contrast media in patients with kidney disease: consensus statements from the American college of radiology and the national kidney foundation. Radiology 294(3):660–668. https://doi.org/10.1148/radiol.2019192094

2.

Van der Molen AJ, Reimer P, Dekkers IA, Bongartz G, Bellin M-F, Bertolotto M, Clement O, Heinz-Peer G, Stacul F, Webb JAW, Thomsen HS (2018) Post-contrast acute kidney injury – part 1: definition, clinical features, incidence, role of contrast medium and risk factors. Eur Radiol 28(7):2845–2855

3.

Weisbord SD, Du Cheryon D (2018) Contrast-associated acute kidney injury is a myth: no. Intensive Care Med 44(1):107–109. https://doi.org/10.1007/s00134-017-5015-6

4.

Andreucci M, Faga T, Pisani A, Sabbatini M, Michael A (2014) Acute kidney injury by radiographic contrast media: pathogenesis and prevention. Biomed Res Int 2014:362725–362721. https://doi.org/10.1155/2014/362725

5.

Mehran R, Dangas GD, Weisbord SD (2019) Contrast-associated acute kidney injury. N Engl J Med 380(22):2146–2155. https://doi.org/10.1056/NEJMra1805256

6.

Snaith B, Harris MA, Shinkins B, Jordaan M, Messenger M, Lewington A (2018) Point-of-care creatinine testing for kidney function measurement prior to contrast-enhanced diagnostic imaging: evaluation of the performance of three systems for clinical utility. Clin Chem Lab Med 56(8):1269–1276. https://doi.org/10.1515/cclm-2018-0128

7.

American College of Radiology (2020) ACR Manual On Contrast Media 2020

8.

Moos SI, van Vemde DN, Stoker J, Bipat S (2013) Contrast induced nephropathy in patients undergoing intravenous (IV) contrast enhanced computed tomography (CECT) and the relationship with risk factors: a meta-analysis. Eur J Radiol 82(9):e387–e399. https://doi.org/10.1016/j.ejrad.2013.04.029

9.

Kidney Health Australia [homepage on the internet] (2015) CKD management in general practice, 3rd edn. Kidney Health Australia, Melbourne Available from: https://kidney.org.au/health-professionals

10.

The Royal Australian and New Zealand College of Radiologists [homepage on the internet]. RANZCR Iodinated Contrast Guidelines v2.3 [updated March 2018]. Available from: https://www.ranzcr.com/college/document-library/ranzcr-iodinated-contrast-guidelines

11.

Bargnoux AS, Beaufils O, Oguike M, Lopasso A, Dupuy AM, Sebbane M, Badiou S, Fesler P, Cristol JP (2018) Point-of-care creatinine testing in patients receiving contrast-enhanced computed tomography scan. Clin Chim Acta 478:111–113. https://doi.org/10.1016/j.cca.2017.12.025

12.

Martínez Lomakin F, Tobar C (2014) Accuracy of point-of-care serum creatinine devices for detecting patients at risk of contrast-induced nephropathy: a critical overview. Crit Rev Clin Lab Sci 51(6):332–343. https://doi.org/10.3109/10408363.2014.937794

13.

Myers GL, Miller WG, Coresh J, Fleming J, Greenberg N, Greene T, Hostetter T, Levey AS, Panteghini M, Welch M, Eckfeldt JH, National Kidney Disease Education Program Laboratory Working Group (2006) National Kidney Disease Education Program Laboratory Working Group, recommendations for improving serum creatinine measurement: a report from the laboratory working group of the National Kidney Disease Education Program. Clin Chem 52(1):5–18

14.

Tippins RB, Torres WE, Baumgartner BR, Baumgarten DA (2000) Are screening serum creatinine levels necessary prior to outpatient CT examinations? Radiology. 216(2):481–484

15.

Choyke PL, Cady J, DePollar SL, Austin H (1998) Determination of serum creatinine prior to iodinated contrast media: is it necessary in all patients? Tech Urol 4(2):65–69

16.

Van der Heijden C, Roosens L, Cluckers H, Van Craenenbroeck AH, Peeters B (2019) Analytical and clinical performance of three hand-held point-of-care creatinine analyzers for renal function measurements prior to contrast-enhanced imaging. Clin Chim Acta 497:13–19. https://doi.org/10.1016/j.cca.2019.06.025

17.

Hill NR, Fatoba ST, Oke JL, Hirst JA, O'Callaghan CA, Lasserson DS, Hobbs FDR (2016) Global prevalence of chronic kidney disease - a systematic review and meta-analysis. PLoS One 11(7):e0158765. https://doi.org/10.1371/journal.pone.0158765
Ethics declarations
Conflict of interest
The authors declare that they have no conflict of interest.
Additional information
Publisher's note
Springer Nature remains neutral with regard to jurisdictional claims in published maps and institutional affiliations.
About this article
Cite this article
Mathur, N., Lu, Z.X., MacKay, L. et al. Is point of care renal function testing reliable screening pre-IV contrast administration?. Emerg Radiol 28, 77–82 (2021). https://doi.org/10.1007/s10140-020-01829-7
Received:

Accepted:

Published:

Issue Date:
Keywords
Contrast-induced kidney injury

Creatinine

Diagnostic imaging

Estimated glomerular filtration rate

Point-of-care testing

Contrast-enhanced imaging