Abstract
Reports of uterine rupture following surgical abortion are rare but may result in hemorrhage, sepsis, and even death. In this unique case, we describe how a transabdominal pelvic ultrasound performed at the bedside by an emergency department physician identified uterine rupture with retained products of conception and led to an emergent laparotomy and hysterectomy. This case illustrates how bedside ultrasound may be used in patients presenting with abdominopelvic pain following surgical abortion to shorten the time to definitive treatment and ultimately lower the morbidity and mortality associated with a diagnosis of life-threatening uterine rupture.
This is a preview of subscription content, log in to check access.
Access options
Buy single article
Instant access to the full article PDF.
US$ 39.95
Tax calculation will be finalised during checkout.
Subscribe to journal
Immediate online access to all issues from 2019. Subscription will auto renew annually.
US$ 119
Tax calculation will be finalised during checkout.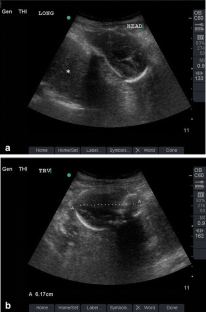 References
1.

Lohr PA, Hayes JL, Gemzell-Danielsson K (2008) Surgical versus medical methods for second trimester induced abortion. Cochrane Database Syst Rev 23(1):CD0067124

2.

Shulman SG, Bell CL, Hampf FE (2006) Uterine perforation and small bowel incarceration: sonographic and surgical findings. Emerg Radiol 13:43–45

3.

Peterson WF, Berry FN, Grace MR et al (1983) Second-trimester abortion by dilation and evacuation: an analysis of 11,747 cases. Obstet Gynecol 62:185–190

4.

Grossman D, Blanchard K, Blumenthal P (2008) Complications of second trimester surgical and medical abortion. Reprod Health Matters 16(31 Supplement):173–182

5.

Crosfill FM, Hughes S (2006) Ultrasound scan appearance of perforated uterus after surgical evacuation of retained products of conception. J Obstet Gynaecol 26(3):278–279

6.

Sherer DM, Abulafia O, Anyaebunam AM (1998) Intra-and early postpartum ultrasonography: a review. Part II Obstet Gynecol Surv 53(3):181–190

7.

Dignac A, Novellas S, Fournol M et al (2008) Incarceration of the appendix complicating a uterine perforation following surgical abortion: CT aspects. Emerg Radiol 15:267–269

8.

Has R, Topuz S, Kalelioglu I, Tagrikulu T (2007) Imaging features of postpartum uterine rupture: a case report. Abdom Imaging 33:101–103

9.

Eller A, Fisher B (2009) Diagnosis of uterine rupture on CT. N Engl J Med 360(2):170
Electronic supplementary material
Below is the link to the electronic supplementary material.
(Video) Longitudinal transabominal ultrasound image inferior to the uterus showing the fetal head in the peritoneal cavity. (AVI 1538 kb)
About this article
Cite this article
Derr, C., Henry, M. Bedside ultrasound in the diagnosis of uterine rupture following surgical abortion. Emerg Radiol 20, 165–167 (2013). https://doi.org/10.1007/s10140-012-1069-5
Received:

Accepted:

Published:

Issue Date:
Keywords
Ultrasound

Uterine rupture

Surgical abortion