Abstract
Sexual dimorphism is common across the animal kingdom. Knowledge of the mechanisms of sexual size dimorphism is limited although it is important in biology and aquaculture. Tilapia is the common name for ~ 100 species of cichlid fish. Some are important aquaculture species and males outgrow females. To gain novel insights into the mechanisms underlying sexual size dimorphism, we analyzed the differences of brain transcriptomes between males and females in Mozambique tilapia and studied the function of the pro-opiomelanocortin (Pomc) gene in tilapia and zebrafish. The transcriptome analysis identified 123, 55, and 2706 sex-biased genes at 5, 30, and 90 dph (days post-hatch), respectively, indicating sexual dimorphism of gene expressions in the brain. The expression of Pomc in the tilapia brain was a female-biased at 30, 90, and 120 dph. An analysis of the DNA sequence located upstream of the tilapia Pomc transcriptional start site identified two estrogenic response elements. In vitro luciferase assay of the two elements revealed that β-estradiol significantly enhanced the expression of luciferase activity, suggesting that the expression of Pomc is mediated by estrogen. We knocked out Pomc in zebrafish using Crispr/Cas-9. The Pomc-knockout zebrafish showed faster growth and higher sensitivity to feeding as compared to the wild-type fish. Taken together, our results indicate that Pomc contributes to sexual size dimorphism and suggest that the high estrogen level in females promotes the expression of Pomc and suppresses feeding in female tilapias, which leads to the slower growth of female tilapias.
Access options
Buy single article
Instant access to the full article PDF.
US$ 39.95
Tax calculation will be finalised during checkout.
Subscribe to journal
Immediate online access to all issues from 2019. Subscription will auto renew annually.
US$ 79
Tax calculation will be finalised during checkout.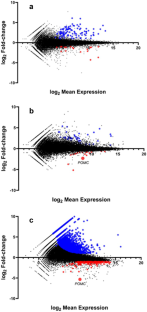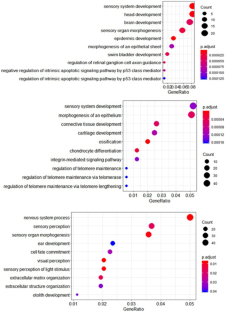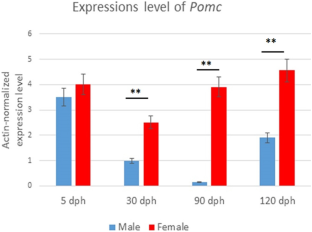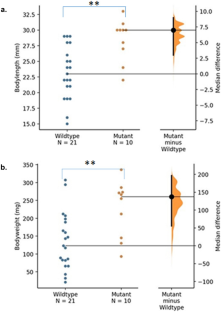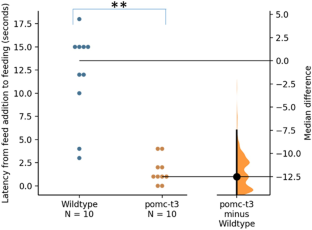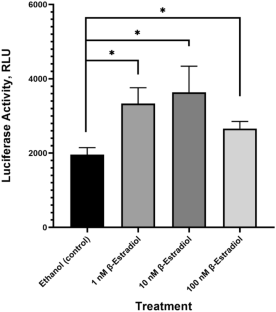 References
Anders S, Pyl PT, Huber W (2015) HTSeq–a Python framework to work with high-throughput sequencing data. Bioinformatics 31:166–169

Bae S, Park J, Kim JS (2014) Cas-OFFinder: a fast and versatile algorithm that searches for potential off-target sites of Cas9 RNA-guided endonucleases. Bioinformatics 30:1473–1475

Biebermann H, Castañeda TR, Van Landeghem F, Von Deimling A, Escher F, Brabant G, Hebebrand J, Hinney A et al (2006) A role for β-melanocyte-stimulating hormone in human body-weight regulation. Cell Metabol 3:141–146

Bolger AM, Lohse M, Usadel B (2014) Trimmomatic: a flexible trimmer for Illumina sequence data. Bioinformatics 30:2114–2120

Cawley NX, Li ZJ, Loh YP (2016) 60 YEARS OF POMC: regulation of feeding and energy homeostasis by α-MSH. J Mol Endocrinol 56:T157–T174

Chen Y, Knight ZA (2016) Making sense of the sensory regulation of hunger neurons. BioEssays 38:316–324

Chervinski J (1965) Sexual dimorphism in tilapia. Nature 208:703

Conte MA, Joshi R, Moore EC, Nandamuri SP, Gammerdinger WJ, Roberts RB, Carleton KL, Lien S et al (2019) Chromosome-scale assemblies reveal the structural evolution of African cichlid genomes. GigaScience 8:giz030

D'amato ME, Esterhuyse MM, Van DW, Ben CW, Brink D, Volckaert FaM (2007) Hybridization and phylogeography of the Mozambique tilapia Oreochromis mossambicus in southern Africa evidenced by mitochondrial and microsatellite DNA genotyping. Conserv Genet 8:475–488

Dan NC, Little DC (2000) The culture performance of monosex and mixed-sex new-season and overwintered fry in three strains of Nile tilapia (Oreochromis niloticus) in northern Vietnam. Aquaculture 184:221–231

Dobin A, Davis CA, Schlesinger F, Drenkow J, Zaleski C, Jha S, Batut P, Chaisson M et al (2013) STAR: ultrafast universal RNA-seq aligner. Bioinformatics 29:15–21

Fairbairn DJ, Blanckenhorn WU, Székely T (2007) Sex, size and gender roles: evolutionary studies of sexual size dimorphism: Oxford University Press

Gratacap RL, Wargelius A, Edvardsen RB, Houston RD (2019) Potential of genome editing to improve aquaculture breeding and production. Trends Genet 35:672–684

Hedrick AV, Temeles EJ (1989) The evolution of sexual dimorphism in animals: hypotheses and tests. Trends Ecol Evol 4:136–138

Hilbert ZA, Kim DH (2017) Sexually dimorphic control of gene expression in sensory neurons regulates decision-making behavior in C. elegans. Elife 6:e21166

Ho J, Tumkaya T, Aryal S, Choi H, Claridge-Chang A (2019) Moving beyond P values: data analysis with estimation graphics. Nat Methods 16:565–566

Kobayashi Y, Nagahama Y, Nakamura M (2013) Diversity and plasticity of sex determination and differentiation in fishes. Sexual Devel 7:115–125

Kumar S, Stecher G, Li M, Knyaz C, Tamura K (2018) MEGA X: molecular evolutionary genetics analysis across computing platforms. Mol Biol Evol 35:1547–1549

Lin G, Thevasagayam NM, Wan ZY, Ye B, Yue GH (2019) Transcriptome analysis identified genes for growth and omega-3/6 ratio in saline tilapia. Front Genet 10:244

Liu F, Sun F, Li J, Xia JH, Lin G, Tu RJ, Yue GH (2013) A microsatellite-based linkage map of salt tolerant tilapia (Oreochromis mossambicus x Oreochromis spp.) and mapping of sex-determining loci. BMC Genomics 14:58

Livak KJ, Schmittgen TD (2001) Analysis of relative gene expression data using real-time quantitative PCR and the 2− ΔΔCT method. Methods 25:402–408

Lohr H, Hess S, Pereira MMA, Reinoss P, Leibold S, Schenkel C, Wunderlich CM, Kloppenburg P et al (2018) Diet-induced growth is regulated via acquired leptin resistance and engages a pomc-somatostatin-growth hormone circuit. Cell Rep 23:1728–1741

Love MI, Huber W, Anders S (2014) Moderated estimation of fold change and dispersion for RNA-seq data with DESeq2. Genome Biol 15:550

Mair GC, Abucay JS, Beardmore JA, Skibinski DO (1995) Growth performance trials of genetically male tilapia (GMT) derived from YY-males in Oreochromis niloticus L.: on station comparisons with mixed sex and sex reversed male populations. Aquaculture 137:313–323

Marsh DJ, Hollopeter G, Huszar D, Laufer R, Yagaloff KA, Fisher SL, Burn P, Palmiter RD (1999) Response of melanocortin–4 receptor–deficient mice to anorectic and orexigenic peptides. Nat Genet 21:119

Mi H, Muruganujan A, Ebert D, Huang X, Thomas PD (2019) PANTHER version 14: more genomes, a new PANTHER GO-slim and improvements in enrichment analysis tools. Nucleic Acids Res 47:D419-d426

Millington GW (2007) The role of proopiomelanocortin (POMC) neurones in feeding behaviour. Nutr Metabol 4:18–18

Molcho J, Levy T, Benet A, Naor A, Savaya A, Manor R, Abramov A, Aflalo ED et al (2020) Three generations of prawns without the Z chromosome: viable WW Macrobrachium rosenbergii all-female populations in polyculture with Oreochromis niloticus. Aquaculture 515:734531

Morford JJ, Wu S, Mauvais-Jarvis F (2018) The impact of androgen actions in neurons on metabolic health and disease. Mol Cell Endocrinol 465:92–102

Ozsolak F, Milos PM (2011) RNA sequencing: advances, challenges and opportunities. Nat Rev Genet 12:87–98

Park J, Bae S, Kim J-S (2015) Cas-Designer: a web-based tool for choice of CRISPR-Cas9 target sites. Bioinformatics 31:4014–4016

Parker GA (1992) The evolution of sexual size dimorphism in fish. J Fish Biol 41:1–20

Perez-Sanchez J (2000) The involvement of growth hormone in growth regulation, energy homeostasis and immune function in the gilthead sea bream (Sparus aurata): a short review. Fish Physiol Biochem 22:135–144

Raffan E, Dennis RJ, O'donovan CJ, Becker JM, Scott RA, Smith SP, Withers DJ, Wood CJ, et al (2016) A A deletion in the canine pomc gene is associated with weight and appetite in obesity-prone labrador retriever dogs. Cell Metabol 23:893–900

Reinecke M, Björnsson BT, Dickhoff WW, Mccormick SD, Navarro I, Power DM, Gutiérrez J (2005) Growth hormone and insulin-like growth factors in fish: where we are and where to go. Gen Comp Endocrinol 142:20–24

Scott AG, Penman DJ, Beardmore JA, Skibinski DOF (1989) The 'YY' supermale in Oreochromis niloticus (L.) and its potential in aquaculture. Aquaculture 78:237–251

Shen Y, Yue G (2019) Current status of research on aquaculture genetics and genomics-information from ISGA 2018. Aqua Fish 4:43–47

Smith CJ, Haley SR (1988) Steroid profiles of the female tilapia, Oreochromis mossambicus, and correlation with oocyte growth and mouthbrooding behavior. Gen Comp Endocrinol 69:88–98

Tao WJ, Chen JL, Tan DJ, Yang J, Sun LN, Wei J, Conte MA, Kocher TD et al (2018) Transcriptome display during tilapia sex determination and differentiation as revealed by RNA-Seq analysis. BMC Genomics 19:363

Tao WJ, Yuan J, Zhou L, Sun L, Sun Y, Yang S, Li M, Zeng S et al (2013) Characterization of gonadal transcriptomes from Nile tilapia (Oreochromis niloticus) reveals differentially expressed genes. PLoS One 8:e63604

Taslima K, Wehner S, Taggart JB, De Verdal H, Benzie JA, Bekaert M, Mcandrew BJ, Penman DJ (2020) Sex determination in the GIFT strain of tilapia is controlled by a locus in linkage group 23. BMC Genet 21:1–15

Wan ZY, Lin G, Yue G (2019) Genes for sexual body size dimorphism in hybrid tilapia (Oreochromis sp. x Oreochromis mossambicus). Aqua Fish 4:231–238

Wang C, He Y, Xu P, Yang Y, Saito K, Xia Y, Yan X, Hinton A Jr et al (2018) TAp63 contributes to sexual dimorphism in POMC neuron functions and energy homeostasis. Nat Commun 9:1544

Wang P, Zheng M, Liu J, Liu Y, Lu J, Sun X (2016) Sexually dimorphic gene expression associated with growth and reproduction of Tongue Sole (Cynoglossus semilaevis) revealed by brain transcriptome analysis. Intern J Mol Sci 17:1402

Wang Y, Yu Y, Li SH, Zhang XJ, Xiang JH, Li FH (2020) Specific transcriptome sequencing of zoea i larvae and identification of sex-linked genes using bulked segregant analysis in pacific white shrimp Litopenaeus vannamei. Mar Biotechnol 22:423–432

Webster CD, Lim C (2006). Tilapia: biology, culture, and nutrition: CRC Press

Williams TM, Carroll SB (2009) Genetic and molecular insights into the development and evolution of sexual dimorphism. Nat Rev Genet 10:797

Wu JJ, Zhou YL, Wang ZW, Li GH, Jin FP, Cui LL, Gao HT, Li XP et al (2019) Comparative transcriptome analysis reveals differentially expressed genes and signaling pathways between male and female red-tail catfish (Mystus wyckioides). Mar Biotechnol 21:463–474

Yaswen L, Diehl N, Brennan MB, Hochgeschwender U (1999) Obesity in the mouse model of pro-opiomelanocortin deficiency responds to peripheral melanocortin. Nat Med 5:1066

Yin L, Jao LE, Chen W (2015) Generation of Targeted Mutations in Zebrafish Using the CRISPR/Cas System. VEGF Signaling. 2015/08/20 ed. NY: Springer

Yu G, Wang LG, Han Y, He QY (2012) clusterProfiler: an R package for comparing biological themes among gene clusters. Omics 16:284–287

Yue GH, Orban L (2005) A simple and affordable method for high-throughput DNA extraction from animal tissues for polymerase chain reaction. Electrophoresis 26:3081–3083

Zhu X, Xu Y, Yu S, Lu L, Ding M, Cheng J, Song G, Gao X et al (2014) An efficient genotyping method for genome-modified animals and human cells generated with CRISPR/Cas9 system. Sci Rep 4:6420
Funding
This study is part of the PhD thesis of Zi Yi Wan, which was supported by Temasek Life Sciences Laboratory and Nanyang Technological University, Singapore. We thank all our lab members for supporting the PhD study of Zi Yi Wan.
Ethics declarations
Conflict of Interest
The authors declare that they have no conflict of interest.
Additional information
Publisher's Note
Springer Nature remains neutral with regard to jurisdictional claims in published maps and institutional affiliations.
Supplementary Information
Below is the link to the electronic supplementary material.
Supplementary file4, including Supplementary Video-1.mp4 (MP4 129 MB)
About this article
Cite this article
Wan, Z.Y., Lin, V.C.L. & Hua, Y.G. Pomc Plays an Important Role in Sexual Size Dimorphism in Tilapia. Mar Biotechnol (2021). https://doi.org/10.1007/s10126-020-10015-2
Received:

Accepted:

Published:
Keywords
Fish

Sex

Dimorphism

RNA-seq

Pomc

Hormone