Abstract
Marine macroscopic colony-forming filamentous (MMCFF) cyanobacteria are considered as prolific producers of bioactive compounds. Thus, knowledge of the diversity of MMCFF cyanobacteria as related to bioactive compound production has become very important. However, basic taxonomic studies of MMCFF cyanobacteria are lacking. Many cyanobacterial taxa are still misidentified or undescribed. In this study, a total of 32 cyanobacterial colonies from nine coastal regions of Okinawa Prefecture were investigated for a diversity assessment. A polyphasic approach including morphological and molecular studies based on 16S rRNA gene sequences was performed to characterize Okinawan MMCFF cyanobacteria. Both morphological and molecular phylogenetic results showed that MMCFF cyanobacteria from Okinawan coasts are very diverse. We found morphotypes of Lyngbya-like, Phormidium-like, and Leptolyngbya-like groups among Okinawan cyanobacterial samples. Genetically, samples were distributed in various clades in the phylogenetic tree, including within Moorena, Okeania, Caldora, Neolyngbya, Dapis, as well as several unknown clades. In addition, cytotoxic activities of three samples from Kiyan coast were tested against HeLa cells. All three crude extracts of these samples showed strong cytotoxic activity with IC50 < 1 μg/ml.
Access options
Buy single article
Instant access to the full article PDF.
US$ 39.95
Tax calculation will be finalised during checkout.
Subscribe to journal
Immediate online access to all issues from 2019. Subscription will auto renew annually.
US$ 79
Tax calculation will be finalised during checkout.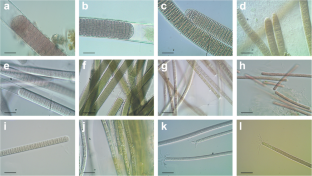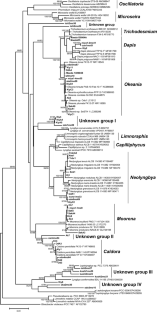 References
Barrios-Llerena ME, Burja AM, Wright PC (2007) Genetic analysis of polyketide synthase and peptide synthetase genes in cyanobacteria as a mining tool for secondary metabolites. J Ind Microbiol Biotechnol 34:443–456

Blunt JW, Copp BR, Keyzers RA, Munro MHG, Prinsep MR (2017) Marine natural products. J Nat Prod Rep 34:235–294

Boyer SL, Flechtner VR, Johansen JR (2001) Is the 16S-23S rRNA internal transcribed spacer region a good tool for use in molecular systematics and population genetics? A case study in cyanobacteria. Mol Biol Evol 18:1057–1069

Caires TA, Lyra GM, Hentschke GS, Pedrini AG, Sant'Anna GL, Marcos J, Nunes JMC (2018a) Neolyngbya gen. nov. (Cyanobacteria, Oscillatoriaceae): a new filamentous benthic marine taxon widely distributed along the Brazilian coast. Mol Phylogenet Evol 120:196–211

Caires TA, Lyra GM, Hentschke GS, da Silva AMS, de Araújo VL, Sant'Anna CL, Nunes JMC (2018b) Polyphasic delimitation of a filamentous marine genus, Capillus gen. nov. (Cyanobacteria, Oscillatoriaceae) with the description of two Brazilian species. Algae 33(4):291–304

Cassamatta D, Stanić D, Gantar M, Richardson LL (2012) Characterization of Roseofilum reptotaenium (Oscillatoriales, Cyanobacteria) gen. et. sp. nov. isolated from Caribbean black band disease. Phycologia 51:489–499

Castenholz RW (2001) Phylum BX. Cyanobacteria oxygenic photosynthetic bacteria. In: Boone DR, Castenholz RW, Garrity GM (eds) Bergey's manual of systematic bacteriology. Springer, New York, pp 473–553

Charpy L, Palinska KA, Casareto B, Langlade MJ, Suzuki Y, Abed RMM, Golubic S (2010) Dinitrogen-fixing cyanobacteria in microbial mats of two shallow coral reef ecosystem. Microb Ecol 59:174–186

Charpy L, Casareto BE, Langlade MJ, Suzuki Y (2012) Cyanobacteria in coral reef ecosystem: a review. J Mar Biol 2012:1–9

Engene N, Coates RC, Gerwick WH (2010) 16S rRNA gene heterogeneity in the filamentous marine cyanobacterial genus Lyngbya. J Phycol 46:591–601

Engene N, Choi H, Esquenazi E, Rottacker EC, Ellisman MH, Dorrestein PC, Gerwick WH (2011) Underestimated biodiversity as a major explanation for the perceived prolific secondary metabolite capacity of the cyanobacterial genus Lyngbya. Environ Microbiol 13:1601–1610

Engene N, Rottacker EC, Kaštovskỳ J, Byrum T, Choi H, Ellisman MH, Komárek J, Gerwick WH (2012) Moorea producens gen. nov., sp. nov. and Moorea bouillonii comb. nov, tropical marine cyanobacteria rich in bioactive secondary metabolites. Int J Syst Evol Microbiol 62:1171–1178

Engene N, Paul VJ, Byrum T, Gerwick WH, Thor A, Ellisman MH (2013) Five chemically rich species of tropical marine cyanobacteria of the genus Okeania gen. nov. (Oscillatoria, Cyanoprokaryota). J Phycol 49:1095–1106

Engene N, Tornholm A, Salvador-Reyes LA, Luesch H, Paul VJ (2015) Caldora penicillata gen. nov. comb. nov. (Cyanobacteria), a pantropical marine species with biomedical relevance. J Phycol 51:670–681

Engene N, Tornholm A, Paul VJ (2018) Uncovering cryptic diversity of Lyngbya: the new tropical marine cyanobacterial genus Dapis (Oscillatoriales). J Phycol 54:435–446

Gerwick WH, Moore BS (2012) Lessons from the past and charting the future of marine natural products drug discovery and chemical biology. Chem Biol 19:85–98

Graham LE, Wilcox LW (2000) Algae. Prentice Hall, Upper Saddle River 640 pp

Harrigan GG, Luesch H, Yoshida WY, Moore RE, Nagle DG, Paul VJ, Mooberry SM, Corbett TH, Valeriote FA (1998) Symplostatin: a dolastatin 10 analogue from the marine cyanobacterium Symploca hydnoides. J Nat Prod 61:1075–1077

Iwasaki A, Tadenuma T, Sumimoto S, Ohshiro T, Ozaki K, Kobayashi K, Teruya T, Tomoda H, Suenaga K (2017) Biseokeaniamides A, B, and C, sterol o-acyltransferase inhibitors from an Okeania sp. marine cyanobacterium. J Nat Prod 80:1161–1166

Johansen JR, Kovacik L, Casamatta DA, Fučiková K, Kaštovský J (2011) Utility of 16S-23S ITS sequence and secondary structure for recognition of intrageneric and intergeneric limits within cyanobacterial taxa: Leptolyngbya corticola sp. nov. (Pseudanabaenaceae, Cyanobacteria). Nova Hedwigia 92:283–302

Komárek J (2006) Cyanobacterial taxonomy: current problems and prospects for the integration of traditional and molecular approaches. Algae 21:349–375

Komárek J, Anagnostidis K (2005) Cyanoprokaryota 2. Teil: Oscillatoriales. In: Budel B, Krienitz L, Gärtner G, Schagerl M (eds) Sußwasserflora von Mitteleuropa, 19/2. Elsevier, Heidelberg, p 759

Kumar S, Stecher G, Tamura K (2016) MEGA7: molecular evolutionary genetics analysis version 7.0 for bigger datasets. Mol Biol Evol 33:1870–1874

Kwan JC, Eksioglu EA, Liu C, Paul VJ, Luesch H (2009) Grassystatins A-C from marine cyanobacteria, potent cathepsin E inhibitors that reduce antigen presentation. J Med Chem 52:5732–5747

Kwan JC, Ratnayake R, Abboud KA, Paul VJ, Luesch H (2010) Grassypeptolides A-C, cytotoxic bis-thiazoline containing marine cyclodepsipeptides. J Org Chem 75:8012–8023

Lopez JAV, Al-Lihaibi SS, Alarif WM, Abdel-Lateff A, Nogata Y, Washio K, Morikawa M, Okino T (2016) Wewakazole B, a cytotoxic cyanobactin from the cyanobacterium Moorea producens collected in the Red Sea. J Nat Prod 79:1213–1218

Luesch H, Moore RE, Paul VJ, Mooberry SL, Corbett TH (2001) Isolation of dolastatin 10 from the marine cyanobacterium Symploca species VP642 and total stereochemistry and biological evaluation of its analogue symplostatin 1. J Nat Prod 64:907–910

Malone CFS, Rigonato J, Laughinghouse HD, Schmidt ÉC, Bouzon ZL, Wilmotte A, Fiore MF (2015) Cephalothrix gen. nov. (Cyanobacteria): towards an intraspecific phylogenetic evaluation by multilocus analyses. Int J Syst Evol Microbiol 65:2993–3007

Martins MD, Branco LHZ (2016) Potamolinea gen. nov. (Oscillatoriales, Cyanobacteria): a phylogenetically and ecologically coherent cyanobacterial genus. Int J Syst Evol Microbiol 66:3632–3641

McGregor GB, Sendall BC (2015) Phylogeny and toxicology of Lyngbya wollei (Cyanobacteria, Oscillatoriales) from North-Eastern Australia, with a description of Microseira gen. nov. J Phycol 51:109–119

Murakami A, Miyashita H, Iseki M, Adachi K, Mimuro M (2004) Chlorophyll d in an epiphytic cyanobacterium of red algae. Science 303(5664):1633

Nakagawa M, Takamura Y, Yagi O (1987) Isolation and characterization of the slime from a cyanobacterium, Microcystis aeruginosa K-3A. Agric Biol Chem 51:329–337

Nielan BA, Jacobs D, DelDot T, Blackall LL, Hawkins PR, Cox PT, Goodman AE (1997) rRNA sequences of evolutionary relationship among toxic and nontoxic cyanobacteria of the genus Microcystis. Int J Syst Bacteriol 47:693–697

Nunnery JK, Mevers E, Gerwick WH (2010) Biologically active secondary metabolites from marine cyanobacteria. Curr Opin Biotechnol 21:1–7

Ogawa H, Iwasaki A, Sumimoto S, Kanamori Y, Ohno O, Iwatsuki M, Ishiyama A, Hokari R, Otoguro K, Omura S, Suenaga K (2016) Janadolide, a cyclic polyketide-peptide hybrid possessing a tert-butyl group from Okeania sp. marine cyanobacterium. J Nat Prod 79:1862–1866

Ogawa H, Iwasaki A, Sumimoto S, Iwatsuki M, Ishiyama A, Hokiari R, Otoguro K, Omura S, Suenaga K (2017) Isolation and total synthesis of hoshinolactam, an antitrypanosomal lactam from a marine cyanobacterium. Org Lett 19:890–893

Osborne NJT, Webb PM, Shaw GR (2001) The toxins of Lyngbya majuscula and their human and ecological health effects. Environ Int 27:381–392

Paerl HW, Paul VJ (2012) Climate change: links to global expansion of harmful cyanobacteria. Water Res 46:1349–1363

Paul VJ, Thacker RW, Banks K (2005) Benthic cyanobacterial bloom impacts the reefs of South Florida (Broward County, USA). Coral Reefs 24:693–697

Paul VJ, Arthur KE, Ritson-Williams R, Ross C, Sharp K (2007) Chemical defenses: from compounds to communities. Biol Bull (Woods Hole) 213:226–251

Rippka R (1988) Isolation and purification of cyanobacteria. Methods Enzymol 167:3–27

Sciuto K, Andreoli C, Rascio N, La Rocca N, Moro I (2012) Polyphasic approach and typification of selected Phormidium strains (Cyanobacteria). Cladistics 28:357–374

Sharp K, Arthur KE, Gu L, Ross C, Harrison G, Gunasekera SP, Meickle T (2009) Phylogenetic and chemical diversity of three chemotypes of bloom-forming Lyngbya species (Cyanobacteria: Oscillatoriales) from reefs of southern Florida. Appl Environ Microbiol 75:2879–2888

Simmons TL, Engene N, Ureña LD, Romero LI, Ortega-Barría E, Gerwick L, Gerwick WH (2009) Viridamides A and B, lipodepsipeptides with anti-protozoan activity from the marine cyanobacterium Oscillatoria nigro-viridis. J Nat Prod 71:1544–1550

Strunecky O, Elster J, Komárek J (2010) Phylogenetic relationship between geographically separate Phormidium cyanobacterial is there a link between north and south polar regions? Polar Biol 33:1419–1428

Suda S, Moriya R, Sumimoto S, Ohno O, Suenaga K (2013) Genetic diversity of filamentous cyanobacteria from shore regions of Okinawa. J Mar Sci Technol 21:175–180

Sueyoshi K, Kaneda M, Sumimoto S, Oishi S, Fujii SK, Teruya T (2016) Odoamide, a cytotoxic cyclodepsipeptide from the marine cyanobacterium Okeania sp. Tetrahedron 72:5472–5478

Sueyoshi K, Kudo T, Yamano A, Sumimoto S, Iwasaki A, Suenaga K, Teruya T (2017a) Odobromoamide, a terminal alkynyl bromide-containing cyclodepsipeptide from marine cyanobacterium Okeania sp. Bull Chem Soc Jpn 90:436–440

Sueyoshi K, Yamano A, Ozaki K, Sumimoto S, Iwasaki A, Suenaga K, Teruya T (2017b) Three new malyngamides from the marine cyanobacterium Moorea producens. Mar Drug 15:367

Sumimoto S, Masayuki K, Sato R, Shinomiya S, Iwasaki A, Suda S, Teruya T, Inuzuka T, Ohno O, Suenaga K (2019) Minnamide A, a linear lipopeptide from the marine cyanobacterium Okeania hirsuta. Org Lett 21:1187–1190

Tan LT (2007) Bioactive natural products from marine cyanobacteria for drug discovery. Phytochem 68:954–957

Taori K, Paul VJ, Luesch H (2008) Structure and activity of largazole, a potent antiproliferative agent from Floridian marine cyanobacterium Symploca sp. J Am Chem Soc 130:3305–3312

Teruya T, Sasaki H, Fukazawa H, Suenaga K (2009) Bisebromoamide, a potent cytotoxic peptide from the marine cyanobacterium Lyngbya sp.: isolation, stereostructure, and biological activity. Org Lett 11:5062–5065

Tidgewell K, Clark BR, Gerwick WH (2010) The natural products chemistry of cyanobacteria. In: Mander L, Lui H-W (eds) Comprehensive natural products II chemistry and biology, vol 2. Elsevier, Oxford, pp 141–188

Tuji A, Niiyama Y (2018) Two new Pseudanabaena (Cyanobacteria, Synechococcales) species from Japan, Pseudanabaena cinereal and Pseudanabaena yagii, which produce 2-methylisoborneol. Phycol Res 66:291–299

Yu HB, Glukhnov E, Li Y, Iwasaki A, Gerwick L, Dorrestein PC, Jiao BH, Gerwick WH (2019) Cytotoxic microcolin lipopeptide from the marine cyanobacterium Moorea producens. J Nat Prod 82:2608–2619
Acknowledgments
The authors would like to thank Associate Professor James Davis Reimer for manuscript proofreading and comments. Part of this study was supported by the Okinawa Science and Technology Innovation System Construction Program.
Additional information
Publisher's note
Springer Nature remains neutral with regard to jurisdictional claims in published maps and institutional affiliations.
Supplementary Information
About this article
Cite this article
Nuryadi, H., Sumimoto, S., Teruya, T. et al. Characterization of Macroscopic Colony-Forming Filamentous Cyanobacteria from Okinawan Coasts as Potential Sources of Bioactive Compounds. Mar Biotechnol 22, 824–835 (2020). https://doi.org/10.1007/s10126-020-10010-7
Received:

Accepted:

Published:

Issue Date:
Keywords
Marine macroscopic colony-forming filamentous (MMCFF) cyanobacteria

Morphological characterization

16S rRNA phylogeny

Cytotoxic activity