Abstract
Glassin, a protein occluded in biosilica of the hexactinellid sponge Euplectela, promotes silica formation from silicic acid at room temperature and neutral pH and is characterized by its primary structure which consists of a tandem repeat carrying three distinct domains, histidine and aspartic acid-rich (HD) domain, proline-rich (P) domain, and histidine and threonine-rich (HT) domain. The present study aims to clarify the domain responsible for the promotion of silica formation and to demonstrate usefulness of glassin and its domain as a tag for purification and immobilization of recombinant proteins. When each domain was mixed with silicic acid at neutral pH, silica was formed with HD domain as well as glassin, or a single repeat, but not with P or HT domain. Neither of amino or carboxy-terminal half of HD domain induced silica formation. The amount of silica formed with HD domain was significantly lower than that of glassin or a single repeat. HD domain fused with HT domain raised the amount of silica formed, while a HD domain fused with P domain, a mixture of HD and P domains, or a mixture of HD and HT domains has little effect on the promotion of silica formation. Collectively, a minimum sequence for promotion of silica formation is HD domain, whose activity can be enhanced by HT domain through a topological effect. In addition, practicality of glassin and HD domain was demonstrated by fusion of these sequences to green fluorescent protein which was successfully purified with Ni affinity chromatography and immobilized on silica.
Access options
Buy single article
Instant access to the full article PDF.
US$ 39.95
Tax calculation will be finalised during checkout.
Subscribe to journal
Immediate online access to all issues from 2019. Subscription will auto renew annually.
US$ 79
Tax calculation will be finalised during checkout.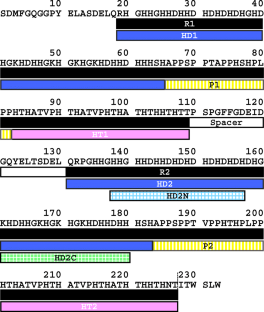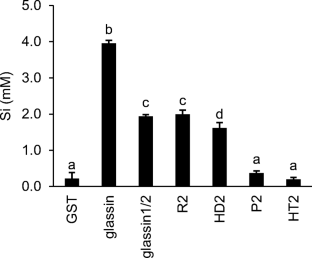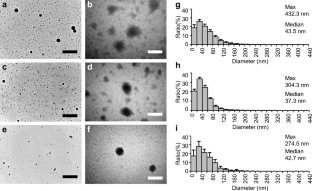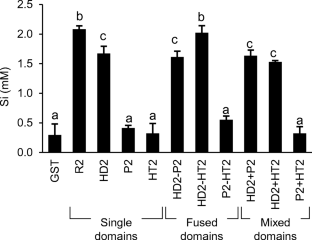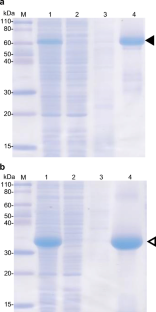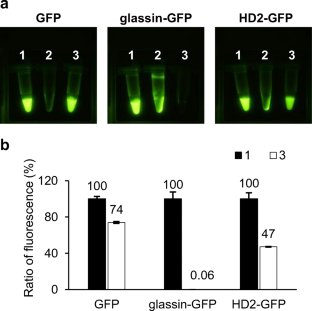 Data Availability
DNA sequences are deposited in DDBJ/EMBL/GenBank accession nos. LC520255–LC520266.
References
Aguilar-Camacho JM, McCormack GP (2019) Silicatein expression in Haliclona indistincta (phylum Porifera, order Haplosclerida) at different developmental stages. Dev Genes Evol 229:35–41

Arnold FH, Haymore BL (1991) Engineered metal-binding proteins: purification to protein folding. Science 252:1796–1797

Brinker CJ, Scherer GW (1990) Sol-gel science: the physics and chemistry of sol-gel processing. Academic Press, Inc, San Diego

Brutchey RL, Morse DE (2008) Silicatein and the translation of its molecular mechanism of Biosilicification into low temperature nanomaterial synthesis. Chem Rev 108:4915–4934

Cha JN, Shimizu K, Zhou Y, Christiansen SC, Chmelka BF, Stucky DS, Morse DE (1999) Silicatein filaments and subunits from a marine sponge direct the polymerization of silica and silicones in vitro. PNAS 96:361–365

Chaga G, Bochkariov DE, Jokhadze GG, Hopp J, Nelson P (1999) Natural poly-histidine affinity tag for purification of recombinant proteins on cobalt (II)-carboxymethylaspartate crosslinked agarose. J Chromatogr A 864:247–256

Davis AK, Hildebrand M, Palenik B (2005) A stress-induced protein associated with the girdle band region of the diatom Thalassiosira pseudonana (Bacillariophyta). J Phycol 41:577–589

Dickerson MB, Sandhage KH, Naik RR (2008) Protein- and peptide-directed syntheses of inorganic materials. Chem Rev 108:4935–4978

Ehrlich H, Maldonado M, Spindler KD, Eckert C, Hanke T, Born R, Goebel C, Simon P, Heinemann S, Worch H (2007) First evidence of chitin as a component of the skeletal fibers of marine sponges. Part I. Verongidae (demospongia: Porifera). J Exp Zool B Mol Dev Evol 308:347–356

Ehrlich H, Demadis KD, Pokrovsky OS, Koutsoukos PG (2010) Modern views on desilicification: biosilica and abiotic silica dissolution in natural and artificial environments. Chem Rev 110:4656–4689

Hochuli E, Bannwarth W, Döbeli H (1988) Genetic approach to facilitate purification of recombinant proteins with a novel metal chelate adsorbent. Nat Biotechnol 6:1321–1325

Iler RK (1979) The chemistry of silica: solubility, polymerization, colloid and surface properties, and biochemistry. Wiley, New York

Kaluzhnaya OV, Belikova AS, Podolskaya EP, Krasko AG, Müller WEG, Belikov SI (2007) Identification of silicateins in freshwater sponge Lubomirskia baicalensis. Mol Biol 41:554–561

Kotzsch A, Gröger P, Pawolski D, Bomans PHH, Sommerdijk NAJM, Schlierf M, Kröger N (2017) Silicanin-1 is a conserved diatom membrane protein involved in silica biomineralization. BMC Biol 15:65

Kozhemyako VB, Veremeichik GN, Shkryl YN, Kovalchuk SN, Krasokhin VB, Rasskazov VA, Zhuravlev YN, Bulgakov VP, Kulchin YN (2010) Silicatein genes in spicule-forming and nonspicule-forming pacific demosponges. Mar Biotechnol (NY) 12:403–409

Kröger N, Deutzmann R, Sumper M (1999) Polycationic peptides from diatom biosilica that direct silica nanosphere formation. Science 286:1129–1132

Kröger N, Deutzmann R, Bergsdorf C, Sumper M (2000) Species-specific polyamines from diatoms control silica morphology. PNAS 97:14133–14138

Kröger N, Lorenz S, Brunner E, Sumper M (2002) Self-assembly of highly phosphorylated silaffins and their function in biosilica morphogenesis. Science 298:584–586

Kuno T, Nonoyama T, Hirao K, Kato K (2011) Influence of the charge relay effect on the silanol condensation reaction as a model for silica biomineralization. Langmuir 27:13154–13158

Liang MK, Patwardhan SV, Danilovtseva EN, Annenkov VV, Perry CC (2009) Imidazole catalyzed silica synthesis: progress toward understanding the role of histidine in (bio)silicification. J Mater Res 24:1700–1708

Luckarift H, Spain J, Naik R (2004) Enzyme immobilization in a biomimetic silica support. Nat Biotechnol 22:211–213

Marron AO, Ratcliffe S, Wheeler GL, Goldstein RE, Nicole K, Not F, Vargas C, Richte DJ (2016) The evolution of silicon transport in eukaryotes. Mol Biol Evol 33:3226–3248

Matsunaga S, Sakai R, Jimbo M, Kamiya H (2007) Long-chain polyamines (LCPAs) from marine sponge: possible implication in spicule formation. Chembiochem 8:1729–1735

Mohri K, Nakatsukasa M, Masuda Y, Agata K, Funayama N (2008) Toward understanding the morphogenesis of siliceous spicules in freshwater sponge: differential mRNA expression of spicule-type-specific silicatein genes in Ephydatia fluviatilis. Dev Dyn 237:3024–3039

Morse DE (1999) Silicon biotechnology: harnessing biological silica production to construct new materials. Trends Biotechnol 17:230–232

Müller WE, Rothenberger M, Boreiko A, Tremel W, Reiber A, Schröder HC (2005) Formation of siliceous spicules in the marine demosponge Suberites domuncula. Cell Tissue Res 321:285–297

Müller WE, Schlossmacher U, Eckert C, Krasko A, Boreiko A, Ushijima H, Wolf SE, Tremel W, Müller IM, Schröder HC (2007) Analysis of the axial filament in spicules of the demosponge Geodia cydonium: different silicatein composition in microscleres (asters) and megascleres (Oxeas and Triaenes). Eur J Cell Biol 86:473–487

Nemoto M, Maeda Y, Muto M, Tanaka M, Yoshino T, Mayama S, Tanaka T (2014) Identification of a frustule-associated protein of the marine pennate diatom Fistulifera sp. strain JPCC DA0580. Mar Genomics 16:39–44

Pozzolini M, Sturla L, Cerrano C, Bavestrello G, Camardella L, Parodi AM, Raheli F, Benatti U, Müller WEG, Giovine M (2004) Molecular cloning of silicatein gene from marine sponge Petrosia ficiformis (Porifera, Demospongiae) and development of primmorphs as a model for biosilicification studies. Mar Biotechnol 6:594–603

Riesgo A, Maldnado M, López-Legentil S (2015) A proposal for the evolution of cathepsin and silicatein in sponges. J Mol Evol 80:278–291

Scheffel A, Poulsen N, Shian S, Kröger N (2011) Nanopatterned protein microrings from a diatom that direct silica morphogenesis. PNAS 108:3175–3180

Schlossmacher U, Wiens M, Schröder HC, Wang X, Jochum KP, Müller WEG (2011) Silintaphin-1--interaction with silicatein during structure-guiding bio-silica formation. FEBS J 278:1145–1155

Shimizu K (2015) Marine silicon biotechnology. In: Kim SK (ed) Springer handbook of marine biotechnology. Springer Handbooks. Springer, Berlin

Shimizu K, Morse DE (2018) In: Moore BS (ed) Methods in enzymology, vol 605. Academic Press

Shimizu K, Cha J, Stucky GD, Morse DE (1998) Silicatein alpha: cathepsin L-like protein in sponge biosilica. PNAS 95:6234–6238

Shimizu K, Amano T, Bari MR, Weaver JC, Arima J, Mori N (2015) Glassin, a histidine-rich protein from the siliceous skeletal system of the marine sponge Euplectella, directs silica polycondensation. PNAS 112:11449–11454

Tesson B, Lerch SJL, Hildebrand M (2017) Characterization of a new protein family associated with the silica deposition vesicle membrane enables genetic manipulation of diatom silica. Sci Rep 7:13457

Wenzl S, Hett R, Richthammer P, Sumper M (2008) Silacidins: highly acidic phosphopeptides from diatom shells assist in silica precipitation in vitro. Angew Chem Int Ed 47:1729–1732

Wiens M, Schröder HC, Wang X, Link T, Steindorf D, Müller WEG (2011) Isolation of the silicatein-a interactor silintaphin-2 by a novel solid-phase pull-down assay. Biochemistry 50:1981–1990

Zhou Y, Shimizu K, Cha JN, Stucky GD, Morse DE (1999) Efficient catalysis of polysiloxane synthesis by Silicatein α requires specific Hydroxy and imidazole functionalities. Angew Chem Int Ed 38:779–782
Funding
This work was supported by JSPS KAKENHI grant number JP15K06581.
Ethics declarations
Conflict of Interest
The authors declare that they have no conflict of interest.
Additional information
Publisher's note
Springer Nature remains neutral with regard to jurisdictional claims in published maps and institutional affiliations.
Electronic Supplementary Material
About this article
Cite this article
Nishi, M., Kobayashi, H., Amano, T. et al. Identification of the Domains Involved in Promotion of Silica Formation in Glassin, a Protein Occluded in Hexactinellid Sponge Biosilica, for Development of a Tag for Purification and Immobilization of Recombinant Proteins. Mar Biotechnol 22, 739–747 (2020). https://doi.org/10.1007/s10126-020-09967-2
Received:

Accepted:

Published:

Issue Date:
Keywords
Biosilica

Porifera

Immobilization

Protein purification

Histidine

Metal affinity