Abstract
Background
For many cancer resections, a hospital volume-outcome relationship exists. The data regarding gastric cancer resection—especially in the western hemisphere—are ambiguous. This study analyzes the impact of gastric cancer surgery caseload per hospital on postoperative mortality and failure to rescue in Germany.
Methods
All patients diagnosed with gastric cancer from 2009 to 2017 who underwent gastric resection were identified from nation-wide administrative data. Hospitals were grouped into five equal caseload quintiles (I–V in ascending caseload order). Postoperative deaths and failure to rescue were determined.
Results
Forty-six thousand one hundred eighty-seven patients were identified. There was a significant shift from partial resections in low-volume hospitals to more extended resections in high-volume centers. The overall in-house mortality rate was 6.2%. The crude in-hospital mortality rate ranged from 7.9% in quintile I to 4.4% in quintile V, with a significant trend between volume categories (p < 0.001). In the multivariable logistic regression analysis, quintile V hospitals (average of 29 interventions/year) had a risk-adjusted odds ratio of 0.50 (95% CI 0.39–0.65), compared to the baseline in-house mortality rate in quintile I (on average 1.5 interventions/year) (p < 0.001). In an analysis only evaluating hospitals with more than 30 resections per year mortality dropped below 4%. The overall postoperative complication rate was comparable between different volume quintiles, but failure to rescue (FtR) decreased significantly with increasing caseload.
Conclusion
Patients who had gastric cancer surgery in hospitals with higher volume had better outcomes and a reduced failure to rescue rates for severe complications.
Access options
Buy single article
Instant access to the full article PDF.
US$ 39.95
Tax calculation will be finalised during checkout.
Subscribe to journal
Immediate online access to all issues from 2019. Subscription will auto renew annually.
US$ 79
Tax calculation will be finalised during checkout.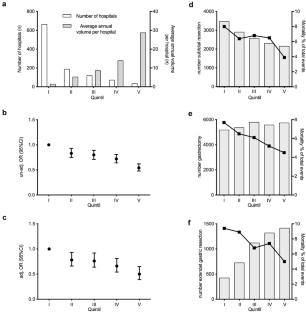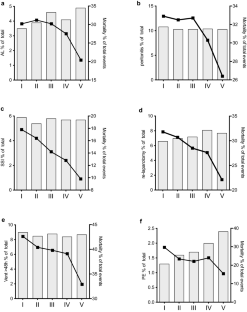 Acknowledgements
The authors thank Dr. Mohammed Hankir for language editing.
Ethics declarations
Conflict of interest
The authors declare no conflict of interest.
Additional information
Publisher's Note
Springer Nature remains neutral with regard to jurisdictional claims in published maps and institutional affiliations.
Electronic supplementary material
Below is the link to the electronic supplementary material.
About this article
Cite this article
Diers, J., Baum, P., Wagner, J.C. et al. Hospital volume following major surgery for gastric cancer determines in-hospital mortality rate and failure to rescue: a nation-wide study based on German billing data (2009–2017). Gastric Cancer (2021). https://doi.org/10.1007/s10120-021-01167-8
Received:

Accepted:

Published:
Keywords
Gastric cancer

Volume outcome

Mortality

Failure to rescue