Abstract
Background
Gastric cancer remains one of the 3 most common causes of cancer death worldwide. Understanding the health and economic factors that affect screening cost-effectiveness in different countries will help address when and where it makes most sense to screen for gastric cancer.
Methods
We performed a cost-effectiveness analysis using a Markov model to compare screening and surveillance strategies for gastric cancer in Brazil, France, Japan, Nigeria, and the United States. Primary outcome was the incremental cost-effectiveness ratio. We then performed a sensitivity analysis to determine how each variable affected the overall model.
Results
In all countries, the most cost-effective strategies, measured by incremental cost-effectiveness ratio relative to no screening, were screening every 10 years, surveillance of high- and low-risk patients every 5 and 10 years, respectively, and screening every 5 years. Only Japan had at least one cost-effective screening strategy. The most important variables across different screening strategies and countries were starting age of screening, cost of endoscopy, and baseline probability of local gastric cancer at time of diagnosis.
Conclusions
Our model suggests that screening for gastric cancer is cost-effective in countries with higher incidence and lower costs of screening, but screening may still be a viable option in high-risk populations within low incidence countries.
Access options
Buy single article
Instant access to the full article PDF.
US$ 39.95
Tax calculation will be finalised during checkout.
Subscribe to journal
Immediate online access to all issues from 2019. Subscription will auto renew annually.
US$ 79
Tax calculation will be finalised during checkout.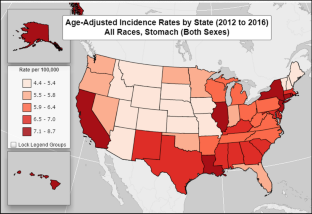 References
1.

Rawla P, Barsouk A. Epidemiology of gastric cancer: global trends, risk factors and prevention. Prz Gastroenterol. 2019;14(1):26–38.

2.

Cancer Stat Facts: Stomach Cancer. National Cancer Institute. Surveillance, Epidemiology, and End Results Program. Available at: https://seer.cancer.gov/statfacts/html/stomach.html. Accessed May 2020.

3.

Pasechnikov V, Chukov S, Fedorov E, Kikuste I, Leja M. Gastric cancer: prevention, screening and early diagnosis. World J Gastroenterol. 2014;20(38):13842–62.

4.

Tsurudome I, Miyahara R, Funasaka K, Furukawa K, Matsushita M, Yamamura T, et al. In vivo histological diagnosis for gastric cancer using endocytoscopy. World J Gastroenterol. 2017;23(37):6894–901.

5.

Lin Z, Luo M, Chen X, He X, Qian Y, Lai S, et al. Combined detection of plasma ZIC1, HOXD10 and RUNX3 methylation is a promising strategy for early detection of gastric cancer and precancerous lesions. J Cancer. 2017;8(6):1038–44.

6.

Yuan Y. A survey and evaluation of population-based screening for gastric cancer. Cancer Biol Med. 2013;10(2):72–80.

7.

Gomez JM, Wang AY. Gastric intestinal metaplasia and early gastric cancer in the west: a changing paradigm. Gastroenterol Hepatol. 2014;10(6):369–78.

8.

Stomach (Gastric) Cancer Screening (PDQ®)–Health Professional Version. National Cancer Institute. Available at: https://www.cancer.gov/types/stomach/hp/stomach-screening-pdq. Accessed July 2020.

9.

Leung WK, Wu MS, Kakugawa Y, Kim JJ, Yeoh KG, Goh KL, et al. Screening for gastric cancer in Asia: current evidence and practice. Lancet Oncol. 2008;9(3):279–87.

10.

Lin JT. Screening of gastric cancer: who, when, and how. Clin Gastroenterol Hepatol. 2014;12(1):135–8.

11.

Hamashima C, Systematic Review G, Guideline Development Group for Gastric Cancer Screening G. Update version of the Japanese guidelines for gastric cancer screening. Jpn J Clin Oncol. 2018;48(7):673–83. https://doi.org/10.1093/jjco/hyy077.

12.

GCO/Cancer Today. International Agency for Research on Cancer. World Health Organization. Available at: https://gco.iarc.fr/today/online-analysis-map. Accessed March 2020.

13.

Areia M, Dinis-Ribeiro M, Rocha GF. Cost-utility analysis of endoscopic surveillance of patients with gastric premalignant conditions. Helicobacter. 2014;19(6):425–36.

14.

Eom BW, Jung KW, Won YJ, Yang H, Kim YW. Trends in gastric cancer incidence according to the clinicopathological characteristics in Korea, 1999–2014. Cancer Res Treat. 2018;50(4):1343–50.

15.

Lee S, Jun JK, Suh M, Park B, Noh DK, Jung KW, et al. Gastric cancer screening uptake trends in Korea: results for the National Cancer Screening Program from 2002 to 2011: a prospective cross-sectional study. Medicine. 2015;94(8):e533.

16.

Zhou HJ, Dan YY, Naidoo N, Li SC, Yeoh KG. A cost-effectiveness analysis evaluating endoscopic surveillance for gastric cancer for populations with low to intermediate risk. PLoS ONE. 2013;8(12):e83959.

17.

Arias E and Xu J (2019) United states life tables, 2017. National vital statistics reports. 68(7).

18.

Vital Statistics. Ministry of Health, Labour and Welfare. Available at: https://www.mhlw.go.jp/english/database/db-hw/lifetb17/index.html. Accessed February 2020.

19.

Global Health Observatory data repository. World Health Organization. Available at: https://apps.who.int/gho/data/node.main.LIFECOUNTRY?lang=en. Accessed March 2020.

20.

Diagnostic examination of esophagus, stomach, and/or upper small bowel using an endoscope. Procedure Price Lookup. Available at: https://www.medicare.gov/procedure-price-lookup/cost/43235/. Accessed February 2020.

21.

Gastroscopy and Colonoscopy. Japan Healthcare Info. Available at: https://japanhealthinfo.com/gastroscopy-and-colonoscopy/. Accessed February 2020.

22.

Irabor DO. Surgical gastrointestinal endoscopy in Ibadan, Nigeria. Nig J Surg Res. 2006;8(3–4):161–2.

23.

In H, Solsky I, Palis B, Langdon-Embry M, Ajani J, Sano T. Validation of the 8th of the AJCC TNM staging system for gastric cancer using the national cancer database. Ann Surg Oncol. 2017;24(12):3683–91.

24.

Lee HJ, Ock M, Kim KP, Jo MW. Estimation of population-based utility weights for gastric cancer-related health states. Patient Prefer Adher. 2018;12:909–18.

25.

Areia M, Spaander MC, Kuipers EJ, Dinis-Ribeiro M. Endoscopic screening for gastric cancer: a cost-utility analysis for countries with an intermediate gastric cancer risk. United Eur Gastroenterol J. 2018;6(2):192–202.

26.

GNI per capita, Atlas method (current US$). The World Bank. Available at: https://data.worldbank.org/indicator/NY.GNP.PCAP.CD. Accessed March 2020.

27.

den Hoed CM, van Eijck BC, Capelle LG, van Dekken H, Biermann K, Siersema PD, et al. The prevalence of premalignant gastric lesions in asymptomatic patients: predicting the future incidence of gastric cancer. Eur J Cancer. 2011;47(8):1211–8.

28.

Dan YY, So JB, Yeoh KG. Endoscopic screening for gastric cancer. Clin Gastroenterol Hepatol. 2006;4(6):709–16.

29.

Cho E, Kang MH, Choi KS, Suh M, Jun JK, Park EC. Cost-effectiveness outcomes of the national gastric cancer screening program in South Korea. Asian Pac J Cancer Prev. 2013;14(4):2533–40.

30.

Saumoy M, Schneider Y, Shen N, Kahaleh M, Sharaiha RZ, Shah SC. Cost effectiveness of gastric cancer screening according to race and ethnicity. Gastroenterology. 2018;155(3):648–60.

31.

Wu JT, Zhou J, Naidoo N, Yang WY, Lin XC, Wang P, et al. Determining the cost-effectiveness of endoscopic surveillance for gastric cancer in patients with precancerous lesions. Asia Pac J Clin Oncol. 2016;12(4):359–68.

32.

Kim GH, Liang PS, Bang SJ, Hwang JH. Screening and surveillance for gastric cancer in the United States: Is it needed? Gastrointest Endosc. 2016;84(1):18–28.

33.

NCI Cancer Atlas. National Cancer Institute. GIS Portal for Cancer Research. Available at: https://gis.cancer.gov/canceratlas/app/. Accessed March 2020.
Funding
Institutional. No external funding.
Ethics declarations
Conflict of interest
All authors declare that they have no conflict of interest.
Ethical approval
This article does not contain any studies with human participants or animals performed by any of the authors.
Additional information
Publisher's Note
Springer Nature remains neutral with regard to jurisdictional claims in published maps and institutional affiliations.
Supplementary Information
Below is the link to the electronic supplementary material.
About this article
Cite this article
Ascherman, B., Oh, A. & Hur, C. International cost-effectiveness analysis evaluating endoscopic screening for gastric cancer for populations with low and high risk. Gastric Cancer (2021). https://doi.org/10.1007/s10120-021-01162-z
Received:

Accepted:

Published:
Keywords
Gastric cancer (GC)

Endoscopy

Screening

Cost-effectiveness

Quality adjusted life year (QALY)