Abstract
Background
Long non-coding RNA (lncRNA) ASB16 antisense RNA 1 (ASB16-AS1) is recognized as an oncogene in several cancer types, but its relation to GC is unknown. Tripartite motif containing 37 (TRIM37) has been proven to accelerate the development of gastric cancer (GC), whereas the molecular mechanism assisted ASB16-AS1 and TRIM37 in regulating GC progression remains unclear.
Methods
Differentially expressed lncRNAs in GC samples were analyzed based on Gene Expression Omnibus (GEO) data. CCK-8 and colony formation assays were applied to determine the proliferative ability of GC cells. Stem cell-like phenotype of GC cells was assessed by sphere formation assay and flow cytometry analysis. Luciferase reporter assay, RNA immunoprecipitation (RIP), pulldown, and co-immunoprecipitation (Co-IP) were performed to verify the interplay of RNA molecules.
Results
ASB16-AS1 was upregulated in GC samples according to GEO data and qRT-PCR analysis. ASB16-AS1 strengthened the proliferative ability and stem cell-like characteristics in GC cells. More importantly, ASB16-AS1 encouraged GC cell growth in vivo. Mechanistically, ASB16-AS1 strengthened TRIM37 expression by sequestering miR-3918 and miR-4676-3p. ASB16-AS1 activated NF-kappa B (NF-κB) pathway by cooperating with ATM serine/threonine kinase (ATM) to induce TRIM37 phosphorylation.
Conclusion
In summary, ASB16-AS1 exerted oncogenic functions in GC through modulating TRIM37 expression at both mRNA and protein levels.
Graphic abstract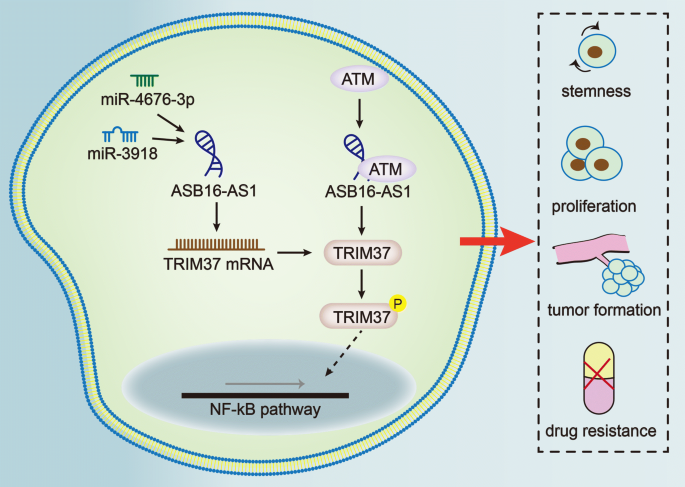 This is a preview of subscription content, log in to check access.
Access options
Buy single article
Instant access to the full article PDF.
US$ 39.95
Price includes VAT for USA
Subscribe to journal
Immediate online access to all issues from 2019. Subscription will auto renew annually.
US$ 99
This is the net price. Taxes to be calculated in checkout.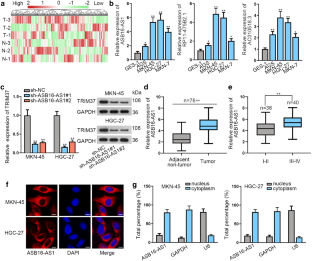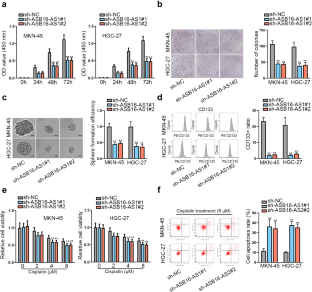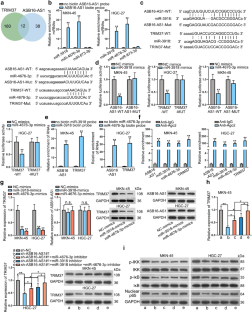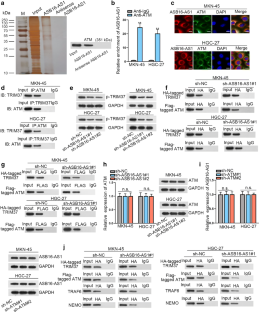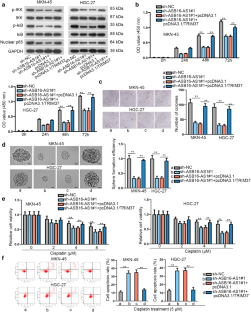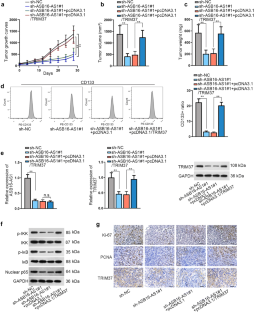 Acknowledgements
We sincerely appreciate all lab members.
Funding
This study was supported by Science Foundation of Peking University Cancer Hospital 2020-12.
Ethics declarations
Conflict of interest
The authors declare that they have no competing interest.
Ethics approval and consent to participate
With the informed consents signed by all patients, this study had received the approval of the Ethics Committee of Peking University Cancer Hospital and Institute.
Additional information
Publisher's Note
Springer Nature remains neutral with regard to jurisdictional claims in published maps and institutional affiliations.
Electronic supplementary material
Below is the link to the electronic supplementary material.
About this article
Cite this article
Fu, T., Ji, K., Jin, L. et al. ASB16-AS1 up-regulated and phosphorylated TRIM37 to activate NF-κB pathway and promote proliferation, stemness, and cisplatin resistance of gastric cancer. Gastric Cancer (2020). https://doi.org/10.1007/s10120-020-01096-y
Received:

Accepted:

Published:
Keywords
TRIM37

ASB16-AS1

Gastric cancer

ATM