Abstract
Background
There is no consensual definition for gastric linitis plastica (GLP). We aim to construct a diagnostic score to distinguish this rare tumor from usual gastric adenocarcinomas.
Methods
In this retrospective study, all patients who had gastrectomy for cancer between 2007 and 2017 in French tertiary centers were included. The outcome was a diagnosis of GLP based on pathological review of the surgical specimen. The diagnostic score was created by using variables that were most frequently associated with GLP using penalized logistic regression on multiply imputed datasets. We used discrimination measures to assess the performances of the score. Internal validation was performed using bootstrapping methods to correct for over-optimism.
Results
220 patients including 71 linitis plastica (female 49%, median age 57 years) were analyzed. The six parameters retained in the diagnosis score were the presence of large folds and/or parietal thickening on at least one segment, pangastric infiltration and presence of gastric stenosis on the upper endoscopy, circumferential thickening on at least one segment and thickening of the third hyperechogenic layer on endoscopic ultrasound and the presence of signet ring cells on endoscopic biopsies. The area under the ROC curve (AUC) was 0.967 with a sensitivity of 94% [89.9–97.3] and a specificity of 88.7% [81.7–95.8] for a threshold of 2.75. After internal validation, the corrected AUC was 0.959.
Conclusion
It is the first study validating a pre-therapeutic diagnostic score (Saint Louis linitis score) with an excellent ability to discriminate GLP from non-GLP adenocarcinomas. An external validation is necessary to confirm our data.
This is a preview of subscription content, log in to check access.
Access options
Buy single article
Instant access to the full article PDF.
US$ 39.95
Price includes VAT for USA
Subscribe to journal
Immediate online access to all issues from 2019. Subscription will auto renew annually.
US$ 99
This is the net price. Taxes to be calculated in checkout.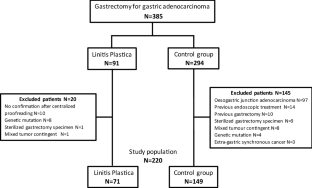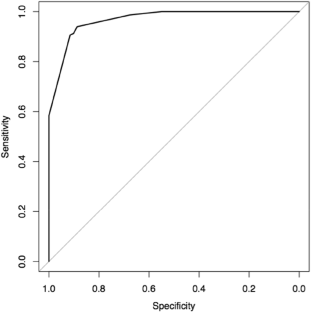 References
1.

Ferlay J, Soerjomataram I, Dikshit R, Eser S, Mathers C, Rebelo M, et al. Cancer incidence and mortality worldwide: Sources, methods and major patterns in GLOBOCAN 2012. Int J Cancer. 2015;136(5):359–86.

2.

Karimi P, Islami F, Anandasabapathy S, Freedman ND, Kamangar F. Gastric cancer: descriptive epidemiology, risk factors, screening, and prevention. Cancer Epidemiol Biomark Prev. 2014;23(5):700–13.

3.

Lauren P. The two histological main types of gastric carcinoma: diffuse and so-called intestinal-type carcinoma An attempt at a histo-clinical classification. Acta Pathol Microbiol Scand. 1965;64:31–49.

4.

Bosman FT, Carneiro F, Hruban RH, Theise ND (2010) World Health Organization (WHO) classification of tumours of the digestive system, 4th Edition. International Agency for Research on Cancer (IARC), Lyon, pp 45–79.

5.

Japanese Gastric Cancer Association. Japanese classification of gastric carcinoma: 3rd English edition. Gastric Cancer. 2011;14(2):101–12.

6.

Borrmann R. Geschwülste Des Magens und Des Duodenums, vol. 1. Berlin: Springer; 1926.

7.

Siewert J, Stein H. Carcinoma of the gastroesophageal junction—classification, pathology and extent of resection. Dis Esophagus. 1996;9:173–82.

8.

Mastoraki A, Papanikolaou IS, Sakorafas G, Safioleas M. Facing the challenge of managing linitis plastic—review of the literature. Hepatogastroenterology. 2009;56(96):1773–8.

9.

Agnes A, Estrella JS, Badgwell B. The significance of a nineteenth century definition in the era of genomics: linitis plastica. World J Surg Oncol. 2017;15(1).

10.

Chang JM, Lara KA, Gray RJ, Pockaj BA, Wasif N. Clinical outcomes after surgery for linitis plastica of the stomach: analysis of a population cancer registry. Am Surg. 2017;83(1):23–9.

11.

Blackham AU, Swords DS, Levine EA, Fino NF, Squires MH, Poultsides G, et al. Is linitis plastica a contraindication for surgical resection: a multi-institution study of the US gastric cancer collaborative. Ann Surg Oncol. 2016;23(4):1203–11.

12.

Mariette C, Carneiro F, Grabsch HI, van der Post RS, Allum W, de Manzoni G, et al. Consensus on the pathological definition and classification of poorly cohesive gastric carcinoma. Gastric Cancer Off J Int Gastric Cancer Assoc Jpn Gastric Cancer Assoc. 2018;15:123.

13.

Palli D, Bianchi S, Cipriani F, Duca P, Amorosi A, Avellini C, et al. Reproducibility of histologic classification of gastric cancer. Br J Cancer. 1991;63(5):765.

14.

Flucke U, Mönig SP, Baldus SE, Zirbes TK, Bollschweiler E, Thiele J, et al. Differences between biopsy- or specimen-related Laurén and World Health Organization classification in gastric cancer. World J Surg. 2002;26(2):137–40.

15.

Amin MB, Edge SB, Greene FL, et al., editors. AJCC cancer staging manual. 8th ed. New York: Springer; 2017.

16.

Jung K, Park MI, Kim SE, Park SJ. Borrmann type 4 advanced gastric cancer: focus on the development of scirrhous gastric cancer. Clin Endosc. 2016;49(4):336–45.

17.

Pernot S. Signet-ring cell carcinoma of the stomach: Impact on prognosis and specific therapeutic challenge. World J Gastroenterol. 2015;21(40):11428.

18.

Golembeski CP, Genta RM. Signet-ring cell carcinoma in gastric biopsies: expecting the unexpected. J Clin Pathol. 2013;66(2):136–9.

19.

Piessen G, Amielh D, Messager M, Vinatier E, Leteurtre E, Triboulet JP, et al. Is pretreatment endoscopic biopsy a good predictor of signet ring cell histology in gastric carcinoma? World J Surg. 2012;36(2):346–54.

20.

Pedrazzani C, Marrelli D, Pacelli F, Di Cosmo M, Mura G, Bettarini F, et al. Gastric linitis plastica: which role for surgical resection? Gastric Cancer. 2012;15(1):56–60.

21.

Endo K, Sakurai M, Kusumoto E, Uehara H, Yamaguchi S, Tsutsumi N, et al. Biological significance of localized Type IV scirrhous gastric cancer. Oncol Lett. 2012;3(1):94–9.

22.

Mocellin S, Pasquali S. Diagnostic accuracy of endoscopic ultrasonography (EUS) for the preoperative locoregional staging of primary gastric cancer. Cochrane Database Syst Rev. 2015;2:1–173.

23.

Liu Y, Chen K, Yang X-J. Endoscopic ultrasound guided fine needle aspiration used in diagnosing gastric linitis plastica: metastatic lymph nodes can be valuable targets. J Gastroenterol Hepatol. 2018;34:202–6.

24.

Morgant S, Artru P, Oudjit A, Lourenco N, Pasquer A, Walter T, et al. Computed tomography scan efficacy in staging gastric linitis plastica lesion: a retrospective multicentric French study. Cancer Manag Res. 2018;10:3825–31.

25.

Han D-S, Suh Y-S, Kong S-H, Lee H-J, Choi Y, Aikou S, et al. Nomogram predicting long-term survival after d2 gastrectomy for gastric cancer. J Clin Oncol Off J Am Soc Clin Oncol. 2012;30(31):3834–40.

26.

Hirabayashi S, Kosugi S, Isobe Y, Nashimoto A, Oda I, Hayashi K, et al. Development and external validation of a nomogram for overall survival after curative resection in serosa-negative, locally advanced gastric cancer. Ann Oncol Off J Eur Soc Med Oncol. 2014;25(6):1179–84.

27.

Zheng Z-F, Lu J, Wang W, Desiderio J, Li P, Xie J-W, et al. Development and external validation of a simplified nomogram predicting individual survival after R0 resection for gastric cancer: an international, multicenter study. Ann Surg Oncol. 2018;25:2383–90.

28.

Narita Y, Kadowaki S, Oze I, Kito Y, Kawakami T, Machida N, et al. Establishment and validation of prognostic nomograms in first-line metastatic gastric cancer patients. J Gastrointest Oncol. 2018;9(1):52–63.

29.

Kim SY, Yoon MJ, Park YI, Kim MJ, Nam B-H, Park SR. Nomograms predicting survival of patients with unresectable or metastatic gastric cancer who receive combination cytotoxic chemotherapy as first-line treatment. Gastric Cancer Off J Int Gastric Cancer Assoc Jpn Gastric Cancer Assoc. 2018;21(3):453–63.

30.

Messager M, Lefevre JH, Pichot-Delahaye V, Souadka A, Piessen G, Mariette C, et al. The impact of perioperative chemotherapy on survival in patients with gastric signet ring cell adenocarcinoma: a multicenter comparative study. Ann Surg. 2011;254(5):684–93.
Ethics declarations
Conflict of interest
All the authors declare no conflict of interest for this article (ICMJE Form for Disclosure of Potential Conflicts of Interest).
Ethical standards
All procedures followed were in accordance with the ethical standards of the responsible committee on human experimentation (institutional and national) and with the Helsinki Declaration of 1964 and later versions.
Informed consent
All data were anonymously collected and, according to the Loi Jardé, no patient consent was needed, as the treatment implemented in this study was the standard recommended therapy.
Additional information
Publisher's Note
Springer Nature remains neutral with regard to jurisdictional claims in published maps and institutional affiliations.
Electronic supplementary material
Below is the link to the electronic supplementary material.
About this article
Cite this article
Vivier-Chicoteau, J., Lambert, J., Coriat, R. et al. Development and internal validation of a diagnostic score for gastric linitis plastica. Gastric Cancer 23, 639–647 (2020). https://doi.org/10.1007/s10120-020-01051-x
Received:

Accepted:

Published:

Issue Date:
Keywords
Linitis plastica

Diagnostic score

Gastrectomy