Abstract
Background
The usefulness of sentinel node navigation surgery (SNNS) for early gastric cancer has been demonstrated in a multicenter prospective study. However, quality of life (QOL) after local resection remains unclear. This present study investigated QOL after local resection and distal gastrectomy.
Methods
We examined 69 patients who underwent laparoscopic distal gastrectomy (LADG) (n = 44) and laparoscopic local resection (LLR) (n = 25) in our hospital between September 2011 and May 2018. We conducted a combination of laparoscopic and endoscopic approaches to neoplasia with non-exposure technique (CLEAN-NET) with SNNS as LLR. All patients had pStage I or II and none had received adjuvant chemotherapy. We evaluated QOL using the postgastrectomy syndrome assessment scale questionnaire (PGSAS-45) 1, 6, and 12 months after surgery.
Results
In PGSAS-45, no significant differences were observed between LLR and LADG at 1 and 6 months after surgery. At 12 months, the LLR group scored better for some of the subscales (SS). In the endoscopic evaluation, the LLR group showed significant improvements in residual gastritis at 6 months (P = 0.006) and esophageal reflux and residual gastritis at 12 months (P = 0.021 and P = 0.017). A significant difference was observed in the prognostic nutritional index, which was assessed using serum samples, between the two groups at 6 months (P = 0.028). The body weight ratio was better in the LLR group than in the LADG group at 6 and 12 months (P = 0.041 and P = 0.007, respectively).
Conclusions
CLEAN-NET with SNNS preserved a better QOL and nutrition status than LADG in patients with early gastric cancer.
This is a preview of subscription content, log in to check access.
Access options
Buy single article
Instant access to the full article PDF.
US$ 39.95
Price includes VAT for USA
Subscribe to journal
Immediate online access to all issues from 2019. Subscription will auto renew annually.
US$ 99
This is the net price. Taxes to be calculated in checkout.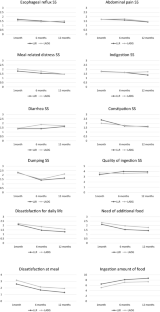 References
1.

Giuliano AE, Kirgan DM, Guenther JM, Morton DL. Lymphatic mapping and sentinel lymphadenectomy for breast cancer. Ann Surg. 1994;220(3):391–8 discussion 398–401.

2.

Morton DL, Wen DR, Wong JH, Economou JS, Cagle LA, Storm FK, et al. Technical details of intraoperative lymphatic mapping for early stage melanoma. Arch Surg. 1992;127(4):392–9.

3.

Aikou T, Higashi H, Natsugoe S, Hokita S, Baba M, Tako S. Can sentinel node navigation surgery reduce the extent of lymph node dissection in gastric cancer? Ann Surg Oncol. 2001;8(9 Suppl):90S–3S.

4.

Hiratsuka M, Miyashiro I, Ishikawa O, Furukawa H, Motomura K, Ohigashi H, et al. Application of sentinel node biopsy to gastric cancer surgery. Surgery. 2001;129(3):335–40.

5.

Uenosono Y, Natsugoe S, Ehi K, Arigami T, Hokita S, Aikou T. Detection of sentinel nodes and micrometastases using radioisotope navigation and immunohistochemistry in patients with gastric cancer. Br J Surg. 2005;92(7):886–9.

6.

Kitagawa Y, Takeuchi H, Takagi Y, Natsugoe S, Terashima M, Murakami N, et al. Sentinel node mapping for gastric cancer: a prospective multicenter trial in Japan. J Clin Oncol. 2013;31(29):3704–10.

7.

Nakada K, Ikeda M, Takahashi M, Kinami S, Yoshida M, Uenosono Y, et al. Characteristics and clinical relevance of postgastrectomy syndrome assessment scale (PGSAS)-45: newly developed integrated questionnaires for assessment of living status and quality of life in postgastrectomy patients. Gastric Cancer. 2015;18(1):147–58.

8.

Terashima M, Tanabe K, Yoshida M, Kawahira H, Inada T, Okabe H, et al. Postgastrectomy Syndrome Assessment Scale (PGSAS)-45 and changes in body weight are useful tools for evaluation of reconstruction methods following distal gastrectomy. Ann Surg Oncol. 2014;21(Suppl 3):S370–378.

9.

Inada T, Yoshida M, Ikeda M, Yumiba T, Matsumoto H, Takagane A, et al. Evaluation of QOL after proximal gastrectomy using a newly developed assessment scale (PGSAS-45). World J Surg. 2014;38(12):3152–62.

10.

Namikawa T, Hiki N, Kinami S, Okabe H, Urushihara T, Kawahira H, et al. Factors that minimize postgastrectomy symptoms following pylorus-preserving gastrectomy: assessment using a newly developed scale (PGSAS-45). Gastric Cancer. 2015;18(2):397–406.

11.

Takiguchi N, Takahashi M, Ikeda M, Inagawa S, Ueda S, Nobuoka T, et al. Long-term quality-of-life comparison of total gastrectomy and proximal gastrectomy by postgastrectomy syndrome assessment scale (PGSAS-45): a nationwide multi-institutional study. Gastric Cancer. 2015;18(2):407–16.

12.

Onodera T, Goseki N, Kosaki G. Prognostic nutritional index in gastrointestinal surgery of malnourished cancer patients. Nihon Geka Gakkai Zasshi. 1984;85(9):1001–5.

13.

Pinato DJ, North BV, Sharma R. A novel, externally validated inflammation-based prognostic algorithm in hepatocellular carcinoma: the prognostic nutritional index (PNI). Br J Cancer. 2012;106(8):1439–45.

14.

Kanda M, Fujii T, Kodera Y, Nagai S, Takeda S, Nakao A. Nutritional predictors of postoperative outcome in pancreatic cancer. Br J Surg. 2011;98(2):268–74.

15.

Jeon HG, Choi DK, Sung HH, Jeong BC, Seo SI, Jeon SS, et al. Preoperative prognostic nutritional index is a significant predictor of survival in renal cell carcinoma patients undergoing nephrectomy. Ann Surg Oncol. 2016;23(1):321–7.

16.

Sakurai K, Tamura T, Toyokawa T, Amano R, Kubo N, Tanaka H, et al. Low preoperative prognostic nutritional index predicts poor survival post-gastrectomy in elderly patients with gastric cancer. Ann Surg Oncol. 2016;23(11):3669–766.

17.

Migita K, Takayama T, Saeki K, Matsumoto S, Wakatsuki K, Enomoto K, et al. The prognostic nutritional index predicts long-term outcomes of gastric cancer patients independent of tumor stage. Ann Surg Oncol. 2013;20(8):2647–54.

18.

Adachi Y, Shiraishi N, Kitano S. Modern treatment of early gastric cancer: review of the Japanese experience. Dig Surg. 2002;19(5):333–9.

19.

Japanese Gastric Cancer Association. Japanese gastric cancer treatment guidelines 2018 (ver. 5). Tokyo: Kanehara-shuppan; 2018.

20.

Goto O, Takeuchi H, Kawakubo H, Sasaki M, Matsuda T, Matsuda S, et al. First case of non-exposed endoscopic wall-inversion surgery with sentinel node basin dissection for early gastric cancer. Gastric Cancer. 2015;18(2):434–9.

21.

Inoue H, Ikeda H, Hosoya T, Yoshida A, Onimaru M, Suzuki M, et al. Endoscopic mucosal resection, endoscopic submucosal dissection, and beyond: full-layer resection for gastric cancer with nonexposure technique (CLEAN-NET). Surg Oncol Clin N Am. 2012;21(1):129–40.

22.

Natsugoe S, Arigami T, Uenosono Y, Yanagita S. Novel surgical approach based on the sentinel node concept in patients with early gastric cancer. Ann Gastroenterol Surg. 2017;1(3):180–5.

23.

Arigami T, Uenosono Y, Yanagita S, Okubo K, Kijima T, Matsushita D, et al. Clinical application and outcomes of sentinel node navigation surgery in patients with early gastric cancer. Oncotarget. 2017;8(43):75607–16.

24.

Fujita J, Takahashi M, Urushihara T, Tanabe K, Kodera Y, Yumiba T, et al. Assessment of postoperative quality of life following pylorus-preserving gastrectomy and Billroth-I distal gastrectomy in gastric cancer patients: results of the nationwide postgastrectomy syndrome assessment study. Gastric Cancer. 2016;19(1):302–11.

25.

Takahashi M, Terashima M, Kawahira H, Nagai E, Uenosono Y, Kinami S, et al. Quality of life after total vs distal gastrectomy with Roux-en-Y reconstruction: use of the Postgastrectomy Syndrome Assessment Scale-45. World J Gastroenterol. 2017;23(11):2068–76.

26.

Kobayashi D, Kodera Y, Fujiwara M, Koike M, Nakayama G, Nakao A. Assessment of quality of life after gastrectomy using EORTC QLQ-C30 and STO22. World J Surg. 2011;35(2):357–64.

27.

Kinami S, Takahashi M, Urushihara T, Ikeda M, Yoshida M, Uenosono Y, et al. Background factors influencing postgastrectomy syndromes after various types of gastrectomy. World J Clin Cases. 2018;6(16):1111–20.

28.

Furukawa H, Ohashi M, Honda M, Kumagai K, Nunobe S, Sano T, et al. Preservation of the celiac branch of the vagal nerve for pylorus-preserving gastrectomy: is it meaningful. Gastric Cancer. 2018;21(3):516–23.

29.

Isozaki H, Matsumoto S, Murakami S, Takama T, Sho T, Ishihara K, et al. Diminished gastric resection preserves better quality of life in patients with early gastric cancer. Acta Med Okayama. 2016;70(2):119–30.

30.

Kawamura M, Nakada K, Konishi H, Iwasaki T, Murakami K, Mitsumori N, et al. Assessment of motor function of the remnant stomach by (1)(3)C breath test with special reference to gastric local resection. World J Surg. 2014;38(11):2898–903.
Ethics declarations
Conflict of interest
None of the authors has any financial conflicts of interest regarding the present study.
Ethical approval
All procedures followed were in accordance with the ethical standards of the responsible committee on human experimentation (institutional and national) and with the Helsinki Declaration of 1964 and later versions. The Ethics Committee of Kagoshima University and all patients provided written informed consent for the use of their information.
Additional information
Publisher's Note
Springer Nature remains neutral with regard to jurisdictional claims in published maps and institutional affiliations.
About this article
Cite this article
Okubo, K., Arigami, T., Matsushita, D. et al. Evaluation of postoperative quality of life by PGSAS-45 following local gastrectomy based on the sentinel lymph node concept in early gastric cancer. Gastric Cancer 23, 746–753 (2020). https://doi.org/10.1007/s10120-020-01047-7
Received:

Accepted:

Published:

Issue Date:
Keywords
Gastric cancer

PGSAS-45

CLEAN-NET

Sentinel node navigation surgery