Abstract
Background
Statins have shown to reduce the risk of various cancers. However, their effects on metachronous recurrence (MR) after endoscopic resection (ER) for early gastric cancer (EGC) are unknown. We evaluate their effects on MR development after ER for EGC.
Methods
We selected 11,568 patients who received ER for EGC from 2002 to 2011 from the Korean National Health Insurance database and classified into 2 groups: control and statins using propensity score matching. Metachronous recurrence was defined as the second ER or gastrectomy performed 6 months after the first ER.
Results
Mean follow-up period was 8.8 ± 3.1 years. Statins showed a significantly lower incidence of MR than the control group (12.5% vs 2.2%, respectively, P < 0.01). After conducting competing risk analyses and time-dependent cox regression analysis considering immortal time bias, statins still showed a lower incidence rate of MR compared to that observed in the control group. For the multivariate analysis, statins remained significant (HR 0.17; 95% CI 0.13–0.24, P < 0.01). In the dose–response analysis, an inverse dose–response relationship was identified between MR and statins (P < 0.01).
Conclusion
Statins was significantly associated with a reduced risk of MR after ER for EGC with an inverse dose–response relationship.
This is a preview of subscription content, log in to check access.
Access options
Buy single article
Instant access to the full article PDF.
US$ 39.95
Price includes VAT for USA
Subscribe to journal
Immediate online access to all issues from 2019. Subscription will auto renew annually.
US$ 99
This is the net price. Taxes to be calculated in checkout.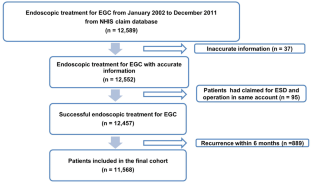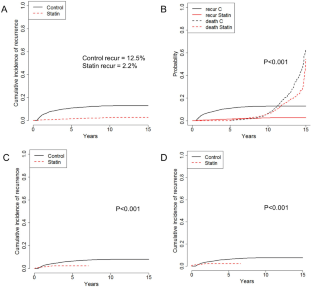 Abbreviations
ADDD:

Average DDD

BMI:

Body mass index

CI:

Confidence intervals

DDD:

Defined daily dose

EGC:

Early gastric cancer

EMR:

Endoscopic mucosal resection

ER:

Endoscopic resection

ESD:

Endoscopic submucosal dissection

H. pylori :

Helicobacter pylori

HR:

Hazard ratio

ICD-10:

International classification of disease 10th revision

KCCR:

Korean Central Cancer Registry

NHIS:

National Health Insurance Service

MR:

Metachronous recurrence

OR:

Odds ratio

PSM:

Propensity score-matching

SD:

Standard deviation
References
1.

Park CH, Lee H, Kim DW, Chung H, Park JC, Shin SK, et al. Clinical safety of endoscopic submucosal dissection compared with surgery in elderly patients with early gastric cancer: a propensity-matched analysis. Gastrointest Endosc. 2014;80(4):599–609.

2.

Ryu SJ, Kim BW, Kim BG, Kim JH, Kim JS, Kim JI, et al. Endoscopic submucosal dissection versus surgical resection for early gastric cancer: a retrospective multicenter study on immediate and long-term outcome over 5 years. Surg Endosc. 2016;30(12):5283–9.

3.

Pyo JH, Lee H, Min BH, Lee JH, Choi MG, Lee JH, et al. Long-term outcome of endoscopic resection vs surgery for early gastric cancer: a non-inferiority-matched cohort study. Am J Gastroenterol. 2016;111(2):240–9.

4.

Cho JH, Cha SW, Kim HG, Lee TH, Cho JY, Ko WJ, et al. Long-term outcomes of endoscopic submucosal dissection for early gastric cancer: a comparison study to surgery using propensity score-matched analysis. Surg Endosc. 2016;30(9):3762–73.

5.

Ami R, Hatta W, Iijima K, Koike T, Ohkata H, Kondo Y, et al. Factors associated with metachronous gastric cancer development after endoscopic submucosal dissection for early gastric cancer. J Clin Gastroenterol. 2016. https://doi.org/10.1097/MCG.0000000000000620.

6.

Abe S, Oda I, Suzuki H, Nonaka S, Yoshinaga S, Nakajima T, et al. Long-term surveillance and treatment outcomes of metachronous gastric cancer occurring after curative endoscopic submucosal dissection. Endoscopy. 2015;47(12):1113–8.

7.

Kato M, Nishida T, Yamamoto K, Hayashi S, Kitamura S, Yabuta T, et al. Scheduled endoscopic surveillance controls secondary cancer after curative endoscopic resection for early gastric cancer: a multicentre retrospective cohort study by Osaka University ESD study group. Gut. 2013;62(10):1425–32.

8.

Min BH, Kim ER, Kim KM, Park CK, Lee JH, Rhee PL, et al. Surveillance strategy based on the incidence and patterns of recurrence after curative endoscopic submucosal dissection for early gastric cancer. Endoscopy. 2015;47(9):784–93.

9.

Kim SB, Lee SH, Bae SI, Jeong YH, Sohn SH, Kim KO, et al. Association between Helicobacter pylori status and metachronous gastric cancer after endoscopic resection. World J Gastroenterol. 2016;22(44):9794–802.

10.

Kwon YH, Heo J, Lee HS, Cho CM, Jeon SW. Failure of Helicobacter pylori eradication and age are independent risk factors for recurrent neoplasia after endoscopic resection of early gastric cancer in 283 patients. Aliment Pharmacol Ther. 2014;39(6):609–18.

11.

Shin SH, da Jung H, Kim JH, Chung HS, Park JC, Shin SK, et al. Helicobacter pylori eradication prevents metachronous gastric neoplasms after endoscopic resection of gastric dysplasia. PLoS ONE. 2015;10(11):e0143257.

12.

Chen HH, Lin MC, Muo CH, Yeh SY, Sung FC, Kao CH. Combination therapy of metformin and statin may decrease hepatocellular carcinoma among diabetic patients in Asia. Med (Baltim). 2015;94(24):e1013.

13.

Lehman DM, Lorenzo C, Hernandez J, Wang CP. Statin use as a moderator of metformin effect on risk for prostate cancer among type 2 diabetic patients. Diabetes Care. 2012;35(5):1002–7.

14.

Kautzky-Willer A, Thurner S, Klimek P. Use of statins offsets insulin-related cancer risk. J Intern Med. 2017;281(2):206–16.

15.

Lee J, Lee SH, Hur KY, Woo SY, Kim SW, Kang WK. Statins and the risk of gastric cancer in diabetes patients. BMC Cancer. 2012;12:596.

16.

Chiu HF, Ho SC, Chang CC, Wu TN, Yang CY. Statins are associated with a reduced risk of gastric cancer: a population-based case-control study. Am J Gastroenterol. 2011;106(12):2098–103.

17.

Singh PP, Singh S. Statins are associated with reduced risk of gastric cancer: a systematic review and meta-analysis. Ann Oncol. 2013;24(7):1721–30.

18.

Lin CJ, Liao WC, Lin HJ, Hsu YM, Lin CL, Chen YA, et al. Statins attenuate Helicobacter pylori CagA translocation and reduce incidence of gastric cancer: in vitro and population-based case-control studies. PLoS ONE. 2016;11(1):e0146432.

19.

Kim DS. Introduction: health of the health care system in Korea. Soc Work Public Health. 2010;25(2):127–41.

20.

Kim DS. Special issue on the national health care system of South Korea. Soc Work Public Health. 2010;25(2):125–6.

21.

National Health Insurance Service Health. Health check up. 2017. http://www.nhis.or.kr/static/html/wbd/g/a/wbdga0606.html. Accessed 8 Aug 2017

22.

Jung KW, Won YJ, Oh CM, Kong HJ, Lee DH, Lee KH, et al. Cancer statistics in Korea: incidence, modality, survival, and prevalence in 2014. Cancer Res Treatment. 2017;49(2):292–305.

23.

Lee SW. Cancer registration statistics, periodic statistical quality diagnosis report of 2017. Daejeon, Korea: Statistics Korea; 2017. http://kostat.go.kr/portal/eng/index.action

24.

Lee YH, Han K, Ko SH, Ko KS, Lee KU. Taskforce Team of Diabetes Fact Sheet of the Korean Diabetes A. Data analytic process of a nationwide population-based study using national health information database established by national health insurance service. Diabetes Metab J. 2016;40(1):79–82.

25.

Jun JK, Choi KS, Lee HY, Suh M, Park B, Song SH, et al. Effectiveness of the Korean national cancer screening program in reducing gastric cancer mortality. Gastroenterology. 2017;152(6):1319–28.e7.

26.

Organization WH. International classification of diseases and related health problems: manual of the International Statistical Classification of Diseases, Injuries, and Causes of Death. Geneva: World Health Organization; 1992.

27.

Organization. WH. World Health Organization. Definition and general considerations. 2017. https://www.whocc.no/ddd/definition_and_general_considera/. Accessed 2 Apr 2017.

28.

Fine JP, Gray RJ. A proportional hazards model for the subdistribution of a competing risk. J Am Stat Assoc. 1999;94(446):496–509.

29.

Targownik LE, Suissa S. Understanding and avoiding immortal-time bias in gastrointestinal observational research. Am J Gastroenterol. 2015;110(12):1647–50.

30.

Gibot L, Follet J, Metges JP, Auvray P, Simon B, Corcos L, et al. Human caspase 7 is positively controlled by SREBP-1 and SREBP-2. Biochem J. 2009;420(3):473–83.

31.

Cheng-Qian Y, Xin-Jing W, Wei X, Zhuang-Lei G, Hong-Peng Z, Songde X, et al. Lovastatin inhibited the growth of gastric cancer cells. Hepatogastroenterology. 2014;61(129):1–4.

32.

Kim YI, Kim SY, Cho SJ, Park JH, Choi IJ, Lee YJ, et al. Long-term metformin use reduces gastric cancer risk in type 2 diabetics without insulin treatment: a nationwide cohort study. Aliment Pharmacol Ther. 2014;39(8):854–63.
Acknowledgements
The authors thank the staff of the National Health Insurance Service.
Ethics declarations
Conflict of interest
The authors declare that they have no association with or financial interest in any commercial company relevant to this study.
Ethical approval
This article does not contain any studies with human participants or animals performed by any of the authors.
Additional information
Publisher's Note
Springer Nature remains neutral with regard to jurisdictional claims in published maps and institutional affiliations.
About this article
Cite this article
Chung, H., Kim, H.J., Jung, H.C. et al. Statins and metachronous recurrence after endoscopic resection of early gastric cancer: a nationwide Korean cohort study. Gastric Cancer 23, 659–666 (2020). https://doi.org/10.1007/s10120-020-01041-z
Received:

Accepted:

Published:

Issue Date:
Keywords
Medication

Recurrence

Stomach neoplasm

Endoscopic treatment