Abstract
Although vegetation restoration is known to improve soil quality and increase soil microbial activity, its effects on soil nutrients remain largely uncertain because of the complex relationship between plant growth and nutrient cycling. In order to evaluate the responses of soil nutrients to vegetation restoration, we used a standardized procedure to collect 586 and 395 observations for soil total nitrogen (TN) and total phosphorus (TP) in the top 30 cm of soil from 101 published field studies to conduct a meta-analysis in China. Our results revealed that soil TN and TP increased by 47% and 25% following vegetation restoration. Restoration actions made a larger contribution to recovery soil nutrients, and the recovery effects depended on land use history more than restoration approach and age. Vegetation restoration, especially on farmland with broadleaf species, could provide substantial opportunities for TN and TP sequestrations in the top 30 cm of soil. Passive approach (restoration by natural succession) performed better than active approach (restoration with human intervention) for enhancing soil TP content, but the recovery levels of soil TN were insignificantly different between two restoration approaches. Meanwhile, soil TN significantly increased with time after restoration. Soil nutrient dynamics were largely controlled by soil properties and were closely coupled with SOC stock dynamics. The magnitude and direction of the dynamics of soil TN and TP differed among four ecological regions, indicating geographical and climatic heterogeneities had significant impacts on soil nutrient recovery. Dynamics of soil nutrients were significantly influenced by soil properties, geographical locations, and climatic characteristics of the study sites, and these findings could facilitate priority setting and selection of treatment methods for vegetation restoration to enhance soil nutrients.
This is a preview of subscription content, log in to check access.
Access options
Buy single article
Instant access to the full article PDF.
US$ 39.95
Price includes VAT for USA
Subscribe to journal
Immediate online access to all issues from 2019. Subscription will auto renew annually.
US$ 99
This is the net price. Taxes to be calculated in checkout.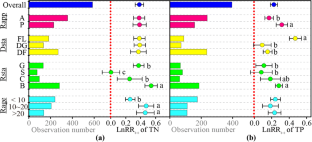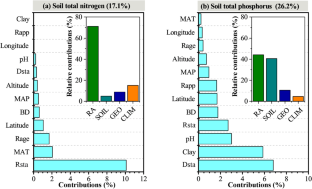 References
Ajmera I, Hodgman TC, Lu C (2019) An integrative systems perspective on plant phosphate research. Genes 10(2):139. https://doi.org/10.3390/genes10020139

Armolaitis K, Aleinikoviene J, Baniuniene A, Lubyte J, Zekaite V (2007) Carbon sequestration and nitrogen status in Arenosols following afforestation or following abandonment of arable land. Balt For 13:169–177

Augusto L, Delerue F, Gallet-Budynek A, Achat DL (2013) Global assessment of limitation to symbiotic nitrogen fixation by phosphorus availability in terrestrial ecosystems using a meta-analysis approach. Glob Biogeochem Cycl 27(3):804–815. https://doi.org/10.1002/gbc.20069

Bender SF, Wagg C, van der Heijden MG (2016) An underground revolution: biodiversity and soil ecological engineering for agricultural sustainability. Trends Ecol Evol 31(6):440–452. https://doi.org/10.1016/j.tree.2016.02.016

Berthrong ST, Jobbágy EG, Jackson RB (2009) A global meta-analysis of soil exchangeable cations, pH, carbon, and nitrogen with afforestation. Ecol Appl 19(8):2228–2241. https://doi.org/10.1890/08-1730.1

Boulmane M, Oubrahim H, Halim M, Bakker MR, Augusto L (2017) The potential of Eucalyptus plantations to restore degraded soils in semi-arid Morocco (NW Africa). Ann For Sci 74(3):57. https://doi.org/10.1007/s13595-017-0652-z

Canarini A, Kiær LP, Dijkstra FA (2017) Soil carbon loss regulated by drought intensity and available substrate: a meta-analysis. Soil Biol Biochem 2017(112):90–99. https://doi.org/10.1016/j.soilbio.2017.04.020

Chen CR, Condron LM, Xu ZH (2008) Impacts of grassland afforestation with coniferous trees on soil phosphorus dynamics and associated microbial processes: a review. For Ecol Manag 255(3–4):396–409. https://doi.org/10.1016/j.foreco.2007.10.040

Cheng Y, Wang J, Chang SX, Cai Z, Müller C, Zhang J (2019) Nitrogen deposition affects both net and gross soil nitrogen transformations in forest ecosystems: a review. Environ Pollut 244:608–616. https://doi.org/10.1016/j.envpol.2018.10.054

Deng L, Shangguan ZP (2017) Afforestation drives soil carbon and nitrogen changes in China. Land Degrad Dev 38:151–165. https://doi.org/10.1002/ldr.2537

Deng Q, McMahon DE, Xiang Y, Yu CL, Jackson RB, Hui D (2017) A global meta-analysis of soil phosphorus dynamics after afforestation. New Phytol 213(1):181–192. https://doi.org/10.1111/nph.14119

Deng L, Peng C, Huang C, Wang K, Liu Q, Liu Y, Hai X, Shangguan Z (2019) Drivers of soil microbial metabolic limitation changes along a vegetation restoration gradient on the Loess Plateau, China. Geoderma 353:188–200. https://doi.org/10.1016/j.geoderma.2019.06.037

Devau N, Le Cadre E, Hinsinger P, Jaillard B, Gérard F (2009) Soil pH controls the environmental availability of phosphorus: experimental and mechanistic modelling approaches. Appl Geochem 24(11):2163–2174. https://doi.org/10.1016/j.apgeochem.2009.09.020

Eissa MA, Ahmed EM (2016) Nitrogen and phosphorus fertilization for some Atriplex plants grown on metal-contaminated soils. Soil Sediment Contam Int J 25(4):431–442. https://doi.org/10.1080/15320383.2016.1158693

Fry EL, Pilgrim ES, Tallowin JR, Smith RS, Mortimer SR, Beaumont DA, Simkin J, Harris SJ, Shiel RS, Quirk H, Harrison KA (2017) Plant, soil and microbial controls on grassland diversity restoration: a long-term, multi-site mesocosm experiment. J Appl Ecol 54(5):1320–1330. https://doi.org/10.1111/1365-2664.12869

Gurevitch J, Hedges LV (1999) Statistical issues in ecological meta-analyses. Ecology 80(4):1142–1149. https://doi.org/10.1890/0012-9658(1999)080[1142:SIIEMA]2.0.CO;2

Hedges LV, Gurevitch J, Curtis PS (1999) The meta-analysis of response ratios in experimental ecology. Ecology 80(4):1150–1156. https://doi.org/10.1890/0012-9658(1999)080[1150:TMAORR]2.0.CO;2

Holl KD, Aide TM (2011) When and where to actively restore ecosystems? For Ecol Manag 261(10):1558–1563. https://doi.org/10.1016/j.foreco.2010.07.004

Huang C, Zhou Z, Peng C, Teng M, Wang P (2019) How is biodiversity changing in response to ecological restoration in terrestrial ecosystems? A meta-analysis in China. Sci Total Environ 650:1–9. https://doi.org/10.1016/j.scitotenv.2018.08.320

Hume AM, Chen HY, Taylor AR (2018) Intensive forest harvesting increases susceptibility of northern forest soils to carbon, nitrogen and phosphorus loss. J Appl Ecol 55(1):246–255. https://doi.org/10.1111/1365-2664.12942

Jackson ST, Hobbs RJ (2009) Ecological restoration in the light of ecological history. Science 325(5940):567–569. https://doi.org/10.1126/science.1172977

Lal R (2015) Restoring soil quality to mitigate soil degradation. Sustainability 7(5):5875–5895. https://doi.org/10.3390/su7055875

Lemma B, Olsson M (2006) Soil δ15N and nutrients under exotic tree plantations in the southwestern Ethiopian highlands. For Ecol Manag 237(1–3):127–134. https://doi.org/10.1016/j.foreco.2006.09.038

Li D, Niu S, Luo Y (2012) Global patterns of the dynamics of soil carbon and nitrogen stocks following afforestation: a meta-analysis. New Phytol 195(1):172–181. https://doi.org/10.1111/j.1469-8137.2012.04150.x

Liu X, Yang T, Wang Q, Huang F, Li L (2018) Dynamics of soil carbon and nitrogen stocks after afforestation in arid and semi-arid regions: a meta-analysis. Sci Total Environ 618:1658–1664. https://doi.org/10.1016/j.scitotenv.2017.10.009

Long H (2014) Land use policy in China: introduction. Land Use Policy 40:1–5. https://doi.org/10.1016/j.landusepol.2014.03.006

Manzoni S, Porporato A (2009) Soil carbon and nitrogen mineralization: theory and models across scales. Soil Biol Biochem 41(7):1355–1379. https://doi.org/10.1016/j.soilbio.2009.02.031

Mariotte P, Mehrabi Z, Bezemer TM, De Deyn GB, Kulmatiski A, Drigo B, Veen GC, Van der Heijden MG, Kardol P (2018) Plant-soil feedback: bridging natural and agricultural sciences. Trends Ecol Evol 33(2):129–142. https://doi.org/10.1016/j.tree.2017.11.005

Prach K, del Moral R (2015) Passive restoration is often quite effective: response to Zahawi et al. (2014). Restor Ecol 23(4):344–346. https://doi.org/10.1111/rec.12224

Prodhan MA, Finnegan PM, Lambers H (2019) How does evolution in phosphorus-impoverished landscapes impact plant nitrogen and sulfur assimilation? Trends Plant Sci 24(1):69–82. https://doi.org/10.1016/j.tplants.2018.10.004

Shi S, Peng C, Wang M, Zhu Q, Yang G, Yang Y, Xi T, Zhang T (2016) A global meta-analysis of changes in soil carbon, nitrogen, phosphorus and sulfur, and stoichiometric shifts after forestation. Plant Soil 407(1–2):323–340. https://doi.org/10.1007/s11104-016-2889-y

Smal H, Olszewska M (2008) The effect of afforestation with Scots pine (Pinus silvestris L.) of sandy post-arable soils on their selected properties. II. Reaction, carbon, nitrogen and phosphorus. Plant Soil 305(1–2):171–187. https://doi.org/10.1007/s11104-008-9538-z

Suding K, Higgs E, Palmer M, Callicott JB, Anderson CB, Baker M, Gutrich JJ, Hondula KL, LaFevor MC, Larson BM, Randall A (2015) Committing to ecological restoration. Science 348(6235):638–640. https://doi.org/10.1126/science.aaa4216

Xie GD, Zhang CS, Zhang LB, Su D, Cao SY, Leng YF, Xiao Y (2012) China's county-scale ecological regionalization. J Nat Resour 27(154):162. (In Chinese). https://doi.org/10.11849/zrzyxb.2012.01.016

Xu C, Xiang W, Gou M, Chen L, Lei P, Fang X, Deng X, Ouyang S (2018) Effects of forest restoration on soil carbon, nitrogen, phosphorus, and their stoichiometry in Hunan, southern China. Sustainability 10(6):1874. https://doi.org/10.3390/su10061874

Yang Y, Luo Y, Finzi AC (2011) Carbon and nitrogen dynamics during forest stand development: a global synthesis. New Phytol 190(4):977–989. https://doi.org/10.1111/j.1469-8137.2011.03645.x

Zhou T, Li L, Zhang X, Zheng J, Zheng J, Joseph S, Pan G (2016) Changes in organic carbon and nitrogen in soil with metal pollution by Cd, Cu, Pb and Zn: a meta-analysis. Eur J Soil Sci 67(2):237–246. https://doi.org/10.1111/ejss.12327

Zhu G, Tang Z, Shangguan Z, Peng C, Deng L (2019) Factors affecting the spatial and temporal variations in soil erodibility of China. J Geophys Res-Earth 124(3):737–749. https://doi.org/10.1029/2018JF004918
Acknowledgments
We thank all the scientists whose data and work were included in this meta-analysis, and we are grateful to the editors (Dr. Wolfgang Cramer and Dr. Luis Lassaletta) and anonymous reviewers for their many valuable comments and suggestions to improve our manuscript.
Funding
This work was sponsored by National Natural Science Foundation of China (No. 41975044, No. 41601044, and No.41801021), the Special Fund for Basic Scientific Research of Central Colleges, China University of Geosciences, Wuhan (CUGL170401, CUGCJ1704).
Additional information
Publisher's note
Springer Nature remains neutral with regard to jurisdictional claims in published maps and institutional affiliations.
Communicated by Luis Lassaletta
Electronic supplementary materials
Additional Supporting Information may be found in the online versions of this article.
About this article
Cite this article
Huang, C., Zeng, Y., Wang, L. et al. Responses of soil nutrients to vegetation restoration in China. Reg Environ Change 20, 82 (2020). https://doi.org/10.1007/s10113-020-01679-6
Received:

Accepted:

Published:
Keywords
Ecosystem restoration

Land use history

Nitrogen

Phosphorus

Ecological regions