Abstract
The Brazilian Forest Code (BFC) requires the preservation and restoration of forests in riparian preservation areas (RPAs). The total area in RPAs and the impacts of changes in the BFC on RPA requirements are uncertain due to lack of clarity about how RPAs are defined in practice. We reconstruct the history of the RPA rule, use a recent cadastral database (CAR) of the state of Rondônia to quantify the area of RPA by stream size and to document the impact of the 2012 changes in RPA requirements, and review the literature on hydrological ecosystem services (HES) in light of RPA rules. We find that most (64%) of the area in RPAs in the state of Rondônia was illegally deforested by 2017, and the 2012 regulations require restoration of only half of that cleared area. Most of the RPA is located along small streams (< 10 m wide) that were typically missing in previous assessments. As of 2017, 66% of the RPA along small streams was deforested, while most (70–95%) RPA along large streams (> 200 m wide) was forested. Current restoration requirements (5 m regardless of stream width) for very small properties (< 60 ha) are likely inadequate to restore HES. Preservation of forest along large streams remains important, but policy and management should also emphasize the preservation and restoration of forest along small streams because they account for most of the riparian preservation area, with important implications for humans and ecosystems.
This is a preview of subscription content, log in to check access.
Access options
Buy single article
Instant access to the full article PDF.
US$ 39.95
Price includes VAT for USA
Subscribe to journal
Immediate online access to all issues from 2019. Subscription will auto renew annually.
US$ 99
This is the net price. Taxes to be calculated in checkout.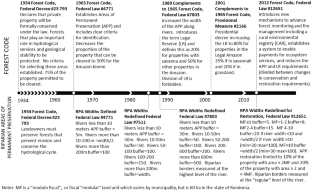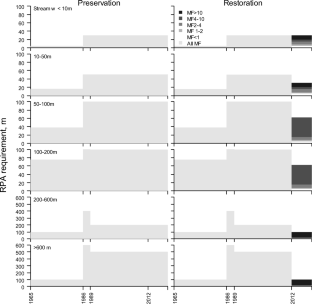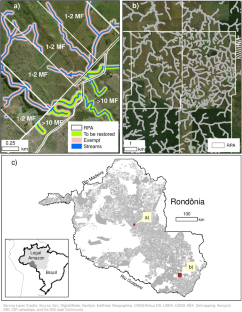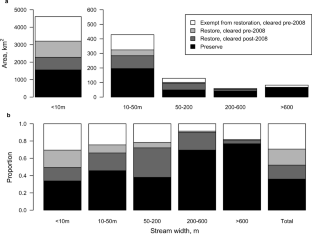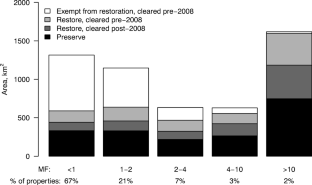 References
Beede DK (1992) Water for dairy cattle. In: Horn HH van, Wilcox CJ (eds) Large dairy herd management. Am. Dairy Sci. Assoc., Champaign, IL., pp 260–271

Benatti JH, da Cunha Fischer LR (2018) New trends in land tenure and environmental regularisation laws in the Brazilian Amazon. Reg Environ Chang 18:11–19. https://doi.org/10.1007/s10113-017-1162-0

Biggs TW (2003) Regional deforestation and stream biogeochemistry in the southwestern Amazon Basin. PhD Dissertation. University of California, Santa Barbara

Biggs TW, Dunne T, Martinelli LA (2004) Natural controls and human impacts on stream nutrient concentrations in a deforested region of the Brazilian Amazon basin. Biogeochemistry 68:227–257. https://doi.org/10.1023/B:BIOG.0000025744.78309.2e

Biggs TW, Dunne T, Muraoka T (2006) Transport of water, solutes, and nutrients from a pasture hillslope, southwestern Brazilian Amazon. Hydrol Process 20:2527–2547. https://doi.org/10.1002/hyp.6214

Biggs TW, Dunne T, Domingues TF, Martinelli LA, (2002) Relative influence of natural watershed properties and human disturbance on stream solute concentrations in the southwestern Brazilian Amazon basin. Water Resour Res 38(8):25-1-25-16. https://doi.org/10.1029/2001WR000271

Biggs TW, Dunne T, Roberts DA, Matricardi E (2008) The rate and extent of deforestation in watersheds of the southwestern Amazon basin. Ecol Appl 18:31–48. https://doi.org/10.1890/06-1689.1

Börner J, Wunder S, Wertz-Kanounnikoff S, Hyman G, Nascimento N (2014) Forest law enforcement in the Brazilian Amazon: costs and income effects. Glob Environ Chang 29:294–305. https://doi.org/10.1016/j.gloenvcha.2014.04.021

Bosch JM, Hewlett JD (1982) A review of catchment experiments to determine the effect of vegetation changes on water yield and evapotranspiration. J Hydrol 55:3–23. https://doi.org/10.1016/0022-1694(82)90117-2

Brancalion PHS, Garcia LC, Loyola R, Rodrigues RR, Pillar VD, Lewinsohn TM (2016) A critical analysis of the Native Vegetation Protection Law of Brazil (2012): updates and ongoing initiatives. Nat Conservação 14:1–15. https://doi.org/10.1016/j.ncon.2016.03.003

Brauman KA, Daily GC, Duarte TK, Mooney HA (2007) The nature and value of ecosystem services: an overview highlighting hydrologic services. Annu Rev Environ Resour 32:67–98. https://doi.org/10.1146/annurev.energy.32.031306.102758

Bruijnzeel LA (1996) Predicting the hydrological impacts of land cover transformation in the humid tropics: the need for integrated research. In: Gash JHC, Nobre CA, Roberts JM, Victoria RL (eds) Amazonian deforestation and climate. John Wiley and Sons, Chichester, pp 15–55

Bruijnzeel LA (2004) Hydrological functions of tropical forests: not seeing the soil for the trees? Agric Ecosyst Environ 104:185–228. https://doi.org/10.1016/j.agee.2004.01.015

Butt N, de Oliveira PA, Costa MH (2011) Evidence that deforestation affects the onset of the rainy season in Rondonia, Brazil. J Geophys Res 116:D11120. https://doi.org/10.1029/2010JD015174

Castello L, Macedo MN (2016) Large-scale degradation of Amazonian freshwater ecosystems. Glob Chang Biol 22:990–1007. https://doi.org/10.1111/gcb.13173

Castello L, McGrath DG, Hess LL, Coe MT, Lefebvre PA, Petry P, Macedo MN, Renó VF, Arantes CC (2013) The vulnerability of Amazon freshwater ecosystems. Conserv Lett 6:217–229. https://doi.org/10.1111/conl.12008

Claudiano G d S, Dias Neto J, Sakabe R, da Cruz C, Salvador R, Pilarski F (2009) Efficacy of aqueous extract of Terminalia catappa in tambaqui juveniles parasitized by Monogenea and protozoans. Rev Bras Saúde Prod Anim 10:625–636

Connor S, Nelson PN, Armour JD, Hénault C (2013) Hydrology of a forested riparian zone in an agricultural landscape of the humid tropics. Agriculture, Ecosystems & Environment 180:111–122. http://www.sciencedirect.com/science/article/pii/S0167880911004324

Costa MH, Botta A, Cardille JA (2003) Effects of large-scale changes in land cover on the discharge of the Tocantins River, southeastern Amazonia. J Hydrol 283:206–217. https://doi.org/10.1016/S0022-1694(03)00267-1

Darby SE (1999) Effect of riparian vegetation on flow resistance and flood potential. J Hydraul Eng 125:443–454. https://doi.org/10.1061/(ASCE)0733-9429(1999)125:5(443)

Ellison D, Futter MN, Bishop K (2012) On the forest cover–water yield debate: from demand- to supply-side thinking. Glob Chang Biol 18:806–820. https://doi.org/10.1111/j.1365-2486.2011.02589.x

Ellison D, Morris CE, Locatelli B, Sheil D, Cohen J, Murdiyarso D, Gutierrez V, van Noordwijk M, Creed IF, Pokorny J, Gaveau D, Spracklen DV, Tobella AB, Ilstedt U, Teuling AJ, Gebrehiwot SG, Sands DC, Muys B, Verbist B, Springgay E, Sugandi Y, Sullivan CA (2017) Trees, forests and water: cool insights for a hot world. Glob Environ Chang 43:51–61. https://doi.org/10.1016/j.gloenvcha.2017.01.002

Esri (2016) ArcGIS world imagery Basemap, 1m, digital globe. Redlands, CA. https://services.arcgisonline.com/ArcGIS/rest/services/World_Imagery/MapServer/0

Ezzine-de-Blas D, Börner J, Violato-Espada A-L, Nascimento N, Piketty M-G (2011) Forest loss and management in land reform settlements: implications for REDD governance in the Brazilian Amazon. Environ Sci Pol 14:188–200. https://doi.org/10.1016/j.envsci.2010.11.009

Farley KA, Jobbágy EG, Jackson RB (2005) Effects of afforestation on water yield: a global synthesis with implications for policy. Glob Chang Biol 11:1565–1576. https://doi.org/10.1111/j.1365-2486.2005.01011.x

Gash JHC, Huntingford C, Marengo JA, Betts RA, Cox PM, Fisch G, Fu R, Gandu AW, Harris PP, Machado LAT, von Randow C, Silva Dias MA (2004) Amazonian climate: results and future research. Theor Appl Climatol 78:5–26. https://doi.org/10.1007/s00704-004-0052-9

Gollnow F, Göpel J, deBarros Viana Hissa L, Schaldach R, Lakes T (2018) Scenarios of land-use change in a deforestation corridor in the Brazilian Amazon: combining two scales of analysis. Reg Environ Chang 18:143–159. https://doi.org/10.1007/s10113-017-1129-1

Gregory SV, Swanson FJ, McKee WA, Cummins KW (1991) An ecosystem perspective of riparian zones. Bioscience 41:540–551. https://doi.org/10.2307/1311607

Hawtree D, Nunes JP, Keizer JJ, Jacinto R, Santos J, Rial-Rivas ME, Boulet AK, Tavares-Wahren F, Feger KH (2015) Time series analysis of the long-term hydrologic impacts of afforestation in the Águeda watershed of north-central Portugal. Hydrol Earth Syst Sci 19(7):3033–3045. https://doi.org/10.5194/hess-19-3033-2015

Hayhoe SJ, Neill C, Porder S, McHorney R, Lefebvre PA, Coe MT, Elsenbeer H, Krusche AV (2011) Conversion to soy on the Amazonian agricultural frontier increases streamflow without affecting stormflow dynamics. Glob Chang Biol 17:1821–1833. https://doi.org/10.1111/j.1365-2486.2011.02392.x

Ilstedt U, Malmer A, Verbeeten E, Murdiyarso D (2007) The effect of afforestation on water infiltration in the tropics: a systematic review and meta-analysis. For Ecol Manag 251:45–51. https://doi.org/10.1016/j.foreco.2007.06.014

IMAFLORA (2017) Atlas da Agropecuária Brasileira. Piracicaba, Brazil

Johnson R (1998) The forest cycle and low river flows: a review of UK and international studies. For Ecol Manag 109:1–7. https://doi.org/10.1016/S0378-1127(98)00231-X

Junk WJ, Bayley PB, Sparks RE (1989) The flood pulse concept in river-floodplain systems. In: Dodge DP (ed) Proceedings of the international large river symposium (LARS). Canadian special publication of fisheries and aquatic sciences no. 106. NRC Research Press, Ottawa, pp 110–127

Khanna J, Medvigy D, Fueglistaler S, Walko R (2017) Regional dry-season climate changes due to three decades of Amazonian deforestation. Nat Clim Chang 7:200–204. https://doi.org/10.1038/nclimate3226

Lacombe G, Ribolzi O, de Rouw A, Pierret A, Latsachak K, Silvera N, Pham Dinh R, Orange D, Janeau JL, Soulileuth B, Robain H, Taccoen A, Sengphaathith P, Mouche E, Sengtaheuanghoung O, Tran Duc T, Valentin C (2016) Contradictory hydrological impacts of afforestation in the humid tropics evidenced by long-term field monitoring and simulation modelling. Hydrol Earth Syst Sci 20(7):2691–2704. https://www.hydrol-earth-syst-sci.net/20/2691/2016/

Landau EC, Da Cruz RK, Hirsch A, Pimenta FM, Guimarães DP (2012) Variação geográfica do tamanho dos módulos fiscais no Brasil. Documentos 146. Embrapa Milho e Sorgo Sete Lagoas, Minas Gerais.

Levy MC, Lopes AV, Cohn A, Larsen LG, Thompson SE (2018) Land use change increases streamflow across the arc of deforestation in Brazil. Geophys Res Lett 45:3520–3530. https://doi.org/10.1002/2017GL076526

Macedo MN, Coe MT, DeFries R, Uriarte M, Brando PM, Neill C, Walker WS (2013) Land-use-driven stream warming in southeastern Amazonia. Philos Trans R Soc Lond B Biol Sci 368:20120153. https://doi.org/10.1098/rstb.2012.0153

Martinelli LA, Victoria RL, Silveira Lobo Sternberg L, Ribeiro A, Zacharias Moreira M (1996) Using stable isotopes to determine sources of evaporated water to the atmosphere in the Amazon basin. J Hydrol 183:191–204. https://doi.org/10.1016/0022-1694(95)02974-5

McKergow LA, Weaver DM, Prosser IP, Grayson RB, Reed AEG (2003) Before and after riparian management: sediment and nutrient exports from a small agricultural catchment, Western Australia. J Hydrol 270:253–272. https://doi.org/10.1016/S0022-1694(02)00286-X

Merola N, Pagán-Font FA (1988) Pond culture of the Amazon fish tambaqui, Colossoma macropomum: a pilot study. Aquac Eng 7:113–125. https://doi.org/10.1016/0144-8609(88)90009-X

Meyer JL, Strayer DL, Wallace BJ, Eggert SL, Helfman GS, Leonard NE (2007) The contribution of headwater streams to biodiversity in river networks. J Am Water Resour As 43:86–103. https://doi.org/10.1111/j.1752-1688.2007.00008.x

Ministro de Estado da Pesca e Aquicultura (2011) Boletim Estatistico da Pesca e Aquicultura. Brasilia, Brazil

Naiman RJ, Décamps H (1997) The ecology of interfaces: riparian zones. Annu Rev Ecol Syst 28:621–658. https://doi.org/10.1146/annurev.ecolsys.28.1.621

Neill C, Deegan LA, Thomas SM, Cerri CC (2001) Deforestation for pasture alters nitrogen and phosphorus in small Amazonian streams. Ecol Appl 11:1817–1828. https://doi.org/10.1890/1051-0761(2001)011[1817:DFPANA]2.0.CO;2

Neill C, Jankowski K, Brando PM, Coe MT, Deegan LA, Macedo MN, Riskin SH, Porder S, Elsenbeer H, Krusche AV (2017) Surprisingly modest water quality impacts from expansion and intensification of large-scale commercial agriculture in the Brazilian Amazon-Cerrado region. Trop Conserv Sci 10:194008291772066. https://doi.org/10.1177/1940082917720669

Nepstad D, Soares-Filho BS, Merry F, Lima A, Moutinho P, Carter J, Bowman M, Cattaneo A, Rodrigues H, Schwartzman S, McGrath DG, Stickler CM, Lubowski R, Piris-Cabezas P, Rivero S, Alencar A, Almeida O, Stella O (2009) The end of deforestation in the Brazilian Amazon. Science 326:1350–1351. https://doi.org/10.1126/science.1182108

Nepstad D, McGrath D, Stickler C, Alencar A, Azevedo A, Swette B, Bezerra T, DiGiano M, Shimada J, Seroa da Motta R, Armijo E, Castello L, Brando P, Hansen MC, McGrath-Horn M, Carvalho O, Hess L (2014) Slowing Amazon deforestation through public policy and interventions in beef and soy supply chains. Science 344:1118–1123. https://doi.org/10.1126/science.1248525

Nóbrega RLB, Guzha AC, Torres GN, Kovacs K, Lamparter G, Amorim RSS, Couto E, Gerold G (2017) Effects of conversion of native cerrado vegetation to pasture on soil hydro-physical properties, evapotranspiration and streamflow on the Amazonian agricultural frontier. PLoS One 12:e0179414. https://doi.org/10.1371/journal.pone.0179414

Nunes SS, Barlow JOS, Gardner TA, Siqueira JV, Sales MR, Souza CM, (2015) A 22 year assessment of deforestation and restoration in riparian forests in the eastern Brazilian Amazon. Environ Conserv 42(3):193–203. https://doi.org/10.1017/S0376892914000356

Panday PK, Coe MT, Macedo MN, Lefebvre P, Castanho AD d A (2015) Deforestation offsets water balance changes due to climate variability in the Xingu River in eastern Amazonia. J Hydrol 523:822–829. https://doi.org/10.1016/j.jhydrol.2015.02.018

Pattison I, Lane SN (2011) The link between land-use management and fluvial flood risk: a chaotic conception? Prog Phys Geog Earth Environ 36:72–92. https://doi.org/10.1177/0309133311425398

Pires MO (2013) O Cadastro Ambiental Rural: Das Origens Às Perspectivas Para a Política Ambiental. Conservação Internacional do Brasil, Brasília

Pocewicz A, Garcia E (2016) Deforestation facilitates widespread stream habitat and flow alteration in the Brazilian Amazon. Biol Conserv 203:252–259. https://doi.org/10.1016/j.biocon.2016.09.032

Rajão R, Azevedo A, Stabile MCC (2012) Institutional subversion and deforestation: learning lessons from the system for environmental licencing of rural properties in Mato Grosso. Public Adm Dev 32:229–244. https://doi.org/10.1002/pad.1620

Ribeiro GVB (2011) A origem histórica do conceito de Área de Preservação Permanente no Brasil. Revista Tema 8:1–13

Riskin SH, Neill C, Jankowski K, Krusche AV, McHorney R, Elsenbeer H, Macedo MN, Nunes D, Porder S (2017) Solute and sediment export from Amazon forest and soybean headwater streams. Ecol Appl 27:193–207. https://doi.org/10.1002/eap.1428

Rodrigues-Filho J, Degani R, Soares F, Periotto N, Blanco F, Abe D, Matsumura-Tundisi T, Tundisi J, Tundisi J (2015) Alterations in land uses based on amendments to the Brazilian Forest Law and their influences on water quality of a watershed. Braz J Biol 75:125–134. https://doi.org/10.1590/1519-6984.08813

Rodriguez DA, Tomasella J, Linhares C (2010) Is the forest conversion to pasture affecting the hydrological response of Amazonian catchments? Signals in the Ji-Paraná Basin. Hydrol Process 24:1254–1269. https://doi.org/10.1002/hyp.7586

Santiago TMO, Caviglia-Harris J, Pereira de Rezende JL (2018) Carrots, sticks and the Brazilian Forest code: the promising response of small landowners in the Amazon. J For Econ 30:38–51. https://doi.org/10.1016/j.jfe.2017.12.001

Sipaúba-Tavares LH, Lourenço EM, Braga FM d S (2010) Water quality in six sequentially disposed fishponds with continuous water flow. Acta Sci Biol Sci 32:9–15. https://doi.org/10.4025/actascibiolsci.v32i1.3436

Siqueira A, Ricaurte LF, Borges GA, Nunes GM, Wantzen KM (2018) The role of private rural properties for conserving native vegetation in Brazilian southern Amazonia. Reg Environ Chang 18:21–32. https://doi.org/10.1007/s10113-015-0824-z

Soares-Filho B, Rajao R, Macedo M, Carneiro A, Costa W, Coe M, Rodrigues H, Alencar A (2014) Cracking Brazil's Forest Code. Science 344(6182):363–364. https://doi.org/10.1126/science.1246663

Soler LS, Verburg PH (2010) Combining remote sensing and household level data for regional scale analysis of land cover change in the Brazilian Amazon. Reg Environ Chang 10:371–386. https://doi.org/10.1007/s10113-009-0107-7

Sparovek G, Berndes G, Barretto AG d OP, Klug ILF (2012) The revision of the Brazilian Forest Act: increased deforestation or a historic step towards balancing agricultural development and nature conservation? Environ Sci Pol 16:65–72. https://doi.org/10.1016/j.envsci.2011.10.008

Spracklen DV, Garcia-Carreras L (2015) The impact of Amazonian deforestation on Amazon basin rainfall. Geophys Res Lett 42:9546–9552. https://doi.org/10.1002/2015GL066063

Stickler CM, Coe MT, Costa MH, Nepstad DC, McGrath DG, Dias LCP, Rodrigues HO, Soares-Filho BS (2013a) Dependence of hydropower energy generation on forests in the Amazon Basin at local and regional scales. Proc Natl Acad Sci 110:9601–9606. https://doi.org/10.1073/pnas.1215331110

Stickler CM, Nepstad DC, Azevedo AA, McGrath DG (2013b) Defending public interests in private lands: compliance, costs and potential environmental consequences of the Brazilian Forest code in Mato Grosso. Philos T Roy Soc B 368:20120160. https://doi.org/10.1098/rstb.2012.0160

Sweeney BW, Newbold JD (2014) Streamside forest buffer width needed to protect stream water quality, habitat, and organisms: a literature review. J Am Water Resour Assoc 50:560–584. https://doi.org/10.1111/jawr.12203

Sweeney BW, Bott TL, Jackson JK, Kaplan LA, Newbold JD, Standley LJ, Hession WC, Horwitz RJ (2004) Riparian deforestation, stream narrowing, and loss of stream ecosystem services. Proc Natl Acad Sci 101:14132–14137. https://doi.org/10.1073/pnas.0405895101

Tabacchi E, Lambs L, Guilloy H, Planty-Tabacchi A-M, Muller E, Décamps H (2000) Impacts of riparian vegetation on hydrological processes. Hydrol Process 14:2959–2976. https://doi.org/10.1002/1099-1085(200011/12)14:16/17<2959::AID-HYP129>3.0.CO;2-B

van der Meer MB, van Dam AA (1998) Modelling growth of Colossoma macropomum (Cuvier): comparison of an empirical and an explanatory model. Aquac Res 29:313–332. https://doi.org/10.1046/j.1365-2109.1998.00190.x

Vannote RL, Minshall GW, Cummins KW, Sedell JR, Cushing, CE, (1980) The river continuum concept. Can J Fish Aquat Sci 37(1):130–137. https://doi.org/10.1139/f80-017

Wilcox BP, Huang Y (2010) Woody plant encroachment paradox: rivers rebound as degraded grasslands convert to woodlands. Geophys Res Lett 37:L07402. https://doi.org/10.1029/2009gl041929

Williams MR, Melack JM (1997) Solute export from forested and partially deforested catchments in the Central Amazon. Biogeochemistry 38:67–102. https://doi.org/10.1023/A:1005774431820

Wohl E, Barros A, Brunsell N, Chappell NA, Coe M, Giambelluca T, Goldsmith S, Harmon R, Hendrickx JMH, Juvik J, McDonnell J, Ogden F (2012) The hydrology of the humid tropics. Nat Clim Chang 2:655–662. https://doi.org/10.1038/nclimate1556

Zhang M, Liu N, Harper R, Li Q, Liu K, Wei X, Ning D, Hou Y, Liu S (2017) A global review on hydrological responses to forest change across multiple spatial scales: importance of scale, climate, forest type and hydrological regime. J Hydrol 546:44–59. https://doi.org/10.1016/j.jhydrol.2016.12.040
Acknowledgments
Thanks to Petterson Molina Vale, Katrina Mullan, Elvino Ferreira, and two anonymous reviewers for helpful comments on the manuscript and to Ricardo Vale and Thales West for discussions on the interpretation of the BFC and CAR data. The CAR data were obtained from the Brazilian Forest Service (car.br.gov). Maps were created using ArcGIS® software by Esri. ArcGIS® and ArcMap™ are the intellectual property of Esri and are used herein under license. Copyright © Esri.
Funding
This work was supported by the National Socio-Environmental Synthesis Center (SESYNC) under funding received from the National Science Foundation DBI-1052875, with partial support from National Science Foundation CNH-L award 1825046 to Dr. Katrina Mullan (University of Montana).
Additional information
Publisher's note
Springer Nature remains neutral with regard to jurisdictional claims in published maps and institutional affiliations.
Editor: Tony Weir
Electronic supplementary material
About this article
Cite this article
Biggs, T.W., Santiago, T.M.O., Sills, E. et al. The Brazilian Forest Code and riparian preservation areas: spatiotemporal analysis and implications for hydrological ecosystem services. Reg Environ Change 19, 2381–2394 (2019). https://doi.org/10.1007/s10113-019-01549-w
Received:

Accepted:

Published:

Issue Date:
Keywords
Tropical forest

Deforestation

Riparian zones

Hydrological ecosystem services

Forest policy

Amazon