Abstract
In countries like India where multiple risks interact with socio-economic differences to create and sustain vulnerability, assessing the vulnerability of people, places, and systems to climate change is a critical tool to prioritise adaptation. In India, several vulnerability assessment tools have been designed spanning multiple disciplines, by multiple actors, and at multiple scales. However, their conceptual, methodological, and disciplinary underpinnings, and resulting implications on who is identified as vulnerable, have not been interrogated. Addressing this gap, we systematically review peer-reviewed publications (n = 78) and grey literature (n = 42) to characterise how vulnerability to climate change is assessed in India. We frame our enquiry against four questions: (1) How is vulnerability conceptualised (vulnerability of whom/what, vulnerability to what), (2) who assesses vulnerability, (3) how is vulnerability assessed (methodology, scale), and (4) what are the implications of methodology on outcomes of the assessment. Our findings emphasise that methods to assess vulnerability to climate change are embedded in the disciplinary traditions, methodological approaches, and often-unstated motivations of those designing the assessment. Further, while most assessments acknowledge the importance of scalar and temporal aspects of vulnerability, we find few examples of it being integrated in methodology. Such methodological myopia potentially overlooks how social differentiation, ecological shifts, and institutional dynamics construct and perpetuate vulnerability. Finally, we synthesise the strengths and weaknesses of current vulnerability assessment methods in India and identify a predominance of research in rural landscapes with a relatively lower coverage in urban and peri-urban settlements, which are key interfaces of transitions.
Access options
Buy single article
Instant access to the full article PDF.
US$ 39.95
Tax calculation will be finalised during checkout.
Subscribe to journal
Immediate online access to all issues from 2019. Subscription will auto renew annually.
US$ 79
Tax calculation will be finalised during checkout.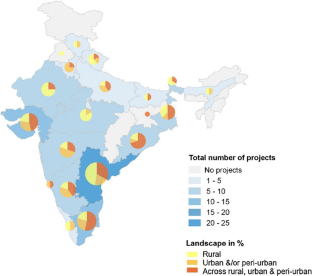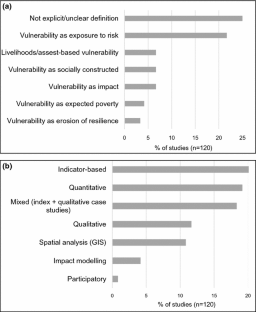 Notes
1.

We acknowledge that the literature around risk has evolved substantially from a hazard-based, techno-centric focus to an approach that understands risks as intricately linked to physical, social, economic and institutional vulnerability and inclusive of endogenous risk.

2.

A construct or conceptual framework is defined as the way in which vulnerability was defined or explained by the author.

3.
References
Adger WN (2006) Vulnerability. Glob Environ Change 16(3):268–281. doi:10.1016/j.gloenvcha.2006.02.006

Adger WN, Eakin H, Winkels A (2008) Nested and teleconnected vulnerabilities to environmental change. Front Ecol Environ 7(3):150–157. doi:10.1890/070148

Barnett J, Lambert S, Fry I (2008) The hazards of indicators: insights from the environmental vulnerability index. Ann Assoc Am Geogr 98(1):102–119. doi:10.1080/00045600701734315

Bassett TJ, Fogelman C (2013) Déjà vu or something new? The adaptation concept in the climate change literature. Geoforum 48:42–53. doi:10.1016/j.geoforum.2013.04.010

Berrang-Ford L, Ford JD, Paterson J (2011) Are we adapting to climate change? Glob Environ Change 21(1):25–33. doi:10.1016/j.gloenvcha.2010.09.012

Bhattacharya S, Das A (2007) Vulnerability to drought, cyclones and floods in India. BASIC Paper 9

Birkmann J, Wisner B (2006) Measuring the unmeasurable: the challenge of vulnerability. United Nations University- Institute for Environment and Human Security, Bonn

Bizikova L, Parry JE, Karami J, Echeverria D (2014) Review of key initiatives and approaches to adaptation planning at the national level in semi-arid areas. Reg Environ Change 15(5):837–850. doi:10.1007/s10113-014-0710-0

Booth A (2001) Cochrane or cock-eyed? How should we conduct systematic reviews of qualitative research?. http://www.leeds.ac.uk/educol/documents/00001724.htm. Accessed 29 June 2015

Bosher L, Penning-Rowsell E, Tapsell S (2007) Resource accessibility and vulnerability in Andhra Pradesh: caste and non-caste influences. Dev Change 38(4):615–640. doi:10.1111/j.1467-7660.2007.00426.x

Brenkert AL, Malone EL (2005) Modeling vulnerability and resilience to climate change: a case study of India and Indian states. Clim Change 72(1–2):57–102. doi:10.1007/s10584-005-5930-3

Brooks N, Adger WN, Kelly PM (2005) The determinants of vulnerability and adaptive capacity at the national level and the implications for adaptation. Glob Environ Change 15(2):151–163. doi:10.1016/j.gloenvcha.2004.12.006

Cannon T, (2008) Reducing people's vulnerability to natural hazards communities and resilience, Research paper/UNU-WIDER, No. 2008.34. http://www.humanitarianleaders.org/wp-content/uploads/2012/11/6.-Reducing-People%E2%80%99s-Vulnerability-to-Natural-Hazards1.pdf. Accessed 12 March 2015

Chatterjee S, Krishna AP, Sharma AP (2014) Geospatial assessment of soil erosion vulnerability at watershed level in some sections of the Upper Subarnarekha river basin, Jharkhand, India. Environ Earth Sci 71(1):357–374. doi:10.1007/s12665-013-2439-3

Chaudhury et al (2014) Designing climate vulnerability assessments for decision-making uptake: a conceptual framework and case examples. http://pdf.usaid.gov/pdf_docs/PA00K689.pdf. Accessed 12 March 2015

Chhotray V, Few R (2012) Post-disaster recovery and ongoing vulnerability: ten years after the super-cyclone of 1999 in Orissa, India. Glob Environ Change 22(3):695–702. doi:10.1016/j.gloenvcha.2012.05.001

Cutter SL, Finch C (2008) Temporal and spatial changes in social vulnerability to natural hazards. Proc Natl Acad Sci 105(7):2301–2306. doi:10.1073/pnas.0710375105

Das MK, Srivastava PK, Rej A, Mandal ML, Sharma AP (2014) A framework for assessing vulnerability of inland fisheries to impacts of climate variability in India. Mitig Adapt Strateg Glob Change. doi:10.1007/s11027-014-9599-7

De Sherbinin A, Schiller A, Pulsipher A (2007) The vulnerability of global cities to climate hazards. Environ Urban 19(1):39–64. doi:10.1177/0956247807076725

De Souza K, Kituyi E, Harvey B, Leone M, Murali KS, Ford JD (2015) Vulnerability to climate change in three hot spots in Africa and Asia: key issues for policy-relevant adaptation and resilience-building research. Reg Environ Change 15(5):747–753

Delaney A, Chesterman S, Crane T, Tamás P, Ericksen P (2014) A systematic review of local velnerability to climate change: In search of transparency, coherence and compatability. CCAFS Working Paper no. 97. CGIAR Research Program on Climate Change. Agriculture and Food Security (CCAFS), Copenhagen, Denmark

Dixon-Woods M, Bonas S, Booth A, Jones DR, Miller T, Sutton AJ, Young B (2006) How can systematic reviews incorporate qualitative research? A critical perspective. Qual Res 6(1):27–44. doi:10.1177/1468794106058867

Downing TE, Patwardhan A, Klein RJ, Mukhala E (2005) Assessing vulnerability for climate adaptation. In: Lim B (ed) Adaptation policy frameworks for climate change: developing strategies, policies and measures. Cambridge University Press, Cambridge, UK, pp 67–90

Dwarakish GS, Vinay SA, Natesan U, Asano T, Kakinuma T, Venkataramana K, Babita MK (2009) Coastal vulnerability assessment of the future sea level rise in Udupi coastal zone of Karnataka state, west coast of India. Ocean Coast Manag 52(9):467–478. doi:10.1016/j.ocecoaman.2009.07.007

Eakin H, Luers AL (2006) Assessing the vulnerability of social-environmental systems. Annu Rev Environ Resour 31(1):365. doi:10.1146/annurev.energy.30.050504.144352

Eakin H, Winkels A, Sendzimir J (2009) Nested vulnerability: exploring cross-scale linkages and vulnerability teleconnections in Mexican and Vietnamese coffee systems. Environ Sci Policy 12(4):398–412. doi:10.1016/j.envsci.2008.09.003

Fazey I, Kesby M, Evely A, Latham I, Wagatora D, Hagasua JE, Reed MS, Christie M (2010) A three-tiered approach to participatory vulnerability assessment in the Solomon Islands. Glob Environ Change 20(4):713–728. doi:10.1016/j.gloenvcha.2010.04.011

Fekete A, Damm M, Birkmann J (2010) Scales as a challenge for vulnerability assessment. Nat Hazards 55(3):729–747. doi:10.1007/s11069-009-9445-5

Ford JD, Pearce T (2010) What we know, do not know, and need to know about climate change vulnerability in the western Canadian Arctic: a systematic literature review. Environ Res Lett 5(1):014008. doi:10.1088/1748-9326/5/1/014008

Ford JD, Smit B (2004) A framework for assessing the vulnerability of communities in the Canadian Arctic to risks associated with climate change. Arctic 57(4):389–400. http://www.jstor.org/stable/40512642

Ford JD, Keskitalo ECH, Smith T, Pearce T, Berrang-Ford L, Duerden F, Smit B (2010) Case study and analogue methodologies in climate change vulnerability research. Wiley Interdiscip Rev Clim Change 1(3):374–392. doi:10.1002/wcc.48

Ford JD, Berrang-Ford L, Paterson J (2011) A systematic review of observed climate change adaptation in developed nations. Clim Change 106(2):327–336. doi:10.1007/s10584-011-0045-5

Füssel HM (2007) Vulnerability: a generally applicable conceptual framework for climate change research. Glob Environ Change 17(2):155–167. doi:10.1016/j.gloenvcha.2006.05.002

Füssel HM, Klein RJ (2006) Climate change vulnerability assessments: an evolution of conceptual thinking. Clim Change 75(3):301–329. doi:10.1007/s10584-006-0329-3

Gaiha R, Imai K (2008) Measuring vulnerability and poverty estimates for rural India. Research paper/UNU-WIDER, No. 2008.40

Garg A, Rana A, Shukla PR, Kapshe M, Azad M, Narayanan K, Parthasarthy D, Patnaik U (2007) Handbook of current and next generation vulnerability and adaptation assessment tools. The BASIC Project. European Commission

Garikipati S (2008) The impact of lending to women on household vulnerability and women's empowerment: evidence from India. World Dev 36(12):2620–2642. doi:10.1016/j.worlddev.2007.11.008

GIZ (2014) Vulnerability assessments, Climate Change Adaptation in Rural Areas of India (CCA-RAI), Ministry of Environment, Forests and Climate Change, New Delhi. https://www.giz.de/de/downloads/giz2014-en-cca-rai-vulnerable-assessments-india.pdf. Accessed 25 April 2015

Hallegatte S, Corfee-Morlot J (2011) Understanding climate change impacts, vulnerability and adaptation at city scale: an introduction. Clim Change 104(1):1–12. doi:10.1007/s10584-010-9981-8

Hinkel J (2011) Indicators of vulnerability and adaptive capacity: towards a clarification of the science–policy interface. Glob Environ Change 21(1):198–208. doi:10.1016/j.gloenvcha.2010.08.002

Howe PD, Yarnal B, Coletti A, Wood NJ (2013) The participatory vulnerability scoping diagram: deliberative risk ranking for community water systems. Ann Assoc Am Geogr 103(2):343–352. doi:10.1080/00045608.2013.754673

IPCC (2007) Contribution of Working Group II to the Fourth Assessment Report of the Intergovernmental Panel on Climate Change. In: Parry ML, Canziani OF, Palutikof JP, van der Linden PJ, Hanson CE (eds) The Fourth Assessment Report. Cambridge University Press, Cambridge, United Kingdom and New York, USA

IPCC (2014) Climate Change 2014—Impacts, Adaptation, and Vulnerability. Part A: Global and Sectoral Aspects. Contribution of Working Group II to the Fifth Assessment Report of the Intergovernmental Panel on Climate Change. In: Field CB et al. (eds) The Fifth Assessment Report. Cambridge University Press, Cambridge, United Kingdom and New York, USA

Jain SK, Keshri R, Goswami A, Sarkar A, Chaudhry A (2009) Identification of drought-vulnerable areas using NOAA AVHRR data. Int J Remote Sens 30(10):2653–2668. doi:10.1080/01431160802555788

Jamison A (2010) Climate change knowledge and social movement theory. Wiley Interdisc Rev Clim Change 1(6):811–823. doi:10.1002/wcc.88

Joakim EP, Mortsch L, Oulahen G (2015) Using vulnerability and resilience concepts to advance climate change adaptation. Environ Hazards 14(2):137–155. doi:10.1080/17477891.2014.1003777

Karmakar S (2010) An information system for risk-vulnerability assessment to flood. J Geogr Inf Syst 02(03):129–146. doi:10.4236/jgis.2010.23020

Khan MSA, Kumar U (2010) Water security in Peri-Urban South Asia adapting to climate change and urbanization. http://www.saciwaters.org/periurban/Scoping_Study_Report_Khulna.pdf. Accessed 5 Feb 2015

Kitchenham B (2004) Procedures for performing systematic reviews. Keele University Keele University Technical Report TR/SE-0401, 1–26

Leach M, Scoones I, Stirling A (2010) Dynamic sustainabilities: technology, environment, social justice. Routledge, London

Lesnikowski AC, Ford JD, Berrang-Ford L, Paterson JA, Barrera M, Heymann SJ (2011) Adapting to health impacts of climate change: a study of UNFCCC Annex I parties. Environ Res Lett 6(4):044009. doi:10.1088/1748-9326/6/4/044009

McDowell G, Ford J, Jones J (2016) Community-level climate change vulnerability research: trends, progress, and future directions. Environ Res Lett 11(3):033001

Miller F, Osbahr H, Boyd E, Thomalla F, Bharwani S, Ziervogel G, Walker B, Birkmann J, Van der Leeuw S, Rockstrom J, Hinkel J, Downing T, Folke C, Nelson D (2010) Resilience and vulnerability: complementary or conflicting concepts? Ecol Soc 15(3):11

Ministry of Forest and Environment (MoEF) (2008) National Action Plan on Climate Change (NAPCC). Prime Minister's Council on Climate Change, Ministry of Forest and Environment, Government of India. http://www.moef.nic.in/sites/default/files/Pg01-52_2.pdf. Accessed Jan 2015

Mustafa D, Ahmed S, Saroch E, Bell H (2011) Pinning down vulnerability: from narratives to numbers. Disasters 35(1):62. doi:10.1111/j.0361-3666.2010.01193.x

Nair A (2013) Livelihood vulnerability assessment to climate variability and change. http://www.indiaenvironmentportal.org.in/files/file/Abhishek%20Nair.pdf. Accessed 10 March 2015

O'Brien K, Leichenko R, Kelkar U, Venema H, Aandahl G, Tompkins H, Javed A, Bhadwal S, Nygaard L, West J (2004) Mapping vulnerability to multiple stressors: climate change and globalization in India. Glob Environ Chang 14(4):303–313. doi:10.1016/j.gloenvcha.2004.01.001

O'Brien K, Eriksen S, Nygaard LP, Schjolden A (2007) Why different interpretations of vulnerability matter in climate change discourses. Clim Policy 7(1):73–88. doi:10.1080/14693062.2007.9685639

Pearce F (2012) Climate panel adopts controversial grey evidence. New Scientist. https://www.newscientist.com/article/dn21940-climate-panel-adopts-controversial-grey-evidence/. Accessed 15 March 2015

Practical Action (2009) Review of community based vulnerability assessment methods and tools. http://www.climatenepal.org.np/main/downloadFile.php?fn=4uxal4y8aa9.pdf&ft=application/pdf&d=publication. Accessed 19 May 2015

Pranjay R (2012) Urbanization, climate change and water security: a study of vulnerability and adaptation in Sultanpur and Jhanjhrola Khera in peri-urban Gurgaon. Peri-Urban Water Security Discussion Paper Series, Paper 3

Preston BL, Yuen EJ, Westaway RM (2011) Putting vulnerability to climate change on the map: a review of approaches, benefits, and risks. Sustain Sci 6(2):177–202. doi:10.1007/s11625-011-0129-1

Rajesh S, Jain S, Sharma P, Bhahuguna R (2014) Assessment of inherent vulnerability of rural communities to environmental hazards in Kimsar region of Uttarakhand, India. Environ Dev 12:16–36

Ranjan P, Narain V (2012) Urbanization, climate change and water security: a study of vulnerability and adaptation in Sultanpur and Jhanjhrola Khera in peri-urban Gurgaon, India. http://www.saciwaters.org/periurban/discussion-paper-3.pdf. Accessed 19 Jan 2015

Revi A (2008) Climate change risk: an adaptation and mitigation agenda for Indian cities. Environ Urban 20(1):207–229. doi:10.1177/0956247808089157

Ribot JC (2009) Vulnerability does not just Fall from the Sky: toward multi-scale pro-poor climate policy. In: Mearns R, Norton A (eds) Social dimensions of climate change: equity and vulnerability in a warming world. The World Bank, Washington, DC

Rietig K (2011) The influence of academics as insider-nongovernmental actors in the Post-Kyoto Protocol Climate Change Negotiations: a matter of timing, network and policy-entrepreneurial capabilities. http://www.cccep.ac.uk/Publications/Working-papers/Papers/60-69/WP67_post-kyoto-protocol-climate.pdf. Accessed 8 March 2015

Rynes SL, Bartunek JM, Daft RL (2001) Across the great divide: knowledge creation and transfer between practitioners and academics. Acad Manag J 44(2):340–355

Santha SD, Jaswal S, Sasidevan D, Datta K, Khan A, Kuruvilla A (2015) Climate change, livelihoods and health inequities: The vulnerability of migrant workers in Indian cities. IIED, London. http://pubs.iied.org/10728IIED.html. Accessed 27 April 2015

SDC (2009) Vulnerability and adaptation experiences from Rajasthan and Andhra Pradesh, SDC V and A Programme, India. http://www.preventionweb.net/files/14544_ClimateChangeIntroductiontoVACasest.pdf. Accessed 27 Feb 2015

Shah A, Sajitha OG (2009) Dwindling forest resources and economic vulnerability among tribal communities in a dry/sub-humid region in India. J Int Dev 21(3):419–432. doi:10.1002/jid.1561

Sharma D, Bharat A (2009) Conceptualizing risk assessment framework for impacts of climate change on water resources. Curr Sci 96(8):1044–1052

Singh C (2014) Understanding water scarcity and climate variability: an exploration of farmer vulnerability and response strategies in northwest India. Ph.D. Dissertation, University of Reading

Singh NP, Bantilan C, Byjesh K (2014) Vulnerability and policy relevance to drought in the semi-arid tropics of Asia—a retrospective analysis. Weather Clim Extrem 3:54–61. doi:10.1016/j.wace.2014.02.002

Soora NK, Aggarwal PK, Saxena R, Rani S, Jain S, Chauhan N (2013) An assessment of regional vulnerability of rice to climate change in India. Clim Change 118(3–4):683–699. doi:10.1007/s10584-013-0698-3

Srivastava A, Naresh Kumar S, Aggarwal PK (2010) Assessment on vulnerability of sorghum to climate change in India. Agric Ecosyst Environ 138(3–4):160–169. doi:10.1016/j.agee.2010.04.012

Taylor M (2014) The political ecology of climate change adaptation: livelihoods, agrarian change and the conflicts of development. Routledge, London

Tonmoy FN, El-Zein A, Hinkel J (2014) Assessment of vulnerability to climate change using indicators: a meta-analysis of the literature. Wiley Interdiscip Rev Clim Change 5(6):775–792

Tschakert P (2007) Views from the vulnerable: understanding climatic and other stressors in the Sahel. Global Environ Change 17(3–4):381–396. doi:10.1016/j.gloenvcha.2006.11.008

Tschakert P, van Oort B, St. Clair AL, LaMadrid A (2013) Inequality and transformation analyses: a complementary lens for addressing vulnerability to climate change. Clim Dev 5(4):340–350. doi:10.1080/17565529.2013.828583

Turner MD (2016) Climate vulnerability as a relational concept. Geoforum 68:29–38

Vincent K (2004) Creating an index of social vulnerability to climate change for Africa. Working Paper 56. Tyndall Center for Climate Change Research

Watershed Organisation Trust (2013) Community-driven vulnerability evaluation tool "CoDriVE-Programme Designer" a handbook—incorporating vulnerability to climate change into project design and implementation. WOTR, Maharashtra

Wise RM, Fazey I, Smith MS, Par E, Eakin HC, Van Garderen EA, Campbell B (2014) Reconceptualising adaptation to climate change as part of pathways of change and response. Glob Environ Change 28:325–336. doi:10.1016/j.gloenvcha.2013.12.002
Acknowledgments
This work was carried out under the Collaborative Adaptation Research Initiative in Africa and Asia (CARIAA), with financial support from the UK Government's Department for International Development (DfID) and the International Development Research Centre (IDRC), Canada. The views expressed in this work are those of the creators and do not necessarily represent those of DfID and IDRC or its Board of Governors. The authors acknowledge comments from Blane Harvey, Sumetee Pahwa Gajjar, Aromar Revi, Garima Jain, and Amir Bazaz on an earlier draft of the paper. Thank you goes to Manish Gautam and Bhavana Rao for inputs on identifying vulnerability assessments in India and to Priyadarshini Shetty and Nilakshi Chatterji for GIS support.
Electronic supplementary material
Below is the link to the electronic supplementary material.
About this article
Cite this article
Singh, C., Deshpande, T. & Basu, R. How do we assess vulnerability to climate change in India? A systematic review of literature. Reg Environ Change 17, 527–538 (2017). https://doi.org/10.1007/s10113-016-1043-y
Received:

Accepted:

Published:

Issue Date:
Keywords
Climate change

Vulnerability assessment

Systematic literature review

India