Abstract
This study deals with the question of how winegrowing in Spain may be altered by anthropogenic climate change. The present state and expected future development of three bioclimatic indices relevant for winegrowing were assessed by observation, and four regional climate models from the EU-ENSEMBLES project were investigated. When comparing the 2061–2090 scenario period to the 1961–1990 reference period, the models unanimously indicate a significant increase in the mean of the two considered thermal indices over the entire study region. However, for the index based on temperature and precipitation, the models are heavily biased when verified against observations and generally disagree on the size of the projected future change. For this index, unanimous model agreement was only found for northwestern Spain where all models indicated a significant decrease in the mean. From these results, regional climate change is expected to negatively affect the quality of wine in the growing regions of central and southern Spain, and the Ebro valley, whereas positive effects should be expected in the northwest. No significant changes in the risk of mildew infestation are to be expected except for the northwest, where this risk is projected to decrease.
Access options
Buy single article
Instant access to the full article PDF.
USD 39.95
Price includes VAT (USA)
Tax calculation will be finalised during checkout.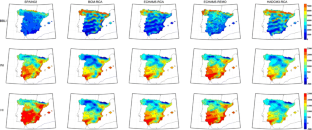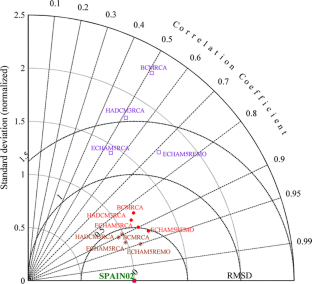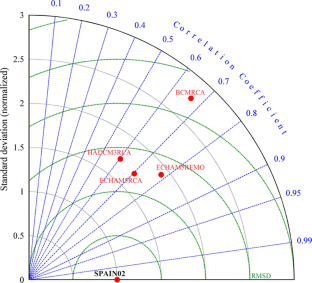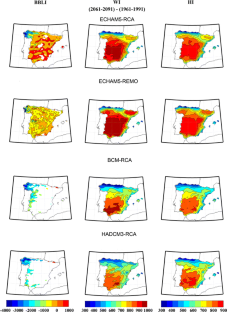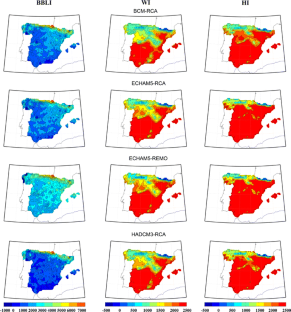 References
Amerine MA, Winkler AJ (1944) Composition and quality of musts and wines of California grapes. Hilgard 15:493–673

Bedia J, Herrera S, Camia A, Moreno JM, Gutiérrez JM (2014) Forest fire danger projections in the Mediterranean using ENSEMBLES regional climate change scenarios. Clim Change 122:185–199. doi:10.1007/s10584-013-1005-z

Berry J, Björkman O (1980) Photosynthetic response and adaptation to temperature in higher plants. Annu Rev Plant Physiol 31:491–543

Blanco-Ward D, Queijeiro JMG, Jones GV (2007) Spatial climate variability and viticulture in the Miño River Valley of Spain. Vitis 46:63–70

Boberg F, Christensen JH (2012) Overestimation of Mediterranean summer temperature projections due to model deficiencies. Nat Clim Change 2:433–436. doi:10.1038/nclimate1454

Bock A, Sparks T, Estrella N, Menzel A (2011) Changes in the phenology and composition of wine from Franconia, Germany. Clim Res 50:69–81. doi:10.3354/cr01048

Branas J, Bernon G, Levadoux L (1946) Élements de Viticultura Générale. Imp. Déhan, Bordeaux

Brands S, Herrera S, San-Martín D, Gutiérrez JM (2011) Validation of the ENSEMBLES global climate models over southwestern Europe using probability density functions, from a downscaling perspective. Clim Res 48:145–161. doi:10.3354/cr00995

Camps JO, Ramos MC (2011) Grape harvest and yield responses to inter-annual changes in temperature and precipitation in an area of north-east Spain with a Mediterranean climate. Int J Biometeorol 56(5):853–864. doi:10.1007/s00484-011-0489-3

Carbonneau A, Riou C, Guyon D, Riom J, Schneider C (1992) Agrométéorologie de la vigne en France. Office Publications Officielles Communautés Européennes, Luxembourg

Centeno A, Baeza P, Lissarrague JR (2010) Relationship between soil and plant water status in wine grapes under various water deficits regimes. HortTechnology 20(3):585–593

Christensen JH, Kjellström E, Giorgi F, Lenderink G, Rummukainen M (2010) Weight assignment in regional climate models. Clim Res 44:179–194. doi:10.3354/cr00916

Conradie WJ, Carey VA, Bonnardot V, Saayman D, van Schoor LH (2002) Effect of different environmental factors on the performance of Sauvignon blanc grapevines in the Stellenbosch/Durbanville districts of South Africa. I. Geology, soil, climate, phenology and grape composition. S Afr J Enol Vitic 23:79–91

Coombe BG (1987) Influence of temperature on composition and quality of grapes. Acta Hortic 206:23–35

Deloire A, Carbonneau A, Wang Z, Ojeda H (2004) Vine and water a short review. J Int Sci Vigne Vin 38:1–13

Déqué M, Somot S, Sanchez-Gomez E, Goodess CM, Jacob D, Lenderink G, Christensen OB (2012) The spread amongst ENSEMBLES regional scenarios: regional climate models, driving general circulation models and inter-annual variability. Clim Dyn 38:951–964. doi:10.1007/s00382-011-1053-x

Fraga H, Malheiro AC, Moutinho-Pereiram J, Santos JA (2012) An overview of climate change impacts on European viticulture. Food Energy Secur 1(2):94–112. doi:10.1002/fes3.14

Fraga H, Malheiro AC, Moutinho-Pereiram J, Santos JA (2013) Future scenarios for viticultural zoning in Europe: ensemble projections and uncertainties. Int J Biometeorol 57(6):909–925. doi:10.1007/s00484-012-0617-8

Giorgi F, Francisco R (2000) Uncertainties in regional climate change predictions. A regional analysis of ensemble simulations with the HadCM2 GCM. Clim Dyn 16:169–182. doi:10.1007/PL00013733

Gouveia C, Liberato MLR, DaCamara CC, Trigo RM, Ramos AM (2011) Modelling past and future wine production in the Portuguese Douro Valley. Clim Res 48:349–362. doi:10.3354/cr01006

Haylock MR, Hofstra N, Klein Tank AMG, Klok EJ, Jones PD, New M (2008) A European daily high-resolution gridded dataset of surface temperature and precipitation. J Geophys Res (Atmospheres) 113:D20119. doi:10.1029/2008JD10201

Herrera S, Gutiérrez JM, Ancell R, Pons MR, Frias MD, Fernández J (2012) Development and analysis of a 50 year high-resolution daily gridded precipitation dataset over Spain (Spain02). Int J Climatol 32:74–85. doi:10.1002/joc.2256

Huglin R (1958) Recherches sur les bourgeons de la vigne: initiation florale et dweloppement vegetatif. Ann Amelior Plant 8:113–272

Jacob D, van den Hurk BJJM, Andrae U, Elgered G, Fortelius C, Graham LP, Jackson SD, Karstens U, Kopken C, Lindau R, Podzun R, Rockel B, Rubel F, Sass BH, Smith RNB, Yang X (2001) A comprehensive model inter-comparison study investigating the water budget during the BALTEX-PIDCAP period. Meteorol Atmos Phys 77(1):19–43. doi:10.1007/s007030170015

Jones GV (2006) Climate and terroir: impacts of climate variability and change on wine. In: Macqueen RW, Meinert LD (eds) Fine wine and terroir—the geoscience perspective, Geoscience Canada Reprint Series Number 9. Geological Association of Canada, St. John's, Newfoundland, 247 pp

Jones GV, Davis RE (2000) Climate influences on grapevine phenology, grape composition, and wine production and quality for Bordeaux, France. Am J Enol Vitic 51:249–261

Jones GV, White MA, Cooper OR, Storchmann K (2005) Climate change and global wine quality. Clim Change 73:319–343. doi:10.1007/s10584-005-4704-2

Jones GV, Duff AA, Hall A, Myers JW (2010) Spatial analysis of climate in winegrape growing regions in the Western United States. Am J Enol Vitic 61:313–326

Kenny GJ, Harrison PA (1992) The effects of climate variability and change on grape suitability in Europe. J Wine Res 3:163–183. doi:10.1080/09571269208717931

Kjellström E, Bärring L, Gollvik S, Hansson U, Jones C, Samuelsson P, Rummukainen M, Ullerstig A, Willé U, Wyser K (2005) A 140-year simulation of European climate with the new version of the Rossby Centre regional atmospheric climate model (RCA3). Rep Meteorol Climatol 108. Swed. Meteorol. and Hydrol. Inst., Norrköping, Sweden

Kotlarski S, Keuler K, Christensen OB, Colette A, Déqué M, Gobiet A, Goergen K, Jacob D, Lüthi D, van Meijgaard E, Nikulin G, Schär C, Teichmann C, Vautard R, Warrach-Saqi K, Wulfmeyer V (2014) Regional climate modeling on European scales: a joint standard evaluation of the EURO-CORDEX RCM ensemble. Geosci Model Dev 7:1297–1333. doi:10.5194/gmd-7-1297-2014

Lenderik G, Buishand A, van Deursen W (2007) Estimates of future discharges of the river Rhine using two scenario methodologies: direct versus delta approach. Hydrol Earth Syst Sci 11(3):1145–1159. doi:10.5194/hess-11-1145-2007

Lorenzo MN, Taboada JJ, Lorenzo JF, Ramos AM (2013) Influence of climate on grape production and wine quality in the Rías Baixas, north-western Spain. Reg Environ Change 13:887–896. doi:10.1007/s10113-012-0387-1

Malheiro AC, Santos JA, Fraga H, Pinto JG (2010) Future scenarios for viticultural climatic zoning in Europe. In: Proceedings VIII International Terroir Congress, Soave, Italy

Mann HB (1945) Nonparametric tests against trend. Econometrica 13:245–259

Nakicenovic N, Swart R (eds) (2000) Emissions scenarios. In: A special report of Working Group III of the Intergovernmental Panel on Climate Change. Cambridge University Press, Cambridge, United Kingdom and New York, NY, USA, 599 pp

Räisänen J (2007) How reliable are climate models? Tellus 59A:2–29. doi:10.1111/j.1600-0870.2006.00211.x

Rodríguez-Puebla C, Encinas AH, García-Casado LA, Nieto S (2010) Trends in warm days and cold nights over the Iberian Peninsula: relationships to large-scale variables. Clim Change 100:667–684. doi:10.1007/s10584-009-9721-0

Rummukainen M, Räisänen J, Bringfelt B, Ullerstig A, Omstedt A, Willén U, Hansson U, Jones C (2001) A regional climate model for northern Europe: model description and results from the downscaling of two GCM control simulations. Clim Dyn 17:339–359. doi:10.1007/s003820000109

Santos JA, Malheiro AC, Pinto JG, Jones GV (2012) Macroclimate and viticultural zoning in Europe: observed trends and atmospheric forcing. Clim Res 51:89–103. doi:10.3354/cr01056

Schär C, Vidale PL, Lüthi D, Frei C, Häberli C, Lininger MA, Appenzeller C (2004) The role of increasing temperature variability in European summer heatwaves. Nature 427:332–336. doi:10.1038/nature02300

Schultz HR (2000) Climate change and viticulture: a European perspective on climatology, carbon dioxide and UV-B effects. Aust J Grape Wine Res 6:2–12. doi:10.1111/j.1755-0238.2000.tb00156.x

Sepúlveda G, Kliewer WM, Ryugo K (1986) Effect of high temperature on grapevines (Vitis vinifera L.). I. Translocation of 14590 C-photosynthates. Am J Enol Vitic 37:13–19

Taylor KE (2001) Summarizing multiple aspects of model performance in a single diagram. J Geophys Res 106(D7):7183–7192. doi:10.1029/2000JD900719

Turco M, Antonella S, Herrera S, Llasat MC, Gutiérrez JM (2013) Large biases and wrong climate change signals in some ENSEMBLES regional projections. Clim Change 120:859–869. doi:10.1007/s10584-013-0844-y

van der Linden P, Mitchell J (eds) (2009) ENSEMBLES: climate change and its impacts—summary of research and results from the ENSEMBLES project. Met Off. Hadley Cent, Exeter

van Leeuwen C, Friant P, Choné X, Tregoat O, Koundouras S, Dubourdieu D (2004) Influence of climate, soil, and cultivar on terroir. Am J Enol Vitic 55:207–217

Webb LB, Whetton PH, Barlow EWR (2007) Modelled impact of future climate change on the phenology of winegrapes in Australia. Aust J Grape Wine Res 13:165–175. doi:10.1111/j.1755-0238.2007.tb00247.x

Wilcke RAI, Mendlik T, Gobiet A (2013) Multi-variable error correction of regional climate models. Clim Chang 120:871–887. doi:10.1007/s10584-013-0845-x

Winkler AJ, Cook JA, Kliewere WM, Lider LA (1974) General viticulture, 4th edn. Berkeley, University of California Press
Acknowledgments
This work was supported by the Xunta de Galicia under Research Grant No. 10PXIB383169PR and co-financing by European Regional Development Fund (FEDER). Alexandre M. Ramos was supported by the Portuguese Foundation for Science and Technology (FCT) through Grant FCT/DFRH/SFRH/BPD/84328/2012. S. Brands would like to thank the Consejo Superior de Investigaciones Científicas JAE-PREDOC programme for financial support.
Electronic supplementary material
Below is the link to the electronic supplementary material.
About this article
Cite this article
Lorenzo, M. ., Ramos, A.M. & Brands, S. Present and future climate conditions for winegrowing in Spain. Reg Environ Change 16, 617–627 (2016). https://doi.org/10.1007/s10113-015-0883-1
Received:

Accepted:

Published:

Issue Date:
Keywords
Viticulture

Spain

Regional climate models

Winkler index

Huglin index

Hydrothermic index of Branas

Bernon and Levadoux

Climate change