Abstract
Assessing biodiversity vulnerability to future climate change is essential for developing robust adaptation strategies. A number of vulnerability assessment methodologies have been developed, from bioclimatic envelop models to more complex approaches that also consider biological traits and population status. However, the lack of comparative studies leaves the user to choose among the different methodologies without much guidance. This study applied three vulnerability assessment approaches to the Portuguese herpetofauna: (I) impact assessment approach based on bioclimatic models; (II) integrated vulnerability assessment approach, adding the evaluation of adaptive capacity to approach I; and (III) integrated vulnerability assessment and validation based on expert consultation. Results showed disagreement between the different approaches for 19 % of the species studied. Most differences were found between approach III and the two other approaches. All approaches showed advantages and limitations, the choice of a methodology being ultimately dependent on the study goals. Approach I has proven efficient to capture general vulnerability patterns. Approach II, although presenting results similar to approach I, allows for the identification of key factors affecting the species adaptive capacity and may be useful in tailoring adaptation measures. Approach III further allows us to identify knowledge gaps and to evaluate vulnerability when data availability or quality is reduced. Further, because this approach is based on an expert workshop, it has proven a perfect means to build on the vulnerability assessment results to identify indicator species and prioritize specific adaptation options.
Access options
Buy single article
Instant access to the full article PDF.
USD 39.95
Price includes VAT (USA)
Tax calculation will be finalised during checkout.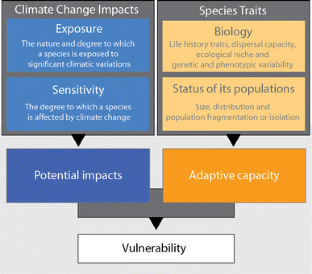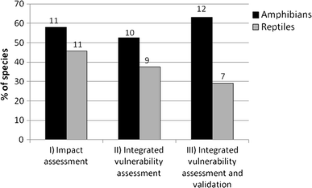 References
Araújo MB, Guilhaumon F, Neto DR, Pozo I, Calmaestra R (2012) Biodiversidade e Alterações Climáticas/Biodiversidad y Alteraciones Climáticas. Ministério da Agricultura e do Mar, do Ambiente e do Ordenamento do Território & Ministerio de Agricultura, Alimentación y Medio Ambiente, Lisboa/Madrid

Araújo MB, Peterson AT (2012) Uses and misuses of bioclimatic envelope modeling. Ecology 93:1527–1539. doi:10.1890/11-1930.1

Araújo MB, Thuiller W, Pearson RG (2006) Climate warming and the decline of amphibians and reptiles in Europe. J Biogeogr 33:1712–1728. doi:10.1111/j.1365-2699.2006.01482.x

Araújo PR, Silva EP, Costa T, Cruz MJ, Avelar D, Pulquério M (2013) Estratégia Nacional de Adaptação às Alterações Climáticas—Sector da Biodiversidade. R-DPOT/001/2013. Instituto de Conservação da Natureza e Florestas, Lisboa

Bagne KE, Friggens MM, Finch DM (2011) A system for assessing vulnerability of species (SAVS) to climate change. Gen. Tech. Rep. RMRS-GTR-257. Department of Agriculture, Forest Service, Rocky Mountain Research Station, Fort Collins, CO. U.S

Bellard C, Bertelsmeier C, Leadley P, Thuiller W, Courchamp F (2012) Impacts of climate change on the future of biodiversity. Ecol Lett 15:365–377. doi:10.1111/j.1461-0248.2011.01736.x

Berry P (2008) Climate change and the vulnerability of Bern Convention species and habitats. Bern Convention Standing Report, Standing Committee, Strasbourg

Berry PM, Hanley JRO, Thomson CL, Harrison PA, Masters GJ, Dawson TP (2007) MONARCH—modelling natural resource responses to climate change: MONARCH 3 contract report. UKCIP Technical Report, Oxford

Bertzky M, Dickson B, Galt R, Glen R, Harley M, Hodgson N, Lysenko I, Pooley M, Sajwaj T, Schiopu R, Soye Y, Tucker G (2011) Impacts of climate change and selected renewable energy infrastructures on EU biodiversity and the Natura 2000 network: summary report. European Commission and International Union for Conservation, Brussels

Brook BW, Akçakaya HR, Keith D, Mace GM, Pearson RG, Araújo MB (2009) Integrating bioclimate with population models to improve forecasts of species extinctions under climate change. Biol Lett 5:723–725. doi:10.1098/rsbl.2009.0480

Brooker R, Young J (2005) Climate change and biodiversity in Europe: a review of impacts, policy responses, gaps in knowledge and barriers to the exchange of information between scientists and policy makers. DEFRA, London

Cabral MJ, Almeida J, Almeida PR, Dellinger T, Almeida NF, Oliveira ME, Palmeirim JM, Queiroz AL, Rogado L, Reis MS (2005) Livro vermelho dos vertebrados de Portugal. Instituto de Conservação da Natureza, Lisboa

Caldas A (2014) Species traits of relevance for climate vulnerability and the prediction of phenological responses to climate change. J Lepid Soc 68:197–202

Carvalho S (2010) Biodiversity and conservation planning of the amphibians and reptiles in the Western Mediterranean Basin. Dissertação de Doutoramento em Biologia. Faculdade de Ciências da Universidade de Lisboa, Lisboa

Carvalho SB, Brito JC, Crespo EG, Watts ME, Possingham HP (2011) Conservation planning under climate change: toward accounting for uncertainty in predicted species distributions to increase confidence in conservation investments in space and time. Biol Conserv 144:2020–2030. doi:10.1016/j.biocon.2011.04.024

Comer PJ, Young B, Schulz K, Kittel G, Unnasch B, Braun D, Hammerson G, Smart L, Hamilton H, Auer S, Smyth R, Hak J (2012) Climate change vulnerability and adaptation strategies for natural communities: piloting methods in the Mojave and Sonoran deserts. Report to the U.S. Fish and Wildlife Service. NatureServe, Arlington

Costa AC, Santos JA, Pinto JG (2011) Climate change scenarios for precipitation extremes in Portugal. Theor Appl Climatol 108:217–234. doi:10.1007/s00704-011-0528-3

Cruz MJ, Aguiar R, Correia A, Tavares T, Pereira JS, Santos FD (2009) Impacts of climate change on the terrestrial ecosystems of Madeira. Int J Des Nat Ecodynamics 4:413–422. doi:10.2495/DNE-V4-N4-413-422

Cruz MJ, Rebelo R, Crespo EG (2006) Effects of an introduced crayfish, Procambarus clarkii, on the distribution of south-western Iberian amphibians in their breeding habitats. Ecography (Cop) 29:329–338. doi:10.1111/j.2006.0906-7590.04333.x

Davison JE, Coe S, Finch D, Rowland E, Friggens M, Graumlich LJ (2012) Bringing indices of species vulnerability to climate change into geographic space: an assessment across the Coronado national forest. Biol Conserv 21:189–204

De Chazal J, Rounsevell MDA (2009) Land-use and climate change within assessments of biodiversity change: a review. Glob Environ Chang 19:306–315. doi:10.1016/j.gloenvcha.2008.09.007

Devictor V, van Swaay C, Brereton T, Brotons L, Chamberlain D, Heliölä J, Herrando S, Julliard R, Kuussaari M, Lindström Å, Reif J, Roy DB, Schweiger O, Settele J, Stefanescu C, van Strein A, van Turnhout C, Vermouzek Z, de Vries MW, Wynhoff I, Jiguet F (2012) Differences in the climatic debts of birds and butterflies at a continental scale. Nat Clim Chang 2:121–124. doi:10.1038/nclimate1347

Early R, Sax DF (2011) Analysis of climate paths reveals potential limitations on species range shifts. Ecol Lett 14:1125–1133. doi:10.1111/j.1461-0248.2011.01681.x

Erschbamer B, Kiebacher T, Mallaun M, Unterluggauer P (2009) Short-term signals of climate change along an altitudinal gradient in the South Alps. Plant Ecol 202:79–89. doi:10.1007/s11258-008-9556-1

European Union (2013) Guidelines on climate change and Natura 2000: dealing with the impact of climate change on the management of the Natura 2000 Network of areas of high biodiversity value

Ferreira M, Beja P (2013) Mediterranean amphibians and the loss of temporary ponds: are there alternative breeding habitats? Biol Conserv 165:179–186. doi:10.1016/j.biocon.2013.05.029

Fronzek S, Carter TR, Jylhä K (2012) Representing two centuries of past and future climate for assessing risks to biodiversity in Europe. Glob Ecol Biogeogr 21:19–35. doi:10.1111/j.1466-8238.2011.00695.x

García A, Ortega-Huerta M, Martínez-Meyer E (2013) Potential distributional changes and conservation priorities of endemic amphibians in western Mexico as a result of climate change. Environ Conserv 41:1–12. doi:10.1017/S0376892913000349

Girvetz EH, Gray E, Tear TH, Brown MA (2014) Bridging climate science to adaptation action in data sparse Tanzania. Environ Conserv 41:229–238. doi:10.1017/S0376892914000010

Guisan A, Thuiller W (2005) Predicting species distribution: offering more than simple habitat models. Ecol Lett 8:993–1009. doi:10.1111/j.1461-0248.2005.00792.x

Heikkinen RK, Luoto M, Virkkala R, Pearson RG, Körber JH (2007) Biotic interactions improve prediction of boreal bird distributions at macro-scales. Glob Ecol Biogeogr 16:754–763. doi:10.1111/j.1466-8238.2007.00345.x

Heller NE, Zavaleta ES (2009) Biodiversity management in the face of climate change: a review of 22 years of recommendations. Biol Conserv 142:14–32. doi:10.1016/j.biocon.2008.10.006

Henle K, Dick D, Harpke A, Kühn I, Schweiger O, Settele J (2008) Climate change impacts on European amphibians and reptiles. Bern Convention Standing Report, Standing Committee, Strasbourg

IPCC (2007) Climate Change 2007: Synthesis Report. Contribution of Working Groups I, II and III to the Fourth Assessment Report of the Intergovernmental Panel on Climate Change. In: Core Writing Team, Pachauri RK, Reisinger A (eds). IPCC, Geneva, Switzerland, p 104

Jeschke JM, Strayer DL (2008) Usefulness of bioclimatic models for studying climate change and invasive species. Ann N Y Acad Sci 1134:1–24. doi:10.1196/annals.1439.002

Lankford AJ, Svancara LK, Lawler JJ, Vierling K (2014) Comparison of climate change vulnerability assessments for wildlife. Wildl Soc Bull 38:386–394. doi:10.1002/wsb.399

Loureiro A, Almeida NF, Carretero MA, Paulo OS (2008) Novo Atlas dos Anfíbios e Répteis de Portugal. Instituto de Conservação da Natureza, Lisboa

Metzger MJ, Schröter D, Leemans R, Cramer W (2008) A spatially explicit and quantitative vulnerability assessment of ecosystem service change in Europe. Reg Environ Chang 8:91–107. doi:10.1007/s10113-008-0044-x

Millenium Ecosystem Assessment (2005) Ecosystems and human well-being: scenarios, vol 2. Island Press, Washington, DC

Miranda PMA, Valente MA, Tomé AR, Trigo R, Coelho MFES, Aguiar A, Azevedo EB (2006) O clima de Portugal nos séculos XX e XXI. In: Santos FD, Miranda P (eds) Alterações climáticas em Portugal cenários, impactos e medidas de adaptação Projecto SIAM II. Gradiva, Lisboa, p 506

Pearson RG, Dawson TP (2003) Predicting the impacts of climate change on the distribution of species: are bioclimate envelope models useful? Glob Ecol Biogeogr 12:361–371. doi:10.1046/j.1466-822X.2003.00042.x

Pressey RL, Cabeza M, Watts ME, Cowling RM, Wilson KA (2007) Conservation planning in a changing world. Trends Ecol Evol 22:583–592. doi:10.1016/j.tree.2007.10.001

Pulquério M, Garrett P, Santos FD, Cruz MJ (2014) On using a generalized linear model to downscale daily precipitation for the center of Portugal: an analysis of trends and extremes. Theor Appl Climatol 120:147–158. doi:10.1007/s00704-014-1156-5

Rebelo R, Castro MJ, Cruz MJ, Oliveira J, Teixeira J, Crespo E (2013) Conservation and declines of amphibians in Portugal. In: Heatwole H, Wilkinson W (eds) Western Europe—status of conservation and decline. Amphibian biology series, vol 11. Pelagic Publishing, Exeter, pp 92–102

Salice CJ (2012) Multiple stressors and amphibians: contributions of adverse health effects and altered hydroperiod to population decline and extinction. J Herpetol 46:675–681. doi:10.1670/11-091

Settele J, Scholes R, Betts R, Brunn SE, Leadley P, Nepstad D, Overpeck JT, Taboada MA (2014) Terrestrial and inland water systems. In: Field CB, Barros VR, Dokken DJ, et al. (eds) Climate change 2014: impacts, adaptation, and vulnerability. Part A: Global and Sectoral Aspects. Contribution of working Group II to the Fifth Assessment Report of the Intergovernmental Panel on Climate Change. Cambridge University Press, Cambridge, UK and New York, USA, pp 271–359

Staudinger MD, Grimm NB, Staudt A, Carter SL, Chapin FS, Kareiva P, Ruckelshaus M, Stein BA (2012) Impacts of climate change on biodiversity, ecosystems, and ecosystem services: technical input to the 2013 National Climate Assessment. Cooperative Report to the 2013 National Climate Assessment

Swart R, Biesbroek R, Binnerup S, Carter TR, Cowan C, Henrichs T, Loquen S, Mela H, Morecroft M, Rey D, Reese M (2009) Europe adapts to climate change: comparing national adaptation strategies. PEER, Helsinki

Thuiller W, Albert C, Araújo MB, Berry PM, Cabeza M, Guisan A, Hickler T, Midgley GF, Paterson J, Schurr FM, Sykes MT, Zimmermann NE (2008) Predicting global change impacts on plant species' distributions: future challenges. Perspect Plant Ecol Evol Syst 9:137–152. doi:10.1016/j.ppees.2007.09.004

Trigo RM, DaCamara CC (2000) Circulation weather types and their influence on the precipitation regime in Portugal. Int J Climatol 20:1559–1581. doi:10.1002/1097-0088(20001115)20:13<1559:AID-JOC555>3.0.CO;2-5

Trouwborst A (2012) Transboundary wildlife conservation in a changing climate: adaptation of the Bonn Convention on migratory species and its daughter instruments to climate change. Diversity 4:258–300. doi:10.3390/d4030258

Urban MC, Tewksbury JJ, Sheldon KS (2012) On a collision course: competition and dispersal differences create no-analogue communities and cause extinctions during climate change. Proc Biol Sci 279:2072–2080. doi:10.1098/rspb.2011.2367

Williams SE, Shoo LP, Isaac JL, Hoffmann AA, Langham G (2008) Towards an integrated framework for assessing the vulnerability of species to climate change. PLoS Biol 6:2621–2626. doi:10.1371/journal.pbio.0060325

Willis KJ, Bhagwat SA (2009) Biodiversity and climate change. Science 326:806–807

Young B, Byers E, Gravuer K, Hall K, Hammerson G, Redder A (2011) Guidelines for using the NatureServe climate change vulnerability index. NatureServe, Arlington

Young BE, Dubois NS, Rowland EL (2014) Using the climate change vulnerability index to inform adaptation planning: lessons, innovations, and next steps. Wildl Soc Bull. doi:10.1002/wsb.478.10.1002/wsb.478
Acknowledgments
We thank the support of the ICNF technicians Emília Silva e Paula Rito Araújo and all the experts that contributed to the study: Ana Luísa Nunes (FCUL), Fernando Martinez Freiria (CIBIO), Helena Gonçalves (CIBIO), José Carlos Brito (CIBIO-UP), José Teixeira (CIBIO-UP), Miguel A. Carretero (CIBIO-UP), Pedro Segurado (UTL), Sílvia Carvalho (CIBIO-UP), Xavier Santos (CIBIO-UP). EMRR was funded by the Research Foundation—Flanders (FWO, Flanders, Belgium).
About this article
Cite this article
Cruz, M.J., Robert, E.M.R., Costa, T. et al. Assessing biodiversity vulnerability to climate change: testing different methodologies for Portuguese herpetofauna. Reg Environ Change 16, 1293–1304 (2016). https://doi.org/10.1007/s10113-015-0858-2
Received:

Accepted:

Published:

Issue Date:
Keywords
Adaptive capacity

Biodiversity vulnerability assessment

Climate change

Bioclimatic envelope models

Climate change vulnerability indexes