Abstract
Climate change is an unprecedented global threat to fundamental life-supporting systems and people's livelihoods and is expected to aggravate development challenges. Subsistence-oriented smallholder farmers of developing regions, such as those in sub-Saharan Africa, are highly vulnerable to these changes given their lower adaptive capacity. In this context, building a climate-resilient agricultural society is an essential requirement to protect livelihoods. Hence, there is a need for spreading the climate-resilient sustainable agricultural (CRSA) practices by replicating the proven ones to larger areas (scaling-up). Fostering widespread adoption of such practices needs consideration of their social, ecological, economic, and institutional appropriateness in target areas. This article reports the application of a tool "ScalA" that generates information on a multitude of aspects and assesses the local suitability of CRSA practices among sub-Saharan smallholders. It also briefly presents other state-of-the-art tools that can be used for similar purposes. In the first case study, the tool is used to assess appropriateness of agroforestry, biochar application, and rainwater harvesting in Fulwe village of Morogoro, Tanzania, for enhancing resilience capacity. In another case study, the potential of fertilizer management is assessed for two different villages, i.e., Fulwe and Mlali. Analytically, appropriateness of interventions is assessed by the deviation of the actual factor constellation of the scaling-up process with an optimal constellation that will foster the wider adoption of the given practice.
Access options
Buy single article
Instant access to the full article PDF.
USD 39.95
Price includes VAT (USA)
Tax calculation will be finalised during checkout.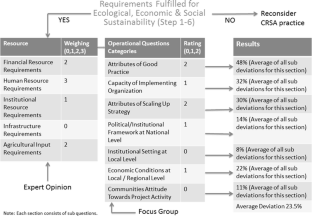 References
Barron J, Salas JC (2009) Rainwater harvesting: a lifeline for human well-being. United Nations Environment Programme, Nairobi

Below TB, Mutabazi KD, Kirschke D, Franke C, Sieber S, Siebert R, Tscherning K (2012) Can farmers' adaptation to climate change be explained by socio-economic household-level variables? Glob Environ Change 22:223–235. doi:10.1016/j.gloenvcha.2011.11.012

Chung YB, Billingsley C (2012) Climate resilient sustainable agriculture—a real alternative to false solutions. Action Aid, South Africa

Cline WR (2007) Global warming and agriculture: impact estimates by country. Peterson Institute, Washington

Cooley L, Kohl R (2006) Scaling up—from vision to large-scale change, a management framework for practitioners. Management Systems International, Washington

Ellingsen J (2013) Practical implementation of biochar in Norway and Tanzania, 2nd Nordic biochar seminar: towards a carbon negative agriculture, Helsinki, Finland

FAO (2010) Climate-smart agriculture: policies, practices and financing for food security, adaptation and mitigation. FAO, Rome

FAO/IFA (2001) Global estimates of gaseous emissions of NH3, NO and N2O from agricultural land. FAO, Rome

Fischer G, Shah M, Tubiello FN, van Velhuizen H (2005) Socio-economic and climate change impacts on agriculture: an integrated assessment, 1990–2080. Philos Trans R Soc B 360:2067–2083. doi:10.1098/rstb.2005.1744

Geneletti D, Beinat E, Chung CF, Fabbri AG, Scholten HJ (2003) Accounting for uncertainty factors in biodiversity impact assessment: lessons from a case study. Environ Impact Assess Rev 23:471–487. doi:10.1016/S0195-9255(03)00045-3

IFA (2007) Fertilizer best management practices: general principles, strategy for their adoption and voluntary initiatives versus regulation. IFA, Paris

IFAD (2012) Small-scale farmers have no time to lose in adapting to climate change, IFAD, Rome. http://www.ifad.org/climate/asap/smallscale.htm

Ikerra ST, Semu E, Mrema JP (2006) Combining Tithonia diversifolia and minjingu phosphate rock for improvement of P availability and maize grain yields on a chromic acrisol in Morogoro, Tanzania. Nutr Cycl Agroecosyst 76:249–260. doi:10.1007/978-1-4020-5760-1_30

Kellner K, Risoli C, Metz M (2011) Terminal evaluation of the UNEP/FAO/GEF project: Land Degradation, Assessment in Drylands (LADA). United Nation Environment Programme

Kitalyi A, Nyadzi G, Lutkamu M, Swai R, Gama B (2011) New climate, new agriculture: how agroforestry contributes to meeting the challenges of agricultural development in Tanzania. Tanzan J Agric Sci 10(1):1–7

Knox J, Hess T, Daccache A, Wheeler T (2012) Climate change impacts on crop productivity in Africa and South Asia. Environ Res Lett 7:034032. doi:10.1088/1748-9326/7/3/034032

Linn JF (2012) Scaling up in agriculture, rural development and nutrition. IFPRI, Washington

Majid KS (2009) Tanzania's creative solutions in response to the global food crisis. Sokoine University of Agriculture, Morogoro

Nellemann C, MacDevette M, Manders T, Eickhout B, Svihus B, Prins AG, Kaltenborn BP (2009) The environmental food crisis—the environment's role in averting future food crises. United Nations Environment Programme, Nairobi

Paavola J (2008) Livelihoods, vulnerability and adaptation to climate change in Morogoro, Tanzania. Environ Sci Policy 11:642–654. doi:10.1016/j.envsci.2008.06.002

Pangapanga CP, Marijani BJ, Tumbo SD, Mapulila T and Rwehumbiza FB (2005) Using the PT model to determine appropriate management for maize production: a case study of Fulwe Village in Morogoro District for Morogoro District (R8088A). Annex B19[2] of the Final Technical Report of project R8088A, Sokoine University of Agriculture, Morogoro, Tanzania

Parry ML, Canziani OF, Palutikof JP, van der Linden PJ, Hanson CE (2007) Contribution of working group II to the fourth assessment report of the intergovernmental panel on climate change. Cambridge University Press, Cambridge

Senkondo EMM, Msangi ASK, Xavery P, Lazaro EA, Hatibu N (2004) Profitability of rainwater harvesting for agricultural production in selected semi-arid areas of Tanzania. J Appl Irrig Sci 39(1):65–81

Somrang A, Phinchongsakuldit A, Sombatpanit S (2002) Soil and water conservation map of Thail and using WOCAT methodology. 12th ISCO Conference, Beijing

Stern N (2006) Stern review on the economics of climate change. Her Majesty's Treasury London, UK

Stocker TF, Qin DH, Plattner G, Tignor MMB, Allen SK, Boschung J,Nauels A, Xia Y, Bex V, Midgley PM (2013) Climate change 2013: the physical science basis. Working group I contribution to the IPCC Fifth assessment report, Cambridge University Press, Cambridge

Thornton PK, Jones PG, Owiyo T, Kruska RL, Herrero M, Kristjanson P, Notenbaert A, Bekele N, Omolo A, Orindi V, Ochieng A, Otiende B, Bhadwal S, Anantram K, Nair S, Kumar V, Kelkar U (2006) Mapping climate vulnerability and poverty in Africa. Report to the Department for International Development, ILRI, Nairobi, Kenya. http://www.dfid.gov.uk/research/mapping-climate.pdf

Thornton PK, Jones PG, Ericksen PJ, Challinor AJ (2011) Agriculture and food systems in sub-Saharan Africa in a 4 C + world. Philos Trans R Soc A 369:117–136. doi:10.1098/rsta.2010.0246

URT (1997) Morogoro regional socio-economic profile. Planning Commission, Regional Commissioner's Office, Dar es Salaam, Morogoro, Tanzania

USAID (2011) Agricultural technology assessment tool handbook. Agricultural Technology Adoption Initiative (ATAI) Evidence Summit, Washington

Verchot LV, Noordwijk MV, Kandji S, Tomich T, Ong C, Albrecht A, Mackensen J, Bantilan C, Anupama KV, Palm C (2007) Climate change: linking adaptation and mitigation through agroforestry. Mitig Adapt Strat Glob Change 12:901–918. doi:10.1007/s11027-007-9105-6

WOCAT (2008) World overview of conservation approaches and technologies, https://www.wocat.net/

Woolf D, Amonette JE, Street-Perrott FA, Lehmann J, Joseph S (2010) Sustainable biochar to mitigate global climate change. Nat Commun 1:56. doi:10.1038/ncomms1053
Electronic supplementary material
Below is the link to the electronic supplementary material.
About this article
Cite this article
Sieber, S., Jha, S., Tharayil Shereef, AB. et al. Integrated assessment of sustainable agricultural practices to enhance climate resilience in Morogoro, Tanzania. Reg Environ Change 15, 1281–1292 (2015). https://doi.org/10.1007/s10113-015-0810-5
Received:

Accepted:

Published:

Issue Date:
Keywords
Sustainable agriculture

Good practices

Scaling-up

ScalA

Assessment

Climate change

Environment

Resilience