Abstract
While islands have been identified in numerous discourses as being highly vulnerable, food security was a cornerstone of many traditional Pacific Island societies from inland and coastal communities in large islands with considerable natural assets to those that occupied extremely small, low-lying atolls with little or no soil and limited water resources. This was sustained through agro-ecological biodiversity, the production of surpluses which enabled food preservation and storage to be practiced and underpinned networks of exchange and mutual support that were particularly important during times of hardship such as disruptive extreme natural events, the use of resilient crops and using 'famine' foods. Colonisation, the introduction of new religions, the spread of capitalism, most recently in the context of globalisation, has seen many of these practices decline (some have disappeared altogether) as crop diversity has been reduced (making way for export products such as copra), food storage and preservation are now rarely practised, resilient crops have been replaced, famine foods have lost their importance in the face of disaster relief, and many traditional networks have declined. Food imports have become critical, not only in the growing urban areas, but also in rural communities. The paper concludes by addressing key challenges facing Pacific Island countries in order to revitalise those traditional elements of food security in ways that are likely to find acceptance in contemporary society and enable them to adapt to the effects of climate change.
Access options
Buy single article
Instant access to the full article PDF.
US$ 39.95
Tax calculation will be finalised during checkout.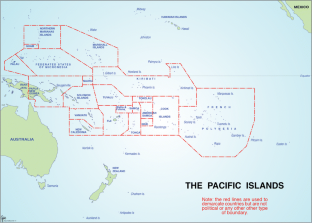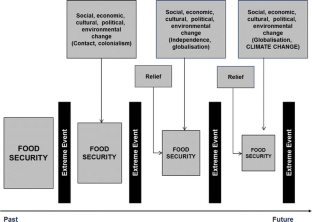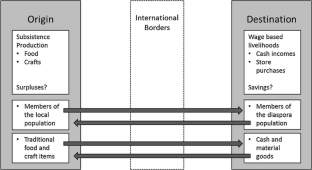 References
Allen B (1989) Frost and drought through time and space, Part I: the climatological record. Mt Res Dev 9(3):279–305

Allen BJ, Brookfield HC, Byron Y (1989) Frost and drought through time and space, Part II: the written, oral, and proxy records and their meaning. Mt Res Dev 9(3):279–305

Australian Bureau of Meteorology (ABM) and Commonwealth Scientific and Industrial Research Organisation (CSIRO) (2011) Climate change in the Pacific: scientific assessment and new research. Regional overview, vol 1. Pacific Climate Change Science Program, Aspendale

Barnett J, Webber M (2010) Accommodating migration to promote adaptation to climate change. Policy Research Working paper 5270. World Bank, Washington

Barrau J (1965) L'humide et le sec: an essay on ethnobiological adaptation to contrastive environments in the Indo-Pacific area. J Polyn Soc 74(4):329–346

Bedford R, Hugo G (2012) Population movement in the Pacific: a perspective on future prospects. Department of Labour, Wellington

Bonnemaison J (1985) The tree and the canoe: roots and mobility in Vanuatu societies. Pac Viewp 30(1):30–62

Campbell JR (1990) Disasters and development in historical context: tropical cyclone response in the Banks Islands of Northern Vanuatu. Int J Mass Emerg Disasters 8(3):401–424

Campbell IC (1992) A history of the Pacific Islands. Canterbury University Press, Christchurch

Campbell JR (2006) Traditional disaster reduction in Pacific Island communities. GNS Science Report 2006/38. Institute of Geological and Nuclear Sciences, Wellington

Campbell JR (2011) Climate change and population displacement. In: Narsey W et al (eds) Population and development in the Pacific Islands. UNFPA and USP, Suva, pp 320–341

Campbell JR (2014) Climate-change migration in the Pacific. Contemp Pac 26(1):1–28

Campbell JR, Bedford R (2013) Migration and climate change in oceania. In: Piguet E, Laczko F (eds) People on the move in a changing climate. Springer, Dordrecht

Clarke WC (1977) The structure of permanence: the relevance of self-subsistence communities for world ecosystem management. In: Bayliss-Smith T, Feachem R (eds) Subsistence and survival. Rural ecology in the Pacific. Academic Press, London, pp 363–384

Clarke WC, Thaman RR (eds) (1993) Agroforestry in the Pacific Islands: systems for sustainability. United Nations University Press, Tokyo

Connell J, Brown RPC (2005) Remittances in the Pacific: an overview. Asian Development Bank, Manila

Conroy JD (2012) A guide to subsistence affluence. Crawford School of Public Policy, Australian National University, Working Paper Series. Australian National University, Canberra

Ferdon EN (1987) Early Tonga: as the explorers saw it, 1618–1810. The University of Arizona Press, Tucson

Fischer SR (2002) A history of the Pacific Islands. Palgrave, London

Fisk EK (1962) Planning in a primitive economy: special problems of Papua New Guinea. Econ Rec 38(84):462–478

Fisk EK (1964) Planning in a primitive economy: from pure subsistence to the production of a market surplus. Econ Rec 40(90):156–174

Gaillard J-C (2007) Resilience of traditional societies in facing natural hazards. Disaster Prev Manag 16(4):522–544

Gaillard J-C, Mercer J (2013) From knowledge to action: bridging gaps in disaster risk reduction. Prog Hum Geogr 37(1):93–114

Hartmann B (2010) Rethinking climate refugees and climate conflict: rhetoric, reality and the politics of policy. J Int Dev 22(2):233–246

Hughes I (1977) The use of resources in traditional Melanesia. In: Winslow JH (ed) The Melanesian environment. Australian University Press, Canberra, pp 28–34

Intergovernmental Panel on Climate Change, Working Group II (2014) Chapter 29, Small Islands. http://ipcc-wg2.gov/AR5/images/uploads/WGIIAR5-Chap29_FGDall.pdf

Jolly M (2001) On the edge: Deserts, Oceans, Islands. Contemp Pac 13(2):417–466

Kelman I (2014) No change from climate change: vulnerability and small island developing states (SIDS). Geogr J 180(2):120–129

Malinowski B (1922) Argonauts of the Western Pacific. E.P. Dutton, New York (facs)

McGee TG (1975) Food dependency in the Pacific. Development Studies Centre, Working paper No. 2. Australian National University, Canberra

Mercer J, Kelman I, Suchet-Pearson S, Lloyd K (2009) Integrating indigenous and scientific knowledge bases for disaster risk reduction in Papua New Guinea. Geogr Ann Ser B 91(2):157–183

Nicholson CTM (2014) Climate change and the politics of causal reasoning: the case of climate change and migration. Geogr J 180(2):151–160

Nunn PD (2007) Climate, environment and society in the pacific during the last millennium. Elsevier, Amsterdam

Pollock NJ (1992) These roots remain: food habits in Islands of the central and eastern Pacific since Western contact. The Institute For Polynesian Studies, Honolulu

Pond W (1997) The land with all woods and water (Waitangi Tribunal Rangahaua Whanui Series, Waitangi Tribunal, Wellington) 32, quoted in K Batibasaqa, J Overton, and P Horsley, 'Vanua: Land, People and Culture in Fiji'. In: Overton J, Scheyvens R (eds) (1999) Strategies for sustainable development: experiences from the Pacific. Zed Books, London

Rapaport M (ed) (2013) The Pacific Islands: environment and society. University of Hawaii Press, Honolulu

Sahlins M (1962) Moala: culture and nature on a Fijian Island. University of Michigan Press, Michigan

Sahlins M (1972) Stone age economics. Aldine-Atherton, Chicago

Secretariat of the Pacific Community (SPC) (2014) Pacific populations 2013. Secretariat of the Pacific Community, Noumea

Thaman RR (1990) The evolution of the Fiji food system. In: Jansen AAJ, Parkinson S, Robertson AFS (eds) Food and nutrition in Fiji: a historical view, vol 1. The University of The South Pacific, Suva, pp 23–108

Thaman RR (1995) Urban food gardening in the Pacific Islands: a basis for food security in rapidly urbanising small-island states. Habitat Int 19(2):209–224

Thaman RR, Meleisea M, Makasiale J (2002) Agricultural diversity and traditional knowledge as insurance against natural disasters. Pac Health Dialogue 9(1):76–85

Thompson L (1940) Southern Lau, Fiji: an ethnology, vol 162. Bernice P. Bishop Museum, Honolulu

United Kingdom Parliament (1887) Fiji correspondence relating to the native population of Fiji. C 5039. vol 58, 135ff

Waddell E (1972) The mound builders: agricultural practices, environment, and society in the central highlands of New Guinea. University of Washington Press, Seattle

Waddell E (1975) How the Enga cope with frost: responses to climatic perturbations in the Central Highlands of New Guinea. Hum Ecol 3(4):249–273

Waddell E (1983) Coping with frosts, governments and disaster experts: some reflections based on a New Guinea experience and a perusal of the relevant literature. In: Hewitt K (ed) Interpretations of calamity from the viewpoint of human ecology. Allan and Unwin, Boston, pp 33–43

Wilkes C (1845) Narrative of the United States' exploring expedition, vol III. Suva, Reprinted Fiji Museum (1985). Original publication details: Lea and Blanchard, Philadelphia
About this article
Cite this article
Campbell, J.R. Development, global change and traditional food security in Pacific Island countries. Reg Environ Change 15, 1313–1324 (2015). https://doi.org/10.1007/s10113-014-0697-6
Received:

Accepted:

Published:

Issue Date:
Keywords
Pacific Islands

Food security

Climate change

Transnational networks

Disasters