Abstract
In cities in temperate climate zones, the elderly, disabled and socially deprived are most vulnerable to extreme heat, as witnessed by increased mortality rates during heat waves in Europe and North America. Many cities, however, lag behind in the protection of vulnerable citizens against heat stress, an issue gaining importance in the face of climate change, ongoing urbanization and an ageing population. This raises questions as to who bears responsibility for the protection of these vulnerable citizens. Should they protect themselves, or is this a collective responsibility? Which public and private organizations could take on this collective responsibility? This study explores potential governance arrangements between public and private actors by analysing the perceived responsibilities and their underlying considerations of public and private actors through two multi-stakeholder workshops and one focus group held in two Dutch cities. Furthermore, the study looks into what can be learned from ten foreign cities where a heat stress policy has been implemented, with respect to the concrete shaping of responsibilities and how trade-offs in considerations are dealt with. The research reveals that because of conflicting considerations there is disagreement as to who bears responsibility for the implementation of health care measures, and it shows how this might be resolved through differentiated approaches for an active outreach to vulnerable citizens. We conclude that "cool" governance suggests extensive public responsibilities throughout the policy process, but that policy implementation needs public–private networks tailored to these differentiated approaches.
Access options
Buy single article
Instant access to the full article PDF.
US$ 39.95
Tax calculation will be finalised during checkout.
Subscribe to journal
Immediate online access to all issues from 2019. Subscription will auto renew annually.
US$ 79
Tax calculation will be finalised during checkout.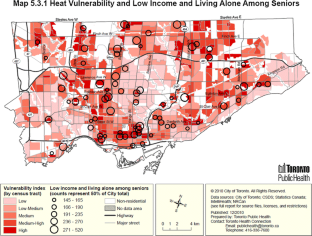 References
Aakre S, Rübbelke DTG (2010) Objectives of public economic policy and the adaptation to climate change. J Environ Plan Manag 53(6):767–791. doi:10.1080/09640568.2010.488116

Adger WN (2006) Vulnerability. Glob Environ Change 16:268–281. doi:10.1016/j.gloenvcha.2006.02.006

Adger WN, Arnell NW, Tompkins EL (2005) Successful adaptation to climate change across scales. Glob Environ Change 15:77–86. doi:10.1016/j.gloenvcha.2004.12.005

Adger WN, Dessai S, Goulden M, Hulme M, Lorenzoni I, Nelson DR, Naess LO, Wolf J, Wreford A (2009) Are there social limits to adaptation to climate change? Clim Change 93:335–354. doi:10.1007/s10584-008-9520-z

Agrawala S, Fankhauser S (eds) (2008) Economic aspects of adaptation to climate change: costs, benefits, and policy instruments. Executive summary, OECD Paris

Allex B, Arnberger A, Wanka A, Eder R, Hutter H-P, Kundi M, Wallner P, Kolland F, Blättner B, Grewe HA (2013) The elderly under urban heat pressure—strategies and behaviours of elderly residents against urban heat. In: Proceedings REAL CORP Tagungsband 20–23 May 2013, Rome, Italy. http://www.corp.at

Arnhem (2013) Workshop heat stress in Arnhem, held on Sept 12 2013

Atkinson G, Machado F, Mourato S (2000) Balancing competing principles of environmental equity. Environ Plan A 32:1791–1806. doi:10.1068/a32106

Baarsma B, Koopmans C, Theeuwes J (2010) Beleidseconomie. Een rationele onderbouwing van overheidsingrijpen. Amsterdam University Press, Amsterdam

Barriopedro D, Fischer EM, Luterbacher J, Trigo RM, Garcia-Herrera R (2011) The hot summer of 2010: redrawing the temperature record map of Europe. Science 332(6026):220–224. doi:10.1126/science.1201224

Berkhout F (2005) Rationales for adaptation in EU climate change policies. Clim Policy 5(3):377–391. doi:10.3763/cpol.2005.0521

Bernard SM, McGeehin MA (2004) Municipal heat wave response plans. Am J Public Health 94(9):1520–1522. doi:10.2105/AJPH.94.9.1520

Berrang-Ford L, Ford JD, Paterson J (2011) Are we adapting to climate change? Glob Environ Change 21(1):25–33. doi:10.1016/j.gloenvcha.2010.09.012

Biesbroek GR, Swart RJ, Carter TR, Cowan C, Henrichs T, Mela H, Morecroft MD, Rey D (2010) Europe adapts to climate change: comparing national adaptation strategies. Glob Environ Change 20:440–450. doi:10.1016/j.gloenvcha.2010.03.005

Bodin O, Crona BI (2009) The role of social networks in natural resource governance: what relational patterns make a difference? Glob Environ Change 19:366–374. doi:10.1016/j.gloenvcha.2009.05.002

Bogason P, Musso JA (2006) The democratic prospects of network governance. Am Rev Public Adm 36:3–18. doi:10.1177/0275074005282581

Bulkeley H, Carmin J, Castán Broto V, Edwards GAS (2013) Climate justice and global cities: mapping the emerging discourses. Glob Environ Change 23:914–925. doi:10.1016/j.gloenvcha.2013.05.010

Buyx AM (2008) Personal responsibility for health as a rationing criterion: why we don't like it and why maybe we should. J Med Ethics 34(12):871–874

Cadot E, Rodwin VG, Spira A (2007) In the heat of the summer: lessons from the heat waves in Paris. J Urban Health 84(4):466–468. doi:10.1007/s11524-007-9161-y

Cappelen AW, Norheim OF (2005) Responsibility in health care: a liberal egalitarian approach. J Med Ethics 31:476–480. doi:10.1136/jme.2004.010421

CCAP (2010) Chicago Climate Action Plan. Strategy 5 Adaptation, pp 39–43

CIRCLE (2013) Circle-2 adaptation inspiration book

Costello A, Abbas M, Allen A, Ball S, Bell S, Bellamy R, Friel S, Groce N, Johnson A, Kett M, Lee M, Levy C, Maslin M, McCoy D, McGuire B, Montgomery H, Napier D, Pagel C, Patel J, Puppim de Oliveira J, Redclift N, Rees H, Rogger D, Scott J, Stephenson J, Twigg J, Wolff J, Patterson C et al (2009) Managing the health effects of climate change. The Lancet 373:1693–1733. doi:10.1016/S0140-6736(09)60935-1

Coumou D, Robinson A, Rahmstorf S (2013) Global increase in record-breaking monthly-mean temperatures. Clim Change 118(3–4):771–782. doi:10.1007/s10584-012-0668-1

De Jong M (2004) The pitfalls of family resemblance: why transferring planning institutions between 'similar countries' is delicate business. Eur Plan Stud 12(7):1055–1068. doi:10.1080/0965431042000267902

Dovers SR, Hezri AA (2010) Institutions and policy processes: the means to the end of adaptation. Wiley Interdiscip Rev Clim Change 1:212–231. doi:10.1002/wcc.29

Driessen PPJ, Van Rijswick HFMW (2011) Normative aspects of climate adaptation policies. Clim Law 2:559–581

Eakin H, Lemos MC (2006) Adaptation and the state: Latin America and the challenge of capacity-building under globalization. Glob Environ Change 16:7–18. doi:10.1016/j.gloenvcha.2005.10.004

Ebi KL, Teisberg TJ, Kalkstein LS, Robinson L, Weiher RF (2004) Heat watch/warning systems save lives. Estimated costs and benefits for Philadelphia 1995–98. Bull Am Meteorol Soc 85:1067–1073

Edelenbos J, Klijn EH (2005) Managing stakeholder involvement in decision-making: a comparative analysis of six interactive processes in the Netherlands. J Public Adm Res Theory 16(3):417–446. doi:10.1093/jopart/mui049

EEA (2012) Urban adaptation to climate change in Europe. Challenges and opportunities for cities together with supportive national and European policies. European Environment Agency Report No 2/2012

EPA (2008) Excessive heat events guidebook. United States Environmental Protection Agency report 430-B-06-005, June 2008

ETC (2010) Urban Regions: vulnerabilities, vulnerability assessments by indicators and adaptation options for climate change impacts. Scoping Study. The European Topic Centre on Air and Climate Change, ETC/ACC Technical Paper 2010/12

EWHOP (2006) Extreme heat weather operations plan. Chicago Police Department. http://directives.chicagopolice.org/directives/data/a7a57be2-12a76ce1-24512-a776-fa99e0b0a9221e57.html?ownapi=1

Fouillet A, Rey G, Laurent F, Pavillon G, Bellec S, Guihenneuc-Jouyaux C, Clavel J, Jougla E, Hémon D (2006) Excess mortality related to the August 2003 heat wave in France. Int Arch Occup Environ Health 80(1):16–24. doi:10.1007/s00420-006-0089-4

Friel S, Hancock T, Kjellstrom T (2011) urban health inequities and the added pressure of climate change: an action-oriented research agenda. J Urban Health 88(5):886–895. doi:10.1007/s11524-011-9607-0

Galvin R (2002) Disturbing notions of Chronic illness and individual responsibility: towards a genealogy of morals. Health 6(2):107–137. doi:10.1177/136345930200600201

Grasso M (2007) A normative ethical framework in climate change. Clim Change 81:223–246. doi:10.1007/s10584-006-9158-7

Hulme M, Adger WN, Dessai S, Goulden M, Lorenzoni I, Nelson D, Naes L, Wolf J, Wreford A (2007) Limits and barriers to adaptation: four propositions. Tyndall Briefing Note 20. Tyndall Centre for Climate Change Research, University of East Anglia, Norwich, UK

IFRC (2004) World disasters report 2004. Focus on community resilience. Chapter 2: Heatwaves; the developed world's hidden disaster. International Federation of Red Cross and Red Crescent Societies

IPCC (2012) Summary for Policymakers. In: Managing the risks of extreme events and disasters to advance climate change adaptation, Field CB, Barros V, Stocker TF, Qin D, Dokken DK,  Ebi KL, Mastrandrea MD, Mach KJ, Plattner G-K, Allen SK, Tignor M, Midgley PM (eds) A special report of working groups I and II of the intergovernmental panel on climate change. Cambridge University Press, Cambridge, UK, and New York, NY, USA, pp 1–19

IPCC (2013) Summary for policymakers. In: Stocker TF, Qin D, Plattner G-K, Tignor M, Allen SK, Boschung J, Nauels A, Xia Y, Bex V, Midgley PM (eds) Climate change 2013: the physical science basis. Contribution of working group I to the fifth assessment report of the Intergovernmental Panel on Climate Change. Cambridge University Press, Cambridge

Kalkstein LS, Sheridan SC, Kalkstein AJ (2009) Heat/health warning systems: development, implementation, and intervention activities. In: Ebi KL et al (eds) Biometeorology for adaptation to climate variability and change. Springer, New York, pp 33–48

Kazmierczak A, Carter J (2010) Adaptation to climate change using green and blue infrastructure. A database of case studies. http://www.grabs-eu.org/membersArea/files/Database_Final_no_hyperlinks.pdf

Klimzug (2011) Prävention hitzebedingter Gesundheitsgefahren – das Hitzetelefon Sonnenschirm. Klimzug-Nordhessen. http://klimzug-nordhessen.de/fileadmin/Dokumente/Umsetzung/Hitzepraevention_Factsheet_Umsetzung_2-seitig_final.pdf

Kovats RS, Ebi KL (2006) Heatwaves and public health in Europe. Eur J Public Health 16(6):592–599. doi:10.1093/eurpub/ckl049

Lowe D, Ebi K, Forsberg B (2011) Heatwave early warning systems and adaptation advice to reduce human health consequences of heatwaves. Int J Environ Res Public Health 8:4623–4648. doi:10.3390/ijerph8124623

LRHP (2011) London Resilience Heatwave Plan. Preparing for emergencies. Greater London Authority. Sept 2011. https://www.london.gov.uk/sites/default/files/archives/London-Resilience-Heatwave-Plan-version-1.pdf

Luber G, McGeehin M (2008) The health impacts of climate change. Climate change and extreme heat events. Am J Prev Med 35(5):429–435. doi:10.1016/j.amepre.2008.08.021

Matthies F, Menne B (2009) Prevention and management of health hazards related to heat waves. Int J Circumpolar Health 68:8–22

Mees HLP, Driessen PPJ, Runhaar HAC (2012) Exploring the scope of public and private responsibilities for climate adaptation. J Environ Plan Policy Manag 14(3):305–330. doi:10.1080/1523908X.2012.707407

Mendelsohn R (2006) The role of markets and governments in helping society adapt to a changing climate. Clim Change 78:203–215. doi:10.1007/s10584-006-9088-4

Minkler M (1999) Personal responsibility for health? A review of the arguments and the evidence at century's end. Health Educ Behav 26(1):121–140. doi:10.1177/109019819902600110

Müller K, Heckenhahn M, Schimmelpfennig M (nd) Gezielte Prävention hitzebedingter Gesundheitsrisiken alter Menschen in der Kommune (PräKom). Gesundheitsamt Region Kassel

NYC (2011) Climate change adaptation: addressing heat-related morbidity and mortality among seniors in New York City. EPA webinar series: Public health effects of climate change. Presentation by Nathan Graber, department of Health and Mental Hygiene, held on Oct 18 2011. http://epa.gov/region2/climate/pdf/heat_related_mortality.pdf

Osberghaus D, Dannenberg A, Mennel T, Sturm B (2010) The role of the government in adaptation to climate change. Environ Plan C Gov Policy 28:834–850. doi:10.1068/c09179j

Paavola J (2008) Science and social justice in the governance of adaptation to climate change. Environ Polit 17(4):644–659. doi:10.1080/09644010802193609

Paavola J, Adger WN (2006) Fair adaptation to climate change. Ecol Econ 56:594–609. doi:10.1016/j.ecolecon.2005.03.015

POEM (2010) Heat emergency plan. City of Philadelphia Managing Director's Office of Emergency Management, May 2010

Poutiainen C, Berrang-Ford L, Ford J, Heymann J (2013) Civil society organizations and adaptation to the health effects of climate change in Canada. Public Health 127(5):403–409. doi:10.1016/j.puhe.2013.02.004

Robine J-M, Cheung SLK, Le Roy S, Van Oyen H, Griffiths C, Michel J-P, Herrmann FR (2008) Death toll exceeded 70,000 in Europe during the summer of 2003. C R Biol 331:171–178. doi:10.1016/j.crvi.2007.12.001

Rotterdam (2013a) Workshop heat stress, held on September 30th, 2013

Rotterdam (2013b) Discussion during meeting of Pluspunt, elderly focus group, held on Oct 14 2013

Runhaar H, Mees H, Wardekker A, Van der Sluijs J, Driessen P (2012) Adaptation to climate change related risks in Dutch urban areas: stimuli and barriers. Reg Environ Change 12:777–790. doi:10.1007/s10113-012-0292-7

Sampson NR, Gronlund CJ, Buxton MA, Catalano L, White-Newsome JL, Conlon KC, O'Neill MS, McCormick S, Parker EA (2013) Staying cool in a changing climate: reaching vulnerable populations during heat events. Glob Environ Change 23(2):475–484. doi:10.1016/j.gloenvcha.2012.12.011

Schär C, Jendritzky G (2004) Hot news from summer 2003. Nature 432:559–560. doi:10.1038/432559a

Sheridan SC (2007) A survey of public perception and response to heat warnings across four North American cities: an evaluation of municipal effectiveness. Int J Biometeorol 52(1):3–15. doi:10.1007/s00484-006-0052-9

Tatabanya (nd) The launching of a local heat-and-UV-alert plan in Tatabánya, Hungary to set an example for other cities to follow. http://old.env-health.org/IMG/pdf/Andras_Olah_Tatabanya_Hungary_Launch__of_a_local_Heat_and_UV_alert_Plan.pdf

Tinghőg G, Carlsson P, Lyttkens CH (2010) Individual responsibility for what?–a conceptual framework for exploring the suitability of private financing in a publicly funded health-care system. Health Econ, Policy and Law 5(02):201–223

TPH (2011a) Implementation of a map-based heat vulnerability assessment and decision support system. Final project report and map series. Toronto Public Health, March 2011. http://www.climateontario.ca/doc/ORAC_Products/TPH/Mapping%20Tool%20-%20User%20Manual%20for%20Heat%20Vulnerability%20Mapping%20Tool.pdf

TPH (2011b) Protecting vulnerable people from health impacts of extreme heat. Toronto Public Health, July 2011. http://www.toronto.ca/health/hphe/air_quality/pdf/protecting_ppl_in_extreme_heat.pdf

Uittenbroek C, Janssen-Jansen L, Runhaar H (2012) Mainstreaming climate adaptation into urban planning: overcoming barriers, seizing opportunities and evaluating the results in two Dutch case studies. Reg Environ Change 13(2):399–411. doi:10.1007/s10113-012-0348-8

Verbeke P, Fonager J, Clark BFC, Rattan SIS (2001) Heat shock response and ageing: mechanisms and applications. Cell Biol Int 25(9):845–857. doi:10.1006/cbir.2001.0789

Wardekker JA, De Jong A, Van Bree L, Turkenburg W, Van der Sluijs JP (2012) Health risks of climate change: an assessment of uncertainties and its implications for adaptation policies. Environ Health 11(67):1–16. doi:10.1186/1476-069X-11-67

WHO (2004) Health and global environmental change series, no. 2. Heat-waves: risks and responses. World Health Organization

WHO (2007) Improving public health responses to extreme weather events. IV Preventing heat-related health effects. The prevention framework. World Health Organization

WHO (2010) WHO Collaboration Center for Housing and Health Newsletter No. 7. http://www.gesundheitsamt-bw.de/SiteCollectionDocuments/10_Kompz_WHOCC/Newsletter7.pdf

Wikler D (2002) Personal and Social responsibility for health. Ethics Int Aff 16(2):47–55. doi:10.1111/j.1747-7093.2002.tb00396.x

Wilhelmi OV, Hayden MH (2010) Connecting people and place: a new framework for reducing urban vulnerability to extreme heat. Environ Res Lett 5:014021. doi:10.1088/1748-9326/5/1/014021

Wolf J, Adger WN, Lorenzoni I, Abrahamson V, Raine R (2010) Social capital, individual responses to heat waves and climate change adaptation: an empirical study of two UK cities. Glob Environ Change 20:44–52. doi:10.1016/j.gloenvcha.2009.09.004

WPG (2008) Wet Publieke Gezondheid. http://wetten.overheid.nl/BWBR0024705/geldigheidsdatum_31-01-2014
Electronic supplementary material
Below is the link to the electronic supplementary material.
About this article
Cite this article
Mees, H.L.P., Driessen, P.P.J. & Runhaar, H.A.C. "Cool" governance of a "hot" climate issue: public and private responsibilities for the protection of vulnerable citizens against extreme heat. Reg Environ Change 15, 1065–1079 (2015). https://doi.org/10.1007/s10113-014-0681-1
Received:

Accepted:

Published:

Issue Date:
Keywords
Adaptation

Climate change

Heat waves

Vulnerability

Divisions of responsibilities

Local governance