Abstract
Knowledge of cropping areas and climate change is crucial to understanding the causes and consequences of global land use change, and the response of rice areas to climate change is a hot topic to global food security. This study investigates the impacts of climate change on suitable areas for rice cultivation and how the actual cultivated area of rice has been altered in response to climate change during the past three decades. To understand whether the shifts in the extent and location of rice cropping areas match the pattern of climate change, the yearly climate data from 726 weather stations and the rice census data from 2,343 counties were employed to simulate the climatically suitable region for rice using the MaxEnt species distribution model, as well as to model the actual geographical distribution of rice using the spatial allocation production model in each decade. The results show that approximately 3.9 % of all Chinese land area (roughly 3.7 × 107 ha) has become suitable for rice due to climate change over the past three decades, representing new potential areas for rice cultivation. Meanwhile, the actual rice cropping area has increased by approximately 18.2 %, indicating that the extent and location of the rice expansion match the pattern of climate change. However, some spatial inconsistencies did exist between the actual rice area's expansion and the climatically suitable region after 1990. Nevertheless, climate change was a possible factor impacting the geospatial and temporal changes of the actual rice cropping area in China.
Access options
Buy single article
Instant access to the full article PDF.
US$ 39.95
Tax calculation will be finalised during checkout.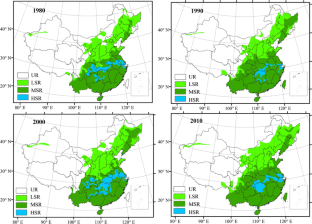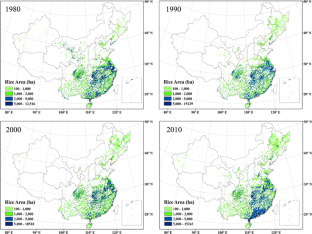 References
Beck J (2013) Predicting climate change effects on agriculture from ecological niche modeling: who profits, who loses? Clim Change 116(2):177–189

Biradar CM, Thenkabail PS, Noojipady P, Li Y, Dheeravath V, Turral H, Velpuri M, Gumma MK, Gangalakunta ORP, Cai XL, Xiao X, Schull MA, Alankara RD, Gunasinghe S, Mohideen S (2009) A global map of rainfed cropland areas (GMRCA) at the end of last millennium using remote sensing. Int J Appl Earth Obs Geoinf 11(2):114–129

Brown ME, Funk CC (2008) Food security under climate change. Science 319(5863):580

Cruz RV, Harasawa H, Lal M, Wu S, Anokhin Y, Punsalmaa B, Honda Y, Jafari M, Li C, Huu Ninh N (2007) Asia. Climate change 2007: impacts, adaptation and vulnerability. In: Parry ML, Canziani OF, Palutikof JP, van der Linden PJ, Hanson CE (eds) Contribution of working group II to the fourth assessment report of the intergovernmental panel on climate change. Cambridge University Press, Cambridge, pp 469–506

Dale VH (1997) The relationship between land-use change and climate change. Ecol Appl 7(3):753–769

Döll P (2002) Impact of climate change and variability on irrigation requirements: a global perspective. Clim Change 54:269–293

Duan JQ, Zhou GS (2011) Potential distribution of rice in china and its climate characteristics. Acta Ecol Sinica 31(22):6659–6668 (in Chinese)

Duan JQ, Zhou GS (2013) Dynamics of decadal changes in the distribution of double-cropping rice cultivation in China. Chin Sci Bull 58(16):1955–1963

Elith J (2002) Quantitative methods for modeling species habitat: comparative performance and an application to Australian plants. In: Ferson S, Burgman M (eds) Quantitative methods for conservation biology. Springer, New York, pp 39–58

Elith J, Phillips SJ, Hastie T, Dudík M, Chee YE, Yates CJ (2011) A statistical explanation of MaxEnt for ecologists. Divers Distrib 17(1):43–57

FAO (1996) Agro-ecological Zoning Guidelines. FAO Soils Bulletin 73. Rom. www.fao.org

Foley JA, DeFries R, Asner GP, Barford C, Bonan G, Carpenter SR, Chapin FS, Coe MT, Daily GC, Gibbs HK, Helkowski JH, Holloway T, Howard EA, Kucharik CJ, Monfreda C, Patz JA, Prentice C, Ramankutty N, Snyder PK (2005) Global consequences of land use. Science 309(5734):570–574

Gao J, Liu Y (2011) Climate warming and land use change in Heilongjiang Province, Northerast China. Appl Geogr 31:476–482

Holdridge LR (1967) Life zone ecology, Revised edn. Tropical Science Center, San Jose Costa Rica

Lin GCS, Ho SPS (2003) China's land resources and land-use change: insights from the 1996 land survey. Land Use Policy 20(2):87–107

Liu J, Liu M, Tian H, Zhuang D, Zhang Z, Zhang W, Tang X, Deng X (2005) Spatial and temporal patterns of China's cropland during 1990–2000: an analysis based on Landsat TM data. Remote Sens Environ 98(4):442–456

Liu Z, Li Z, Tang P, Li Z, Wu W, Yang P, You L, Tang H (2013) Change analysis of rice area and production in China during the past three decades. J Geogr Sci 23(6):1005–1018

Lobell DB, Field CB (2007) Global scale climate–crop yield relationships and the impacts of recent warming. Environ Res Lett 2:014002

Lobell DB, Schlenker W, Costa-Roberts J (2011a) Climate trends and global crop production since 1980. Science 333(6042):616–620

Lobell DB, Banziger M, Magorokosho C, Vivek B (2011b) Nonlinear heat effects on African maize as evidenced by historical yield trials. Nat Clim Change 1(1):42–45

Machovina B, Feeley KJ (2013) Climate change driven shifts in the extent and location of areas suitable for export banana production. Ecol Econ 95:83–95

Mendelsohn R, Dinar A (2009) Land use and climate change interactions. Annu Rev Resour Econ 1(1):309–332

MOA (2011). http://zzys.agri.gov.cn

Monfreda C, Ramankutty N, Foley JA (2008) Farming the planet: 2. the geographic distribution of crop areas and yields in the year 2000. Global Biogeochem Cycles 22(1):GB1022

Ohta S, Kimura A (2007) Impacts of climate changes on the temperature of paddy waters and suitable land for rice cultivation in Japan. Agric For Meteorol 147:186–198

Olesen JE, Trnka M, Kersebaum KC, Skjelvåg AO, Seguin B, Peltonen-Sainio P, Rossi F, Kozyra J, Micale F (2011) Impacts and adaptation of European crop production systems to climate change. Eur J Agron 34(2):96–112

Olmstead AL, Rhode PW (2011) Adapting North American wheat production to climatic challenges, 1839-2009. PNAS 108:480–485

Ortiz R, Sayrea KD, Govaerts B, Gupta R, Subbarao GV, Ban T, Hodson D, Dixon JM, Ortiz-Monasterio JI, Reynolds M (2008) Climate change: Can wheat beat the heat? Agric Ecosyst Environ 126(1–2):46–58

Peng S, Huang J, Sheehy JE, Laza RC, Visperas RM, Zhong X, Centeno GS, Khush GS, Cassman KG (2004) Rice yields decline with higher night temperature from global warming. PNAS 101:9971–9975

Peng D, Huete AR, Huang J, Wang F, Sun H (2011) Detection and estimation of mixed paddy rice cropping patterns with MODIS data. Int J Appl Earth Obs Geoinf 13(1):13–23

Phillips SJ, Dudik M (2008) Modeling of species distributions with MaxEnt: new extensions and a comprehensive evaluation. Ecography 31(2):161–175

Phillips SJ, Anderson RP, Schapire RE (2006) Maximum entropy modeling of species geographic distributions. Ecol Model 190:231–259

Phillips SJ, Dudík M, Elith J, Graham CH, Lehmann A, Leathwick J, Ferrier S (2009) Sample selection bias and presence-only distribution models: implications for background and pseudo-absence data. Ecol Appl 19(1):181–197

Piao SL, Ciais P, Huang Y, Shen ZH, Peng SS, Li JS, Zhou LP, Liu HY, Ma YC, Ding YH, Friedlingstein P, Liu CZ, Tan K, Yu YQ, Zhang TY, Fang JY (2010) The impacts of climate change on water resources and agriculture in China. Nature 467:43–51

Portmann FT, Siebert S, Döll P (2010) MIRCA2000-Global monthly irrigated and rainfed crop areas around the year 2000: a new high-resolution data set for agricultural and hydrological modeling. Global Biogeochem Cycles 24(1):GB1011

Shi W, Tao F, Liu J, Xu X, Kuang W, Dong J, Shi X (2014) Has climate change driven spatio-temporal changes of cropland in northern China since the 1970s? Clim Change. doi:10.1007/s10584-014-1088-1

Sun FH, Yang XQ, Lu S, Yang SY (2006) The contrast analysis on the average and extreme temperature trend in Northeast China. Sci Meteorol Sin 26:157–163

Tao F, Yokozawa M, Xu Y, Hayashi Y, Zhang Z (2006) Climate changes and trends in phenology and yields of field crops in China, 1981–2000. Agric For Meteorol 138(1):82–92

Tong C, Hall CAS, Wang H (2003) Land use change in rice, wheat and maize production in China (1961–1998). Agric Ecosyst Environ 95:523–536

van Asselen S, Verburg PH (2013) Land cover change or land-use intensification: simulating land system change with a global-scale land change model. Glob Change Biol. doi:10.1111/gcb.12331

Veldkamp A, Lambin EF (2001) Predicting land-use change. Agric Ecosyst Environ 85(1):1–6

Verburg PH, Neumann K, Nol L (2010) Challenges in using land use and land cover data for global change studies. Glob Change Biol. doi:10.1111/j.1365-2486.2010.02307.x

Verburg PH, Mertz O, Erb KH, Haberl H, Wu W (2013) Land system change and food security: towards multi-scale land system solutions. Current Opin Environ Sustain 5(5):494–502

Vermeulen SJ, Campbell BM, Ingram JSI (2012) Climate change and food systems. Annu Rev Environ Resour 37:195–222

Wang P, Zhang Z, Song X, Chen Y, Wei X, Shi P, Tao F (2014) Temperature variations and rice yields in China: historical contributions and future trends. Clim Change. doi:10.1007/s10584-014-1136-x

Wheeler T, von Braun J (2013) Climate change impact on global food security. Science 341:508

Wu W, Verburg PH, Tang H (2013) Climate change and the food production system: impacts and adaptation in China. Reg Environ Change. doi:10.1007/s10113-013-0528-1

Xiao X, Boles S, Liu J, Zhuang D, Frolking S, Li C, Salas W, Moore B III (2005) Mapping paddy rice agriculture in southern China using multi-temporal MODIS images. Remote Sens Environ 95(4):480–492

Xiao X, Boles S, Frolking S, Li C, Babu JY, Salas W, Moore B (2006) Mapping paddy rice agriculture in South and Southeast Asia using multi-temporal MODIS images. Remote Sens Environ 100(1):95–113

Xiong W, Holman I, You L, Yang J, Wu W (2013) Impacts of observed growing-season warming trends since 1980 on crop yield in China. Reg Environ Change. doi:10.1007/s10113-013-0418-6

Yan D, Schneider UA, Schmid E, Huang HQ, Pan L, Dilly O (2013) Interactions between land use change, regional development, and climate change in the Poyang Lake district from 1985 to 2035. Agric Syst 119:10–21

Yang X, Liu Z, Chen F (2011) The possible effect of climate warming on northern limits of cropping system and crop yield in China. Agric Sci China 10(4):585–594

Ye L, Xiong W, Li Z, Yang P, Wu W, Yang G, Fu Y, Zou J, Chen Z, van Rast E, Tang H (2013) Climate change impact on China food security in 2050. Agron Sustain Dev 33(2):363–374

Yesson C, Culham A (2006) A phyloclimatic study of Cyclamen. BMC Evol Biol 6:72–95

You L, Wood S (2006) An entropy approach to spatial disaggregation of agricultural production. Agric Syst 90(1):329–347

You L, Wood S, Wood-Sichra U (2009) Generating plausible crop distribution maps for Sub-Saharan Africa using a spatially disaggregated data fusion and optimization approach. Agric Syst 99(2):126–140

You L, Wood S, Wood-Sichra U, Wu W (2014) Generating crop distribution maps: from census to grid. Agric Syst 127:53–60

Yu Y, Huang Y, Zhang W (2012) Changes in rice yield in China since 1980 associated with cultivar improvement, climate and crop management. Field Crops Res 136:65–75

Yun Y, Fang X, Wang Y, Tao J, Qiao D (2005) Main grain crops structural change and its climate background in Heilongjiang province during the past two decades. J Nat Resour 20:697–705 (in Chinese with English abstract)

Zhang T, Huang Y, Yang X (2013) Climate warming over the past three decades has shortened rice growth duration in China and cultivar shifts have further accelerated the process for late rice. Glob Change Biol 19(2):563–570

Zhang S, Tao F, Zhang Z (2014) Rice reproductive growth duration increased despite of negative impacts of climate warming across China during 1981–2009. Eur J Agron 54:70–83

Zhu XX, Fang XQ, Wang Y (2008) Responses of corn and rice planting area to temperature changes based on RS in the west of Heilongjiang Province. Scientia Geogra Sinica 28(1):66–71 (in Chinese with English abstract)
Acknowledgments
We are grateful for the financial support for our initial and ongoing research from the National Natural Science Foundation of China (Grant Nos. 41171328, and 41201184) and the National Basic Research Program of China (973 Program) (Grant No. 2010CB951502).
About this article
Cite this article
Liu, Z., Yang, P., Tang, H. et al. Shifts in the extent and location of rice cropping areas match the climate change pattern in China during 1980–2010. Reg Environ Change 15, 919–929 (2015). https://doi.org/10.1007/s10113-014-0677-x
Received:

Accepted:

Published:

Issue Date:
Keywords
Climate change pattern

Rice suitability area

Actual rice cropping area

China