Abstract
Farmers' behavioural attitudes towards climate change are complex and poorly understood, making difficult the development of mitigation and adaptation policies that would be accepted and implemented. So far, the scientific literature has not clearly framed behavioural barriers related to the uptake of mitigation and adaptation strategies. Therefore behavioural barriers are frequently not considered in the modelling framework for climate change policy assessments. This paper presents a method that frames farmers' behavioural barriers and analyses their main determinants in order to incorporate behavioural constraints in the modelling frameworks. Three focus group discussions and a household survey were carried out in order to assess farmers' behavioural barriers taking into account the perspectives of both farmers and agricultural technical advisors. The analytical framework includes Principal Component Analysis to identify behavioural barriers and a binary Logit model to analyse the marginal effects of their main determinants. Farming experience, educational attainment and receiving climate information seem to be the key factors that determine the probability of displaying or not displaying most behavioural barriers. This work presents a method to model behavioural barriers in the context of the adoption of climate change adaptation and mitigation practices. Since a better understanding of behavioural barriers can help to enhance the support of mitigation and adaptation policies to farmers, this study could provide a valuable contribution to the deliberation of climate change policies in Kenya.
Access options
Buy single article
Instant access to the full article PDF.
US$ 39.95
Tax calculation will be finalised during checkout.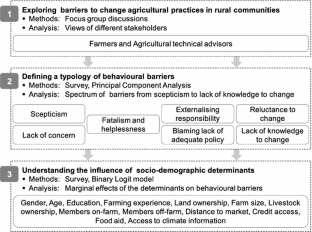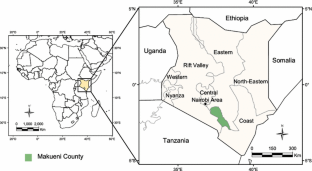 References
Adger WN, Dessai S, Goulden M, Hulme M, Lorenzoni I, Nelson DR, Naess LO, Wolf J, Wreford A (2009) Are there social limits to adaptation to climate change? Clim Change 93:335–354

Asfaw A, Admassie A (2004) The role of household member's education on the adoption of agricultural inputs under different environments in Ethiopia. Agric Econ 30(3):215–228

Brouwer R, Schaafsma M (2013) Modelling risk adaptation and mitigation behaviour under different climate change scenarios. Clim Change 117:11–29

Bryan E, Deressa T, Gbetibouo G, Ringler C (2009) Adaptation to climate change in Ethiopia and South Africa: options and constraints. Environ Sci Policy 12:413–426

Bryan E, Ringler C, Okoba B, Koo J, Herrero M, Silvestri S (2013a) Can agriculture support climate change adaptation, greenhouse gas mitigation and rural livelihoods? insights from Kenya. Clim Change 118:151–165

Bryan E, Ringler C, Okoba B, Roncoli C, Silvestri S, Herrero M (2013b) Adapting agriculture to climate change in Kenya: household strategies and determinants. J Environ Manag 114:26–35

Comrey AL, Lee HB (1992) A first course in factor analysis, 2nd edn. Lawrence Erlbaum Associates, Hillsdale

Cortina JM (1993) What is coefficient alpha—an examination of theory and applications. J Appl Psychol 78:98–104

Croppenstedt A, Demeke M, Meschi MM (2003) Technology adoption in the presence of constraints: the case of fertilizer demand in Ethiopia. Rev Dev Econ 7(1):58–70

Davis JL, Le B, Coy AE (2011) Building a model of commitment to the natural environment to predict ecological behavior and willingness to sacrifice. J Environ Psychol 31:257–265

Deressa TT, Hassan RM, Ringler C, Alemu T, Yesuf M (2009) Determinants of farmers' choice of adaptation methods to climate change in the Nile Basin of Ethiopia. Glob Environ Change 19:248–255

Eurobarometer Surveys on Climate Change (2011) European's Attitudes Towards Climate Change. http://ec.europa.eu/public_opinion/archives/ebs/ebs_372_en.pdf. Accessed June 2013

FAO (2009) Food security and agricultural mitigation in developing countries: options for capturing synergies. FAO, Rome

Fransson N, Gärling T (1999) Environmental concern: conceptual definitions, measurement methods, and research findings. J Environ Psychol 19:369–382

García de Jalón S, Iglesias A, Quiroga S, Bardají I (2013) Exploring public support for climate change adaptation policies in the Mediterranean region: a case study in Southern Spain. Environ Sci Policy 29:1–11

Gbetibouo GA (2009) Understanding farmers' perceptions and adaptations to climate change and variability: the case of the Limpopo Basin, South Africa. IFPRI discussion paper, 849

Gebrehiwot T, van der Veen A (2013) Farm level adaptation to climate change: the case of farmer's in the Ethiopian Highlands. J Environ Manag 52:29–44

Greiner R, Patterson L, Miller O (2009) Motivations, risk perceptions and adoption of conservation practices by farmers. Agric Syst 99:86–104

Herrero M, Ringler C, van de Steeg J, Thornton P, Zhu T, Bryan E, Omolo A, Koo J, Notenbaert A (2010) Climate variability and climate change and their impacts on Kenya's agricultural sector. ILRI, Nairobi

Howden SM, Soussana JF, Tubiello FN, Chhetri N, Dunlop M, Meinke H (2007) Adapting agriculture to climate change. PNAS 104(50):19691–19696

IFAD (2008) IFAD's response to climate change through support to adaptation and related actions. Strengthening IFAD's capacity to mainstream climate change adaptation in its operations. Comprehensive report: Final version. http://www.ifad.org/climate/resources/adaptation.pdf. Accessed January 2014

Ifejika Speranza C, Kiteme B, Wiesmann U (2008) Droughts and famines: the underlying factors and the causal links among agro-pastoral households in semi-arid Makueni district, Kenya. Glob Environ Change 18:220–233

Iglesias A, Quiroga S, Diz A (2011) Looking into the future of agriculture in a changing climate. Eur Rev Agric Econ 38(3):427–447

Igoden C, Ohoji P, Ekpare J (1990) Factors associated with the adoption of recommended practices for maize production in the Lake Basin of Nigeria. Agric Adm Ext 29(2):149–156

IPCC (2013) Summary for policymakers. In: Climate change 2013: the physical science basis. In: Stocker TF, Qin D, Plattner G-K, Tignor M, Allen SK, Boschung J, Nauels A, Xia Y, Bex V, Midgley PM (eds) Contribution of Working Group I to the fifth assessment report of the intergovernmental panel on climate change. Cambridge University Press, Cambridge

Islam MM, Barnes A, Toma L (2013) An investigation into climate change scepticism among farmers. J Environ Psychol 34:137–150

Jones L, Boyd E (2011) Exploring social barriers to adaptation: insights from Western Nepal. Glob Environ Change 21:1262–1274

Kaiser HF (1974) An index of factorial simplicity. Psychometrika 39:31–36

Knowler D, Bradshaw B (2007) Farmers' adoption of conservation agriculture: a review and synthesis of recent research. Food Policy 32:25–48

Lal R (2004) Soil carbon sequestration impacts on global climate change and food security. Science 304:1623–1627

Le Dang H, Li E, Bruwer J, Nuberg I (2013) Farmers' perceptions of climate variability and barriers to adaptation: lessons learned from an exploratory study in Vietnam. Mitig Adapt Strateg Glob Change. doi:10.1007/s11027-012-9447-6

Lin J (1991) Education and innovation adoption in agriculture: evidence from hybrid rice in China. Am J Agric Econ 73(3):713–723

Lorenzoni I, Nicholson-Coleb S, Whitmarsh L (2007) Barriers perceived to engaging with climate change among the UK public and their policy implications. Glob Environ Change 17:445–459

Marenya PP, Barrett CB (2007) Household-level determinants of adoption of improved natural resources management practices among smallholder farmers in western Kenya. Food Policy 32(4):515–536

McCright AM, Dunlap RE, Xiao C (2013) Perceived scientific agreement and support for government action on climate change in the USA. Clim Change 119:511–518

Michel-Guillou E, Moser G (2006) Commitment of farmers to environmental protection: from social pressure to environmental conscience. J Environ Psychol 26:227–235

Moran D, Lucas A, Barnes A (2013) Mitigation win–win. Nat Clim Change 3:611–613

Moser SC, Ekstrom JA (2010) A framework to diagnose barriers to climate change adaptation. PNAS 107(51):22026–22031

Mwangangi M, Mutie M, Mango J (2012) Summary of baseline household survey results: Makueni, Kenya. CGIAR Research Program on Climate Change Agriculture and Food Security (CCAFS), Copenhagen. www.ccafs.cgiar.org. Accessed April 2013

Næss LO, Bang G, Eriksen S, Vevatne J (2005) Institutional adaptation to climate change: flood responses at the municipal level in Norway. Glob Environ Change 15:125–138

Nhemachena C, Hassan R (2007) Micro-level analysis of farmers' adaptation to climate change in Southern Africa. IFPRI Discussion Paper No. 00714. International Food Policy Research Institute, Washington, DC. http://www.ifpri.org/sites/default/files/publications/ifpridp00714.pdf. Accessed January 2014

Niggli U, Fliefibach A, Hepperly P, Scialabba N (2009) Low greenhouse gas agriculture: mitigation and adaptation potential of sustainable farming systems. FAO, Rome

OECD (2012) Farmer behaviour, agricultural management and climate change. OECD Publishing. http://dx.doi.org/10.1787/9789264167650-en. Accessed Jan 2014

Patt A, Suarez P, Hess U (2010) How do small-holder farmers understand insurance, and how much do they want it? Evidence from Africa. Glob Environ Change 20:153–161

Pattanayak SK, Mercer DE, Sills E, Yang JC (2003) Taking stock of the agroforestry adoption studies. Agrofor Syst 57(3):173–186

Pender J, Kerr J (1998) Determinants of farmers' indigenous soil and water conservation investments in semi-arid India. Agric Econ 19:113–125

Quan J, Dyer N (2008) Climate change and land tenure. The implications of climate change for land tenure and land policy. FAO Land Tenure working paper 2. ftp://fao.org/docrep/fao/011/aj332e/aj332e00.pdf. Accessed Jan 2014

Rahmstorf S (2004) The climate sceptics. Potsdam Institute for Climate Impact Research, Potsdam. http://www.pik-potsdam.de/~stefan/Publications/Other/rahmstorf_climate_sceptics_2004.pdf. Accessed June 2013

Raymond CM, Spoehr J (2013) The acceptability of climate change in agricultural communities: comparing responses across variability and change. J Environ Manag 115:69–77

Robson C (1993) Real-world research: a resource for social scientists and practitioner-researchers. Blackwell, Oxford

Saridakis G, Marlow S, Storey DJ (2014) Do different factors explain male and female self-employment rates? J Bus Ventur 29:345–362

Schlenker W, Lobell DB (2010) Robust negative impacts of climate change on African agriculture. Environ Res Lett 5:014010

Silvestri S, Bryan E, Ringler C, Herrero M, Okoba B (2012) Climate change perception and adaptation of agro-pastoral communities in Kenya. Reg Environ Change 12:791–802

Solano C, Bernués A, Rojas F, Joaquín N, Fernandez W, Herrero M (2000) Relationship between management intensity and structural and social variables: in dairy and dual purpose systems in Santa Cruz, Bolivia. Agric Syst 65:159–177

Thornton PK, Jones PG, Owiyo T, Kruska RL, Herrero M, Kristjanson P, Notenbaert A, Bekele N, Omolo A (2006) Mapping climate vulnerability and poverty in Africa. Report to the Department for International Development, Nairobi. 171 pp. http://www.acts.or.ke/dmdocuments/Mapping_Vuln_Africa.pdf. Accessed Apr 2013

Tompkins EL, Adger NW (2003) Defining response capacity to enhance climate change policy. Working paper 39, Tyndall Centre for Climate Change Research, University of East Anglia, Norwich. http://www.tyndall.ac.uk/. Accessed Feb 2014

World Wide Views (2009) World wide views on global warming. http://www.wwviews.org/files/AUDIO/WWViews%20Policy%20Report%20FINAL%20-%20Web%20version.pdf. Accessed July 2013

Yohe GW (2001) Mitigative capacity—the mirror image of adaptive capacity on the emissions side. Clim Change 49:247–262
Acknowledgments
This research was funded by the European Commission Animal Change project (contract no. KBBE-266018, www.animalchange.eu). We are grateful for the collaboration of farmers and agricultural technical advisors in Kenya for the valuable time and information.
About this article
Cite this article
García de Jalón, S., Silvestri, S., Granados, A. et al. Behavioural barriers in response to climate change in agricultural communities: an example from Kenya. Reg Environ Change 15, 851–865 (2015). https://doi.org/10.1007/s10113-014-0676-y
Received:

Accepted:

Published:

Issue Date:
Keywords
Behavioural barriers

Mitigation

Adaptation

Climate change

Farmers

Kenya