Abstract
Trends in annual catches of fish species in the large marine ecosystems (LMEs) of the world were analysed, relating them with changes in sea surface temperature. LMEs are large coastal areas with broad ecosystem similarities, and the vast majority of them have warmed in the period of 1982–2006. Changes in sea water temperature, induced by climate change, affect the geographic distribution of fish species in marine ecosystems. Shifts in distribution of fish will most likely affect the abundance, distribution and composition of fisheries catches. In the present paper, a decreasing trend in the catches of fish species in warming LMEs was observed. Catches in years of cold and warm winters were compared for each of the eight fish species most caught in the world. Generally, mean catches of polar and temperate species were higher in years of warm winters in the LMEs located in the northern part of the species range and in years of cold winters in LMEs of the southern regions of their ranges. Mean catches of subtropical species were higher in cold years in LMEs of lower latitudes and in warm years in LMEs of higher latitude regions. The results obtained for fish catches agree with a poleward shift of fish species as a response to ocean warming, posing challenges for future fisheries management.
Access options
Buy single article
Instant access to the full article PDF.
US$ 39.95
Tax calculation will be finalised during checkout.
Subscribe to journal
Immediate online access to all issues from 2019. Subscription will auto renew annually.
US$ 79
Tax calculation will be finalised during checkout.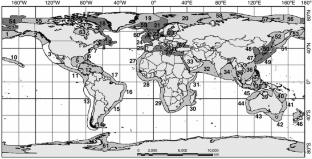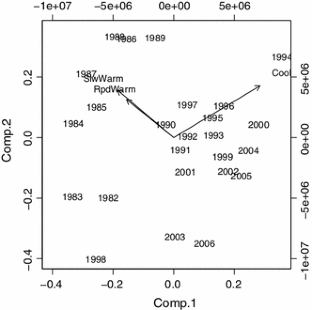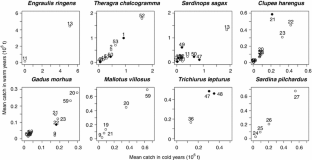 References
Arnason R (2007) Climate change and fisheries: assessing the economic impact in Iceland and Greenland. Nat Resour Model 20:163–197

Barange M, Perry RI (2009) Physical and ecological impacts of climate change relevant to marine and inland capture fisheries and aquaculture. In: Cochrane K, De Young C, Soto D, Bahri T (eds) Climate change implications for fisheries and aquaculture: overview of current scientific knowledge. FAO Fisheries and Aquaculture Technical Paper. No. 530, Rome, pp 7–106

Belkin IM (2009) Rapid warming of large marine ecosystems. Prog Oceanogr 81:207–213

Blanchard JL, Jennings S, Holmes R et al (2012) Potential consequences of climate change for primary production and fish production in large marine ecosystems. Philos Trans R Soc B 367:2979–2989

Brander KM (2007) Global fish production and climate change. Proc Natl Acad Sci USA 104:19709–19714

Brander K (2010) Impacts of climate change on fisheries. J Mar Syst 79:389–402

Brander K, Blom G, Borges MF et al (2003) Changes in fish distribution in the eastern North Atlantic: are we seeing a coherent response to changing temperature? ICES Mar Sci 219:261–270

Brown CJ, Fulton EA, Hobday AJ et al (2010) Effects of climate-driven primary production change on marine food webs: implications for fisheries and conservation. Glob Change Biol 16:1194–1212

Cabral HN, Costa MJ, Salgado JP (2001) Does the Tagus estuary fish community reflect environmental changes? Clim Res 18:119–126

Cheung WWL, Lam VWY, Sarmiento JL, Kearney K, Watson R, Pauly D (2009) Projecting global marine biodiversity impacts under climate change scenarios. Fish Fish 10:235–251

Cheung WWL, Lam VWY, Sarmiento JL, Kearney K, Watson R, Zeller D, Pauly D (2010) Large-scale redistribution of maximum fisheries catch potential in the global ocean under climate change. Glob Change Biol 16:24–35

Cheung WWL, Pinnegar J, Merino G, Jones MC, Barange M (2012) Review of climate change impacts on marine fisheries in the UK and Ireland. Aquat Conserv 22:368–388

Cheung WWL, Watson R, Pauly D (2013) Signature of ocean warming in global fisheries catch. Nature 497:365–368

Christensen A-S, Raakjær J (2006) Fishermen's tactical and strategic decisions. Fish Res 81:258–267

Christensen V, Walters CJ, Ahrens R et al (2009) Database-driven models of the world's large marine ecosystems. Ecol Model 220:1984–1996

Deepayan S (2008) Lattice: multivariate data visualization with R. Springer, New York

Drinkwater K (2005) The response of Atlantic cod (Gadus morhua) to future climate change. ICES J Mar Sci 62:1327–1337

Drinkwater KF (2006) The regime shift of the 1920s and 1930s in the North Atlantic. Prog Oceanogr 68:134–151

Drinkwater K (2009) Comparison of the response of Atlantic cod (Gadus morhua) in the high-latitude regions of the North Atlantic during the warm periods of the 1920s–1960s and the 1990s–2000s. Deep Sea Res II 56:2087–2096

Froese R, Zeller D, Kleisner K, Pauly D (2012) What catch data can tell us about the status of global fisheries. Mar Biol 159:1283–1292

Gamito R, Teixeira CM, Costa MJ, Cabral HN (2013) Climate-induced changes in fish landings of different fleet components of Portuguese fisheries. Reg Environ Change 13:413–421

Garza-Gil MD, Torralba-Cano J, Varela-Lafuente MM (2010) Evaluating the economic effects of climate change on the European sardine fishery. Reg Environ Change 11:87–95

Halpern BS, Walbridge S, Selkoe KA et al (2008) A global map of human impact on marine ecosystems. Science 319:948–952

Hare JA, Alexander MA, Fogarty MJ, Williams EH, Scott JD (2010) Forecasting the dynamics of a coastal fishery species using a coupled climate-population model. Ecol Appl 20:452–464

Heileman S, Guevara R, Chavez F, Bertrand A, Soldi H (2009) Humboldt Current: LME # 13. http://www.lme.noaa.gov. Accessed 31 May 2013

Henriques M, Gonçalves EJ, Almada VC (2007) Rapid shifts in a marine fish assemblage follow fluctuations in winter sea conditions. Mar Ecol Prog Ser 340:259–270

Hiddink JG, Hofstede R (2008) Climate induced increases in species richness of marine fishes. Glob Change Biol 14:453–460

IPCC (2007) In: Solomon S, Qin D, Manning M et al (eds) Climate change 2007: the physical science basis. Contribution of working group I to the fourth assessment report of the Intergovernmental Panel on Climate Change. Cambridge University Press, Cambridge, United Kingdom and New York, USA

Kim S (2010) Fisheries development in northeastern Asia in conjunction with changes in climate and social systems. Mar Policy 34:803–809

Lehodey P, Alheit J, Barange M et al (2006) Climate variability, fish, and fisheries. J Clim 19:5009–5030

MacCall A, Batchelder H, King J et al (2005) Appendix 2: recent ecosystem changes in the California Current system In: King JR (ed) PICES Scientific Report No 28. Report of the study group on fisheries and ecosystem responses to recent regime shifts. North Pacific Marine Science Organization (PICES), Sidney, Canada, pp 65–86

MacNeil MA, Graham NAJ, Cinner JE et al (2010) Transitional states in marine fisheries: adapting to predicted global change. Philos Trans R Soc B 365:3753–3763

Merino G, Barange M, Blanchard JL et al (2012) Can marine fisheries and aquaculture meet fish demand from a growing human population in a changing climate? Glob Environ Change 22:795–806

Overland JE, Wang M (2007) Future regional Arctic sea ice declines. Geophys Res Lett 34:L17705

Pauly D (2007) The Sea Around Us Project: documenting and communicating global fisheries impacts on marine ecosystems. AMBIO 36:290–295

Pauly D, Christensen V, Guénette S et al (2002) Towards sustainability in world fisheries. Nature 418:689–695

Pauly D, Alder J, Booth S et al (2008) Fisheries in large marine ecosystems: descriptions and diagnoses. In: Sherman K, Hempel G (eds) Regional seas report and studies 182. Nairobi, Kenya, UNEP, pp 23–40

Pauly D, Hilborn R, Branch TA (2013) Does catch reflect abundance? Nature 494:303–306

Perry AL, Low PJ, Ellis JR, Reynolds JD (2005) Climate change and distribution shifts in marine fishes. Science 308:1912–1915

Pfeiffer L, Haynie AC (2012) The effect of decreasing seasonal sea-ice cover on the winter Bering Sea pollock fishery. ICES J Mar Sci 69:1148–1159

Pikitch EK, Rountos KJ, Essington TE et al. (2014) The global contribution of forage fish to marine fisheries and ecosystems. Fish Fish 15:43–64

Pörtner HO, Peck MA (2010) Climate change effects on fishes and fisheries: towards a cause-and-effect understanding. J Fish Biol 77:1745–1779

Pörtner H, Berdal B, Blust R et al (2001) Climate induced temperature effects on growth performance, fecundity and recruitment in marine fish: developing a hypothesis for cause and effect relationships in Atlantic cod (Gadus morhua) and common eelpout (Zoarces viviparus). Cont Shelf Res 21:1975–1997

R Core Team (2012) R: a language and environment for statistical computing. R Foundation for Statistical Computing, Vienna, Austria. http://www.R-project.org/

Rose G (2005a) Capelin (Mallotus villosus) distribution and climate: a sea "canary" for marine ecosystem change. ICES J Mar Sci 62:1524–1530

Rose G (2005b) On distributional responses of North Atlantic fish to climate change. ICES J Mar Sci 62:1360–1374

Santos AMP, de Borges MF, Groom S (2001) Sardine and horse mackerel recruitment and upwelling off Portugal. ICES J Mar Sci 58:589–596

Sherman K, Duda AM (1999) An ecosystem approach to global assessment and management of coastal waters. Mar Ecol Prog Ser 190:271–287

Sherman K, Belkin I, Friedland KD, O'Reilly J, Hyde K (2009) Sustainable development of the world's large marine ecosystems during climate change. AMBIO 38:215–224

Sumaila UR, Cheung WWL, Lam VWY, Pauly D, Herrick S (2011) Climate change impacts on the biophysics and economics of world fisheries. Nat Clim Change 1:449–456

Timmermann A, Oberhuber J, Bacher A, Esch M, Latif M, Roeckner E (1999) Increased El Niño frequency in a climate model forced by future greenhouse warming. Nature 398:694–697

Vinagre C, Santos FD, Cabral H, Costa MJ (2011) Impact of climate warming upon the fish assemblages of the Portuguese coast under different scenarios. Reg Environ Change 11:779–789

Watson R, Kitchingman A, Gelchu A, Pauly D (2004) Mapping global fisheries: sharpening our focus. Fish Fish 5:168–177

Watson R, Zeller D, Pauly D (2013) Primary productivity demands of global fishing fleets. Fish Fish. doi:10.1111/faf.12013
Acknowledgments
This study had the support of the Fundação para a Ciência e Tecnologia (FCT) (Pest-OE/MAR/UI0199/2011). Rita Gamito was funded with a PhD Grant (SFRH/BD/78363/2011) by the FCT. We thank Catarina Vinagre for discussions and comments on the manuscript.
About this article
Cite this article
Gamito, R., Costa, M.J. & Cabral, H.N. Fisheries in a warming ocean: trends in fish catches in the large marine ecosystems of the world. Reg Environ Change 15, 57–65 (2015). https://doi.org/10.1007/s10113-014-0615-y
Received:

Accepted:

Published:

Issue Date:
Keywords
Climate change

Fish

Fisheries

Large marine ecosystems

Sea surface temperature