Abstract
The impacts of biofuel production and the adequacy of the associated production structures are controversial matters despite a projected medium-term growth rate increase. Concurrently, electricity is increasingly perceived as a prerequisite for development. In this article, we assess the potential impacts of the local production of biofuels for electricity production on development and the food supply in the village of Laela in Western Tanzania. Based on a village survey, focus group discussions and expert interviews, we calculated the potential food security effects on four different economic types of farmer groups. The objective of this analysis was to evaluate the potential use of sunflower and groundnut oils as substitutes for fossil fuels for the production of electricity. The baseline framework is based on a comparison of crop production data with current fossil fuel consumption. The ex-ante scenarios assess the gap between the estimated yield losses and the increasing fuel demand through 2015. These comparative analyses of schemes in which vegetable oil production replaces a given level of crop production showed that replacing food crops with crops producing biofuel will most likely impact local food security negatively, causing increased hunger, especially for the poorest farmers and even if climate change is not considered.
Access options
Buy single article
Instant access to the full article PDF.
US$ 39.95
Tax calculation will be finalised during checkout.
Subscribe to journal
Immediate online access to all issues from 2019. Subscription will auto renew annually.
US$ 79
Tax calculation will be finalised during checkout.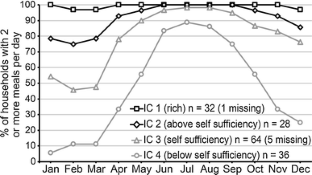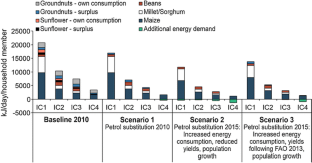 References
Ahlborg H, Hammar L (2012) Drivers and barriers to rural electrification in Tanzania and Mozambique—Grid-extension, off-grid, and renewable energy technologies. Renew Energy (0). doi:10.1016/j.renene.2012.09.057

Ahmed SA, Diffenbaugh NS, Hertel TW, Lobell DB, Ramankutty N, Rios AR, Rowhani P (2011) Climate volatility and poverty vulnerability in Tanzania. Glob Environ Change 21(1):46–55. doi:10.1016/j.gloenvcha.2010.10.003

Amigun B, Musango JK, Stafford W (2011) Biofuels and sustainability in Africa. Renew Sustain Energy Rev 15(2):1360–1372. doi:10.1016/j.rser.2010.10.015

Bazilian M, Nussbaumer P, Eibs-Singer C, Brew-Hammond A, Modi V, Sovacool B, Ramana V, Aqrawi P-K (2012a) Improving access to modern energy services: insights from case studies. Electr J 25(1):93–114. doi:10.1016/j.tej.2012.01.007

Bazilian M, Nussbaumer P, Rogner H–H, Brew-Hammond A, Foster V, Pachauri S, Williams E, Howells M, Niyongabo P, Musaba L, Gallachóir BÓ, Radka M, Kammen DM (2012b) Energy access scenarios to 2030 for the power sector in sub-Saharan Africa. Util Policy 20(1):1–16. doi:10.1016/j.jup.2011.11.002

Bogner A, Menz W (2002) Expertenwissen und Forschungspraxis: die Modernisierungstheoretische und die methodische Debatte um die Experten. In: Bogner A, Littig B, Menz W (eds) Das Experteninterview. Theorie, Methoden, Anwendungen. Leske + Budrich, Opladen, pp 7–30

Brew-Hammond A (2010) Energy access in Africa: challenges ahead. Energy Policy 38(5):2291–2301. doi:10.1016/j.enpol.2009.12.016

Cotula L, Dyer N, Vermeulen S (2008) Fuelling exclusion? The biofuels boom and poor people's access to land. IIED, London, UK

Crutzen P, Mosier A, Smith K, Winiwarter W (2009) Atmospheric N2O releases from biofuel production systems: a major factor against "CO2 Emission Savings": a global view. In: Zerefos C, Contopoulos G, Skalkeas G (eds) Twenty years of ozone decline. Springer, Netherlands, pp 67–70. doi:10.1007/978-90-481-2469-5_6

Dasappa S (2011) Potential of biomass energy for electricity generation in sub-Saharan Africa. Energy Sustai Dev 15(3):203–213. doi:10.1016/j.esd.2011.07.006

Demirbas A (2009) Political, economic and environmental impacts of biofuels: a review. Appl Energy 86(Supplement 1 (0)):S108–S117. doi:10.1016/j.apenergy.2009.04.036

Demirbas AH, Demirbas I (2007) Importance of rural bioenergy for developing countries. Energy Convers Manag 48(8):2386–2398. doi:10.1016/j.enconman.2007.03.005

Denton F (2004) Reducing the gap between projects and policies: a comparative analysis of the "butanisation" programme in Senegal and the multifunctional platform (MFP) experience in Mali. Energy Sustain Dev 8(2):17–29. doi:10.1016/S0973-0826(08)60456-1

Ejigu M (2008) Toward energy and livelihoods security in Africa: smallholder production and processing of bioenergy as a strategy. Natural Resources Forum 32:152–162. doi:10.1111/j.1477-8947.2008.00189.x

FAO (1996) Rome declaration on world food security. World Food Summit: Plan of Action § 1. http://www.fao.org/docrep/003/w3613e/w3613e00.HTM. Accessed 01.07.2013

FAO (2010) The BEFS analysis for Tanzania Environment and Natural Resources Management Working Paper, vol 35. FAO, Rome

FAO (2013) Hunger Portal. Basic definitions. http://www.fao.org/hunger/en/. Accessed 01.07.13

FAOSTAT (2013) Food and agricultural organization statistical database. http://faostat3.fao.org/home/index.html

Gaul M (2012) An analysis model for small-scale rural energy service pathways — Applied to Jatropha-based energy services in Sumbawa, Indonesia. Energy Sustain Dev 16(3):283–296. doi:10.1016/j.esd.2012.05.001

Grompone MA (2005) Sunflower oil. In: Shahidi F (ed) Bailey's Industrial Oil and Fat Products, vol 2. 6th edn. John Wiley & Sons, New York, pp 655-730. doi:10.1002/047167849X.bio017

Harvey M, Pilgrim S (2011) The new competition for land: food, energy, and climate change. Food Policy 36:S40–S51. doi:10.1016/j.foodpol.2010.11.009

Havet I (2003) Linking women and energy at the local level to global goals and targets. Energy Sustain Dev 7(3):75–79. doi:10.1016/S0973-0826(08)60369-5

Hoffmann H, Uckert G, Rordorf J, Sieber S (2012) Sunflower for horsepower—potentials of locally embedded biofuel production and consumption in Laela, Western Tanzania. In: The 10th European IFSA Symposium, Aarhus, Denmark

Holt-Giménez E (2007) Green or mean? The biofuel myths. The New York Times, New York. http://www.nytimes.com/2007/07/10/opinion/10iht-edholt.1.6588231.html?pagewanted=all. Accessed 1 July 2013

IEA (2011) Energy for all. Financing access for the poor. Special excerpt of the World Energy Outlook 2011. IEA, Paris

Johnson FX, Lambe F (2009) Energy Access, Climate and Development. Commission on Climate Change and Development, Stockholm, Sweden. http://www.sei-international.org/mediamanager/documents/Publications/Climate/ccd_energyaccessclimateanddev2009.pdf. Accessed 1 July 2013

Kaundinya DP, Balachandra P, Ravindranath NH (2009) Grid-connected versus stand-alone energy systems for decentralized power—a review of literature. Renew Sustain Energy Rev 13(8):2041–2050. doi:10.1016/j.rser.2009.02.002

Kaygusuz K (2011) Energy services and energy poverty for sustainable rural development. Renew Sustain Energy Rev 15(2):936–947. doi:10.1016/j.rser.2010.11.003

Kibazohi O, Sangwan RS (2011) Vegetable oil production potential from Jatropha curcas, Croton megalocarpus, Aleurites moluccana, Moringa oleifera and Pachira glabra: assessment of renewable energy resources for bio-energy production in Africa. Biomass Bioenergy 35(3):1352–1356. doi:10.1016/j.biombioe.2010.12.048

Kumar K (2006) Conducting mini surveys in developing countries. USAID Program Design and Evaluation Methodology Report. USAID, Washington D.C

Lahimer AA, Alghoul MA, Yousif F, Razykov TM, Amin N, Sopian K (2013) Research and development aspects on decentralized electrification options for rural household. Renew Sustain Energy Rev 24:314–324. doi:10.1016/j.rser.2013.03.057

Mitchell D (2011) Biofuels in Africa. Opportunities, prospects and challenges. The World Bank, Washington D.C

Murphy R, Woods J, Black M, McManus M (2011) Global developments in the competition for land from biofuels. Food Policy 36:S52–S61. doi:10.1016/j.foodpol.2010.11.014

Mustapha SB, Sanda AH, Shehu H (2012) Farmers' perception on climate change in central agricultural zone of Borno State, Nigeria. J Environ Earth Sci 2(11):21–27

Nonhebel S, Kastner T (2011) Changing demand for food, livestock feed and biofuels in the past and in the near future. Livest Sci 139(1–2):3–10. doi:10.1016/j.livsci.2011.03.021

Pearce F (2012) The landgrabbers. The new fight over who owns the Earth. Beacon Press, Boston

Peel MC, Finlayson BL, McMahon TA (2007) Updated world map of the Köppen–Geiger climate classification. Hydrol Earth Syst Sci 11:1633–1644. doi:10.5194/hess-11-1633-2007

Peskett L (2011) The history of mini-grid development in developing countries. Policy brief. Global Village Energy Partnership, London, UK

Rowhani P, Lobell DB, Linderman M, Ramankutty N (2011) Climate variability and crop production in Tanzania. Agric For Meteorol 151(4):449–460. doi:10.1016/j.agrformet.2010.12.002

Sanchez PA (2002) Soil fertility and hunger in Africa. Science 295(5562):2019–2020. doi:10.1126/science.1065256

Sanga GA, Meena SB (2008) Bio-fuel powered energy service platforms fir rural energy services. Design, installation, operation, maintenance and mangement. TaTEDO, Dar es Salaam

Searchinger T, Heimlich R, Houghton RA, Dong F, Elobeid A, Fabiosa J, Tokgoz S, Hayes D, Yu TH (2008) Use of U.S. croplands for biofuels increases greenhouse gases through emissions from land-use change. Science 319(5867):1238–1240. doi:10.1126/science.1151861

Szilas C, Semoka JMR, Borggaard OK (2007) Can local Minjingu phosphate rock replace superphosphate on acid soils in Tanzania? Nutr Cycl Agroecosyst 77(3):257–268. doi:10.1007/s10705-006-9064-4

Tanzania Go (2006) Rukwa. Regional and district projections Volume XII. United Republic of Tanzania, Dar es Salaam

Tanzania Go (2008) Agriculture and livestock. http://www.rukwa.go.tz/kurasa/kilimo_mifugo/kilimo/index.php. Accessed 01.07.13

Tilman D, Socolow R, Foley JA, Hill J, Larson E, Lynd L, Pacala S, Reilly J, Searchinger T, Somerville C, Williams R (2009) Beneficial biofuels–the food, energy, and environment trilemma. Science 325(5938):270–271. doi:10.1126/science.1177970

Turner AG (2003) Sampling strategies. Expert Group Meeting to Review the Draft Handbook on Designing of Household Sample Survey. UN Statistic Division

USAID (2010) Tanzania Food Security Outlook—October 2010 through March 2011 Washington

Vermeulen S, Cotula L (2010) Over the heads of local people: consultation, consent, and recompense in large-scale land deals for biofuels projects in Africa. J Peasant Stud 37(4):899–916. doi:10.1080/03066150.2010.512463

Vitale JD (2010) The commercial application of GMO crops in Africa: burkina faso's decade of experience with bt cotton. AgBioForum 13(4):320–332

von Braun J, Pachauri RK (2006) The promises and challenges of biofuels for the poor in developing countries. IFPRI 2005-2006 Annual Report Essay. IFPRI, Washington. doi:10.2499/0896299147

Williams M (2009) Energy neglect hurting poverty fight: U.N. climate chief. 21.1.2009. http://in.reuters.com/article/2009/01/21/us-india-energy-idINTRE50K36G20090121. Accessed 1 July 2013

World Bank (2007) Growth prospects for Rukwa region: constraints and opportunities. World Bank, Washington
Acknowledgments
We would like to express our gratitude to the helpful and friendly people of Laela and the German Federal Ministry for Economic Cooperation and Development (BMZ) as well as the German Federal Ministry of Education and Research (BMBF) for financing the projects Better-iS (http://www.better-is.com/) and Trans-SEC (http://www.trans-sec.org). Furthermore, we thank the Advisory Service on Agricultural Research for Development (BEAF) of the Deutsche Gesellschaft für Internationale Zusmmenarbeit (giz) for facilitating the project Better-iS. Additionally we thank the Leibniz-Centre for Agricultural Landscape Research ZALF e.V. for financing FSA-Africa which additionally supported this publication.
About this article
Cite this article
Hoffmann, H., Uckert, G., Reif, C. et al. Local biofuel production for rural electrification potentially promotes development but threatens food security in Laela, Western Tanzania. Reg Environ Change 15, 1181–1190 (2015). https://doi.org/10.1007/s10113-014-0596-x
Received:

Accepted:

Published:

Issue Date:
Keywords
Biofuels

Rural electrification

Food security

Vegetable oil

Tanzania