Abstract
Farming communities are increasingly expected to manage their agricultural activities in ways that ensure sustainable flows of a wide range of ecosystem services for society. The land use and management choices that farmers make are dependent upon their socio-economic characteristics and background, and in turn have important implications for the landscape and associated ecosystem services. Thus, a better understanding about the linkages between the characteristics of farmers, farm management and land use is important for managing multifunctional agro-ecosystems. In this paper, we first develop a typology of farmers for Torrealvilla catchment in Murcia, Spain, according to the characteristics of their households and farm management (e.g. the farmer's age, household income, water access, land tenure and farm labour). This analysis distinguishes six types of farmers. Secondly, we analyse the link between farmer typology and the farmers' responses to a number of scenarios. The scenarios describe different likely changes to agriculture in the catchment in terms of environmental constraints (irrigation water availability and rainfall pattern) and environmental policy regulation (water taxation and subsidies). This exercise enables us to explore the range of future land use changes that are likely to occur in the study area. The results indicate that: rain-fed agriculture is expected to experience gradual but extensive abandonment; vegetable/fruit farming and pig/animal rearing are likely to stagnate or even decline; and growing of grapes is likely to expand. Thirdly, we qualitatively evaluate how future land use changes are likely to affect key ecosystem services in the study area including future agricultural production and associated local income generation, erosion control, maintenance of the groundwater table and various cultural services associated with a heterogeneous agro-ecosystem. Particular changes such as expansion of grape production will increase food production and local income at the cost of further depletion of the aquifer and increased risk of salinisation. The outcomes of the study highlight that, to be effective, the design of agri-environmental schemes and other government interventions (e.g. specific compulsory regulations on farming practices and associated water use) should carefully take into account the characteristics of the farmers within the area of interest, their land uses and the possible diversity of responses to policy and environmental drivers. Opportunities exist for future studies quantifying the extent of the impacts of ecosystem service provision through formal models combining farmers' land use decision-making and spatially explicit modelling of landscape processes.
Access options
Buy single article
Instant access to the full article PDF.
US$ 39.95
Tax calculation will be finalised during checkout.
Subscribe to journal
Immediate online access to all issues from 2019. Subscription will auto renew annually.
US$ 79
Tax calculation will be finalised during checkout.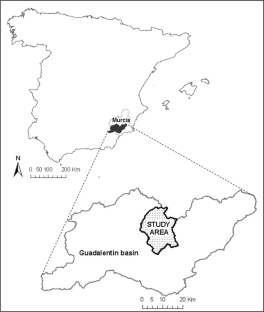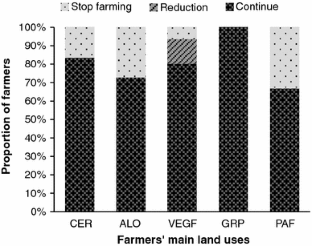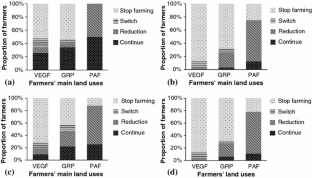 Notes
1.

The majority of farmers involved in irrigated horticulture within the Torrealvilla sub-catchment rely on groundwater abstraction.
References
Bakker MM, van Doorn AM (2009) Farmer-specific relationships between land use change and landscape factors: introducing agents in empirical land use modelling. Land Use Policy 26(3):809–817

Barreiro-Hurle J, Espinosa-Goded M, Dupraz P (2010) Does intensity of change matter? Factors affecting adoption of agri-environmental schemes in Spain. J Environ Plan Manage 53(7):891–905

Bidogeza JC, Berentsen PBM, De Graaff J, Lansink A (2009) A typology of farm households for the Umutara Province in Rwanda. Food Secur 1(3):321–335

Bowler I (1992) Sustainable agriculture as an alternative path of farm business development. In: Bowler I, Bryant CR, Nellis MD (eds) Contemporary rural systems in transitions. Redwood Press, Melksham

Bryman A (2001) Social research methods. University Press, New York

Carmona A, Nahuelhual L, Echeverria C, Baez A (2010) Linking farming systems to landscape change: an empirical and spatially explicit study in southern Chile. Agric Ecosyst Environ 139(1–2):40–50

Dale VH, Polasky S (2007) Measures of the effects of agricultural practices on ecosystem services. Ecol Econ 64(2):286–296

Daskalopoulou I, Petrou A (2002) Utilising a farm typology to identify potential adopters of alternative farming activities in Greek agriculture. J Rural Stud 18(1):95–103

de Graaff J, Eppink LAAJ (1999) Olive oil production and soil conservation in southern Spain, in relation to EU subsidy policies. Land Use Policy 16(4):259–267

de Graaff J, Kessler A, Duarte F (2011) Financial consequences of cross-compliance and flat-rate-per-ha subsidies: the case of olive farmers on sloping land. Land Use Policy 28(2):388–394

de Lauwere CC (2005) The role of agricultural entrepreneurship in Dutch agriculture of today. Agric Econ 33(2):229–238

Dunjo G, Pardini G, Gispert M (2003) Land use change effects on abandoned terraced soils in a Mediterranean catchment, NE Spain. Catena 52(1):23–37

Duvernoy I (2000) Use of a land cover model to identify farm types in the Misiones agrarian frontier (Argentina). Agric Syst 64(3):137–149

Field AP (2009) Discovering statistics using SPSS: (and sex and drugs and rock 'n' roll), 3rd edn. SAGE, London

Fish R, Seymour S, Watkins C (2003) Conserving English landscapes: land managers and agri-environmental policy. Environ Plan A 35(1):19–41

Fleskens L, de Graaff J (2008) A sustainable future for olive production on sloping land. J Environ Manage 89(2):73–74

Garcia-Martinez A, Olaizola A, Bernues A (2009) Trajectories of evolution and drivers of change in European mountain cattle farming systems. Animal 3(1):152–165

Gilg A (2009) Perceptions about land use. Land Use Policy 26:S76–S82

Gren IM, Svensson L, Carlsson M, Bishop K (2010) Policy design for a multifunctional landscape. Reg Environ Change 10(4):339–348

Hair JF, Black WC, Babin BJ, Anderson RE, Tatham RL (2006) Multivariate data analysis. Pearson Prentice Hall PTR, Upper Saddle River

Hein L (2007) Assessing the costs of land degradation: a case study for the Puentes catchment, southeast Spain. Land Degrad Dev 18(6):631–642

Joffre OM, Bosma RH (2009) Typology of shrimp farming in Bac Lieu Province, Mekong Delta, using multivariate statistics. Agric Ecosyst Environ 132(1–2):153–159

Köbrich C, Rehman T, Khan M (2003) Typification of farming systems for constructing representative farm models: two illustrations of the application of multi-variate analyses in Chile and Pakistan. Agric Syst 76(1):141–157

Lopez-Bermudez F, González-Barberá G, Alonso-Sarria F, Belmonte Serrato F (2002) Natural resources in the Guadalentin basin (south-east Spain): water as a key factor. In: Geeson NA, Brandt CJ, Thornes JB (eds) Mediterranean desertification: a mosaic of processes and responses. Wiley, Chichester, pp 233–245

Loumou A, Giourga C (2003) Olive groves: the life and identity of the Mediterranean. Agric Human Value 20(1):87–95

Millennium Ecosystem Assessment (2005) Ecosystems and human well-being: scenarios. Island Press, Washington

Milstein A, Islam MS, Wahab MA, Kamal AHM, Dewan S (2005) Characterization of water quality in shrimp ponds of different sizes and with different management regimes using multivariate statistical analysis. Aquac Int 13(6):501–518

Moreira F, Russo D (2007) Modelling the impact of agricultural abandonment and wildfires on vertebrate diversity in Mediterranean Europe. Lands Ecol 22:1461–1476

Morris C, Potter C (1995) Recruiting the new conservationists—farmers adoption of agri-environmental schemes in the UK. J Rural Stud 11(1):51–63

O'Farrell PJ, Reyers B, Le Maitre DC, Milton SJ, Egoh B, Maherry A, Colvin C, Atkinson D, De Lange W, Blignaut JN, Cowling RM (2010) Multi-functional landscapes in semi arid environments: implications for biodiversity and ecosystem services. Lands Ecol 25(8):1231–1246

Onate JJ, Peco B (2005) Policy impact on desertification: stakeholders' perceptions in southeast Spain. Land Use Policy 22(2):103–114

Padilla FM, Vidal B, Sanchez J, Pugnaire FI (2010) Land-use changes and carbon sequestration through the twentieth century in a Mediterranean mountain ecosystem: implications for land management. J Environ Manage 91(12):2688–2695

Posthumus H, Rouquette JR, Morris J, Cowing DJG, Hess TM (2010) A framework for the assessment of ecosystem goods and services: a case study on lowland floodplains in England. Ecol Econ 69(7):1510–1523

Reidsma P, Ewert F, Lansink AO, Leemans R (2009) Vulnerability and adaptation of European farmers: a multi-level analysis of yield and income responses to climate variability. Reg Environ Change 9(1):25–40

Ribaudo M, Greene C, Hansen L, Hellerstein D (2010) Ecosystem services from agriculture: steps for expanding markets. Ecol Econ 69(11):2085–2092

Riveiro JA, Marey MF, Marco JL, Alvarez CJ (2008) Procedure for the classification and characterization of farms for agricultural production planning: application in the Northwest of Spain. Comput Electron Agric 61(2):169–178

Romero Diaz A, Tobarra-Ochoa P, Lopez-Bermudez F, González-Barberá G (2002) Changing social and economic conditions in a region undergoing desertificationin the Guadalentin. In: Geeson NA, Brandt CJ, Thornes JB (eds) Mediterranean desertification: a mosaic of processes and responses. Wiley, Chichester, pp 289–301

Schoorl JM, Veldkamp A (2001) Linking land use and landscape process modelling: a case study for the Alora region (south Spain). Agric Ecosyst Environ 85(1–3):281–292

Schroter D, Cramer W, Leemans R, Prentice IC, Araujo MB, Arnell NW, Bondeau A, Bugmann H, Carter TR, Gracia CA, de la Vega-Leinert AC, Erhard M, Ewert F, Glendining JI, House S, Kankaanpaa RJT, Klein S, Lavorel M, Lindner MJ, Metzger M, Meyer J, Mitchell TD, Reginster I, Rounsevell M, Sabate S, Sitch S, Smith B, Smith J, Smith P, Sykes MT, Thonicke K, Thuiller W, Tuck G, Zaehle S, Zierl B (2005) Ecosystem service supply and vulnerability to global change in Europe. Science 310(5752):1333–1337

Thys E, Oueadraogo M, Speybroeck N, Geerts S (2005) Socio-economic determinants of urban household livestock keeping in semi-arid Western Africa. J Arid Environ 63(2):475–496

Valbuena D, Verburg PH, Bregt AK (2008) A method to define a typology for agent-based analysis in regional land-use research. Agric Ecosyst Environ 128(1–2):27–36

Valbuena D, Verburg P, Veldkamp A, Bregt AK, Ligtenberg A (2010) Effects of farmers' decisions on the landscape structure of a Dutch rural region: an agent-based approach. Lands Urban Plan 97(2):98–110

van de Steeg JA, Verburg PH, Baltenweck I, Staal SJ (2010) Characterization of the spatial distribution of farming systems in the Kenyan highlands. Appl Geogr 30(2):239–253

Verburg PH, van de Steeg J, Veldkamp A, Willemen L (2009) From land cover change to land function dynamics: a major challenge to improve land characterization. J Environ Manage 90(3):1327–1335
Acknowledgments
The farmers are highly appreciated for their willingness to take part in the interviews. Joris de Vente and Carolina Boix-Fayos are thanked for insightful discussions about the study area and David Abson for inspiring discussions over the earlier versions of the paper. We also thank two anonymous reviewers for their helpful comments. This study was funded by EU Framework 6 Desertification Mitigation & Remediation of Land—a Global Approach for Local Solutions (DESIRE) project (037046).
Electronic supplementary material
Below is the link to the electronic supplementary material.
About this article
Cite this article
Nainggolan, D., Termansen, M., Reed, M.S. et al. Farmer typology, future scenarios and the implications for ecosystem service provision: a case study from south-eastern Spain. Reg Environ Change 13, 601–614 (2013). https://doi.org/10.1007/s10113-011-0261-6
Received:

Accepted:

Published:

Issue Date:
Keywords
Farmer typology

Land use

Ecosystem services

Multivariate analysis

Future scenarios

Mediterranean agro-ecosystems