Abstract
Facial telangiectasia (FT) is a condition in which small dilated vessels visibly protrude on the surface of the skin. The aim of this study was to evaluate the efficacy and safety of a single-session pro-yellow laser in the treatment of FT and spider angioma (SA) to compare it with a limited number of studies conducted on this subject. In this pilot study, we reviewed 41 patients who admitted to our dermatology clinic with FT and SA and were treated by using pro-yellow laser. The efficacy of the treatment was evaluated using the recorded clinical information and digital camera images. The improvement was graded as complete (90–100%), very good (75–89%), good (50–74%), moderate (25–49%), and weak (< 25%). Of the 41 patients included in the study, 37 (90.2%) had FT and four (9.8%) had SA. Twenty-two patients were female and 19 were male. Pro-yellow laser therapy was generally well tolerated by patients, and minimal pain occurred during the application. In 1-month follow-up, good, very good, or complete recovery was achieved in 51.4% of the FT patients. The new pro-yellow laser only has a yellow light wavelength. Its unique wavelength at 577-nm yellow light is ideal for vascular lesions. In this study, 51.4% of the patients with FT achieved good, very good, or complete improvement after a single session of 577-nm pro-yellow laser, and complete improvement was achieved in all the four patients with SA.
This is a preview of subscription content, log in to check access.
Access options
Buy single article
Instant access to the full article PDF.
US$ 39.95
Price includes VAT for USA
Subscribe to journal
Immediate online access to all issues from 2019. Subscription will auto renew annually.
US$ 99
This is the net price. Taxes to be calculated in checkout.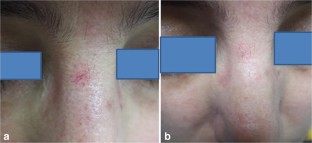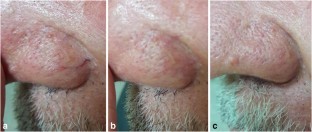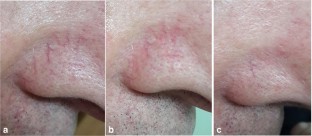 References
1.

Hare McCoppin HH, Goldberg DJ (2010) Laser treatment of facial telangiectasia: an update. Dermatol. Surg 36:1211–1230

2.

McCoy SE (1997) Copper bromide laser treatment of facial telangiectasia: results of patients treated over five years. Lasers Surg. Med 21:329–340

3.

Key JM, Waner M (1992) Selective destruction of facial telangiectasia using a copper vapor laser. Arch. Otolaryngol. Head Neck Surg 118:509–513

4.

Owen WR, Hoppe E (2012) Copper bromide laser for facial telangiectasia: a dose response evaluation. Australas J Dermatol 53:281–284

5.

Railan D, Parlette EC, Uebelhoer NS, Rohrer TE (2006) Laser treatment of vascular lesions. Clin Dermatol 24:8–15

6.

Tanzi EL, Lupton JR, Alster TS (2003) Lasers in dermatology: four decades of progress. J Am Acad Dermatol 49:1–31

7.

Baumgartner J, Šimaljakova M, Babál P (2016) Extensive angiokeratoma circumscriptum - successful treatment with 595-nm variable-pulse pulsed dye laser and 755-nm long-pulse pulsed alexandrite laser. J Cosmet Laser Ther 18:134–137

8.

Cassutoa DA, Deborah M, Emanuellia G (2000) Treatment of telangiectasia with a diode-pumped Nd:YAG laser at 532 nm. J Cutan Laser Ther 2:141–146

9.

Gao L, Qu H, Gao N, Li K, Dang E, Tan W et al (2020) A retrospective analysis for facial telangiectasia treatment using pulsed dye laser and intense pulsed light configured with different wavelength bands. J Cosmet Dermatol 19:88–92

10.

Karppinen T, Kantola E, Karppinen A, Rantamaki A, Kautiainen H, Mordon S et al (2019) Treatment of telangiectasia on the cheeks with a compact yellow (585nm) semiconductor laser and a green (532nm) KTP laser: a randomized double-blinded split-face trial. Lasers in Surgery and Medicine 9999:1–7

11.

Guina M, Rantamäki A, Härkönen A (2017) Optically pumped VECSELs: review of technology and progress. Journal of Physics D: Applied Physics 50:383001

12.

Kapicioglu Y, Sarac G, Cenk H (2019) Treatment of erythematotelangiectatic rosacea, facial erythema, and facial telangiectasia with a 577-nm pro-yellow laser: a case series. Lasers Med Sci 34:93–98

13.

Sarac G, Kapicioglu Y (2019) Efficacy of 577-nm pro-yellow laser in port wine stain treatment. Dermatol Ther. https://doi.org/10.1111/dth.13078

14.

Nam CH, Kim MH, Hong SP, Park BC (2019) Fractional 532-nm KTP diode laser and 595-nm pulsed dye laser in treatment of facial telangiectatic erythema. J Cosmet Dermatol 18:783–787

15.

Tierney E, Hanke CW (2009) Randomized controlled trial: comparative efficacy for the treatment of facial telangiectasias with 532 nm versus 940 nm diode laser. Lasers Surg Med 41:555–562

16.

Mohamed EM, Mohamed Tawfik K, Hassan Ahmad W (2019) Successful treatment of facial vascular skin diseases with a 577-nm pro-yellow laser. J Cosmet Dermatol 18:1675–1679

17.

Seo HM, Kim JI, Hs K, Choi YJ, Kim WS (2016) Prospective comparison of dual wavelength long-pulsed 755-nm alexandrite/1064-nm neodymium: yttrium-aluminum-garnet laser versus 585-nm pulsed dye laser treatment for rosacea. Ann Dermatol 28:607–614

18.

Laube S, Lanigan SW (2002) Laser treatment of rosacea. J Cosmet Dermatol 1:188–195

19.

Mohamed EM, Younes AH, Hussein GM (2020) Efficacy of 577 nm pro-yellow laser in the treatment of melasma: a prospective split-face study. J Cosmet Laser Ther 22:107–110
Ethics declarations
The authors have no conflict of interests and received no funding for this work. The study was conducted in accordance with the Helsinki Declaration. The study received the local ethics committee approval on 17 December 2019 (#134). Written consent was obtained from all patients or their parents.
Additional information
Publisher's note
Springer Nature remains neutral with regard to jurisdictional claims in published maps and institutional affiliations.
About this article
Cite this article
Turkmen, D., Altunisik, N. & Sener, S. The efficacy of a single-session pro-yellow laser in the treatment of facial telangiectasia. Lasers Med Sci (2020). https://doi.org/10.1007/s10103-020-03082-3
Received:

Accepted:

Published:
Keywords
Facial telangiectasia,

Laser therapy,

Pro-yellow laser,

Spider angioma,

577 nm