Abstract
To investigate whether the Warburg effect is a key modulator on the resistance mechanism of photodynamic therapy (PDT). Glycolysis was examined by the test of lactate product and glucose uptake at different post-PDT time points. Cell viability was detected by the CCK-8 assay and cell proliferation was detected by colony formation assay. The expression of glycolysis and related proteins were examined by western blotting. Target gene was silenced by RNAi. In the present study, we assessed the effect of PDT on cancer cell glycolysis. Our team has demonstrated that pyruvate kinase M2 (PKM2), a key speed-limiting enzyme of glycolysis, was significantly overexpressed in patients with esophageal cancer. Our results in the present study showed that PKM2 was downregulated, and lactate product and glucose uptake were inhibited in cells exposed to 5-aminolevulinic acid (5-ALA)–mediated PDT at 4 h after treatment. However, at 24 h after PDT, we observed a substantial increase in PKM2 expression, lactate product, and glucose uptake. Moreover, silencing of PKM2 gene abrogated the upregulatory effect of PDT on glycolysis at late post-PDT period. 2-Deoxy-D-glucose (2-DG) is a recognized chemical inhibitor of glycolysis. The combined treatment of 2-DG and PDT significantly inhibited tumor growth in vitro at 24 h. These results demonstrate that PDT drives the Warburg effect in a time-dependent manner, and PKM2 plays an important role in this progress, which indicated that PKM2 may be a potential molecular target to increase the sensitivity of esophageal cancer cells to PDT.
Access options
Buy single article
Instant access to the full article PDF.
US$ 39.95
Tax calculation will be finalised during checkout.
Subscribe to journal
Immediate online access to all issues from 2019. Subscription will auto renew annually.
US$ 79
Tax calculation will be finalised during checkout.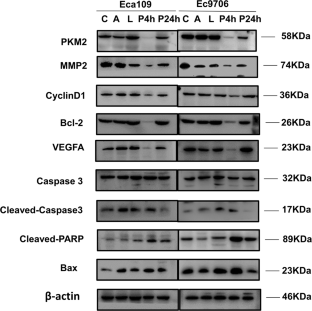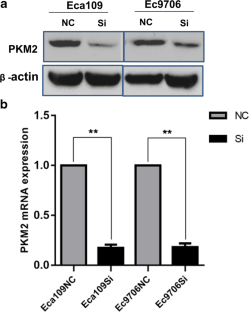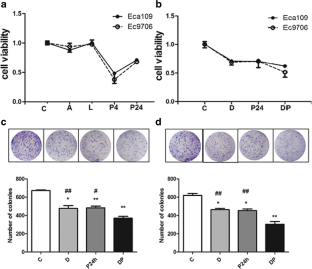 Acknowledgements
We are grateful to the Laboratory of Medical Genetics, Department of Biology, Harbin Medical University and State Key Laboratory of Molecular Oncology for their kind generosity of cells. This work was supported by the National Natural Science Foundation of China (81602662), the Wu Jieping Medical Foundation (320.6750.16002), and the Scientific Research Foundation of Harbin Medical University Cancer Hospital (BJQN2018-02).
Ethics declarations
Conflict of interest
The authors declare that they have no conflict of interest.
Additional information
Publisher's note
Springer Nature remains neutral with regard to jurisdictional claims in published maps and institutional affiliations.
About this article
Cite this article
Gan, J., Li, S., Meng, Y. et al. The influence of photodynamic therapy on the Warburg effect in esophageal cancer cells. Lasers Med Sci 35, 1741–1750 (2020). https://doi.org/10.1007/s10103-020-02966-8
Received:

Accepted:

Published:

Issue Date:
Keywords
Esophageal cancer

Photodynamic therapy

Warburg effect

Pyruvate kinase M2

2-Deoxy-D-glucose