Abstract
The aim of this study is to evaluate the clinical outcomes of micropulse transscleral cyclophotocoagulation (mTSCPC) in cases of refractory glaucoma. Patients with refractory glaucoma were selected to undergo mTSCPC, using the MP3 handpiece from Iridex Laser Systems. Follow-up examinations occurred on a regular basis for 18 months after the procedure. One hundred eyes of 97 patients were treated. Mean pre-laser intraocular pressure (IOP) was 39.14 ± 13.84 mmHg. This was reduced significantly to 22.77.8 ± 10.48 mmHg (41.82% reduction; p < 0.001) at week 1. At months 1, 3, 6, 12, and 18 the IOP mean was 23.81 ± 9.44, 24.27 ± 9.17, 23.09 ± 8.47, 22.76 ± 8.14, and 22.77 ± 8.13 mmHg. The success rate at 18 months was the highest 90.91% for the group with IOP below 26 mmHg and the lowest 70.00% for the IOP group 26–30 mmHg. The mean number of anti-glaucoma drops decreased from 2.63 ± 0.87 to 1.78 ± 0.95. The number of treatments performed was 1.26. The pain felt during the procedure was reported as being moderate. No major postoperative complications were noted. Micropulse transscleral cyclophotocoagulation is a non-invasive, repeatable laser procedure that offers both good and stable results in lowering IOP and decreases the use of antiglaucoma medications for up to 18 months.
Access options
Buy single article
Instant access to the full article PDF.
US$ 39.95
Tax calculation will be finalised during checkout.
Subscribe to journal
Immediate online access to all issues from 2019. Subscription will auto renew annually.
US$ 79
Tax calculation will be finalised during checkout.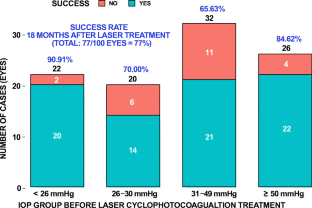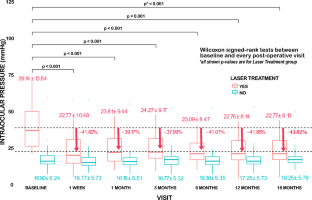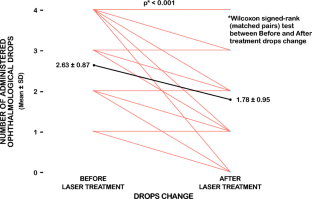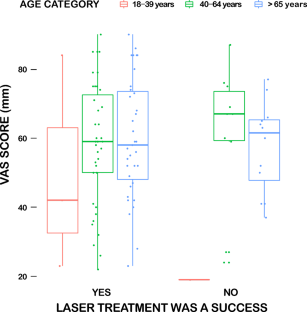 References
1.

Kingman S (2004) Glaucoma is second leading cause of blindness globally. Bull World Health Organ 82:887–888

2.

Tham YC, Li X, Wong TY et al (2014) Global prevalence of glaucoma and projections of glaucoma burden through 2040: a systematic review and meta-analysis. Ophthalmology. 121:2081–2090

3.

Flaxman SR, Bourne RA, Resnikoff S, Ackland P et al (2017) Global causes of blindness and distance vision impairment 1990–2020: a systematic review and meta-analysis. Lancet Glob Health 5(12):1221–1234

4.

Kim C, Demetriades AM, Radcliffe NM (2014) One year of glaucoma research in review: 2012 to 2013. Asia Pac J Ophthalmol (Phila) 3(1):48–55

5.

Leske MC, Heijl A, Hussein M et al (2003) Early Manifest Glaucoma Trial Group. Factors for glaucoma progression and the effect of treatment: the early manifest glaucoma trial. Arch Ophthalmol 121:48–56

6.

Weinreb R, Khaw PT (2004) Primary open-angle glaucoma. Lancet. 363:1711–1720

7.

Mokbel TH (2011) End stage glaucoma. In: Rumelt S (ed) Glaucoma - basic and clinical concepts. IntechOpen, pp 391–400

8.

Tan AM, Chockalingam M, Aquino MC, Lim ZIL, See JLS, Chew PTK (2010) Micropulse transscleral diode laser cyclophotocoagulation in the treatment of refractory glaucoma. Clin Exp Ophthalmol 38:266–272

9.

Toyos MM, Toyos R (2016) Clinical outcomes of micropulsed transcleral cyclophotocoagulation in moderate to severe glaucoma. J Clin Exp Ophthalmol 7(6):1–3

10.

Preda MA, Popa G, Karancsi OL, Musat O, Popescu SI, Munteanu M, Popa Z (2018) Effectiveness of subconjunctival bevacizumab associated with a laser-based procedure in the treatment of neovascular glaucoma. Farmacia 66(4):621–626

11.

Sanchez FG, Peirano-Bonomi JC, Grippo TM (2018) Micropulse transscleral cyclophotocoagulation: a hypothesis for the ideal parameters. Med Hypothesis Discov Innov Ophthalmol 7(3):94–100

12.

R Core Team R (2019) A language and environment for statistical computing. R Foundation for Statistical Computing, Vienna, Austria. ISBN 3–900051–07-0, URL http://www.R-project.org/

13.

Aquino MC, Barton K, Tan AM, Sng C, Li X, Loon SC, Chew PT (2014) Micropulse versus continuous wave transscleral diode cyclophotocoagulation in refractory glaucoma: a randomized exploratory study. Clin Exp Ophthalmol 43(1):40–46

14.

Emanuel ME, Grover DS, Fellman RL et al (2017) Micropulse cyclophotocoagulation: initial results in refractory glaucoma. J Glaucoma 26(8):726–729

15.

Fong AW, Lee GA, O'Rourke P, Thomas R (2011) Management of neovascular glaucoma with transscleral cyclophotocoagulation with diode laser alone versus combination transscleral cyclophotocoagulation with diode laser and intravitreal bevacizumab. Clin Exp Ophthalm 39(4):318–323

16.

Kuchar S, Moster MR, Reamer CB (2016) Treatment outcomes of micropulse transscleral cyclophotocoagulation in advanced glaucoma. Lasers Med Sci 31(2):393–396

17.

Sarrafpour S, Saleh D, Ayoub S, Radcliffe NM (2019) Micropulse transscleral cyclophotocoagulation a look at long-term effectiveness and outcomes. Ophthalmol Glaucoma 2(3):167–171

18.

Lee JH, Shi Y, Amoozgar B, Aderman C, De Alba CA, Lin S, Han Y (2017) Outcomes of MicroPulse laser TSCPC on pediatric vs adult glaucoma patients. J Glaucoma 26(10):936–939

19.

Yelenskiy A, Gillette TB, Arosemena A et al (2018) Patient outcomes following micropulse transscleral cyclophotocoagulation: intermediate-term results. J Glaucoma 27(10):920–925
Acknowledgments
The authors would like to thank Marius Ardelean for statistical analyses.
Ethics declarations
The authors have no conflict of interests and received no funding for this work.
The study was conducted in accordance with the Helsinki Declaration and in line with the "International Standard of Good Clinical Practice (ICH-GCP E6 STEP 4).
The study received the local Ethics Committee approval nr. 1/01.06.2016 and was registered on the" Iranian Registry of Clinical Trials", with the reference number IRCT20170325033136N2.
One of the inclusion criteria for our study was signed informed consent.
Additional information
Publisher's note
Springer Nature remains neutral with regard to jurisdictional claims in published maps and institutional affiliations.
About this article
Cite this article
Preda, M.A., Karancsi, O.L., Munteanu, M. et al. Clinical outcomes of micropulse transscleral cyclophotocoagulation in refractory glaucoma—18 months follow-up. Lasers Med Sci 35, 1487–1491 (2020). https://doi.org/10.1007/s10103-019-02934-x
Received:

Accepted:

Published:

Issue Date:
Keywords
Micropulse transscleral cyclophotocoagulation

Refractory glaucoma

Intraocular pressure

Diode laser