Abstract
Natural fibres of plant and animal origin have been explored vastly over the last two decades and are gaining importance over synthetic counterparts owing to their biodegradability, renewability, lightweight and better biochemical and strength properties. Plant-based natural fibres such as banana, coir, sisal, jute, kenaf and many others have been studied for industrial applications. Among these, banana fibre is of major interest as banana is one of the most consumed fruit worldwide with annual production of 115.7 million tonnes in the year 2018 and is grown in 130 countries, which makes banana waste available locally. Various parts of banana plant such as fruit, fruit peel, flower bud, leaves and pseudo-stem (banana trunk) are utilized for different industrial purposes. Pseudo-stem is the major portion of banana waste biomass and yields good quality fibre that has the potential for industrial applications in the making of sanitary pads, textiles, pulp and paper, food and reinforced composite materials for automobiles, construction material, aerospace and other composite materials. Recently, Philippine Department of Science and Technology prepared masks from banana fibre which can cut the usage of single usage plastic. This review outlines various methods of extraction of fibre, biochemical and mechanical properties of banana fibre and its applications.
Graphic abstract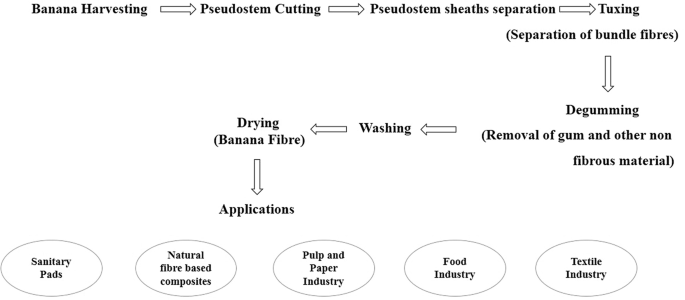 Access options
Buy single article
Instant access to the full article PDF.
US$ 39.95
Tax calculation will be finalised during checkout.
Subscribe to journal
Immediate online access to all issues from 2019. Subscription will auto renew annually.
US$ 79
Tax calculation will be finalised during checkout.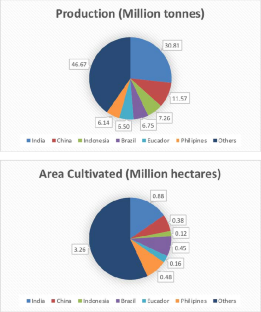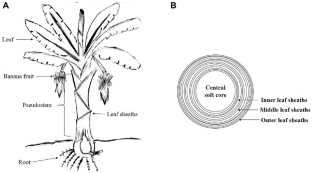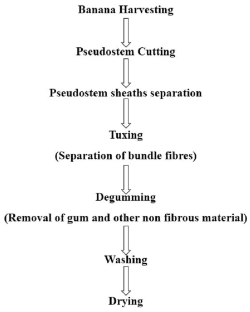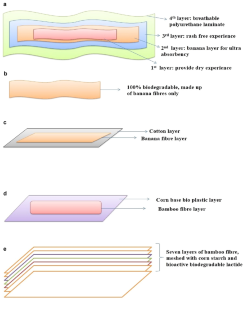 References
Akinyemi BA, Dai C (2020) Development of banana fibers and wood bottom ash modified cement mortars. Constr Build Mater 241:118041. https://doi.org/10.1016/j.conbuildmat.2020.118041

Akubueze EU, Obasa AA, Orekoya EO et al (2015) Extraction and production of agro-sack from kenaf (Hibiscus cannabinus L.), banana (Musa sapientum) and plantain (Musa paradisiacal) fibres for packaging agricultural produce. Int J Agric Crop Sci 9:9–14

Amir N, Abidin KAZ, Shiri FBM (2017) Effects of fibre configuration on mechanical properties of banana fibre/PP/MAPP natural fibre reinforced polymer composite. Procedia Engineering. Elsevier, Amsterdam, pp 573–580

Anbupalani MS, Venkatachalam CD, Rathanasamy R (2020) Influence of coupling agent on altering the reinforcing efficiency of natural fibre-incorporated polymers–a review. J Reinf Plast Compos. https://doi.org/10.1177/0731684420918937

Arifuzzaman Khan GM, Alam Shams MS, Kabir MR et al (2013) Influence of chemical treatment on the properties of banana stem fiber and banana stem fiber/coir hybrid fiber reinforced maleic anhydride grafted polypropylene/low-density polyethylene composites. J Appl Polym Sci 128:1020–1029. https://doi.org/10.1002/app.38197

Boopalan M, Niranjanaa M, Umapathy MJ (2013) Study on the mechanical properties and thermal properties of jute and banana fiber reinforced epoxy hybrid composites. Compos Part B Eng 51:54–57. https://doi.org/10.1016/j.compositesb.2013.02.033

Chiliveri SR, Koti S, Linga VR (2016) Retting and degumming of natural fibers by pectinolytic enzymes produced from Bacillus tequilensis SV11-UV37 using solid state fermentation. Springerplus 5:559. https://doi.org/10.1186/s40064-016-2173-x

Chodijah S, Zaman M (2019) Extraction of pectin from banana peels (Musa paradiasica fomatypica) for biodegradable plastic films. J Phys Conf Ser. https://doi.org/10.1088/1742-6596/1167/1/012061

Dunne R, Desai D, Sadiku R, Jayaramudu J (2016) A review of natural fibres, their sustainability and automotive applications. J Reinf Plast Compos 35:1041–1050. https://doi.org/10.1177/0731684416633898

FAOSTAT (2018) http://www.fao.org/faostat/en/#data/QC

Faruk O, Bledzki AK, Fink HP, Sain M (2012) Biocomposites reinforced with natural fibers: 2000–2010. Prog Polym Sci 37:1552–1596

Ghosh R, Reena G, Krishna AR, Raju BHL (2011) Effect of fibre volume fraction on the tensile strength of Banana fibre reinforced vinyl ester resin composites. Int J Adv Eng Sci Technol 4:89–91

González-Montelongo R, Gloria Lobo M, González M (2010) Antioxidant activity in banana peel extracts: testing extraction conditions and related bioactive compounds. Food Chem 119:1030–1039. https://doi.org/10.1016/j.foodchem.2009.08.012

Ho LH, Tan TC, Abdul Aziz NA, Bhat R (2015) In vitro starch digestibility of bread with banana (Musa acuminata X balbisiana ABB cv. Awak) pseudo-stem flour and hydrocolloids. Food Biosci 12:10–17. https://doi.org/10.1016/j.fbio.2015.07.003

IIT Delhi incubated startup sanfe launches reusable sanitary pads. In: Econ. Times. https://economictimes.indiatimes.com/small-biz/startups/newsbuzz/iit-delhi-incubated-startup-sanfe-launches-reusable-sanitary-pads/articleshow/70754146.cms

Iyer CS, Tilara S (2016) Microencapsulation of anthocyanin extracts from musa acuminata bracts and its application as a potent biocolour. Int J Food Nutr Sci 5:41

Jacob N, Niladevi KN, Anisha GS, Prema P (2008) Hydrolysis of pectin: an enzymatic approach and its application in banana fiber processing. Microbiol Res 163:538–544. https://doi.org/10.1016/j.micres.2006.07.016

Jayaprabha JS, Brahmakumar M, Manilal VB (2011) Banana pseudostem characterization and its fiber property evaluation on physical and bioextraction. J Nat Fibers 8:149–160. https://doi.org/10.1080/15440478.2011.601614

Khoozani AA, Kebede B, Birch J, Bekhit AE-DA (2020) The effect of bread fortification with whole green banana flour on its physicochemical, nutritional and in vitro digestibility. Foods 9:152. https://doi.org/10.3390/foods9020152

Kohli P, Gupta R (2019) Application of calcium alginate immobilized and crude pectin lyase from Bacillus cereus in degumming of plant fibres. Biocatal Biotransformation 37:341–348. https://doi.org/10.1080/10242422.2018.1564745

Kumar A, Singh BP, Jain RK, Sharma AK (2013a) Banana fibre (Musa sapientum): a suitable raw material for handmade paper industry via enzymatic refining. Int J Eng Res Technol 2:1338–1350

Kumar A, Singh BP, Jain RK, Sharma AK (2013b) Blending studies of hosiery waste pulp with alkaline sulphite cooked pulp of natural fibres & the use of lignosulphonate. Int J Innov Res Sci Eng Technol 2:5224–5233

Kumar NV, Krishna BS, Chandrika NS (2019) Evaluation of properties of glass-banana-fiber reinforced hybrid fiber polymer composite. Materials today: proceedings. Elsevier, Amsterdam, pp 2137–2141

Kumari S, Kumar R, Rai B, Kumar G (2019) Morphology and biodegradability study of natural latex-modified polyester-banana fiber composites. J Nat Fibers. https://doi.org/10.1080/15440478.2019.1652131

Kurhade A, Patil S, Sonawane SK et al (2016) Effect of banana peel powder on bioactive constituents and microstructural quality of chapatti: unleavened Indian flat bread. J Food Meas Charact 10:32–41. https://doi.org/10.1007/s11694-015-9273-0

Li Z, Guo K, Lin L et al (2018) Comparison of physicochemical properties of starches from flesh and peel of green banana fruit. Molecules 23:2312. https://doi.org/10.3390/molecules23092312

Maneerat N, Tangsuphoom N, Nitithamyong A (2017) Effect of extraction condition on properties of pectin from banana peels and its function as fat replacer in salad cream. J Food Sci Technol 54:386–397. https://doi.org/10.1007/s13197-016-2475-6

Manimaran A, Vatsala TM (2007) Biobleaching of banana fibre pulp using Bacillus subtilis C O1 xylanase produced from wheat bran under solid-state cultivation. J Ind Microbiol Biotechnol 34:745–749. https://doi.org/10.1007/s10295-007-0248-y

Mohan TP, Kanny K (2019) Compressive characteristics of unmodified and nanoclay treated banana fiber reinforced epoxy composite cylinders. Compos Part B Eng 169:118–125. https://doi.org/10.1016/j.compositesb.2019.03.071

Mostafa M, Uddin N (2015) Effect of banana fibers on the compressive and flexural strength of compressed earth blocks. Buildings 5:282–296. https://doi.org/10.3390/buildings5010282

Mumthas ACSI, Wickramasinghe GLD, Gunasekera US (2019) Effect of physical, chemical and biological extraction methods on the physical behaviour of banana pseudo-stem fibres: Based on fibres extracted from five common Sri Lankan cultivars. J Eng Fiber Fabr 14:155892501986569. https://doi.org/10.1177/1558925019865697

Ortega Z, Morón M, Monzón M et al (2016) Production of banana fiber yarns for technical textile reinforced composites. Materials (Basel) 9:370. https://doi.org/10.3390/ma9050370

Ove TA, Kamal MM, Nasim SMNI et al (2019) Extraction and quantification of anthocyanin from banana bracts using different ph and solvent concentration. Int J 4:60–64

Padam BS, Tin HS, Chye FY, Abdullah MI (2014) Banana by-products: an under-utilized renewable food biomass with great potential. J Food Sci Technol 51:3527–3545

Pappu A, Patil V, Jain S et al (2015) Advances in industrial prospective of cellulosic macromolecules enriched banana biofibre resources: a review. Int J Biol Macromol 79:449–458

Paz R, Monzón M, Vega G et al (2020) Use of banana crop wastes to develop products in the aquaculture and plastic sectors. Agricultural Forestry and Bioindustry Biotechnology and Biodiscovery. Springer, New York, pp 259–270

Pelissari FM, Andrade-Mahecha MM, Sobral PJDA, Menegalli FC (2012) Isolation and characterization of the flour and starch of plantain bananas (Musa paradisiaca). Starch Stärke 64:382–391. https://doi.org/10.1002/star.201100133

Petchimuthu P, Petchimuthu R, Basha SA et al (2019) Production of cost effective, biodegradable, disposable feminine sanitary napkins using banana fibres. Int J Eng Adv Technol 9:789–791. https://doi.org/10.35940/ijeat.A1145.1291S419

Pinzon MI, Sanchez LT, Garcia OR et al (2020) Increasing shelf life of strawberries (Fragaria ssp) by using a banana starch-chitosan-Aloe vera gel composite edible coating. Int J Food Sci Technol 55:92–98. https://doi.org/10.1111/ijfs.14254

Pratibha B, Jain RK, Dixit AK (2017) Biobleaching of banana fibre pulp with incorporation of xylanase enzyme from Aspergillus oryzae. Asian J Environ Sci 12:48–52

Ramesh M, Palanikumar K, Reddy KH (2017) Plant fibre based bio-composites: sustainable and renewable green materials. Renew Sustain Energy Rev 79:558–584. https://doi.org/10.1016/j.rser.2017.05.094

Ray D, Sengupta S, Sengupta SP et al (2007) A Study of the mechanical and fracture behavior of jute-fabric-reinforced clay-modified thermoplastic starch-matrix composites. Macromol Mater Eng 292:1075–1084. https://doi.org/10.1002/mame.200700111

Ray DP, Nayak LK, Ammayappan L et al (2013) Energy conservation drives for efficient extraction and utilization of banana fibre. Int J Emerg Technol Adv Eng 3:296–310

Sajna VP, Mohanty S, Nayak SK (2016) Fabrication and characterization of bionanocomposites based on poly (lactic acid), banana fiber and nanoclay. International journal of plastics technology. Springer, New Delhi, pp 187–201

Sambyal SS, Henam S, Tariang F (2019) Is green menstruation possible? In: DownToEarth. https://www.downtoearth.org.in/blog/waste/is-green-menstruation-possible--64796

Saravanan K, Aradhya SM (2011) Potential nutraceutical food beverage with antioxidant properties from banana plant bio-waste (pseudostem and rhizome). Food Funct 2:603–610. https://doi.org/10.1039/c1fo10071h

Senthilkumar K, Siva I, Rajini N et al (2018) Mechanical characteristics of tri-layer eco-friendly polymer composites for interior parts of aerospace application. Sustainable composites for aerospace applications. Woodhead Publishing, Cambridge, pp 35–53

Shirai MA, Olivato JB, Demiate IM et al (2016) Poly(lactic acid)/thermoplastic starch sheets: Effect of adipate esters on the morphological, mechanical and barrier properties. Polimeros 26:66–73. https://doi.org/10.1590/0104-1428.2123

Simbana EA, Ordóñez PE, Ordóñez YF et al (2020) Abaca: cultivation, obtaining fibre and potential uses. In: Kozłowski RM, Mackiewicz-Talarczyk M (eds) Handbook of natural fibres, 2nd edn. Woodhead Publishing, Cambridge, pp 197–218

Singh B, Singh JP, Kaur A, Singh N (2016) Bioactive compounds in banana and their associated health benefits-a review. Food Chem 206:1–11

Sujithra S, Manikkandan TR (2019) Extraction of anthocyanin from banana (Musa paradisiaca) flower bract and analysis of phytochemicals, antioxidant activities and anthocyanin content. J Chem Pharm Sci 12:102–104

Tripathi S, Singh S, Gangwar A et al (2013) Blending of banana stem with wheat straw and bagasse to enhance physical strength properties of paper. IPPTA Q J Indian Pulp Pap Tech Assoc 25:121–125

Tripathi SK, Bhardwaj NK, Chechi S, Varadhan R (2019) Suitability of banana stem pulp as replacement of softwood pulp for making superior grade unbleached paper from agro residue pulp. Appita J 72:163–178

Vardhini K, Murugan R, Surjit R (2018) Effect of alkali and enzymatic treatments of banana fibre on properties of banana/polypropylene composites. J Ind Text 47:1849–1864. https://doi.org/10.1177/1528083717714479

Vellaichamy M, Gaonkar PV (2017) Biological treatment of banana pseudostem fibre: effect on softening and mechanical properties. Int J Curr Microbiol Appl Sci 6:1268–1274. https://doi.org/10.20546/ijcmas.2017.605.137

Waghmare JS, Kurhade AH (2014) GC-MS analysis of bioactive components from banana peel (Musa sapientum peel). Eur J Exp Biol 4:10–15

Woeller KE, Hochwalt AE (2015) Safety assessment of sanitary pads with a polymeric foam absorbent core. Regul Toxicol Pharmacol 73:419–424. https://doi.org/10.1016/j.yrtph.2015.07.028

Xu S, Xiong C, Tan W, Zhang Y (2015) Microstructural, thermal, and tensile characterization of banana pseudo-stem fibers obtained with mechanical, chemical, and enzyme extraction. BioResources 10:3724–3735

Yan L, Chouw N, Huang L, Kasal B (2016) Effect of alkali treatment on microstructure and mechanical properties of coir fibres, coir fibre reinforced-polymer composites and reinforced-cementitious composites. Constr Build Mater 112:168–182. https://doi.org/10.1016/j.conbuildmat.2016.02.182
Ethics declarations
Conflict of interest
Authors declare no conflict of interest.
Additional information
Publisher's Note
Springer Nature remains neutral with regard to jurisdictional claims in published maps and institutional affiliations.
About this article
Cite this article
Balda, S., Sharma, A., Capalash, N. et al. Banana fibre: a natural and sustainable bioresource for eco-friendly applications. Clean Techn Environ Policy (2021). https://doi.org/10.1007/s10098-021-02041-y
Received:

Accepted:

Published:
Keywords
Banana fibre

Natural fibre

Eco-friendly

Sanitary pads

Reinforced composites

Pulp and paper