Abstract
The main purpose of this study is the production of a nanofiber membrane from industrial wastes by using the electrospinning technique and determination of its filtration performance. Industrial wastes such as low-density polyethylene shrink film packaging (LDPEWs) and acrylic fiber (AFWs) were used as raw materials to reduce the cost of membrane production as an alternative to expensive commercial membranes. Experiments were carried out to find suitable solvents in order to solve the LDPEWs and AFWs before the electrospinning process, and optimum mixing ratios were determined. After determining the optimum solvent mixture of LDPEWs-AFWs and their proportions, nanofibers were produced by electrospinning process on the surface polypropylene (PP) nonwoven support layer, and their structures were examined. Under optimum conditions, a hydrophilic electrospun membrane with 0.478 µm pore size (MF-microfiltration), 230 nm nanofiber diameter and 20° liquid-membrane contact angle were obtained under optimum conditions, and a membrane module was created to use in wastewater filtration experiments. In order to determine filtration performance of the produced membrane, permeability and wastewater filtration tests were carried out by using real wastewater, and high pollutant removal rates (> 95%) were obtained in our experiments.
Graphic abstract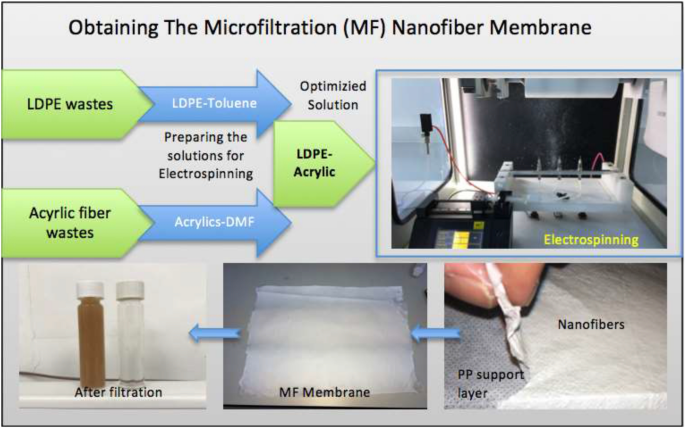 Access options
Buy single article
Instant access to the full article PDF.
US$ 39.95
Tax calculation will be finalised during checkout.
Subscribe to journal
Immediate online access to all issues from 2019. Subscription will auto renew annually.
US$ 79
Tax calculation will be finalised during checkout.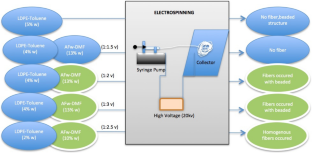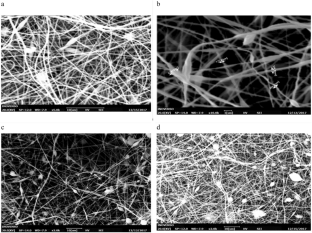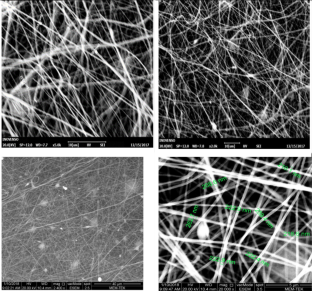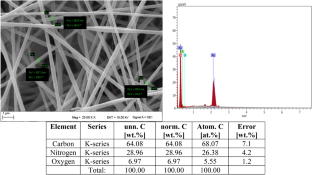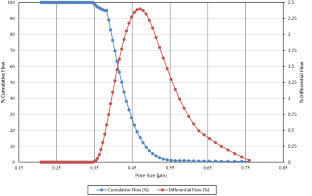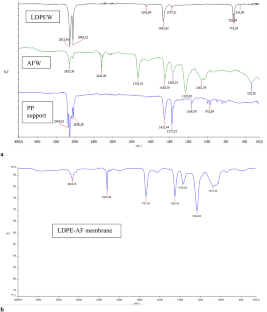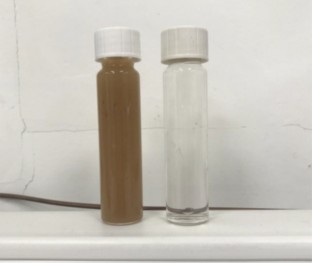 References
Ahmed R, Tariq M, Ali I, Asghar R, Khanam PN, Augustine R, Hasan A (2018) Novel electrospun chitosan/polyvinyl alcohol/zinc oxide nanofibrous mats with antibacterial and antioxidant properties for diabetic wound healing. Int J Biol Macromol 120:385–393. https://doi.org/10.1016/j.ijbiomac.2018.08.057

APHA, AWWA, WEF (1995) Standard Methods for The Examination of Water and Wastewater nineteenth ed. National government publication, Washington DC

Aslan M (2016) Membran Teknolojileri Türkiye Çevre Koruma Vakfı (TÜÇEV) Yayınları, Ankara

Aussawasathien D, Teerawattananon C, Vongachariya A (2008) Separation of micron to sub-micron particles from water: electrospun nylon-6 nanofibrous membranes as pre-filters. J Membr Sci 315:11–19

Başer İ (2002) Elyaf Bilgisi. Marmara Üniversitesi Yayınları, İstanbul

Bhutnar A, Desai A, Khapare S, Vartak S, Pangavhane A, Andrandes A (2018) Identification and structural characterization of secondary degradant of arformoterol impurity in LDPE respules of arformoterol tartrate inhalation solution. Am J Anal Chem 9:286–301. https://doi.org/10.4236/ajac.2018.95022

Bourg V, Ienny P, Caro-Bretelle AS, Le Moigne N, Guillard V, Bergeret A (2019) Modeling of internal residual stress in linear and branched polyethylene films during cast film extrusion: towards a prediction of heat-shrinkability. J Mater Process Tech 271:599–608. https://doi.org/10.1016/j.jmatprotec.2019.04.002

Cooper A, Oldinski R, Ma H, Bryers JD, Zhang M (2013) Chitosan–based nanofibrous membranes of antibacterial filter applications. Carbohydr Polym 92:254–259. https://doi.org/10.1016/j.carbpol.2012.08.114

EPA (2005) Membrane filtration guidance manual: overview and summary, 815-R-06-009. U.S Environmental Protection Agency, Cincinnati, OH

Gopal R, Kaur S, Ma Z, Chan C, Ramakrishna S, Matsuura T (2006) Electrospun nanofibrous filtration membrane. J Membr Sci 281:581–586. https://doi.org/10.1016/j.memsci.2006.04.026

Gopal R, Kaur S, Feng CY, Chan C, Ramakrishna S, Tabe S, Matsuura T (2007) Electrospun nanofibrous polysulfone membranes as pre-filters: particular removal. J Membr Sci 289:210–219. https://doi.org/10.1016/j.memsci.2006.11.056

Hassan MM, Koyama K (2018) Multifunctional acrylic fibers prepared via in-situ formed silver nanoparticles: physicochemical, UV radiation protection, and antistatic properties. Dyes and Pigm 159:517–526. https://doi.org/10.1016/j.dyepig.2018.07.013

Ho KC, Lin LY (2019) A review of electrode materials based on core–shell nanostructures for electrochemical supercapacitors. J Mater Chem A 7:3516–3530. https://doi.org/10.1039/C8TA11599K

Homaeiogohar SS, Koll J, Lilleodden ET, Elbahri M (2012) The solvent induced interfiber adhesion and its influence on the mechanical and filtration properties of poly(ether sulfone) electrospun nanofibrous microfiltration membranes. J Membr Sci 98:456–463. https://doi.org/10.1016/j.seppur.2012.06.027

Li Q (2012) Study on microstructure and mechanical properties of high temperature electrospun polyetyhlene fibers. The Graduate Faculty of the University of Akron, Akron

Li J, Xu S, Hassan M, Shao J, Ren LF, He Y (2019) Effective modeling and optimization of PVDF–PTFE electrospinning parameters and membrane distillation process by response surface methodology. J Appl Polym Sci 136:47125. https://doi.org/10.1002/app.47125

Liao Y, Loh CH, Tian M, Wang R, Fane AG (2018) Progress in electrospun polymeric nanofibrous membranes for water treatment: fabrication, modification and applications. Prog Polym Sci 77:69–94. https://doi.org/10.1016/j.progpolymsci.2017.10.003

Liu Y, Wang R, Ma H, Hsiao BS, Chu B (2013) High-flux microfiltration filters based on electrospun poly(vinyl alcohol) nanofibrous membranes. Polymer 54:548–556. https://doi.org/10.1016/j.polymer.2012.11.064

Liu ZY, Wei ZM, Wang XJ, Zhang G, Long SR, Yang J (2019) Preparation and characterization of multi-layer poly(arylene sulfide sulfone) nanofibers membranes for liquid filtration. Chinese J Polym Sci 37:1248–1256. https://doi.org/10.1007/s10118-019-2280-6

Pan CY, Xu GR, Xu K, Zhao HL, Wu YQ, Su HC, Xu JM, Das R (2019) Electrospun nanofibrous membranes in membrane distillation: recent developments and future perspectives. Sep Purif Technol 221:44–63. https://doi.org/10.1016/j.seppur.2019.03.080

Pang L, Zhao Y, Yang K, Zhai H, Lv P, Sun S (2019) Law of variation for low density polyethylene dust explosion with different inert gases. J Loss Prevent Proc 58:42–50. https://doi.org/10.1016/j.jlp.2019.01.009

Pleşa I, Notingher PV, Stancu C, Wiesbrock F, Schlögl S (2019) Polyethylene nanocomposites for power cable insulations. Polymers 11(1):24. https://doi.org/10.3390/polym11010024

Salt Y, Dinçer S (2006) An option for special separation operations: membrane processes. J Eng Nat Sci 4(1–3):1–23

Suja PS, Reshmi CR, Sagitha P, Sujith A (2017) Electrospun nanofibrous membranes for water purification. Polym Rev 57(3):467–504. https://doi.org/10.1080/15583724.2017.1309664

Tomboc GM, Kim H (2019) Derivation of both EDLC and pseudocapacitance characteristics based on synergistic mixture of NiCo2O4 and hollow carbon nanofiber: an efficient electrode towards high energy density supercapacitor. Electrochim Acta 318:392–404. https://doi.org/10.1016/j.electacta.2019.06.112

Veleirinho B, Lopes-da-Silva JA (2009) Application of electrospun poly (ethylene terephthalate) nanofiber mat to apple juice clarification. Proc Biochem 44:353–356. https://doi.org/10.1016/j.procbio.2008.11.008

Wang R, Liu Y, Lia B, Hsiao BS (2012) Electrospun nanofibrous membranes for high flux microfiltration. J Membr Sci 392–393:167–174. https://doi.org/10.1016/j.memsci.2011.12.019

Wang Z, Crandall C, Sahadevan R, Menkhaus TJ, Fong H (2017) Microfiltration performance of electrospun nanofiber membranes with varied fiber diameters and different membrane porosities and thicknesses. Polymer 114:64–72. https://doi.org/10.1016/j.polymer.2017.02.084

Wei XT, Shi WL, Li ZY, Wang ZG, Wu XL, Xu J (2018) The influences of surface roughness on the water contact angle for coated substrate with F-DLC. Key Eng Mater 764:68–77. https://doi.org/10.4028/www.scientific.net/KEM.764.68

WPCR (2004) Water Pollution and Control Regulations. Offical Gazette 31.12.2004, No:25687

Yuan Y, Lee TR (2013) Contact angle and wetting properties. In: Bracco G, Holst B (eds) Surface Science Techniques. Springer, Berlin Heidelberg, pp 3–34
Acknowledgements
This work was supported by the Kahramanmaras Sutcu Imam University Scientific Research Projects Unit (Project Number:2016/6-21 YLS). Authors are also grateful to ITU-MEMTEK Laboratories for supports.
Additional information
Publisher's Note
Springer Nature remains neutral with regard to jurisdictional claims in published maps and institutional affiliations.
About this article
Cite this article
Keleş, M.K., Uysal, Y. Production of a microfiltration membrane from acrylic fiber (AF) and low-density polyethylene (LDPE) shrink film wastes. Clean Techn Environ Policy (2021). https://doi.org/10.1007/s10098-021-02038-7
Received:

Accepted:

Published:
Keywords
Acrylic

Membrane

Nylon

Polyethylene

Waste