Abstract
Carbon capture, carbon utilization and storage (CCUS) technology is an important potential technical support for coal power plants to maintain existing production structure while simultaneously achieving near-zero carbon emissions with the current energy structure in China being dominated by coal. However, CCUS technology is still at the early demonstration stage, and there are many uncertainties in the carbon trading market, technology and policy incentives that the traditional method is no longer able to handle. Based on the binomial tree real option model, this paper establishes a CCUS technology investment evaluation model that incorporates the uncertainties with carbon price, government subsidy, technological progress and carbon dioxide utilization ratios into the model, and investigates the influence of government incentive on CCUS technology investment in two scenarios in China. The numerical results in case study show that (1) If the subsidy is too low, no matter how high the lower limit of carbon price is set, enterprises will not invest. (2) When the proportion of government subsidy exceeds 0.33, a specific and accurate minimum carbon price is given to promote coal-fired plants immediate investment in CCUS technology based on the model. (3) Only the government subsidies cannot stimulate CCUS investment at this demonstration stage. These findings provide a reference for public policy decision-making and promotes the development and large-scale deployment of CCUS technology in China.
Graphic abstract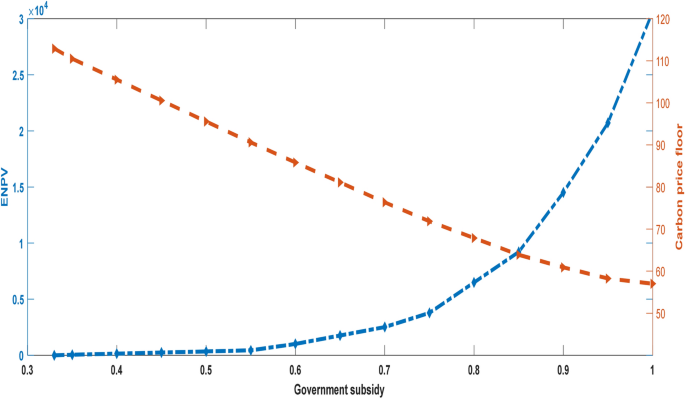 Access options
Buy single article
Instant access to the full article PDF.
US$ 39.95
Tax calculation will be finalised during checkout.
Subscribe to journal
Immediate online access to all issues from 2019. Subscription will auto renew annually.
US$ 79
Tax calculation will be finalised during checkout.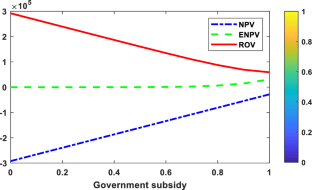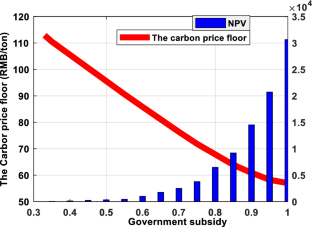 References
Abadie L, Chamorro J (2008) European CO2 prices and carbon capture investments. Energy Econ 30(6):2992–3015

Arrow K (1962) The economic implications of learning by doing. Rev Econ Stud 29(3):155–173

Brauneis A, Mestel R, Palan S (2013) Inducing low-carbon investment in the electric power industry through a price floor for emissions trading. Energy Policy 53:190–204

Chen H, Wang C, Ye M (2016) An uncertainty analysis of subsidy for carbon capture and storage (CCS) retrofitting investment in China's coal power plants using a real-options approach. J Cleaner Prod 137:200–212

DECC (2011) Planning our electric future. A white paper for secure, affordable and low-carbon electricity. Department of Energy and Climate Change. https://assets.publishing.service.gov.uk/government/uploads/system/uploads/attachment_data/file/48129/2176-emr-white-paper.pdf. Accessed 15 Dec 2011

Dubois L, Thomas D (2018) Comparison of various configurations of the absorption-regeneration process using different solvents for the post-combustion CO2 capture applied to cement plant flue gases. Int J Greenh Gas Control 69:20–35

Elias R, Wahab M, Fang L (2018) Retrofitting carbon capture and storage to natural gas-fired power plants: a real-options approach. J Cleaner Prod 192:722–734

Fan J, Xu M, Wei SJ et al (2018) Evaluating the effect of a subsidy policy on carbon capture and storage (CCS) investment decision-making in China—a perspective based on the 45Q tax credit. Energy Procedia 154:22–28

Fan J, Xu M, Yang L et al (2019) How can carbon capture utilization and storage be incentivized in China? A perspective based on the 45Q tax credit provisions. Energy Policy 132:1229–1240

Guo J et al (2018) Study on the investment incentive mechanism of carbon capture and storage project in low carbon economy. Soft Sci 2:55–59

Huang J (2012) Toward characteristics of development of wind power and carbon capture technology in China based on technological learning curves. Resour Sci 34(1):20–28

IEA (2015) CO2 emissions from fuel combustion, 2015 edition. International Energy Agency. http://wds.iea.org/wds/pdf/Worldco2_Documentation.pdf. IEA, Paris. Accessed Nov 2015

IEA (2019) International Energy Agency. Transforming industry through CCUS. https://www.iea.org/reports/transforming-industry-through-ccus. IEA, Paris. Accessed May 2019

IPCC (2005) Special report on carbon dioxide capture and storage 2005. International Panel on Climate Change, Geneva

IPCC (2014) Climate change 2014: synthesis report summary for policymakers. International Panel on Climate Change. https://www.ipcc.ch/2014/09/24/synthesis-report-of-the-ipcc-fifth-assessment-report/. IPCC, Geneva. Accessed 24 Sept 2014

Li G (2020) Discussion on the fuel cost management of thermal power enterprises. Value Eng 3:86–87 (in Chinese)

Mo et al (2015) The impact of Chinese carbon emission trading scheme (ETS) on low carbon energy (LCE) investment. Energy Policy 89:271–283

Niu H et al (2014) Technical and economic evaluation of whole-process CCUS. Electr Power 47(8):144–149 (in Chinese)

Rehman M, Meribout M (2012) Conventional versus electrical enhanced oil recovery: a review. J Pet Explor Prod Technol 2(4):157–167

Renner M (2014) Carbon prices and CCS investment: a comparative study between the European Union and China. Energy Policy 75:327–340

Richstein J, Chappin E, de Vries LJ (2014) Cross-border electricity market effects due to price caps in an emission trading system: an agent-based approach. Energy Policy 71:139–158

Rubin E, Yeh S, Antes M et al (2007) Use of experience curves to estimate the future cost of power plants with CO2 capture. Int J Greenh Gas Control 1(2):188–197

Santos L, Soares I, Mendes C et al (2014) Real options versus traditional methods to assess renewable energy projects. Renew Energy 68:588–594

Tapia J, Lee J, Oi RE et al (2018) A review of optimization and decision-making models for the planning of CO2 capture, utilization and storage (CCUS) systems. Sustain Prod Consump 13:1–15

Wang X, Du L (2016) Study on carbon capture and storage (CCS) investment decision-making based on real options for China's coal-fired power plants. J Cleaner Prod 112:4123–4131

Wang X, Li C (2018) Research on investment decision of wind power project under carbon trading scheme. Electr Power Sci Eng 4:25–31 (in Chinese)

Wang X, Qie S (2018) When to invest in carbon capture and storage: a perspective of supply chain. Comput Ind Eng 123:26–32

Wang et al (2020) Price stabilization mechanisms in China's pilot emissions trading schemes: design and performance. Clim Policy 20(1):46–59

Wood D (2015) Carbon dioxide (CO2) handling and carbon capture utilization and sequestration (CCUS) research relevant to natural gas: a collection of published research (2009–2015). J Nat Gas Sci Eng 25:1–9

Yang L, Xu M, Yang Y et al (2019) Comparison of subsidy schemes for carbon capture utilization and storage (CCUS) investment based on real option approach: evidence from China. Appl Energy 255:1–12

Yao X, Fan Y, Xu Y et al (2019) Is it worth to invest? An evaluation of CTL-CCS project in China based on real options. Energy 182:920–931

ZCI (Zhuo Chuang Information) (2018) China. http://www.sci99.com

Zhang H, Li D (2015) The design of the finance system of CCUS development in China. China Popul Resour Environ 171(s3):384–387 (in Chinese)

Zhang W, Liu L (2019) Investment decisions of fired power plants on carbon utilization under the imperfect carbon emission trading schemes in China. Processes 7(11):828

Zhang X, Chen M, Ye Z (2016) Investment strategy of CCS for power producer and policy analysis with carbon price floor. J Ind Eng Manag 30(2):160–165

Zhang S, Zhuang Y, Liu L et al (2019) Risk management optimization framework for the optimal deployment of carbon capture and storage system under uncertainty. Renew Sustain Energy Rev 113:109280
Acknowledgements
We acknowledge that this study is supported by the Ministry of Science and Technology of National Key R&D Program-New Nrban Energy Interconnect System and it's Pilot Application (No.SQ2018YFE96500), the Green & low-carbon Team of Research Center for Economy of Upper Reaches of the Yangtze River in Chongqing Technology and Business University (CJSYTD702) Chongqing Federation of Social Science Circle (2018BS60) and Chongqing Technology and Business University (1953004, 1952008).
Ethics declarations
Conflict of interest
The authors declare that they have no conflict of interest.
Additional information
Publisher's Note
Springer Nature remains neutral with regard to jurisdictional claims in published maps and institutional affiliations.
About this article
Cite this article
Zhang, W., Dai, C., Luo, X. et al. Policy incentives in carbon capture utilization and storage (CCUS) investment based on real options analysis. Clean Techn Environ Policy (2021). https://doi.org/10.1007/s10098-021-02025-y
Received:

Accepted:

Published:
Keywords
Real options

CCUS

Investment decision

Uncertainty