Abstract
This study addresses to rank the environmental performance of manufacturing sectors using Preference Ranking Organization Method for Enrichment Evaluation (PROMETHEE) method which is a widely used multi-criteria decision making method for environmental management. The study focuses on 24 manufacturing sectors and 5 criteria—water usage, environmental expenditure, environmental employment, waste recover and waste density—to rank the environmental performance of the manufacturing sectors. Rankings of the manufacturing sectors are made using PROMETHEE II, which is a developed version of PROMETHEE, with three scenarios (base scenario, environmental scenario, economic scenario) obtained by different weightings of the criteria. In the analysis stage, manufacturing sectors are ranked and then environmental performance of the sectors is compared in terms of four technology levels (low technology, medium–low technology, medium–high technology and high technology) proposed by OECD. According to the results, manufacture of tobacco products is the best performing sector and manufacture of chemicals and chemical products is the worst performing sector in each scenario. Furthermore, high-technology and medium–high-technology sectors have better environmental performance than medium–low-technology and low-technology sectors in each scenario. After that, Geometrical Analysis for Interactive Aid planes were used to understand the weak and strong points of the manufacturing sectors. Better performing sectors are good at water usage, waste recover and waste density criteria, but bad at environmental expenditure and environmental employment criteria. This study closes the gap as the first study on the environmental performance of Turkish manufacturing sectors using a multi-criteria decision making method, and we hope that this study will be beneficial for the researchers in this area.
Graphic abstract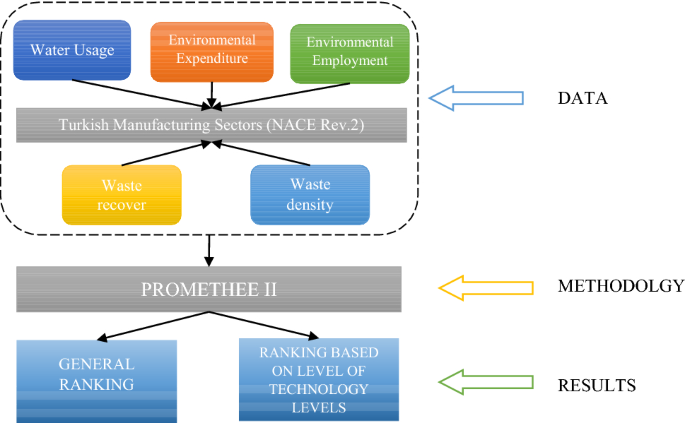 This is a preview of subscription content, log in to check access.
Access options
Buy single article
Instant access to the full article PDF.
US$ 39.95
Price includes VAT for USA
Subscribe to journal
Immediate online access to all issues from 2019. Subscription will auto renew annually.
US$ 99
This is the net price. Taxes to be calculated in checkout.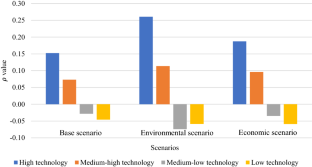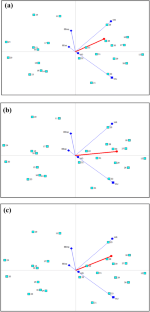 References
Andreopoulou Z, Koliouska C, Galariotis E, Zopounidis C (2018) Renewable energy sources: using PROMETHEE II for ranking websites to support market opportunities. Technol Forecast Soc Change 131:31–37

Behzadian M, Kazemzadeh RB, Albadvi A, Aghdasi M (2010) PROMETHEE: a comprehensive literature review on methodologies and applications. Eur J Oper Res 200:198–215

Brans JP, Vincke PH (1985) A preference ranking organization method: the PROMETHEE method for MCDM. Manag Sci 31:641–656

Camioto FC, Mariano EB, Nascimento Rebelatto DA (2014) Efficiency in Brazil's industrial sectors in terms of energy and sustainable development. Environ Sci Policy 37:50–60

Chang YT, Zhang N, Danao D, Zhang N (2013) Environmental efficiency analysis of transportation system in China: a non-radial DEA approach. Energy Policy 58:277–283

Chen SJ, Hwang CL, Hwang FP (1992) Fuzzy multiple attribute decision making, methods and applications. In: Lecture notes in economics and mathematical systems, vol 375. Springer, Berlin

Egilmez G, Kucukvar M, Tatari O (2013) Sustainability assessment of U.S. manufacturing sectors: an economic input output-based frontier approach. J Clean Prod 53:91–102

Fan Y, Bai B, Qiao Q, Kang P, Zhang Y, Guo J (2017) Study on eco-efficiency of industrial parks in China based on data envelopment analysis. J Environ Manag 192:107–115

Frantisek Z (2017) Environmental evaluation of v4 steel industries under uncertainty. In: 12th international conference on strategic management and its support by information systems (SMSIS), May 25–26. Technical University of Ostrava, Czech Republic

Gómez T, Gémar G, Molinos-Senante M, Sala-Garrido R, Caballero R (2018) Measuring the eco-efficiency of wastewater treatment plants under data uncertainty. J Environ Manage 226:484–492

Gong Z, Chen X (2017) Analysis of interval data envelopment efficiency model considering different distribution characteristics based on environmental performance evaluation of the manufacturing industry. Sustainability 9(12):2080

Goto M, Otsuka A, Sueyoshi T (2014) DEA assessment of operational and environmental efficiencies on Japanese regional industries. Energy 66:535–549

Gumus S, Egilmez G, Kucukvar M, Park YS (2016) Integrating expert weighting and multi-criteria decision making into eco-efficiency analysis: the case of US manufacturing. J Oper Res Soc 67(4):616–628. https://doi.org/10.1057/jors.2015.88

Hatzichronoglou T (1997) Revision of the high-technology sector and product classification. OECD science, technology and industry working papers. No. 1997/02. OECD publishing, Paris. https://doi.org/10.1787/134337307632

Hermann BG, Kroeze C, Jawjit W (2007) Assessing environmental performance by combining life cycle assessment, multi-criteria analysis and environmental performance indicators. J Clean Prod 15:1787–1796

Hu X, Liu C (2017) Slacks-based data envelopment analysis for eco-efficiency assessment in the Australian construction industry. Constr Manag Econ 35:11–12

Hua Z, Bian Y, Liang L (2007) Eco-efficiency analysis of paper mills along the Huai River: an extended DEA approach. Omega 35:578–587

Koutroumanidis T, Iliadis L, Arabatzis G (2004) Evaluation and forecasting of the financial performance of the unions of rural cooperatives by a decision support system. Jpn J Rural Econ 6:31–44

Lahouel BB (2016) Eco-efficiency analysis of French firms: a data envelopment analysis approach. Environ Econ Policy Stud 8:395–416

Lee S, Noh DW, Oh D (2018) Characterizing the difference between indirect and direct CO2 emissions: evidence from Korean manufacturing industries, 2004–2010. Sustainability 10:2711. https://doi.org/10.3390/su10082711

Lopes APF, Muñoz MM, Alarcón-Urbistondo P (2018) Regional tourism competitiveness using the PROMETHEE approach. Ann Tour Res 73:1–13

Oggioni G, Riccardi R, Toninelli R (2011) Eco-efficiency of the world cement industry: a data envelopment analysis. Energy Policy 39:2842–2854

Oliveira M, Fontes DBMM, Pereira T (2018) Evaluating vehicle painting plans in an automobile assembly plant using an integrated AHP-PROMETHEE approach. Int Trans Oper Res 25:1383–1406

Pardo C (2013) An analysis of eco-efficiency in energy use and CO2 emissions in the Swedish service industries. Socio Econ Plan Sci 47:120–130

Pérez K, Araya MCG, Iriarte A (2017) Energy and GHG emission efficiency in the Chilean manufacturing industry: sectoral and regional analysis by DEA and Malmquist indexes. Energy Econ 66:290–302

Pohekar SD, Ramachandran M (2004) Application of multi-criteria decision making to sustainable energy planning—a review. Renew Sustain Energy Rev 8:365–381

Ranjan R, Chatterjee P, Chakraborty S (2016) Performance evaluation of Indian states in tourism using an integrated PROMETHEE-GAIA approach. Opsearch 53(1):63–84

Riccardi R, Oggioni G, Toninelli R (2012) Efficiency analysis of world cement industry in presence of undesirable output: application of data envelopment analysis and directional distance function. Energy Policy 44:140–152

Shao L, Yu X, Feng C (2019) Evaluating the eco-efficiency of China's industrial sectors: a two-stage network data envelopment analysis. J Environ Manag 247:551–560

Song M, An Q, Zhang W, Wang Z, Wu J (2012) Environmental efficiency evaluation based on data envelopment analysis: a review. Renew Sustain Energy Rev 16:4465–4469

Suh Y, Seol H, Bae H, Park Y (2014) Eco-efficiency based on social performance and its relationship with financial performance: a cross-industry analysis of South Korea. J Ind Ecol 18:909–919

Wang D, Li S, Sueyoshi T (2014) DEA environmental assessment on US industrial sectors: investment for improvement in operational and environmental performance to attain corporate sustainability. Energy Econ 45:254–267

Wang X, Ding H, Liu L (2019) Eco-efficiency measurement of industrial sectors in China: a hybrid super-efficiency DEA analysis. J Clean Prod 229:53–64

Yu Y, Zhu W, Shi Q, Zhang Q (2016) Network-like DEA approach for environmental assessment: evidence from U.S. manufacturing sectors. J Clean Prod 139:277–286

Zhang B, Bi J, Fan Z, Yuan Z, Ge J (2008) Eco-efficiency analysis of industrial system in China: a data envelopment analysis approach. Ecol Econ 68:306–316

Zhang J, Chang Y, Wang C, Zhang L (2018) The green efficiency of industrial sectors in China: a comparative analysis based on sectoral and supply-chain quantifications. Resour Conserv Recycl 132:269–277

Zhou Y, Liang D, Xing X (2013) Environmental efficiency of industrial sectors in China: an improved weighted SBM model. Math Comput Model 58:990–999
Additional information
Publisher's Note
Springer Nature remains neutral with regard to jurisdictional claims in published maps and institutional affiliations.
About this article
Cite this article
Belgin, O., Balkan, D. Environmental performance assessment of manufacturing sectors. Clean Techn Environ Policy (2020). https://doi.org/10.1007/s10098-020-01880-5
Received:

Accepted:

Published:
Keywords
Environmental performance

Multi-criteria decision making

Manufacturing sectors

Performance measurement

PROMETHEE

GAIA plane