Abstract
In this study, the layered double hydroxide of MgAl was synthesized and utilized as a catalyst for transesterification. The catalyst structure was modified by adding Ba and Li to improve biodiesel production yield and decrease the reaction temperature and time, methanol-to-oil ratio, and concentration catalyst. To this end, five hydrotalcite catalysts, including MgAl, MgAlBa, MgAl/Li20%, MgAl/Li40%, and MgAlBa/Li20%, were prepared and analyzed by XRD, FE-SEM, and EDX in terms of Hydrotalcite pattern, morphological structure, and distribution of the elements in the catalysts. Biodiesel samples were produced using sunflower oil, and hydrotalcite catalysts concerning the effects of temperature, reaction time, amount and the types of the catalysts, methanol-to-oil molar ratio, and Li, Ba loading ratio. The Taguchi method was used for experimental design and results analyzed with ANOVA method. The results demonstrated that the Li or/and Ba ratio, reaction time, temperature, and methanol-to-oil molar ratio had a significant effect on the yield. Furthermore, the produced biodiesel by MgAl/Li40 catalyst reaches to more than 90% yield in 8 h that was same as 10% MgAl catalyst but with lower reaction temperature (from 75 to 55 °C), catalyst amount (from 10 to 7%), and methanol-to-oil ratio (from 30:1 to 12:1). The ratio of divalent cations to trivalent cations in the hydrotalcite structure of MgAl and MgAlBa, the type of cations and their ratio were essential parameters in yield calculation of transesterification reaction. The ratio of divalent cations to trivalent cations in this work was 0.33. The reusability of the catalysts was tested by analyzing the viscosity of biodiesel production. The results showed that the viscosity of products with MgAl and MgAl/Li catalysts increased to 8 mm2/s and 23 mm2/s after two uses.
Graphic abstract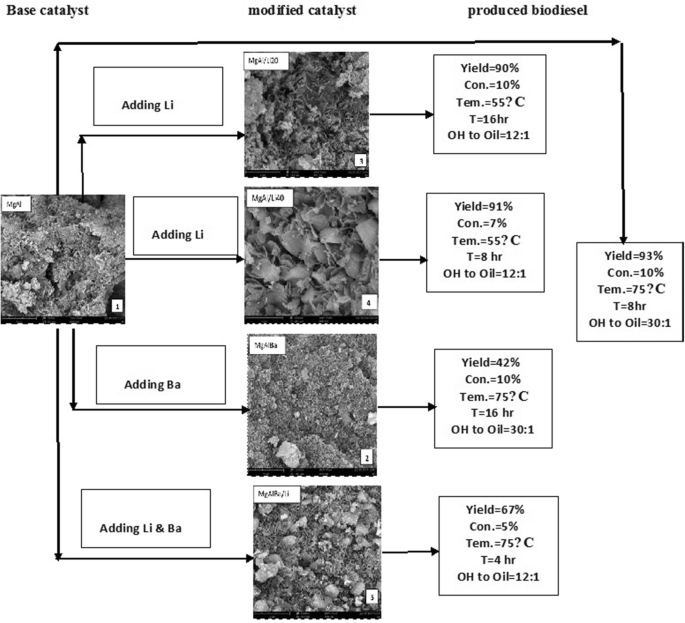 This is a preview of subscription content, log in to check access.
Access options
Buy single article
Instant access to the full article PDF.
US$ 39.95
Price includes VAT for USA
Subscribe to journal
Immediate online access to all issues from 2019. Subscription will auto renew annually.
US$ 99
This is the net price. Taxes to be calculated in checkout.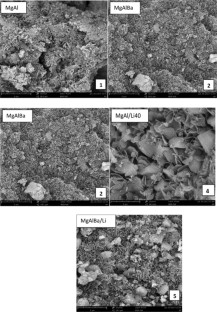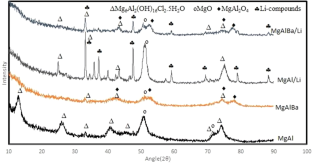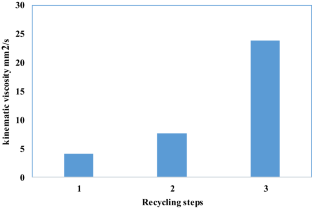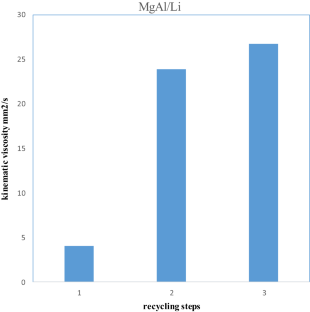 References
Akubude VC, Nwaigwe KN, Dintwa E (2019) Production of biodiesel from microalgae via nanocatalyzed transesterification process: a review. Mater Sci Energy Technol 2:216–225

Anastopoulos G et al (2009) Transesterification of vegetable oils with ethanol and characterization of the key fuel properties of ethyl esters. Energies 2:362–376

ASTM (2015) Standard specification for biodiesel fuel blend stock (B100) for middle distillate fuels. In: ASTM D6751—15ce1

ASTM (2017) Standard method for kinematic viscosity of transparent and opaque liquids (and calculation of dynamic viscosity). In: ASTM D445

Auwalu A, Linlin T, Ahmad Sh et al (2019) Preparation and application of metal ion-doped CoMgAl-hydrotalcite visible-light-driven photocatalyst. Int J Ind Chem 10(2):121–131

Banchero M, Gozzelino G (2018) A simple pseudo-homogeneous reversible kinetic model for the esterification of different fatty acids with methanol in the presence of amberlyst-15. Energies 11:1843–1845

Bharadwaj AS, Singh M, Niju S, Begum KMS, Anantharaman N (2019) Biodiesel production from rubber seed oil using calcium oxide derived from eggshell as catalyst–optimization and modeling studies. Green Process Synth 8(1):430–442

Castro C et al (2011) MgAlLi mixed oxides derived from hydrotalcite for catalytic transesterification. Catal Lett 141:1316–1323

Cavani F, Trifiro F, Vaccari A (1991) Hydrotalcite-type anionic clays: preparation, properties, and applications. Catal Today 11:173–301

Chelladurai K, Rajamanickam M (2014) Environmentally benign neem biodiesel synthesis using Nano-Zn–Mg–Al hydrotalcite as solid base catalysts. J Catal. https://doi.org/10.1155/2014/326575

Chouhan APH, Sarma AK (2011) Modern heterogeneous catalysts for biodiesel production: a comprehensive review. Renew Sustain Energy Rev 15:4378–4399

Dorado MP et al (2003) Exhaust emissions from a diesel engine fueled with transesterified waste olive oil. Fuel 82:1311–1315

EN (2012) Liquid petroleum products—fatty acid methyl esters (FAME) for use in diesel engines and heating applications—requirements and test methods. In: EN 14214

Fei Fang Y, Xu WL, Wang L et al (2019) Effect of hydrotalcite on indometacin-induced gastric injury in rats. BioMed Res Int 2019, 4605748

Gomes JFP et al (2011) Study on the use of MgAl hydrotalcites as solid heterogeneous catalysts for biodiesel production. Energy 36(12):6770–6778

Helwani Z et al (2013) Conversion of Jatropha curcas oil into biodiesel using re-crystallized hydrotalcite. Energy Convers Manag 73:128–134

Hincapié G, López D, Moreno A (2018) Infrared analysis of methanol adsorption on mixed oxides derived from Mg/Al hydrotalcite catalysts for transesterification reactions. Catal Today 302:277–285

Karim K et al (2019) Chapter 1—introduction to catalysis. Interface Sci Technol 27:1–21

Kostić MD, Djalović IG, Stamenković OS, Mitrović PM, Adamović DS, Kulina MK, Veljković VB (2018) Kinetic modeling and optimization of biodiesel production from white mustard (Sinapis alba L.) seed oil by quicklime-catalyzed transesterification. Fuel 223:125–139

Kumar A et al (2012) Heterogeneous basic catalysts for transesterification of vegetable oils: a review. In: Mechanical engineering conference on sustainable research and innovation 4, 3rd–4th May

Lee D-W, Young-Moo P, Kwan-Young L (2009) Heterogeneous base catalysts for transesterification in biodiesel synthesis. Catal Surv Asia 13:63–77

Li M, Chowdhury T, Andrea N et al (2019) layered double hydroxide sorbents for removal of selenium from power plant wastewaters. ChemEngineering 3:20–44

Lu Y, Zhang Z, Yunfeng Xu, Liu Q, Qian G (2015) CaFeAl mixed oxide derived heterogeneous catalysts for transesterification of soybean oil to biodiesel. Biores Technol 190:438–441

Mahdavi V, Abedini F (2016) Preparation and characterization of CaO/MgO catalyst and its application for transesterification of n-butyl acetate with methanol. Chem Eng Commun 203(1):114–122

Maroušek J (2013) Pretreatment of sunflower stalks for biogas production. Clean Technol Environ Policy 15(4):735–740

Maroušek J, Itoh S, Higa O et al (2013) Enzymatic hydrolysis enhanced by pressure shockwaves opening new possibilities in Jatropha Curcas L. processing. J Chem Technol Biotechnol 88(9):1650–1653

Meloni DR et al (2015) Adsorption microcalorimetry characterization of K-doped MgAl mixed oxide catalysts for soybean oil transesterification synthesized by impregnation and ball milling techniques. J Therm Anal Calorim 119(2):1023–1036

Miyata Sh (1980) Physico-chemical properties of synthetic hydrotalcites in relation to composition. Clays Clay Miner 28(1):50–56

Mohammad BT et al (2018) Production of multiple biofuels from whole Camelina material: a renewable energy crop. BioResources 13(3):4870–4883

Nalavade P et al (2009) Layered double hydroxides: a review. J Sci Ind Res 68(4):267–272

Nigam S, Anoop Singh P (2011) Production of liquid biofuels from renewable resources. Prog Energy Combust 37:52–68

Pitt FD, Domingos AM, Barros AC (2019) Purification of residual glycerol recovered from biodiesel production. S Afr J Chem Eng 29:42–51

Prinetto F et al (2000) Synthesis and characterization of sol-gel Mg/Al and Ni/Al layered double hydroxides and comparison with co-precipitated samples. Microporous Mesoporous Mater 39(1–2):229–247

Quirino R et al (2016) Synthesis of zinc aluminate with the high surface area by microwave hydrothermal method applied in the transesterification of soybean oil (biodiesel). Mater Res Bull 74:124–128

Rahmani B et al (2018) Hybrid-coprecipitation vs. combustion synthesis of Mg–Al spinel based nanocatalyst for efficient biodiesel production. Energy Convers Manag 160(15):220–229

Razealy AM, Zuhairi A (2016) Ultrasound-assisted biodiesel production from waste cooking oil using hydrotalcite prepared by combustion method as a catalyst. Appl Catal A Gen 514:214–223

Shumaker J et al (2007) Biodiesel production from soybean oil using calcined Li–Al layered double hydroxide catalysts. Catal Lett 115(1–2):56–61

Shumaker JL, Crofcheck C, Tackett SA et al (2008) Biodiesel synthesis using calcined layered double hydroxide catalysts. Appl Catal B 82(1–2):120–130

Sikander U, Sufian S, Salam MA (2017) A review of hydrotalcite based catalysts for hydrogen production systems. Int J Hydrog Energy 42(31):19851–19868

Thangaraj B, Pravin RS et al (2018) Catalysis in biodiesel production-a review. Clean Energy 2018:1–22

Vargas AG, Santos-Gutierrez T, Lima E et al (2015) Efficient KF loaded on MgCaAl hydrotalcite-like compounds in the transesterification of Jatropha curcas oil. J Alloy Compd 1(643):159–164

Veiga PM et al (2013) Influence of the incorporation of transition metals on the basicity of Mg, Al-mixed oxides and on their catalytic properties for transesterification of vegetable oils. J Catal. https://doi.org/10.1155/2013/685063

Wang Y-T, Zhen F, Fan Z, Bao-Jin X (2015) One-step production of biodiesel from oils with high acid value by activated Mg–Al hydrotalcite nanoparticles. Bioresour Technol 193:84–89

Wijitwongwan RP, Intasa-ard SG, Ogawa M (2019) Preparation of layered double hydroxides toward precisely designed hierarchical organization. Chem Eng 3(3):68

Xu W, Lijing G, Feng J, Guomin X (2014) In situ synthesis and characterization of Ca–Mg–Al hydrotalcite on ceramic membrane for biodiesel production. Chin J Chem Eng 23(6):1035–1040
Acknowledgments
The authors gratefully acknowledge the Standard Research Institute of Iran for the support of this work.
Additional information
Publisher's Note
Springer Nature remains neutral with regard to jurisdictional claims in published maps and institutional affiliations.
About this article
Cite this article
Zanjani, N.G., Kamran-Pirzaman, A. & Khalajzadeh, M. Synthesis of modified layered double hydroxide of MgAl catalyst with Ba and Li for the biodiesel production. Clean Techn Environ Policy 22, 1173–1185 (2020). https://doi.org/10.1007/s10098-020-01860-9
Received:

Accepted:

Published:

Issue Date:
Keywords
Biodiesel production

Hydrotalcite catalyst

Layered double hydroxide-MgAl

Modified structure

Transesterification