Abstract
A novel catalytic technique is vital to produce mono- and dioleate (GMO and GDO) from bioglycerol: a renewable resource and by-product of biodiesel. The advantage of this invention is the direct production of GMO and GDO through catalytic approach compared to the conventional method that requires transesterification and distillation processes. In this paper, glycerol esterification with oleic acid using a catalyst was experimented. The process was carried out over a hydrophobic mesoporous zirconia–silica heterogeneous acid catalyst (ZrO2–SiO2–Me&Et–PhSO3H) with three types of sulphated zirconia catalysts (SO42−/ZrO2) to produce high-selectivity GMO and GDO products. The catalytic performance of the hydrophobic ZrO2–SiO2–Me&Et–PhSO3H catalyst was benchmarked with that of SO42−/ZrO2 which was developed from three zirconium precursors. Results showed that the pore volume and hydrophobicity of the designed catalyst greatly could influence the product selectivity, thus enabling smaller substrates GMO and GDO to be dominated in the synthesis. This finding was supported by characterisation data obtained through N2 adsorption–desorption, X-ray diffraction and scanning electron microscopy. In addition, a good correlation was found between pore volume (pore size) and product selectivity. High pore volume catalyst favoured GDO production under identical reaction conditions. Pore volume and size can be used to control product sensitivity. The hydrophobicity of the catalyst was found to improve the initial reaction rate effectively.
Graphical abstract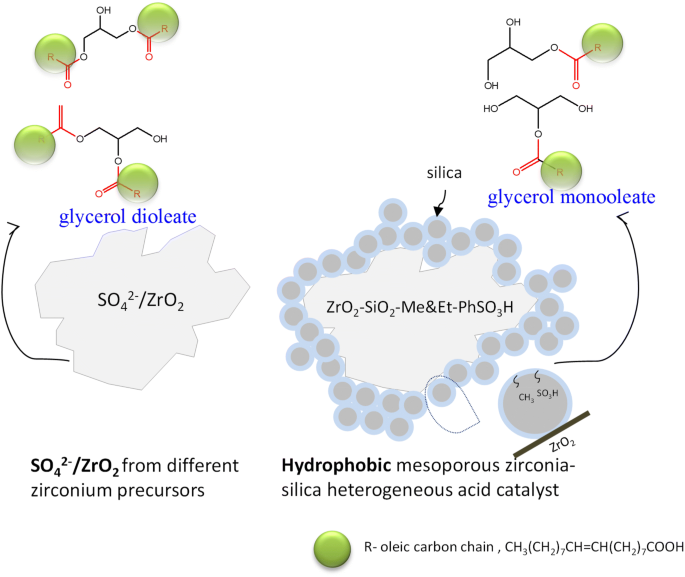 Access options
Buy single article
Instant access to the full article PDF.
US$ 39.95
Tax calculation will be finalised during checkout.
Subscribe to journal
Immediate online access to all issues from 2019. Subscription will auto renew annually.
US$ 79
Tax calculation will be finalised during checkout.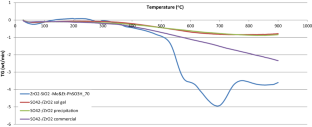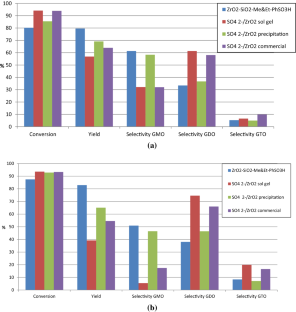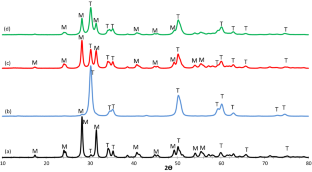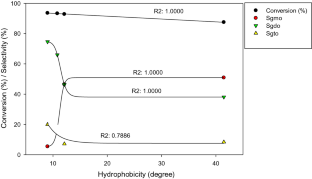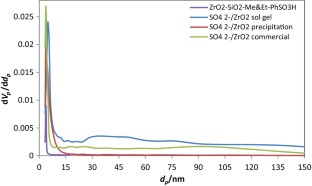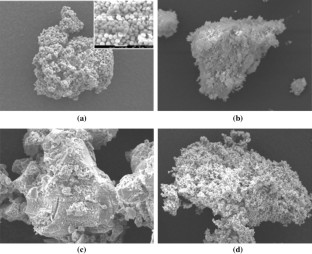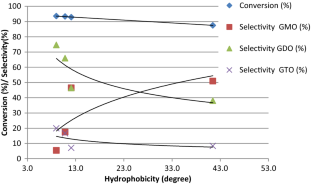 References
Åkerman CO, Gaber Y, Ghani NA, Lämsä M, Hatti-Kaul R (2011) Clean synthesis of biolubricants for low temperature applications using heterogeneous catalysts. J Mol Catal B Enzym 72(3):263–269

Barauskas J, Misiunas A, Gunnarsson T, Tiberg F, Johnsson M (2006) "Sponge" nanoparticle dispersions in aqueous mixtures of diglycerol monooleate, glycerol dioleate, and polysorbate 80. Langmuir 22(14):6328–6334

Chen J, Chen J, Zhang X, Gao J, Yang Q (2016) Efficient and stable PS-SO3H/SiO2 hollow nanospheres with tunable surface properties for acid catalyzed reactions. Appl Catal A: Gen 516:1–8

Diao Y, He H, Yang P, Wang L, Zhang S (2015) Optimizing the structure of supported Pd catalyst for direct oxidative esterification of methacrolein with methanol. Chem Eng Sci 135:128–136

Estevez R, López MI, Jiménez-Sanchidrián C, Luna D, Romero-Salguero FJ, Bautista FM (2016) Etherification of glycerol with tert-butyl alcohol over sulfonated hybrid silicas. Appl Catal A: Gen 526:155–163

Fang W, Wang S, Liebens A, De Campo F, Xu H, Shen W, Clacens J-M (2015) Silica-immobilized Aquivion PFSA superacid: application to heterogeneous direct etherification of glycerol with n-butanol. Catal Sci Technol 5(8):3980–3990

Frost and Sullivan Research Service (2014) World fatty esters markets (technical insights). Retrieved from http://www.frost.com/prod/servlet/report-brochure.pag?id=D483-01-00-00-00

Gaudin P, Jacquot R, Marion P, Pouilloux Y, Jérôme F (2011) Acid-catalyzed etherification of glycerol with long-alkyl-chain alcohols. Chemsuschem 4(6):719–722

Hamerski F, Corazza ML (2014) LDH-catalyzed esterification of lauric acid with glycerol in solvent-free system. Appl Catal A: Gen 475:242–248

Hamerski F, Prado MA, da Silva VR, Voll FAP, Corazza ML (2016) Kinetics of layered double hydroxide catalyzed esterification of fatty acids with glycerol. React Kinet Mech Catal 117(1):253–268

Jérôme F, Pouilloux Y, Barrault J (2008) Rational design of solid catalysts for the selective use of glycerol as a natural organic building block. Chemsuschem 1(7):586–613

Karam A, De Oliveira Vigier K, Marinkovic S, Estrine B, Oldani C, Jérôme F (2017) High catalytic performance of aquivion PFSA, a reusable solid perfluorosulfonic acid polymer, in the biphasic glycosylation of glucose with fatty alcohols. ACS Catal 7(4):2990–2997

Kong PS, Aroua MK, Daud WMAW (2015) Catalytic esterification of bioglycerol to value-added products. Rev Chem Eng 31(5):437–451

Kong PS, Aroua MK, Daud WMAW (2016a) Conversion of crude and pure glycerol into derivatives: a feasibility evaluation. Renew Sust Energy Rev 63:533–555

Kong PS, Aroua MK, Daud WMAW, Lee HV, Cognet P, Peres Y (2016b) Catalytic role of solid acid catalysts in glycerol acetylation for the production of bio-additives: a review. RSC Adv 6(73):68885–68905

Kong PS, Cognet P, Pérès Y, Esvan J, Daud WMAW, Aroua MK (2018) Development of a novel hydrophobic ZrO2–SiO2 based acid catalyst for catalytic esterification of glycerol with oleic acid. Ind Eng Chem Res 57(29):9386–9399

Konwar LJ, Mäki-Arvela P, Kumar N, Mikkola J-P, Sarma AK, Deka D (2016) Selective esterification of fatty acids with glycerol to monoglycerides over –SO3H functionalized carbon catalysts. React Kinet Mech Catal 119(1):121–138

Kotwal M, Deshpande SS, Srinivas D (2011) Esterification of fatty acids with glycerol over Fe–Zn double-metal cyanide catalyst. Catal Commun 12(14):1302–1306

Kotwal M, Kumar A, Darbha S (2013) Three-dimensional, mesoporous titanosilicates as catalysts for producing biodiesel and biolubricants. J Mol Catal A: Chem 377:65–73

Kulkarni CV, Wachter W, Iglesias-Salto G, Engelskirchen S, Ahualli S (2011) Monoolein: a magic lipid? Phys Chem Chem Phys 13(8):3004–3021

Kuwahara Y, Kaburagi W, Nemoto K, Fujitani T (2014) Esterification of levulinic acid with ethanol over sulfated Si-doped ZrO2 solid acid catalyst: study of the structure–activity relationships. Appl Catal A: Gen 476:186–196

Macierzanka A, Szela̧g H (2004) Esterification kinetics of glycerol with fatty acids in the presence of zinc carboxylates: preparation of modified acylglycerol emulsifiers. Ind Eng Chem Res 43(24):7744–7753

Ogino I, Suzuki Y, Mukai SR (2018) Esterification of levulinic acid with ethanol catalyzed by sulfonated carbon catalysts: Promotional effects of additional functional groups. Catal Today 314:62–69. https://doi.org/10.1016/j.cattod.2017.10.001

Oh J, Yang S, Kim C, Choi I, Kim JH, Lee H (2013a) Synthesis of biolubricants using sulfated zirconia catalysts. Appl Catal A 455:164–171

Oh J, Yang S, Kim C, Choi I, Kim JH, Lee H (2013b) Synthesis of biolubricants using sulfated zirconia catalysts. Appl Catal A: Gen 455(Supplement C):164–171

Quispe CAG, Coronado CJR, Carvalho JA Jr (2013) Glycerol: production, consumption, prices, characterization and new trends in combustion. Renew Sust Energy Rev 27:475–493

Rahman IA, Padavettan V (2012) Synthesis of silica nanoparticles by sol-gel: size-dependent properties, surface modification, and applications in silica-polymer nanocomposites: a review. J Nanomater 2012:15

Rashad MM, Baioumy HM (2008) Effect of thermal treatment on the crystal structure and morphology of zirconia nanopowders produced by three different routes. J Mater Process Technol 195(1–3):178–185

Saravanan K, Tyagi B, Bajaj HC (2016) Esterification of stearic acid with methanol over mesoporous ordered sulfated ZrO2–SiO2 mixed oxide aerogel catalyst. J Porous Mater 23:937–946

Singh D, Patidar P, Ganesh A, Mahajani S (2013) Esterification of oleic acid with glycerol in the presence of supported zinc oxide as catalyst. Ind Eng Chem Res 52(42):14776–14786

Thengumpillil NBK, Penumarthy V, Ayyagari AL (2002) Process for the preparation of a monoglyceride: U.S. Patents

Wee LH, Lescouet T, Fritsch J, Bonino F, Rose M, Sui Z, Martens JA (2013) Synthesis of monoglycerides by esterification of oleic acid with glycerol in heterogeneous catalytic process using tin–organic framework catalyst. Catal Lett 143(4):356–363

Zhang Z, Huang H, Ma X, Li G, Wang Y, Sun G, Li A (2017) Production of diacylglycerols by esterification of oleic acid with glycerol catalyzed by diatomite loaded SO42−/TiO2. J Ind Eng Chem 53:307–316
Acknowledgement
The authors acknowledge the financial support provided by INCREASE CNRS France and supported by the Fundamental Research Grant Scheme (Malaysia, FRGS/1/2019/STG05/UNIM/02/2). Dual PhD scholarship (University of Malaya) and French government scholarship (Embassy France of Kuala Lumpur) are gratefully acknowledged. The technical support and facilities from Laboratoire de Génie Chimique and Sime Darby Plantation Research Sdn. Bhd. are highly appreciated.
Additional information
Publisher's Note
Springer Nature remains neutral with regard to jurisdictional claims in published maps and institutional affiliations.
About this article
Cite this article
Kong, P.S., Pérès, Y., Cognet, P. et al. Structure–selectivity relationship of a zirconia-based heterogeneous acid catalyst in the production of green mono- and dioleate product. Clean Techn Environ Policy 23, 19–29 (2021). https://doi.org/10.1007/s10098-020-01830-1
Received:

Accepted:

Published:

Issue Date:
Keywords
Hydrophobic silica–zirconia-based catalyst

Sulphated zirconia

Structural

Selectivity

Esterification

Glycerol