Abstract
The purpose of this study is to collect information on the bacterial resistance to antibiotics of bacteria isolated from urine cultures of patients treated for upper urinary tract calculi. Data of patients with urinary tract infection and urolithiasis were retrospectively reviewed to collect information on age, gender, stone size, location, hydronephrosis, procedure of stone removal and antibiotic treatment, identification and susceptibility of pathogens, symptoms, and infectious complications. A total of 912 patients from 11 centers in 7 countries (Bulgaria, Greece, Italy, North Macedonia, Spain, and Turkey) were studied. Mean age was 54 ± 16 years and M/F ratio 322/590. Out of 946 microbial isolates, the most common were E. coli, Gram-positive, KES group (Klebsiella, Enterobacter, Serratia), Proteus spp., and P. aeruginosa. Carbapenems, piperacillin/tazobactam and amikacin showed low resistance rates to E. coli (2.5%, 7%, and 3.6%) and Proteus spp. (7.7%, 16%, and 7.4%), but higher rates were observed with Klebsiella spp., P. aeruginosa, and Gram-positive. Fosfomycin had resistance rates less than 10% to E. coli, 23% to KES group, and 19% to Gram-positive. Amoxicillin/clavulanate, cephalosporins, quinolones, and TMP/SMX showed high resistance rates to most bacterial strains. High rates of antibiotic resistance were observed in patients candidate to stone treatment from South-Eastern Europe. The empirical use of antibiotics with low resistance rates should be reserved to the most serious cases to avoid the increase of multidrug resistant bacteria. Basing on our results, carbapenems, piperacillin/tazobactam, and amikacin may be a possible option for empiric treatment of urinary stone patients showing systemic symptoms.
This is a preview of subscription content, log in to check access.
Access options
Buy single article
Instant access to the full article PDF.
US$ 39.95
Price includes VAT for USA
Subscribe to journal
Immediate online access to all issues from 2019. Subscription will auto renew annually.
US$ 99
This is the net price. Taxes to be calculated in checkout.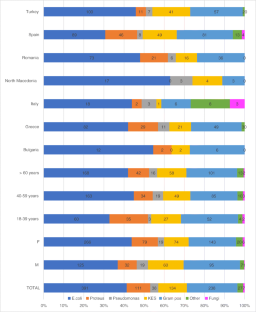 References
1.

Zanetti G, Paparella S, Trinchieri A, Prezioso D, Rocco F, Naber KG (2008 Mar) Infections and urolithiasis: current clinical evidence in prophylaxis and antibiotic therapy. Arch Ital Urol Androl 80(1):5–12

2.

Rivera M, Viers B, Cockerill P, Agarwal D, Mehta R, Krambeck A (2016 Sep) Pre- and postoperative predictors of infection-related complications in patients undergoing percutaneous nephrolithotomy. J Endourol 30(9):982–986. https://doi.org/10.1089/end.2016.0191

3.

Senocak C, Ozcan C, Sahin T, Yilmaz G, Ozyuvali E, Sarikaya S, Resorlu B, Oguz U, Bozkurt OF, Unsal A, Adsan O. Risk factors of infectious complications after flexible uretero-renoscopy with laser lithotripsy. Urol J. 2018 Jul 10;15(4):158–163. https://doi.org/10.22037/uj.v0i0.3967

4.

Cai T, Cocci A, Coccarelli F, Ruggera L, Lanzafame P, Caciagli P, Malossini G, Crisci A, Trinchieri A, Perletti G, Carini M, Bonkat G, Bartoletti R, Bjerklund Johansen TE. Infectious complications after laser vaporization of urinary stones during retrograde intrarenal surgery are not associated with spreading of bacteria into irrigation fluid but with previous use of fluoroquinolones. Eur Urol Focus. 2019 Mar 7. pii: S2405–4569(19)30053–7. https://doi.org/10.1016/j.euf.2019.02.018

5.

Perletti G, Magri V, Cai T, Stamatiou K, Trinchieri A, Montanari E (2018 Jun 30) Resistance of uropathogens to antibacterial agents: emerging threats, trends and treatments. Arch Ital Urol Androl 90(2):85–96. https://doi.org/10.4081/aiua.2018.2.85

6.

Singer M et al (2016) The Third International Consensus Definitions for Sepsis and Septic Shock (Sepsis-3). JAMA 315:801

7.

Rubin RH, et al. Evaluation of new anti-infective drugs for the treatment of urinary tract infection. Infectious Diseases Society of America and the Food and Drug Administration. Clin Infect Dis, 1992. 15 Suppl 1: p. S216–27

8.

EAU Guidelines. Edn. presented at the EAU Annual Congress Amsterdam 2020. ISBN 978-94-92671-07-3

9.

The European Committee on Antimicrobial Susceptibility Testing. Breakpoint tables for interpretation of MICs and zone diameters. Version 9.0, 2019. http://www.eucast.org

10.

Morrissey I, Hackel M, Badal R, Bouchillon S, Hawser S, Biedenbach D (2013 Nov 1) A review of ten years of the study for monitoring antimicrobial resistance trends (SMART) from 2002 to 2011. Pharmaceuticals (Basel) 6(11):1335–1346. https://doi.org/10.3390/ph6111335

11.

Flores-Mireles AL, Walker JN (2015) Caparon Michael, Hultgren Scott J. Urinary tract infections: epidemiology, mechanisms of infection and treatment options. Nat Rev Microbiol 13(5):269–284. https://doi.org/10.1038/nrmicro3432

12.

Holmgren K (1986) Urinary calculi and urinary tract infection. A clinical and microbiological study. Scand J Urol Nephrol Suppl 98:1–71

13.

Takeuchi H, Okada Y, Yoshida O, Arai Y, Tomoyoshi T (1989 May) Urinary tract infection associated with urinary calculi. 1. The significance of urinary tract infection in urinary calculi. Hinyokika Kiyo 35(5):749–754

14.

Bichler KH, Eipper E, Naber K, Braun V, Zimmermann R, Lahme S (2002 Jun) Urinary infection stones. Int J Antimicrob Agents 19(6):488–498

15.

Chen D, Zhang Y, Huang J, Liang X, Zeng T, Lan C, Duan X, Zhao Z, Zeng G, Tiselius HG, Lu X, Wu W (2018 Jun) The analysis of microbial spectrum and antibiotic resistance of uropathogens isolated from patients with urinary stones. Int J Clin Pract 72(6):e13205. https://doi.org/10.1111/ijcp.13205 Epub 2018 May 23

16.

Yongzhi L, Shi Y, Jia L, Yili L, Xingwang Z, Xue G (2018 May 21) Risk factors for urinary tract infection in patients with urolithiasis-primary report of a single center cohort. BMC Urol 18(1):45. https://doi.org/10.1186/s12894-018-0359-y

17.

European Centre for Disease Control and Prevention. Surveillance of antimicrobial resistance in Europe 2018. https://www.ecdc.europa.eu/sites/default/files/documents/surveillance-antimicrobialresistanceEurope-2018.pdf-

18.

Gomila A, Shaw E, Carratalà J, Leibovici L, Tebé C, Wiegand I, Vallejo-Torres L, Vigo JM, Morris S, Stoddart M, Grier S, Vank C, Cuperus N, Van den Heuvel L, Eliakim-Raz N, Vuong C, MacGowan A, Addy I, Pujol M; COMBACTE-MAGNET WP5- RESCUING Study. Predictive factors for multidrug-resistant gram-negative bacteria among hospitalised patients with complicated urinary tract infections. Antimicrob Resist Infect Control. 2018 Sep 14;7:111. https://doi.org/10.1186/s13756-018-0401-6

19.

Koningstein M, van der Bij AK, de Kraker ME, Monen JC, Muilwijk J, de Greeff SC, Geerlings SE, Leverstein-van Hall MA, ISIS-AR Study Group (2014 Jan 28) Recommendations for the empirical treatment of complicated urinary tract infections using surveillance data on antimicrobial resistance in the Netherlands. PLoS One 9(1):e86634. https://doi.org/10.1371/journal.pone.0086634

20.

Tandogdu Z, Kakariadis ETA, Naber K, Wagenlehner F, Bjerklund Johansen TE (2019 Apr 25) Appropriate empiric antibiotic choices in health care associated urinary tract infections in urology departments in Europe from 2006 to 2015: a Bayesian analytical approach applied in a surveillance study. PLoS One 14(4):e0214710. https://doi.org/10.1371/journal.pone.0214710eCollection 2019

21.

Hatlen TJ, Flor R, Nguyen MH, Lee GH, Miller LG. Oral fosfomycin use for pyelonephritis and complicated urinary tract infections: a 1 year review of outcomes and prescribing habits in a large municipal healthcare system. J Antimicrob Chemother. 2020 Apr 17:dkaa126. doi: https://doi.org/10.1093/jac/dkaa126

22.

Zhanel GG, Zhanel MA, Karlowsky JA (2020) Oral and intravenous fosfomycin for the treatment of complicated urinary tract infections. Can J Infect Dis Med Microbiol 2020 Mar 28:8513405. https://doi.org/10.1155/2020/8513405

23.

Davenport M, Mach KE, Shortliffe LMD, Banaei N, Wang TH, Liao JC (2017 May) New and developing diagnostic technologies for urinary tract infections. Nat Rev Urol 14(5):296–310

24.

Souhail B, Le Maréchal M, Manuello R, Chrétien R, Charlot P, Déroudilhes G, Della Guardia M, Blanc V, Fribourg A, Degand N, Roger PM (2019 Nov) Antibiotic therapy for Enterococcus bacteraemia: warning for the antimicrobial stewardship team. Eur J Clin Microbiol Infect Dis 38(11):2087–2095. https://doi.org/10.1007/s10096-019-03645-5

25.

Suppli M, Aabenhus R, Harboe ZB, Andersen LP, Tvede M, Jensen JU (2011 Jul) Mortality in enterococcal bloodstream infections increases with inappropriate antimicrobial therapy. Clin Microbiol Infect 17(7):1078–1083. https://doi.org/10.1111/j.1469-0691.2010.03394.x

26.

Goossens H, Ferech M, Vander Stichele R, Elseviers M; ESAC Project Group Outpatient antibiotic use in Europe and association with resistance: a cross-national database study. Lancet. 2005 Feb 12–18;365(9459):579–87
Ethics declarations
Conflict of interest
The authors declare that they have no conflict of interest.
Ethics approval
This study was performed in line with the principles of the Declaration of Helsinki. Ethical approval was not required considering the retrospective nature of the study.
Additional information
Publisher's note
Springer Nature remains neutral with regard to jurisdictional claims in published maps and institutional affiliations.
About this article
Cite this article
De Lorenzis, E., Alba, A.B., Cepeda, M. et al. Bacterial spectrum and antibiotic resistance of urinary tract infections in patients treated for upper urinary tract calculi: a multicenter analysis. Eur J Clin Microbiol Infect Dis (2020). https://doi.org/10.1007/s10096-020-03947-z
Received:

Accepted:

Published:
Keywords
Urinary tract infection

Urinary calculi

Resistance

Quinolones

Cephalosporins

Carbapenems