Abstract
Quantitative real time PCR (qPCR)is used for pertussis diagnosis. The positive rate of qPCR is generally much higher than that of bacterial culture, which may cause confusion. The current study utilized the 16S ribosomal RNA (16S rRNA) sequencing to assess the correlation between conventional culture and qPCR and to explore the value of 16S rRNA in diagnosing pertussis. Nasopharyngeal swabs, collected from 102 children meeting clinical diagnostic criteria for pertussis, were subjected to Bordetella pertussis culture and qPCR. Bioinformatic microbiota analysis was based on 16S rRNA V3-V4 gene sequencing. Among 102 samples, 14 (13.7%) were culture-positive for Bordetella pertussis, while 61 (59.8%) were qPCR positive. Genus Bordetella was identified in 68 (66.7%) samples via 16S rRNA sequencing. When the relative abundance of Bordetella genus exceeded 0.70%, both qPCR and culture results were positive. Samples with a relative abundance of less than 0.20% exhibited positive qPCR and negative culture results. Samples with a low Bordetella abundance are the key factors underlying poor correlation between culture and qPCR results in laboratory tests.
Access options
Buy single article
Instant access to the full article PDF.
US$ 39.95
Tax calculation will be finalised during checkout.
Subscribe to journal
Immediate online access to all issues from 2019. Subscription will auto renew annually.
US$ 79
Tax calculation will be finalised during checkout.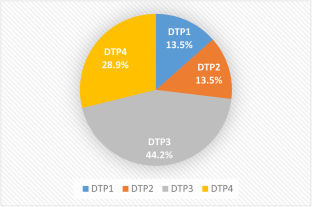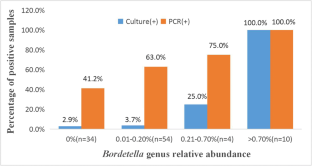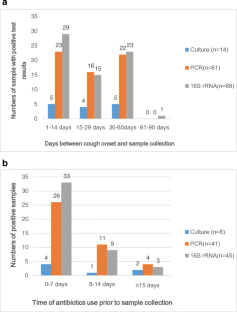 Acknowledgments
We are grateful to the Department of Microbiology and Immunology at the Beijing Children's hospitals for provision of laboratory space and technical assistance.
Funding
This work was supported by the National Major Scientific and Technological Special Project for "Significant New Drugs Development" (grant number 2017ZX09304029) and Beijing Hospitals Authority Youth Programme (grant number QML 20181207).
Ethics declarations
Conflicts of interest
The authors declare that they have no conflict of interest.
Ethics approval
This study was approved by the Ethics Committee of Beijing Children's Hospital Affiliated to Capital Medical University. The committee exempted request for informed consent because this study only focused on bacteria and did not affect patients. All procedures performed in studies involving human participants were in accordance with the ethical standards of the institutional and with the 1964 Helsinki declaration and its later amendments or comparable ethical standards.
Additional information
Publisher's note
Springer Nature remains neutral with regard to jurisdictional claims in published maps and institutional affiliations.
Electronic supplementary material
About this article
Cite this article
Ding, Y., Wang, Q., Li, D. et al. Abundance of the nasopharyngeal microbiome effects pertussis diagnosis and explains the sensitivity difference between bacterial culture and real-time PCR. Eur J Clin Microbiol Infect Dis 39, 501–507 (2020). https://doi.org/10.1007/s10096-019-03750-5
Received:

Accepted:

Published:

Issue Date:
Keywords
Bordetella pertussis

Diagnosis

Sensitivity

Culture

Quantitative real-time PCR