Abstract
Data are relatively scarce on gastro-intestinal tuberculosis (GITB). Most studies are old and from single centers, or did not include immunosuppressed patients. Thus, we aimed to determine the clinical, radiological, and laboratory profiles of GITB. We included adults with proven GITB treated between 2000 and 2018. Patients were enrolled from 21 referral centers in 8 countries (Belgium, Egypt, France, Italy, Kazakhstan, Saudi Arabia, UK, and Turkey). One hundred four patients were included. Terminal ileum (n = 46, 44.2%), small intestines except terminal ileum (n = 36, 34.6%), colon (n = 29, 27.8%), stomach (n = 6, 5.7%), and perianal (one patient) were the sites of GITB. One-third of all patients were immunosuppressed. Sixteen patients had diabetes, 8 had chronic renal failure, 5 were HIV positive, 4 had liver cirrhosis, and 3 had malignancies. Intestinal biopsy samples were cultured in 75 cases (78.1%) and TB was isolated in 65 patients (86.6%). PCR were performed to 37 (35.6%) biopsy samples and of these, 35 (94.6%) were positive. Ascites samples were cultured in 19 patients and M. tuberculosis was isolated in 11 (57.9%). Upper gastrointestinal endoscopy was performed to 40 patients (38.5%) and colonoscopy in 74 (71.1%). Surgical interventions were frequently the source of diagnostic samples (25 laparoscopy/20 laparotomy, n = 45, 43.3%). Patients were treated with standard and second-line anti-TB medications. Ultimately, 4 (3.8%) patients died and 2 (1.9%) cases relapsed. There was a high incidence of underlying immunosuppression in GITB patients. A high degree of clinical suspicion is necessary to initiate appropriate and timely diagnostic procedures; many patients are first diagnosed at surgery.
This is a preview of subscription content, log in to check access.
Access options
Buy single article
Instant access to the full article PDF.
US$ 39.95
Tax calculation will be finalised during checkout.
Subscribe to journal
Immediate online access to all issues from 2019. Subscription will auto renew annually.
US$ 99
Tax calculation will be finalised during checkout.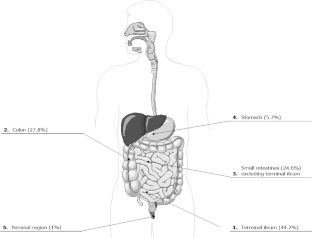 References
1.

Gan H, Mely M, Zhao J, Zhu L (2016) An analysis of the clinical, endoscopic, and pathologic features of intestinal tuberculosis. J Clin Gastroenterol 50:470–475. https://doi.org/10.1097/MCG.0000000000000514

2.

Daley CL (2019) The global fight against tuberculosis. Thorac Surg Clin 29:19–25. https://doi.org/10.1016/j.thorsurg.2018.09.010

3.

Tuberculosis [Internet]. World Heal. Organ. [cited 2019 20]. https://www.who.int/en/news-room/fact-sheets/detail/tuberculosis

4.

Marshall J (2000) Tuberculosis of the gastrointestinal tract and peritoneum. Am J Gastroenterol 88:989–999

5.

Granet E (1934) Intestinal tuberculosis. A clinical, roentgenological and pathological study of 2086 patients affected with pulmonary tuberculosis. Am J Dig Dis Nutr 2:209–214

6.

Jung HJ, Kim YH, Kim YS, Jeong SY, Park SW, Seo JY et al (2016) Differences in clinical manifestations according to the positivity of interferon-assay in patients with intestinal tuberculosis. Gut Liver 10:649–652. https://doi.org/10.5009/gnl15439

7.

Yamane T, Umeda A, Shimao H (2014) Analysis of recent cases of intestinal tuberculosis in Japan. Intern Med 53:957–962. https://doi.org/10.2169/internalmedicine.53.1862

8.

De Saram S, Friedland JS (2019) Gastrointestinal and peritoneal tuberculosis. In: Senar A, Erdem H (eds) Extrapulmonary tuberculosis. Springer, Switzerland, pp 25–42

9.

Vajpayee N, Graham S, Bem S (2011) Basic examination of blood and bone marrow. In: McPherson R, Pincus M (eds) Henry's clinical diagnosis and management by laboratory methods. Elsevier Co, Philadelphia, pp 509–535

10.

Kim AH, Lee W, Kim M, Kim Y, Han K (2014) White blood cell differential counts in severely leukopenic samples: a comparative analysis of different solutions available in modern laboratory hematology. Blood Res 49:120–126. https://doi.org/10.5045/br.2014.49.2.120

11.

Sed rate (erythrocyte sedimentation rate) [Internet]. [cited 2019 20]. https://www.mayoclinic.org/tests-procedures/sed-rate/about/pac-20384797

12.

Riquelme A, Calvo M, Salech F, Valderra S, Pattillo A, Arellano M et al (2006) Value of adenosine deaminase (ADA) in ascitic fluid for the diagnosis of tuberculous peritonitis: a meta-analysis. J Clin Gastroenterol 40:705–710

13.

Patel B, Yagnik VD (2018) Clinical and laboratory features of intestinal tuberculosis. Clin Exp Gastroenterol 11:97–103

14.

Alvares J, Devarbhavi H, Makhija P, Rao S, Kottoor T (2006) Clinical, colonoscopic, and histological profile of colonic tuberculosis in a tertiary hospital. Endoscopy 37:351–356

15.

Villanueva S, Martinez H, ATFJ F, Valdes O (2002) Colonic tuberculosis. Dig Dis Sci 47:2045–2048

16.

Dooley KE, Chaisson RE (2009) Tuberculosis and diabetes mellitus: convergence of two epidemics. Lancet Infect Dis 9:737–746. https://doi.org/10.1016/S1473-3099(09)70282-8

17.

Tornhem J, Dooley K (2017) Tuberculosis Associated with HIV Infection. Microbiol Spectr 5:(1). https://doi.org/10.1128/microbiolspec

18.

Onal IK, Kekilli M, Tanoglu A, Erdal H, Ibis M, Arhan M (2015) Tuberculosis and Crohn's disease revisited. J Coll Physicians Surg Pak 25:443–448

19.

Shi XC, Zhang LF, Zhang YQ, Liu XQ, Fei GJ (2016) Clinical and laboratory diagnosis of intestinal tuberculosis. Chin Med J 129:1330–1333. https://doi.org/10.4103/0366-6999.182840

20.

Ouyang Q, Tandon R, Goh K, Ooi C, Ogat AH, Fiocchi C (2005) The emergence of inflammatory bowel disease in the Asian Pacific region. Curr Opin Gastroenterol 21:408–413

21.

Bhargava D, Kushwaha A, Dasarathy S, Chopra P (1992) Endoscopic diagnosis of segmental colonic tuberculosis. Gastrointest Endosc 38:571–574

22.

Wani M, Parvez M, Kumar SH, Naikoo GM, Jan M, Wani HA (2015) Study of surgical emergencies of tubercular abdomen in developing countries. Indian J Surg 77:182–185. https://doi.org/10.1007/s12262-012-0755-6

23.

Wang J, Cheng W, Zhang S, Li Y, Li J (2019) Intestinal tuberculosis: clinico-pathological profile and the importance of a high degree of suspicion. Tropical Med Int Health 24:81–90. https://doi.org/10.1111/tmi.13169

24.

Sinan T, Sheikh M, Ramadan S, Sahwney S, Behbehani A (2002) BMC Medical Imaging CT features in abdominal tuberculosis: 20 years experience. BMC Med Imaging 2:1–7 https://www.ncbi.nlm.nih.gov/pmc/articles/PMC139990/pdf/1471-2342-2-3.pdf

25.

Grosset J (2003) Mycobacterium tuberculosis in in the extracellular compartment: an underestimated adversary. Antimicrob Agents Chemother 47:833–836. https://doi.org/10.1128/AAC.47.3.833

26.

Molnár T, Tiszlavicz L, Gyulai C, Nagy F, Lonovics J (2005) Clinical significance of granuloma in Crohn's disease. World J Gastroenterol 11:3118–3121. https://doi.org/10.3748/wjg.v11.i20.3118

27.

Kedia S, Das P, Madhusudhan KS, Dattagupta S, Sharma R, Sahni P et al (2019) Differentiating Crohn's disease from intestinal tuberculosis. World J Gastroenterol 25:418–432. https://doi.org/10.3748/wjg.v25.i4.418

28.

Liu Y-Y, Chen M-K, Cao Z, Liu S-Z, Ding B-J (2014) Differential diagnosis of intestinal tuberculosis from Crohn's disease and primary intestinal lymphoma in China. Saudi J Gastroenterol 20:241–247. https://doi.org/10.4103/1319-3767.136979
Ethics declarations
Conflict of interest
The authors declare that they have no conflict of interest.
Ethical approval
Turkish Health Sciences University None-interventional Studies Ethical Counsel in Istanbul approved the study (06/07/2018; 18/19).
Informed consent
Not applicable.
Additional information
Publisher's note
Springer Nature remains neutral with regard to jurisdictional claims in published maps and institutional affiliations.
About this article
Cite this article
Tanoglu, A., Erdem, H., Friedland, J.S. et al. Clinicopathological profile of gastrointestinal tuberculosis: a multinational ID-IRI study. Eur J Clin Microbiol Infect Dis 39, 493–500 (2020). https://doi.org/10.1007/s10096-019-03749-y
Received:

Accepted:

Published:

Issue Date:
Keywords
Tuberculosis

Immune-suppression

Gastro-intestinal

Endoscopy

Treatment