Abstract
Background
Rigidity is one of the major manifestations of Parkinson's disease (PD), but no quantitative and objective imaging method has been developed to measure rigidity. Ultrasound shear wave elastography (SWE) can reflect the stiffness of tissue by providing a quantitative index. Thus, we conducted this study to evaluate the potential clinical value of SWE in assessing rigidity in PD.
Methods
A total of 63 subjects (44 patients with rigidity-dominant PD and 19 right-dominant-hand normal controls with matched age) were enrolled, and each underwent ultrasound SWE testing. The tests were conducted on the brachioradialis (BR) and biceps brachii (BB) on the more affected side in patients with PD and on the right side in normal controls. Differences in quantitative shear wave velocity (SWV) between patients with PD and normal controls were determined. The relationship of muscle SWV with joint rigidity, UPDRSIII, disease duration, sex, and age in patients with PD was analyzed. The intraclass correlation coefficient (ICC) was used to evaluate the reliability of SWE in assessing muscle stiffness in patients with PD.
Results
The mean SWVs of the BB and BR were higher in the PD group (3.65±0.46 and 4.62±0.89 m/s, respectively) than in normal controls (2.79±0.37 and 3.26±0.40 m/s, respectively). Stiffness in BR and BB was correlated with the upper-limb joint rigidity, UPDRSIII, and disease duration but not with sex or age in the PD group. The intraobserver correlation coefficients (ICCs) for interobserver and intraobserver variations in measuring SWV were 0.85 (95% confidence interval 0.56–0.95) and 0.85 (95% confidence interval 0.58–0.95), respectively, for BR and 0.90 (95% confidence interval 0.73–0.97) and 0.86 (95% confidence interval 0.61–0.95), respectively, for BB.
Conclusions
SWV is associated with joint rigidity and disease duration, indicating that SWE can be potentially used as an objective and quantitative tool for evaluating rigidity.
Access options
Buy single article
Instant access to the full article PDF.
US$ 39.95
Tax calculation will be finalised during checkout.
Subscribe to journal
Immediate online access to all issues from 2019. Subscription will auto renew annually.
US$ 79
Tax calculation will be finalised during checkout.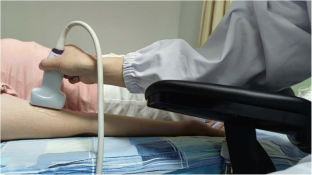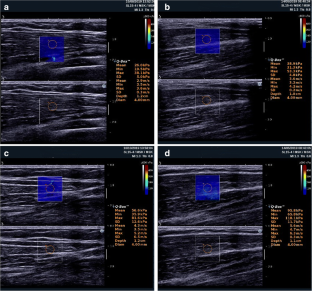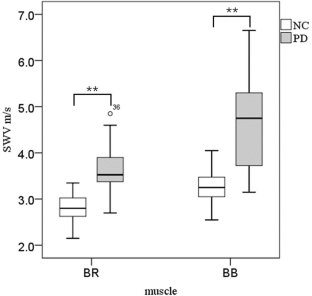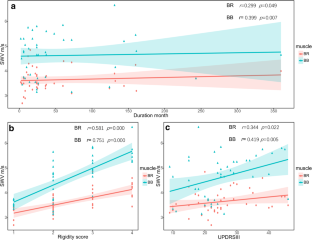 Acknowledgements
We thank all the volunteers (both PD patients and normal controls) for their contributions to this study.
Funding
This work was supported by the Development Center for Medical Science and Technology, National Health and Family Planning Commission of the People's Republic of China (2017YFC0909100) and Jiangsu Commission of Health (Y2018105). This was also partly supported by the Second Affiliated Hospital of Soochow University Pre-research Project of the National Natural Science Foundation of China (SDFEYG1709).
Ethics declarations
Ethical approval
This work has been approved by the ethical committees at Soochow University.
Conflict of interest
The authors declare no competing interests.
Additional information
Publisher's note
Springer Nature remains neutral with regard to jurisdictional claims in published maps and institutional affiliations.
About this article
Cite this article
Ding, C.W., Song, X., Fu, X.Y. et al. Shear wave elastography characteristics of upper limb muscle in rigidity-dominant Parkinson's disease. Neurol Sci (2021). https://doi.org/10.1007/s10072-021-05088-3
Received:

Accepted:

Published:
Keywords
Shear wave elasticity

Parkinson's disease

Rigidity

Shear wave velocity

Stiffness