Abstract
Purpose
Transcranial sonography (TCS) is increasingly used for the diagnosis of neurodegenerative disorders. We assessed the role of third ventricle width (TVW), midbrain area (MA), and midbrain circumference (MC) by TCS for diagnosis and differentiation of dementia.
Methods
A cross-sectional study was designed in 59 patients with dementia including 19 patients with Alzheimer's disease (AD), 10 Dementia with Lewy bodies (DLB), 23 Frontotemporal dementia (FTD) and 7 Vascular dementia (VaD), and 22 normal-cognition individuals. Both case and control groups were matched by age, sex, and educational level. The dementia patients were divided into two subgroups: cortical-dominant dementia (CDD) including AD and FTD; and subcortical-dominant dementia (SDD) including DLB and VaD. TCS was performed through a temporal window, in which the size of TVW and midbrain was measured by trans-thalamic and trans-mesencephalic planes, respectively.
Results
The mean TVW was 0.85 ± 0.3 cm and 0.66 ± 0.2 cm in dementia patients and the control group, respectively (p < 0.01). The MA/MC were smaller in dementia patients compared with the control group (p < 0.05 and p < 0.01). The TVW in CDD (p = 0.003) and SDD (p = 0.027), but only MA/MC in SDD (p < 0.05), was statistically different compared with the control group.
Conclusion
The measurement of TVW and midbrain size by TCS can be used for diagnosis and differentiation of dementia. Patients with CDD and SDD have larger TVW than the control group, whereas patients with SDD have smaller midbrain sizes.
Access options
Buy single article
Instant access to the full article PDF.
US$ 39.95
Tax calculation will be finalised during checkout.
Subscribe to journal
Immediate online access to all issues from 2019. Subscription will auto renew annually.
US$ 79
Tax calculation will be finalised during checkout.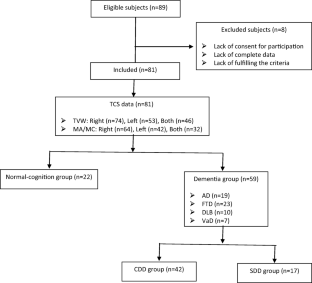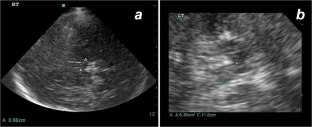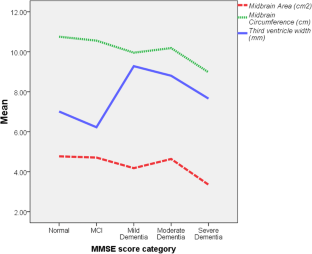 References
1.

(2014) The appropriate use of neuroimaging in the diagnostic work-up of dementia: an evidence-based analysis. Ont Health Technol Assess Ser 14(1):1–64

2.

De Riva V, Galloni E, Marcon M, Di Dionisio L, Deluca C, Meligrana L et al (2013) Analysis of combined CSF biomarkers in AD diagnosis. Clin Lab 60(4):629–634

3.

Pasi M, Poggesi A, Pantoni L (2011) The use of CT in dementia. Int Psychogeriatr 23(S2):S6–S12

4.

Davison CM, O'Brien JT (2014) A comparison of FDG-PET and blood flow SPECT in the diagnosis of neurodegenerative dementias: a systematic review. International journal of geriatric psychiatry 29(6):551–561

5.

van der Flier WM, Scheltens P (2005) Epidemiology and risk factors of dementia. J Neurol Neurosurg Psychiatry 76(suppl 5):v2–v7

6.

Walter U (2009) Imaging of the brain: where is transcranial sonography superior to magnet resonance imaging? Fortschr Neurol Psychiatr 77:S39–S41

7.

Monaco D, Berg D, Thomas A, Di Stefano V, Barbone F, Vitale M, Ferrante C, Bonanni L, Di Nicola M, Garzarella T, Marchionno LP (2018) The predictive power of transcranial sonography in movement disorders: a longitudinal cohort study. Neurol Sci 39(11):1887–1894

8.

Mosavi A, Zamani B, Rouhani MJCD (2015) Midbrain area measurement by transcranial sonography for discrimination Parkinson disease from progressive supranuclear palsy (PSP): P16. 39

9.

Walter U, Dressler D, Probst T, Wolters A, Abu-Mugheisib M, Wittstock M, Benecke R (2007) Transcranial brain sonography findings in discriminating between parkinsonism and idiopathic Parkinson disease. Arch Neurol 64(11):1635–1640

10.

Berg D, Godau J, Walter U (2008) Transcranial sonography in movement disorders. The Lancet Neurology. 7(11):1044–1055

11.

Svetel M, Mijajlović M, Tomić A, Kresojević N, Pekmezović T, Kostić VS (2012) Transcranial sonography in Wilson's disease. Parkinsonism Relat Disord 18(3):234–238

12.

Rohani M, Almasi M, Yousefpour F, Zamani B, Shahidi GJBG (2017) Echogenicity of lentiform nucleus in different types of idiopathic dystonia. 10:8–11

13.

Walter U, Horowski S, Benecke R, Zettl UK (2007) Transcranial brain sonography findings related to neuropsychological impairment in multiple sclerosis. J Neurol 254(2):II49–II52

14.

Berg D, Mäurer M, Warmuth-Metz M, Rieckmann P, Becker G (2000) The correlation between ventricular diameter measured by transcranial sonography and clinical disability and cognitive dysfunction in patients with multiple sclerosis. Arch Neurol 57(9):1289–1292

15.

Yaldizli Ö, Kastrup O, Obermann M, Esser S, Wilhelm H, Ley C, Forsting M, Maschke M (2006) Transcranial sonography of the third ventricle and cognitive dysfunction in HIV patients. J Neurol 253(9):1185–1188

16.

Walter U, Dressler D, Wolters A, Wittstock M, Benecke R (2006) Sonographic discrimination of dementia with Lewy bodies and Parkinson's disease with dementia. J Neurol 253(4):448–454

17.

Wollenweber FA, Schomburg R, Probst M, Schneider V, Hiry T, Ochsenfeld A, Mueller M, Dillmann U, Fassbender K, Behnke S (2011) Width of the third ventricle assessed by transcranial sonography can monitor brain atrophy in a time-and cost-effective manner-results from a longitudinal study on 500 subjects. Psychiatry Res Neuroimaging 191(3):212–216

18.

Lee JE, Park B, Song SK, Sohn YH, Park HJ, Lee PH (2010) A comparison of gray and white matter density in patients with Parkinson's disease dementia and dementia with Lewy bodies using voxel-based morphometry. Mov Disord 25(1):28–34

19.

Lancu I, Olmer A (2006) The minimental state examination--an up-to-date review. Harefuah. 145(9):687–690 701

20.

Dubois B, Feldman HH, Jacova C, DeKosky ST, Barberger-Gateau P, Cummings J et al (2007) Research criteria for the diagnosis of Alzheimer's disease: revising the NINCDS–ADRDA criteria. The Lancet Neurology 6(8):734–746

21.

McKeith IG (2006) Consensus guidelines for the clinical and pathologic diagnosis of dementia with Lewy bodies (DLB): report of the Consortium on DLB International Workshop. J Alzheimers Dis 9(3 Supplement):417–423

22.

Román GC, Tatemichi TK, Erkinjuntti T, Cummings JL, Masdeu J, Garcia JA et al (1993) Vascular dementia diagnostic criteria for research studies: report of the NINDS-AIREN International Workshop. Neurology 43(2):250

23.

Rascovsky K, Hodges JR, Knopman D, Mendez MF, Kramer JH, Neuhaus J, van Swieten JC, Seelaar H, Dopper EGP, Onyike CU, Hillis AE, Josephs KA, Boeve BF, Kertesz A, Seeley WW, Rankin KP, Johnson JK, Gorno-Tempini ML, Rosen H, Prioleau-Latham CE, Lee A, Kipps CM, Lillo P, Piguet O, Rohrer JD, Rossor MN, Warren JD, Fox NC, Galasko D, Salmon DP, Black SE, Mesulam M, Weintraub S, Dickerson BC, Diehl-Schmid J, Pasquier F, Deramecourt V, Lebert F, Pijnenburg Y, Chow TW, Manes F, Grafman J, Cappa SF, Freedman M, Grossman M, Miller BL (2011) Sensitivity of revised diagnostic criteria for the behavioural variant of frontotemporal dementia. Brain. 134(9):2456–2477

24.

Gorno-Tempini M, Hillis A, Weintraub S, Kertesz A, Mendez M, Cappa SE et al (2011) Classification of primary progressive aphasia and its variants. Neurology. 76(11):1006–1014

25.

Sahuquillo P, Tembl JI, Parkhutik V, Vázquez JF, Sastre I, Lago A (2013) The study of deep brain structures by transcranial duplex sonography and imaging resonance correlation. Ultrasound Med Biol 39(2):226–232

26.

Turner MA, Moran NF, Kopelman MD (2002) Subcortical dementia. Br J Psychiatry 180(2):148–151

27.

Suri S, Topiwala A, Mackay CE, Ebmeier KP, Filippini N (2014) Using structural and diffusion magnetic resonance imaging to differentiate the dementias. Current neurology and neuroscience reports 14(9):1–14

28.

Zerfass R, Geiger-Kabisch C, Sattel H, Besthorn C, Hentschel F (1995) Brain atrophy in normal ageing and Alzheimer's disease. Volumetric discrimination and clinical correlations. Br J Psychiatry 167(6):739–746

29.

Albert M, Naeser MA, Levine HL, Garvey AJ (1984) Ventricular size in patients with presenile dementia of the Alzheimer's type. Arch Neurol 41(12):1258–1263

30.

Barber R, Ballard C, McKeith I, Gholkar A, O'Brien J (2000) MRI volumetric study of dementia with Lewy bodies: a comparison with AD and vascular dementia. Neurology. 54(6):1304–1309

31.

Nakatsuka T, Imabayashi E, Matsuda H, Sakakibara R, Inaoka T, Terada H (2013) Discrimination of dementia with Lewy bodies from Alzheimer's disease using voxel-based morphometry of white matter by statistical parametric mapping 8 plus diffeomorphic anatomic registration through exponentiated Lie algebra. Neuroradiology. 55(5):559–566

32.

Leite AJB, van der Flier WM, van Straaten EC, Scheltens P, Barkhof F (2006) Infratentorial abnormalities in vascular dementia. Stroke. 37(1):105–110

33.

Sung Y-H, Park K-H, Lee Y-B, Park H-M, Shin DJ, Park J-S, Oh MS, Ma HI, Yu KH, Kang SY, Kim YJ, Lee BC (2009) Midbrain atrophy in subcortical ischemic vascular dementia. J Neurol 256(12):1997–2002

34.

Pantel J, Schröder J, Essig M, Jauss M, Schneider G, Eysenbach K, von Kummer R, Baudendistel K, Schad LR, Knopp MV (1998) In vivo quantification of brain volumes in subcortical vascular dementia and Alzheimer's disease. Dement Geriatr Cogn Disord 9(6):309–316

35.

Cardenas VA, Boxer AL, Chao LL, Gorno-Tempini ML, Miller BL, Weiner MW, Studholme C (2007) Deformation-based morphometry reveals brain atrophy in frontotemporal dementia. Arch Neurol 64(6):873–877

36.

Yang Y, Schmitt HP (2001) Frontotemporal dementia: evidence for impairment of ascending serotoninergic but not noradrenergic innervation. Acta Neuropathol 101(3):256–270

37.

Sastre-Bataller I, Vázquez JF, Martínez-Torres I, Sahuquillo P, Rubio-Agustí I, Burguera JA, Ferrer JM, Valero C, Tembl JI (2013) Mesencephalic area measured by transcranial sonography in the differential diagnosis of parkinsonism. Parkinsonism Relat Disord 19(8):732–736

38.

Kim JY, Kim ST, Jeon SH, Lee WY (2007) Midbrain transcranial sonography in Korean patients with Parkinson's disease. Mov Disord 22(13):1922–1926

39.

Morra JH, Tu Z, Apostolova LG, Green AE, Avedissian C, Madsen SK, Parikshak N, Hua X, Toga AW, Jack CR Jr, Schuff N, Weiner MW, Thompson PM, and the Alzheimer's Disease Neuroimaging Initiative (2009) Automated 3D mapping of hippocampal atrophy and its clinical correlates in 400 subjects with Alzheimer's disease, mild cognitive impairment, and elderly controls. Hum Brain Mapp 30(9):2766–2788

40.

Jack C, Petersen RC, Xu Y, O'Brien PC, Smith GE, Ivnik RJ et al (1998) Rate of medial temporal lobe atrophy in typical aging and Alzheimer's disease. Neurology. 51(4):993–999

41.

Hernández N, Escrivá A, Jordà J (2007) Study of the diameter of the third ventricle with transcranial sonography. Neurologia (Barcelona, Spain) 22(8):507–510

42.

Seidel G, Gerriets T, Kaps M, Hutzelmann A (1995) Evaluation of the ventricular system in adults by transcranial duplex sonography. J Neuroimaging 5(2):105–108
Acknowledgments
This research was presented as a residency thesis in Tehran University of medical science. We are thankful to our colleagues in Dementia clinic of Hazrat-e-Rasool hospital who provided expertise that greatly assisted the research, especially Dr. Fahimeh Haji-Akhoundi, and also, we thank Dr. Siavash Adibeyk, Dr. Nima Mohsenzadeh, and Dr. Neda Gharahi greatly for their friendly collaboration in this research. We would also like to show our gratitude to Dr. Gholamali Shahidi and Dr. Amir Hassan Habibi for comments that greatly improved the manuscript.
Funding
This study was resulted from a residency thesis which was recorded by number 1773 date 2014/3/6 at Tehran University of medical science research committee. There was no other funding to this study.
Ethics declarations
Conflict of interest
The authors declare that they have no conflict of interest.
Ethical approval
All procedures performed in studies involving human participants were in accordance with the ethical standards of the institutional and/or national research committee and with the 1964 Helsinki declaration and its later amendments or comparable ethical standards.
All procedures performed in this study were in accordance with the ethical standards of the Tehran university of Medical science.
Informed consent
Informed consent was obtained from all individual participants included in the study.
Additional information
Publisher's note
Springer Nature remains neutral with regard to jurisdictional claims in published maps and institutional affiliations.
About this article
Cite this article
Almasi-Dooghaee, M., Rohani, M., Imani, A. et al. The role of transcranial sonography in differentiation of dementia subtypes: an introduction of a new diagnostic method. Neurol Sci 42, 275–283 (2021). https://doi.org/10.1007/s10072-020-04566-4
Received:

Accepted:

Published:

Issue Date:
Keywords
Transcranial sonography

Third ventricle

Midbrain

Dementia

Cortical dementia

Subcortical dementia