This is a preview of subscription content, log in to check access.
Access options
Buy single article
Instant access to the full article PDF.
US$ 39.95
Price includes VAT for USA
Subscribe to journal
Immediate online access to all issues from 2019. Subscription will auto renew annually.
US$ 99
This is the net price. Taxes to be calculated in checkout.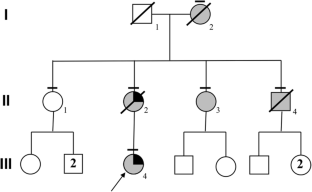 Data availability
The authors confirm that the data supporting the findings of this study are available within the article and/or its supplementary materials.
References
1.

Alsaggaf R, St George DMM, Zhan M, Pfeiffer RM, Wang Y, Wagner KR, Greene MH, Amr S, Gadalla SM (2018) Cancer risk in myotonic dystrophy type i: evidence of a role for disease severity. JNCI Cancer Spectr 2(4):pky052

2.

Yu TM, Chuang YW, Yu MC, Chen CH, Yang CK, Huang ST, Lin CL, Shu KH, Kao CH (2016) Risk of cancer in patients with polycystic kidney disease: a propensity-score matched analysis of a nationwide, population-based cohort study. Lancet Oncol 17:1419–1425

3.

Hodapp JA, Carter GT, Lipe HP, Michelson SJ, Kraft GH, Bird TD (2006) Double trouble in hereditary neuropathy: concomitant mutations in the PMP-22 gene and another gene produce novel phenotypes. Arch Neurol 63:112–117

4.

Masciullo M, Iannaccone E, Bianchi ML, Santoro M, Conte G, Modoni A, Monforte M, Tasca G, Laschena F, Ricci E, Silvestri G (2013) Myotonic dystrophy type 1 and de novo FSHD mutation double trouble: a clinical and muscle MRI study. Neuromuscul Disord 23:427–431

5.

Emery AE, Oleesky S, Williams RT (1967) Myotonic dystrophy and polycystic disease of the kidneys. J Med Genet 4:26–28
Ethics declarations
Conflict of interest
None
Ethical approval
The study was carried out in compliance with the Helsinki Declaration and with the guidelines of the Ethical Committee of our Institution. A written informed consent was obtained from all patients about storage and use of their DNA samples for both diagnostic and clinical research studies concerning their disease.
Disclosures of all authors
This study was not sponsored. The authors report no conflict of interests.
Additional information
Publisher's note
Springer Nature remains neutral with regard to jurisdictional claims in published maps and institutional affiliations.
About this article
Cite this article
Nicoletti, T., Chiurazzi, P., Castori, M. et al. Myotonic dystrophy type 1 cosegregating with autosomal dominant polycystic kidney disease type 2. Neurol Sci (2020). https://doi.org/10.1007/s10072-020-04534-y
Received:

Accepted:

Published: