Abstract
Background and aims
Stroke is a leading cause of death and disability worldwide. However, our knowledge of the incidence of stroke for Saudi Arabian population is not known. Thus, we aimed to determine the pooled annual incidence of stroke in Saudi Arabia.
Summary of review
We conducted a comprehensive literature search of PubMed, Web of Science, and SCOPUS, without language or publication year limits. Outcomes of interest were stroke incidence rate for both first and recurrent. A total of five studies met the inclusion criteria for this review. The pooled annual incidence of stroke in Saudi Arabia was 0.029% (95% CI: 0.015 to 0.047) equivalent of 29 strokes per 100,000 people annually (95% CI: 15 to 47).
Conclusion
The findings indicate that there are 29 stroke cases for every 100,000 people annually for individuals residing Saudi Arabia. Our values were lower than those of other high-income countries. Establishing a nationwide stroke registry is warranted for monitoring and improving healthcare services provided to stroke survivors.
This is a preview of subscription content, log in to check access.
Access options
Buy single article
Instant access to the full article PDF.
US$ 39.95
Price includes VAT for USA
Subscribe to journal
Immediate online access to all issues from 2019. Subscription will auto renew annually.
US$ 99
This is the net price. Taxes to be calculated in checkout.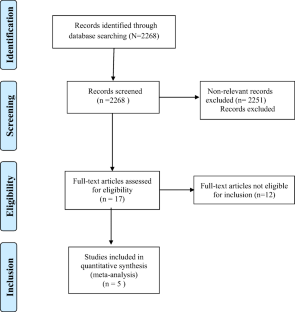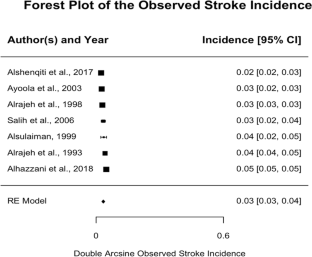 References
1.

Mendis S, Puska P, Norrving B (2011) Global atlas on cardiovascular disease prevention and control. World Health Organ:2–14

2.

Aho K, Harmsen P, Hatano S, Marquardsen J, Smirnov VE, Strasser T (1980) Cerebrovascular disease in the community: results of a WHO collaborative study. Bull World Health Organ 58(1):113–130

3.

Benjamin EJ, Blaha MJ, Chiuve SE, Cushman M, Das SR, Deo R et al Heart Disease and Stroke Statistics 2017 At-a-Glance. Circulation. 2017:1–5

4.

Morse A. Department of Health: Progress in improving stroke care. Natl Audit Off Rep. 2010;(February)

5.

Tran J, Mirzaei M, Anderson L, Leeder SR (2010) The epidemiology of stroke in the Middle East and North Africa. J Neurol Sci 295(1–2):38–40

6.

al Rajeh S, Awada A, Niazi G, Larbi E (1993) Stroke in a Saudi Arabian National Guard Community: analysis of 500 consecutive cases from a population-based hospital. Stroke. 24(11):1635–1639

7.

Ayoola AE, Banzal SS, Elamin AK, Gadour MO, Elsammani EW, Al-Hazmi MH (2003) Profile of stroke in Gizan, Kingdom of Saudi Arabia. Neurosciences 8(4):229–232

8.

Almekhlafi MA (2016) Trends in one-year mortality for stroke in a tertiary academic center in Saudi Arabia: a 5-year retrospective analysis. Ann Saudi Med 36(3):197–202

9.

Moher D, Liberati A, Tetzlaff J, Altman DG, Altman D, Antes G et al (2009) Preferred reporting items for systematic reviews and meta-analyses: the PRISMA statement (Chinese edition). J Chin Integr Med 7:889–896

10.

Wells GA O'Connell D. B Shea. The Newcastle-Scale for assessing the quality of nonrandomised studies in meta-analyses. Ottawa Ottawa Hosp Res Inst. 2011;

11.

Lipsey MW, Wilson DB (2001) Practical meta-analysis. Appl Soc Res Methods Ser 49:264

12.

Barendregt JJ, Doi SA, Lee YY, Norman RE, Vos T (2013) Meta-analysis of prevalence. J Epidemiol Community Health 67(11):974–978

13.

(2019) R: A Language and Environment for Statistical Computing. Vienna, Austria: R Foundation for Statistical Computing

14.

Al-Shenqiti AM, Ibrahim SR, Khaled OA, Ali ARH, Ahmed MS (2017) Incidence of first time stroke: a Saudi experience. Eur Neurol 77(3–4):147–151

15.

Al-Rajeh S, Larbi EB, Bademosi O, Awada A, Yousef A, Al-Freihi H et al (1998) Stroke register: experience from the Eastern Province of Saudi Arabia. Cerebrovasc Dis 8(2):86–89

16.

Alhazzani AA, Mahfouz AA, Abolyazid AY, Awadalla NJ, Aftab R, Faraheen A et al (2018) Study of stroke incidence in the aseer region, southwestern Saudi Arabia. Int J Environ Res Public Health (2):15

17.

Al-Sulaiman A, Bademosi O, Ismail H, Magboll G (1999) Stroke in Saudi children. J Child Neurol 14(5):295–298

18.

GBD 2016 Stroke Collaborators (2019) Global, regional, and national burden of stroke, 1990–2016: a systematic analysis for the Global Burden of Disease Study 2016. Lancet Neurol 18(5):439–458. https://doi.org/10.1016/S1474-4422(19)30034-1

19.

Giampaoli S, Hammar N, Adany R, De Peretti C (2007) Population-based register of stroke: manual of operations. Eur J Cardiovasc Prev Rehabil 14(SUPPL. 3)

20.

Béjot Y, Bailly H, Durier J, Giroud M (2016) Epidemiology of stroke in Europe and trends for the 21st century. Presse Medicale 45:e391–e398

21.

Cushman M, Cantrell RA, McClure LA et al (2008) Estimated 10-year stroke risk by region and race in the United States: geographic and racial differences in stroke risk. Ann Neurol 64(5):507–513. https://doi.org/10.1002/ana.21493

22.

Connor M (2004) Prevalence of stroke survivors in rural South Africa: results from the Southern Africa Stroke Prevention Initiative (SASPI) Agincourt Field Site. Stroke. 35(3):627–632

23.

Kulshreshtha A, Anderson LM, Goyal A, Keenan NL (2012) Stroke in South Asia: a systematic review of epidemiologic literature from 1980 to 2010. Neuroepidemiology 38:123–129

24.

Feigin VL, Forouzanfar MH, Krishnamurthi R, Mensah GA, Connor M, Bennett DA, Moran AE, Sacco RL, Anderson L, Truelsen T, O'Donnell M, Venketasubramanian N, Barker-Collo S, Lawes CMM, Wang W, Shinohara Y, Witt E, Ezzati M, Naghavi M, Murray C (2014) Global and regional burden of stroke during 1990-2010: findings from the global burden of disease study 2010. Lancet. 383(9913):245–255

25.

Doi SAR, Barendregt JJ, Khan S, Thalib L, Williams GM (2015) Advances in the meta-analysis of heterogeneous clinical trials I: the inverse variance heterogeneity model. Contemp Clin Trials 45:130–138

26.

Euser AM, Zoccali C, Jager KJ, Dekker FW (2009) Cohort studies: prospective versus retrospective. Nephron Clin Pract 113
Funding
This study was supported by the deanship of scientific research at Prince Sattam bin Abdulaziz University under the project # 2019/03/10805.
Ethics declarations
Conflict of interest
The authors declare that they have no conflict of interest.
Ethical approval
None.
Additional information
Publisher's note
Springer Nature remains neutral with regard to jurisdictional claims in published maps and institutional affiliations.
About this article
Cite this article
Alqahtani, B.A., Alenazi, A.M., Hoover, J.C. et al. Incidence of stroke among Saudi population: a systematic review and meta-analysis. Neurol Sci (2020). https://doi.org/10.1007/s10072-020-04520-4
Received:

Accepted:

Published:
Keywords
Epidemiology

Incidence

Prevalence

Stroke

Systematic review