Abstract
Background and purpose
Hand tremor is a disturbing yet sometimes resistant symptom in persons with Parkinson disease (PD). Although many exercise regimens for these people have gained attention in recent years, the effect of resistance training and especially eccentric training on parkinsonian tremor is still uncertain. This study was conducted to investigate the precise effect of upper limb eccentric training on hand tremor in PD.
Methods
In this randomized controlled trial, a consecutive sample of 21 persons with PD recruited from general hospitals went through 6 weeks of upper limb pure eccentric training as the intervention group (n = 11) or no additional exercise during this period as the control group (n = 10). Resting and postural tremor amplitudes were measured with the cellphone-based accelerometer.
Results
Comparing hand tremor amplitudes before and after the trial showed a significant reduction in resting tremor amplitude in the intervention group after exercise sessions (p < 0.05) while detecting no changes in the control group during 6 weeks of study. Meanwhile, postural tremor amplitude remained unchanged in both groups.
This is a preview of subscription content, log in to check access.
Access options
Buy single article
Instant access to the full article PDF.
US$ 39.95
Tax calculation will be finalised during checkout.
Subscribe to journal
Immediate online access to all issues from 2019. Subscription will auto renew annually.
US$ 99
Tax calculation will be finalised during checkout.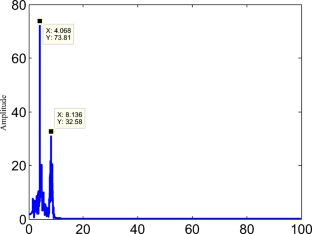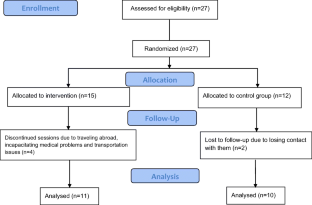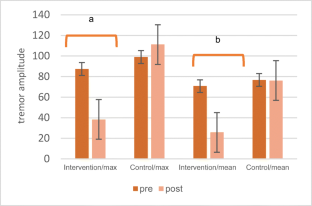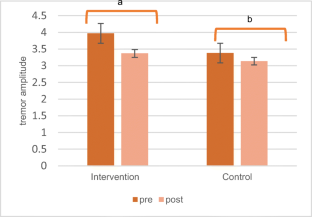 Abbreviations
PD:

Parkinson disease

BMI:

Body mass index

RPE:

Rate of perceived exertion

RM:

Repetition maximum
References
1.

Grimes DA (2003) Tremor--easily seen but difficult to describe and treat. Can J Neurol Sci 30(Suppl 1):S59–S63

2.

Leu-Semenescu S, Roze E, Vidailhet M, Legrand AP, Trocello JM, Cochen V, Sangla S, Apartis E (2007) Myoclonus or tremor in orthostatism: an under-recognized cause of unsteadiness in Parkinson's disease. Mov Disord 22(14):2063–2069. https://doi.org/10.1002/mds.21651

3.

Jimenez MC, Vingerhoets FJ (2012) Tremor revisited: treatment of PD tremor. Parkinsonism Relat Disord 18(Suppl 1):S93–S95. https://doi.org/10.1016/S1353-8020(11)70030-X

4.

Bloem BR, de Vries NM, Ebersbach G (2015) Nonpharmacological treatments for patients with Parkinson's disease. Mov Disord 30(11):1504–1520. https://doi.org/10.1002/mds.26363

5.

Klamroth S, Steib S, Devan S, Pfeifer K (2016) Effects of exercise therapy on postural instability in Parkinson disease: a meta-analysis. Journal of Neurologic Physical Therapy 40(1):3–14. https://doi.org/10.1097/npt.0000000000000117

6.

Petzinger GM, Fisher BE, Van Leeuwen JE, Vukovic M, Akopian G, Meshul CK, Holschneider DP, Nacca A, Walsh JP, Jakowec MW (2010) Enhancing neuroplasticity in the basal ganglia: the role of exercise in Parkinson's disease. Mov Disord 25(Suppl 1):S141–S145. https://doi.org/10.1002/mds.22782

7.

Dutra MF, Jaeger M, Ilha J, Kalil-Gaspar PI, Marcuzzo S, Achaval M (2012) Exercise improves motor deficits and alters striatal GFAP expression in a 6-OHDA-induced rat model of Parkinson's disease. Neurol Sci 33(5):1137–1144. https://doi.org/10.1007/s10072-011-0925-5

8.

Hirsch MA, Iyer SS, Sanjak M (2016) Exercise-induced neuroplasticity in human Parkinson's disease: what is the evidence telling us? Parkinsonism Relat Disord 22:S78–S81

9.

Falvo MJ, Schilling BK, Earhart GM (2008) Parkinson's disease and resistive exercise: rationale, review, and recommendations. Mov Disord 23(1):1–11. https://doi.org/10.1002/mds.21690

10.

Dibble LE, Hale T, Marcus RL, Gerber JP, Lastayo PC (2006) The safety and feasibility of high-force eccentric resistance exercise in persons with Parkinson's disease. Arch Phys Med Rehabil 87(9):1280–1282. https://doi.org/10.1016/j.apmr.2006.05.016

11.

Dibble LE, Hale TF, Marcus RL, Gerber JP, LaStayo PC (2009) High intensity eccentric resistance training decreases bradykinesia and improves Quality Of Life in persons with Parkinson's disease: a preliminary study. Parkinsonism Relat Disord 15(10):752–757. https://doi.org/10.1016/j.parkreldis.2009.04.009

12.

Stotz PJ, Bawa P (2001) Motor unit recruitment during lengthening contractions of human wrist flexors. Muscle Nerve 24(11):1535–1541

13.

Karapondo D, Howell J, Conatser R, Chleboun G (1993) 186 human motor unit recruitment patterns of three muscle groups during voluntary eccentric and concentric contractions. Med Sci Sports Exerc 25(5):S34

14.

Sharifnezhad A, Koohestani M, Budde H (2018) The effect of eccentric contractions on the brain waves characteristics: a systematic review, vol:1

15.

Kwon YH, Park JW (2011) Different cortical activation patterns during voluntary eccentric and concentric muscle contractions: an fMRI study. NeuroRehabilitation 29(3):253–259. https://doi.org/10.3233/NRE-2011-0701

16.

Duclay J, Martin A, Duclay A, Cometti G, Pousson M (2009) Behavior of fascicles and the myotendinous junction of human medial gastrocnemius following eccentric strength training. Muscle Nerve 39(6):819–827. https://doi.org/10.1002/mus.21297

17.

Potier TG, Alexander CM, Seynnes OR (2009) Effects of eccentric strength training on biceps femoris muscle architecture and knee joint range of movement. European journal of applied physiology 105(6):939–944

18.

Sharifnezhad A, Marzilger R, Arampatzis A (2014) Effects of load magnitude, muscle length and velocity during eccentric chronic loading on the longitudinal growth of the vastus lateralis muscle. J Exp Biol 217(Pt 15):2726–2733. https://doi.org/10.1242/jeb.100370

19.

Hedayatpour N, Falla D (2015) Physiological and neural adaptations to eccentric exercise: mechanisms and considerations for training. Biomed Res Int 2015:193741. https://doi.org/10.1155/2015/193741

20.

Gluchowski A, Harris N, Dulson D, Cronin J (2015) Chronic eccentric exercise and the older adult. Sports Med 45(10):1413–1430. https://doi.org/10.1007/s40279-015-0373-0

21.

Hortobagyi T, Zheng D, Weidner M, Lambert NJ, Westbrook S, Houmard JA (1995) The influence of aging on muscle strength and muscle fiber characteristics with special reference to eccentric strength. J Gerontol A Biol Sci Med Sci 50(6):B399–B406

22.

Hoehn MM, Yahr MD (1998) Parkinsonism: onset, progression, and mortality. Neurology 50(2):318–318

23.

Row Lazzarini BS, Dropp MW, Lloyd W (2017) Upper-extremity explosive resistance training with older adults can be regulated using the rating of perceived exertion. J Strength Cond Res 31(3):831–836. https://doi.org/10.1519/JSC.0000000000001520

24.

Kostikis N, Hristu-Varsakelis D, Arnaoutoglou M, Kotsavasiloglou C (2015) A smartphone-based tool for assessing parkinsonian hand tremor. IEEE journal of biomedical and health informatics 19(6):1835–1842

25.

Deane KH, Ellis-Hill C, Jones D, Whurr R, Ben-Shlomo Y, Playford ED, Clarke CE (2002) Systematic review of paramedical therapies for Parkinson's disease. Mov Disord 17(5):984–991

26.

Cruickshank TM, Reyes AR, Ziman MR (2015) A systematic review and meta-analysis of strength training in individuals with multiple sclerosis or Parkinson disease. Medicine 94(4)

27.

Hirsch M, Farley B (2009) Exercise and neuroplasticity in persons living with Parkinson's disease. Eur J Phys Rehabil Med 45(2):215–229

28.

Bryant MS, Workman CD, Jamal F, Meng H, Jackson GR (2018) Feasibility study: Effect of hand resistance exercise on handwriting in Parkinson's disease and essential tremor. Journal of Hand Therapy 31(1):29–34

29.

Haubenberger D, Abbruzzese G, Bain PG, Bajaj N, Benito-León J, Bhatia KP, Deuschl G, Forjaz MJ, Hallett M, Louis ED (2016) Transducer-based evaluation of tremor. Movement Disorders 31(9):1327–1336

30.

Joundi RA, Brittain J-S, Jenkinson N, Green AL, Aziz T (2011) Rapid tremor frequency assessment with the iPhone accelerometer. Parkinsonism & related disorders 17(4):288–290

31.

Daneault J-F, Carignan B, Codère CÉ, Sadikot AF, Duval C (2013) Using a smart phone as a standalone platform for detection and monitoring of pathological tremors. Front Hum Neurosci 6:357

32.

Row BS, Knutzen KM, Skogsberg NJ (2012) Regulating explosive resistance training intensity using the rating of perceived exertion. J Strength Cond Res 26(3):664–671. https://doi.org/10.1519/JSC.0b013e31822ac367

33.

O'Connor PJ, Poudevigne MS, Pasley JD (2002) Perceived exertion responses to novel elbow flexor eccentric action in women and men. Med Sci Sports Exerc 34(5):862–868
Discussion and conclusions
Resting hand tremor improvement in response to the training sessions is explainable through possible neuroplasticity effects of exercise. We concluded eccentric exercise is effective in resting hand tremor in PD and may be an important part of rehabilitation in affected individuals.
Ethics declarations
All participnts of this trial signed the letter of consent, and the ethics of this study was approved by the local ethics committee of the Iran University of Medical Science (reference no. 1395.28471). This trial was registered at (Trial ID: 29803).
Conflict of Interest
The authors declare that they have no conflict of interest.
Additional information
Publisher's note
Springer Nature remains neutral with regard to jurisdictional claims in published maps and institutional affiliations.
About this article
Cite this article
Kadkhodaie, M., Sharifnezhad, A., Ebadi, S. et al. Effect of eccentric-based rehabilitation on hand tremor intensity in Parkinson disease. Neurol Sci 41, 637–643 (2020). https://doi.org/10.1007/s10072-019-04106-9
Received:

Accepted:

Published:

Issue Date:
Keywords
Resistance training

Resting tremor

Parkinson disease

Neurorehabilitation